Living in Europe, we often take it for granted that we have the ability to travel to countless stunning and charming destinations within just a couple of hours. With summer drawing to an end and most of your holiday days for the year already used up, the post-summer blues are likely beginning to kick in. Here at Hip & Healthy, we think City breaks are the perfect way to explore a new city, take a few days out from your normal routine and have a little something to look forward to in the colder months. So, whether you're looking to relax and take advantage of the last bit of sun or would like to spend all day on your feet exploring, we're guiding you through some of the best European city breaks for a spontaneous weekend away.
For the sunshine: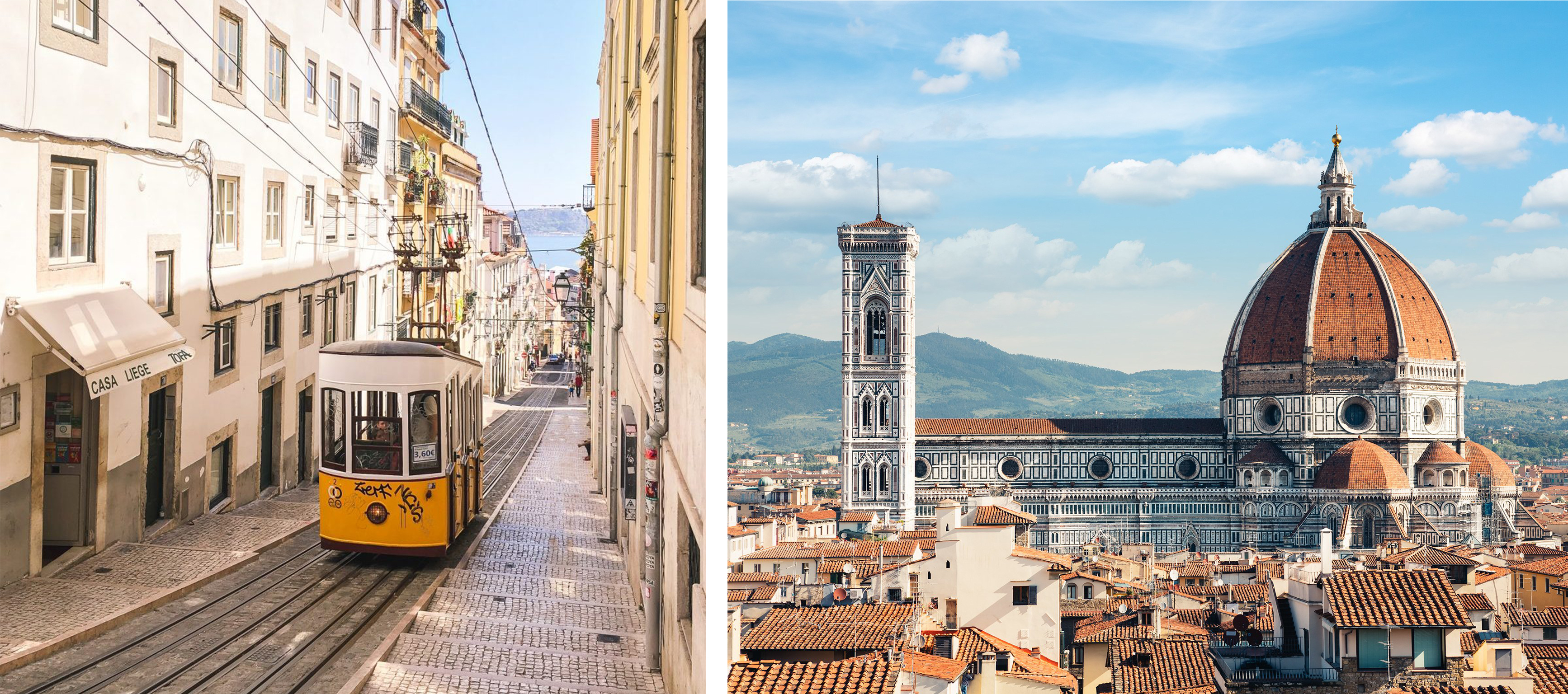 Lisbon: Over 20 degrees up until late October? Sold! You may have seen the picturesque roofs of Portugal's capital city plastered on social media, so it may be about time you visit Lisbon for yourself. With its colourful buildings and quaint streets, Lisbon is a buzzy and artsy destination with a variety of amazing food and drink spots to keep you fuelled whilst sightseeing. Wander to Terreiro Do Paço square to discover cute cafés, dine with amazing views of the river at Bica do Sapato, or visit A Taberna da Rua das Flores for a traditional Portuguese dining experience. If you need a coastal fix, Cascais is situated approximately 20 minutes to the West of Lisbon and boasts beautiful sandy beaches, so it is perfect for a day by the seaside and an opportunity to unwind and relax.
Florence: Situated in the stunning region of Tuscany in Italy, Florence is the ideal destination for those of you looking to relish some sunshine whilst eating the most delectable Italian food (yes, we mean pizza and pasta)! Aside from the food and shopping, undoubtedly the highlight of this city is the colourful cathedral, completed in 1436. The elaborate design and vibrant colours of white, pink and green are spectacular, but be warned, if you want to climb the cathedral, book and plan ahead as the queue can be very long at busy times. If you'd prefer a more relaxed experience, you can arrange to have a tour of Tuscany and enjoy the Italian countryside, such as the beautiful town of Lajatico, the birthplace of Andrea Bocelli. Even in October, you can expect temperatures of over 20 degrees Celsius, so it's time to dig out those summer dresses once more and embark on an Italian mini-break.
For the sea:
Dubrovnik: If you haven't yet visited Dubrovnik, prepare to be blown away and fall in love with this Croatian gem. Since becoming a filming destination for series 'Game of Thrones', Dubrovnik has become a popular tourist spot, yet the unique beauty of the city continues to shine through. Walk through the limestone paved Old Town to discover boutique shops and restaurants, stroll to the port to enjoy the views of the Adriatic Sea or take one of the many boat trips that run regularly throughout the day. Two must-do activities for visitors are a trip on the cable car for the most spectacular views of the crystal-clear water that exists, and walking the old city walls surrounding Dubrovnik, a route that runs uninterrupted for nearly 2km. 10,000 steps a day? Easy!
Barcelona: Fancy a trip to the beach? Some sightseeing? A football match? Delicious Spanish food? Architectural beauty? Barcelona will make all your wishes come true. You won't find many other places where one minute you can be on the beach and the next you can be in the town centre shopping and enjoying brunch in a healthy food spot such as Flax and Kale. Alongside ticking off tourist sights, most notably the impressive Roman Catholic Church 'Sagrada Família', step off the beaten track to areas like El Born to find hidden gems. Barcelona also has a coastline that stretches for 4.5km, so if the buzzy Barceloneta beach and bars running alongside it are not for you, try going a little further afield to find a more secluded and peaceful spot. You'll adore the upbeat vibe and positivity which is palpable at every twist and turn you take through the city, so brush up on your Spanish skills and get planning! If you're heading to Barcelona, have a read of our Hip & Healthy Guide to Barcelona!
For the sights:
Prague: The capital of the Czech Republic is extraordinary in that it has managed to retain its authenticity despite the growing number of tourists who for good reason have been attracted to the city. Prague is the dream destination for architecture fans with its Gothic churches and Baroque buildings, as well as the remarkable 13th century Charles Bridge' which joins the Old and New town over the river. Additional sights not to be missed are Prague castle, dating back to the 9th century, with guided tours on offer if you'd like more information about the castle's heritage and history, and the Petrin Lookout Tower, an unbeatable spot to take in the views of the city. Once you've orientated yourself, turn off your phone and allow yourself to get lost in the cobbled streets of this magnificent place and be sure to try a Trdelník, a traditional cake originating from Prague. If you're planning a visit, check out our Hip & Healthy Guide To Prague!
Berlin: As a city steeped in history, it would be tough to find better destinations for a weekend packed with culture, history and sightseeing than Berlin. The various museums and memorials in Berlin are not only deeply moving, but they also contribute to the fascinating vibe this city exudes. Berlin is small enough to experience so much in just a weekend but simultaneously leaves you wanting more. Must see attractions include the Brandenburg Gate and The East Side Gallery which showcases a variety of incredible and powerful artwork on the remains of the Berlin wall. The Fernsehturm, or TV tower, is also well worth a visit. You can choose to view the city from the observation deck, enjoy a sky-high drink at the bar, or for a truly unforgettable experience, feast at their restaurant which revolves slowly as you eat, so you experience Berlin from every angle. With a mixture of history and culture, alongside a variety of trendy café's, bars and workout spots, Berlin is a winner all around. If you're planning a visit, check out our Hip & Healthy Guide To Berlin!
words by Harriet Prior