Wales really is a superb, all-rounder destination if you're looking for a last-minute getaway. There are so many ways to entertain every member of your family or group of friends, from stunning coastal hikes where you'll witness some truly jaw-dropping views, delicious local cuisine, water sports galore and even some pampering (if you know where to find it!). We're sharing our perfect guide to Pembrokeshire where you can relax, unwind and switch off with a little helping hand from some of our favourite influencers.
SLEEP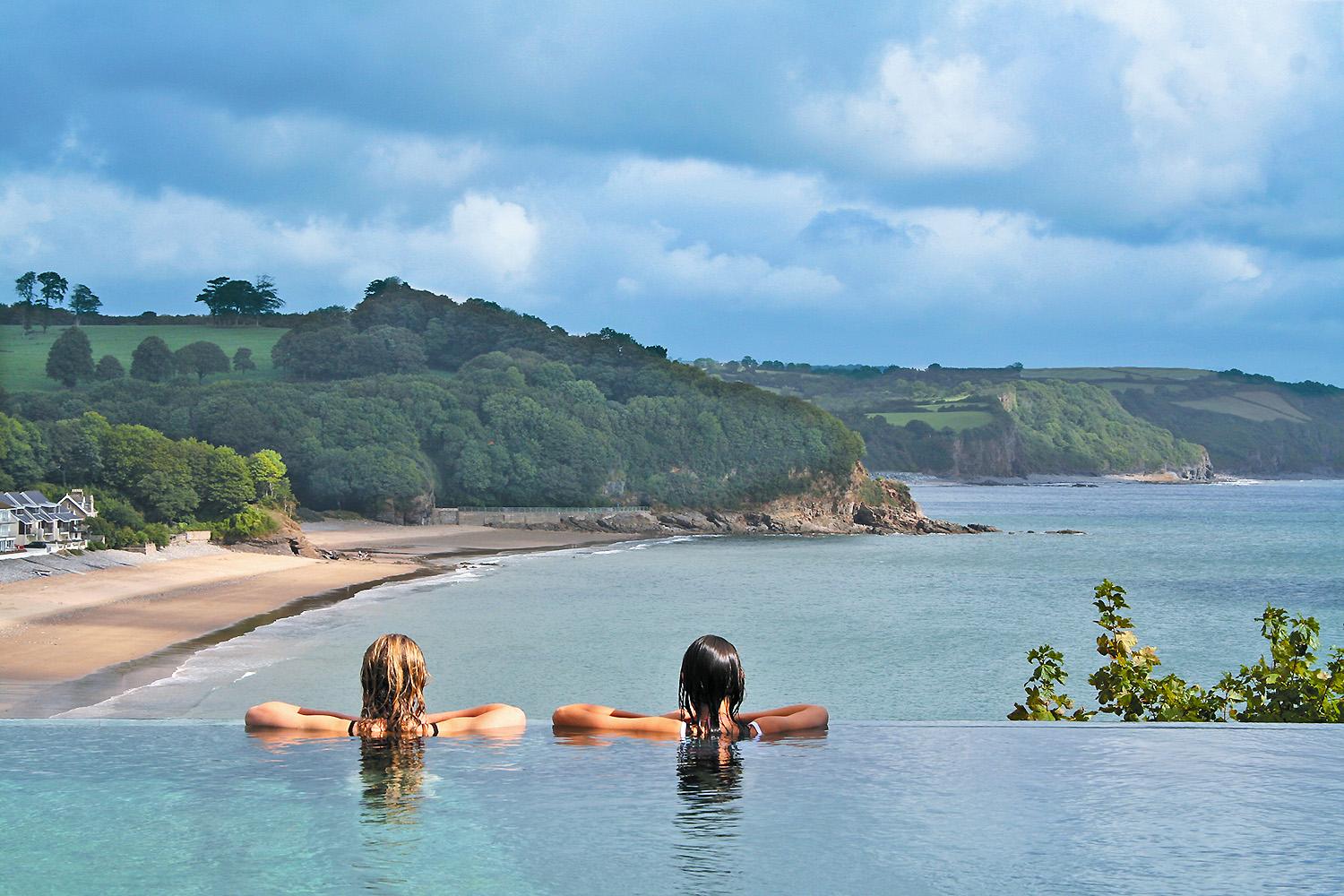 St Brides Spa Hotel
Fresh, sea air will do anyone the world of good and there really is no better, more beautiful place than Pembrokeshire. If you're looking for a coastal retreat where you can wake up to the sound of crashing waves and sun pouring through your window then be sure to check out St Brides Spa Hotel. Unwind and decompress in their spa with a variety of luxurious treatments to suit your specific needs and take pleasure in indulging in YOU time. For food, their Cliff Restaurant serves up some delicious fish dishes, (as you would expect!) and desserts to die for should you want to treat yourself! Did we mention the most spectacular infinity pool with views over the beach? Just one more reason to book your room asap!
Grove of Narberth
If greenery and country vibes are more your thing, you'll love country mansion Grove of Narberth. This 15th-century house that once belonged to the Bailiff of Tenby is perfect for a romantic getaway, especially if you're a city-dweller in need of a rather beautiful change of scenery! Rooms are decorated with handmade furniture, local pottery, artwork produced by local artists and soft furnishings such as Persian rugs and fine silks to create a warm, welcoming feel. Grove of Narberth also makes an ideal choice for those keen to live more eco-friendly. With their electric car charging points, solar panels, a biomass boiler, rainwater recycling system and their own vegetable garden, they really take the planet into great consideration, which we love!
EAT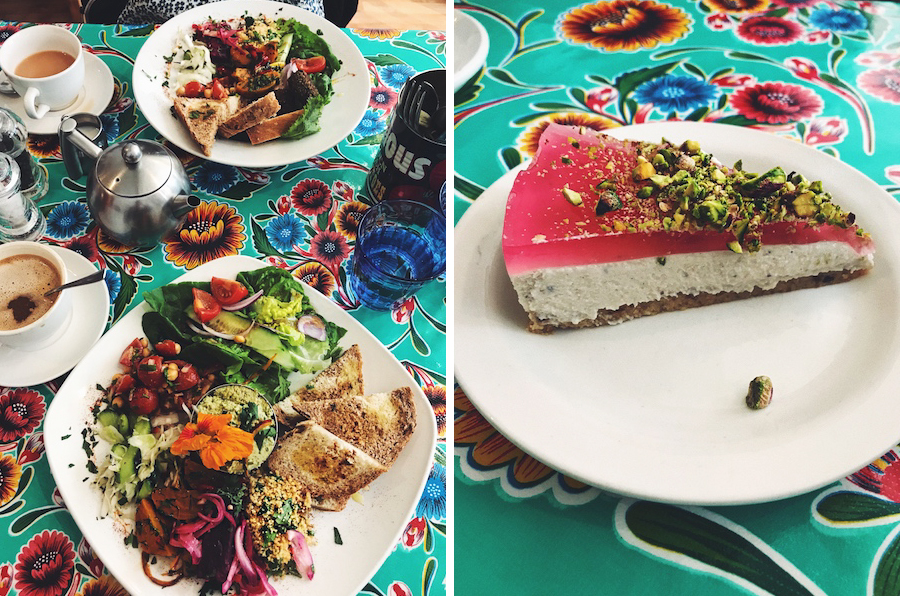 image: Lottie Murphy
Plum Vanilla Café
Plum Vanilla Café comes highly recommended from food blogger and presenter, Venetia Falconer who fell for their vegan cheesecake with rose and pistachio! With plenty of healthy salads and snacks to fuel you for the day, it's a great place to stop after a morning stroll through Narbeth.
Coast
If you're staying at St Brides Spa Hotel, you won't have to trek far to get to Coast! Situated next to the hotel, Coast has spectacular beach views and "heavenly food" according to photography and fashion blogger, Em Sheldon. Enjoy mouth-watering dishes (expect excellent seafood, of course!) created with local produce whilst watching the waves crash or head there simply for some cocktails and enjoy the day as it draws to a close.
The Fuchsia Café, Tenby
To satisfy your avocado toast fix then head to newly-opened The Fuchsia Café in Tenby! Tucked away in a quiet mews, lifestyle blogger and pilates teacher Lottie Murphy took great pleasure in devouring her tahini, avocado and sweet chilli sourdough toast! A cute pit-stop before heading to the beach!
DO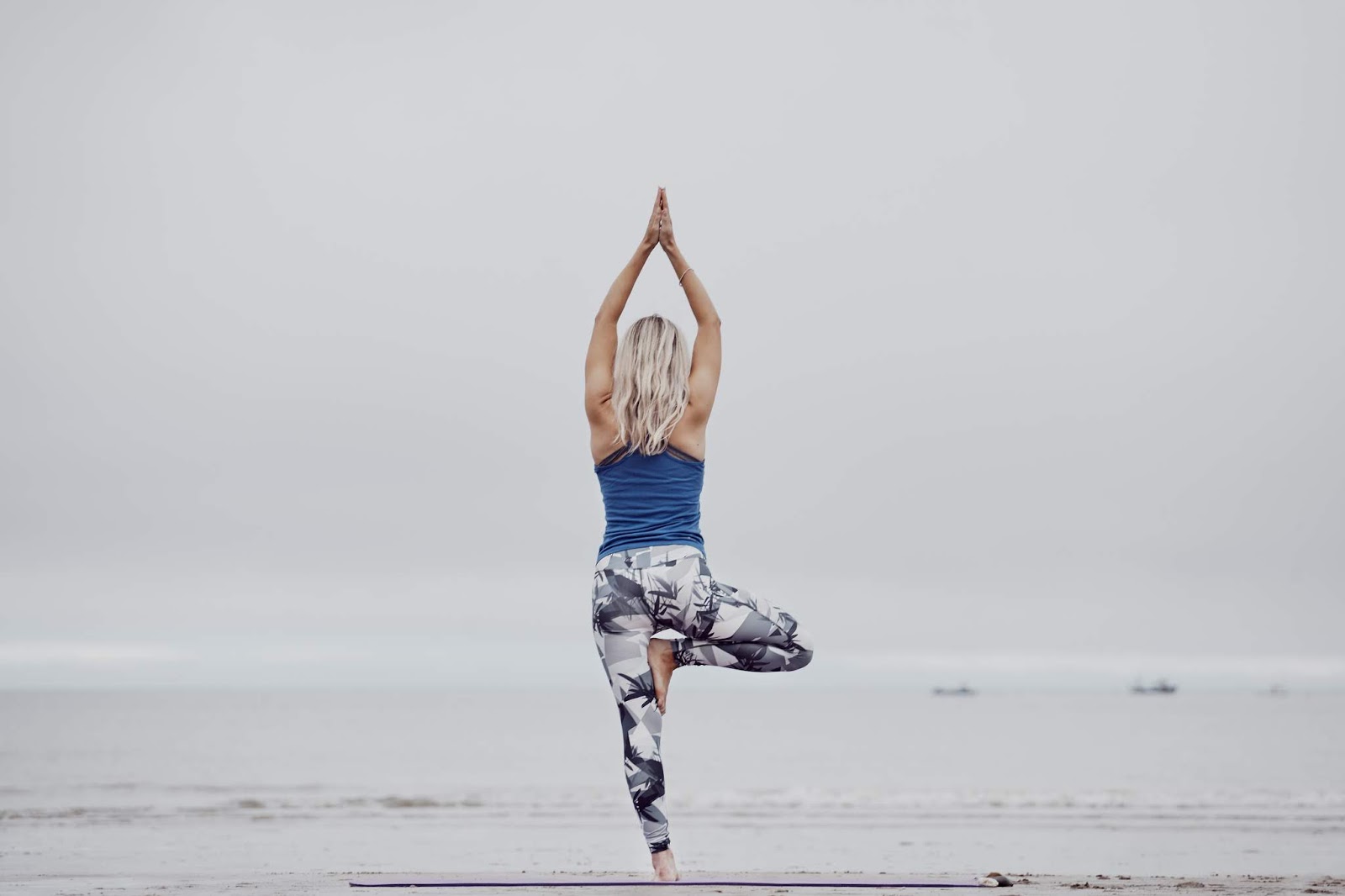 image: Em Sheldon
Yoga on Saundersfoot Beach
Can you think of a more relaxing, peaceful spot for a bit of yoga practice than the beach? Be inspired by Em Sheldon to whip out your yoga mat either at dawn or dusk for some chilled out yoga or even a quick meditation practice. If the yoga combined with fresh sea air and the gentle sound of lapping waves doesn't relax you, we don't know what will!
The Happy Planet Green Store, Narberth
Venetia stumbled across The Happy Planet Green store on her strolls through Narberth and we think this needs to be on your hit list of shops to snoop around. It's a zero-waste grocery shop that only opened this summer providing organic produce and the ability to shop without the use of plastic. This little town is leading the way in sustainable food shopping that's for sure!
St Catherine's Island & Fort
Recommended by blogger, Kristabel, head to South Beach for an afternoon hike and you'll get a glimpse of St Catherine's Island and the old fort. Originally a WW2 anti-aircraft gun placement, this little island is steeped in history and is open to visitors who want to look around (although the fort is closed to visitors). Note: check the tides before you go as you don't want to get stuck there!
We hope this guide to Pembrokeshire (with the help of some of our favourite influencers) has inspired you to venture over the stunning Welsh border and reignite your sense of adventure and feed, fuel and nourish your body and mind!
Visit Wales's Influencer Experience video will really help bring this magical place to life! For more info, head to visitwales.com