These fudgy and delicious black bean brownies with avocado chocolate frosting are an unusual twist on a classic afternoon treat, we'll give you that, but these taste absolutely divine! 
Ingredients
1x400g tin of organic black beans, rinsed and drained
3 large eggs
3 tablespoons avocado oil
1 teaspoon vanilla extract
30g 100% cocoa powder
120g coconut sugar or unrefined caster sugar
1/2 teaspoon baking powder
1/4 teaspoon salt
100g organic chocolate chips (70% cocoa solids minimum)
50g chopped walnuts
25g cocoa nibs
Frosting
75g 70% dark chocolate chips
1 ripe avocado
2 tablespoons maple syrup
Serves: MAKES 8 – 12 BROWNIES DEPENDING ON WHETHER YOU WANT THEM BITE SIZED OR A LITTLE BIGGER.
Method
In a blender puree the black beans with the eggs, vanilla and avocado oil.
In a separate bowl combine the cacao, baking powder , sugar and salt.
Add bean mixture and fold in gently – Do not overmix.
Lastly, fold in the chocolate chips. Pour the batter into a parchment lined 20cm X 20 cm tin and bake for 23 minutes.Allow to fully cool.
For the frosting, melt the chocolate in a heat proof bowl over a pan of simmering water. Add the avocado and maple syrup to a food processor followed by the cooled chocolate.
Blend until smooth and spread on top of the brownie.
Garnish with walnuts and cocoa nibs.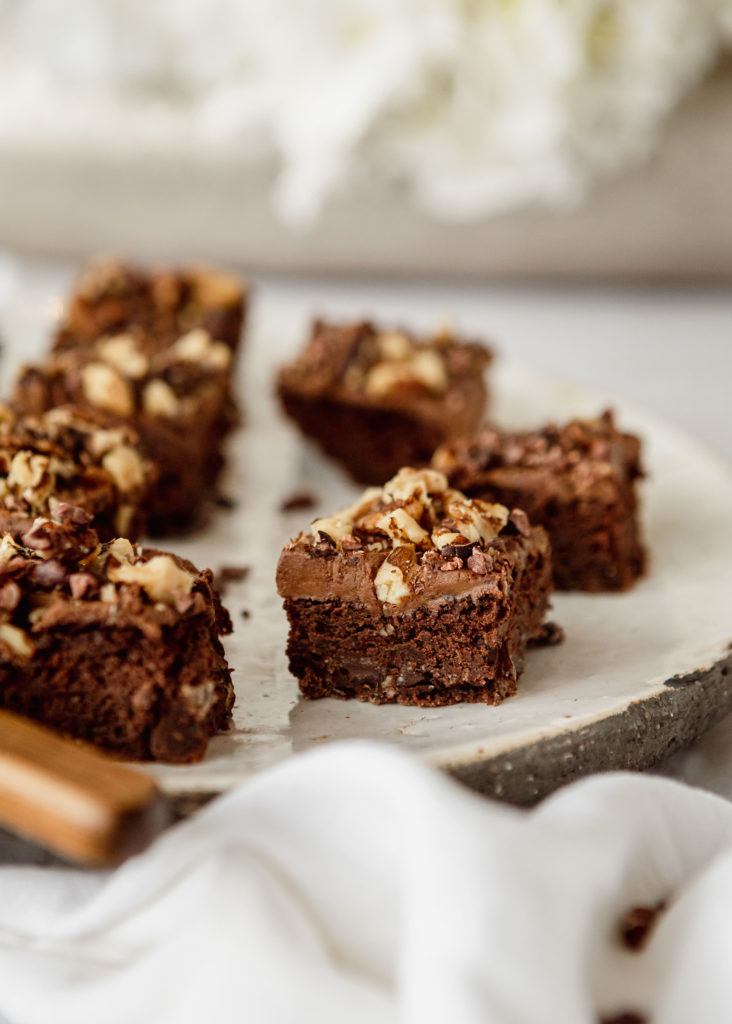 Recipes from Healthy Chef and Model Karen Koramshai
karenkoramshai.com