India for a month sounds like a long time but really, it's just enough to scratch the surface. Eager to cram as much as possible into four weeks, the trip involved a lot of travelling. I wanted a taste of it all, from Kerala in the south – green, leafy, humid and hot – to Rajasthan in the north – dusty days and cold nights. A 'taste' is exactly what I got, an amuse-bouche so to speak. After 30 bountiful days of exploring, learning and eating, I returned home with a sweetness on my tongue that's left me craving more, I want to go back and devour it!
Kerala – Alleppey, Varkala and Kochi
My boyfriend and I started our trip in the backwaters of Alleppey, Kerala. Spending three nights on a houseboat, we slowly meandered through the network of canals and coconut-lined lagoons which spill out from Lake Vembanad (the longest in Asia), observing Keralan life along the way. It seemed to revolve around the water; locals bathed and washed their clothes while children splashed around. Goats perched on the banks lapping up water and further into the villages, rice farmers worked shin deep in muddy water, tending to the verdant paddy fields which dominated the landscape. Fishermen went out at dawn, returning at dusk with a day's work squirming in their nets and by nightfall, as light faded the sounds around us changed too. Boat engines dwindled and the hum of crickets and mosquitoes filled the humid air.
An onboard chef took the work out of preparing or deciding what to eat and we enjoyed fresh, local food each day. Breakfast consisted of eggs or rice flour coconut pancakes and at around 3pm we were spoilt with banana fritters alongside our afternoon cups of local masala tea. For lunch, the daily catch was fried with curry leaves, black pepper and mustard seeds and served with tomato curry and poppadoms for dipping. Our final meal on the boat was the most memorable, beautifully presented on a banana leaf. Fried karimeen fish – firm and meaty with crispy skin – alongside a tangy pineapple curry, spring onion and coconut stir-fry, okra, spiced chickpeas, beetroot chutney, poppadoms, goat's curd, spicy tamarind sauce and to offset with some sweetness, a baby banana. It provided us with much needed energy for a 5-hour bus ride to our next stop Varkala, a coastal town further south.
We settled into a cliff-side bungalow for the next three nights, spending most of our time on the beach or  trying out the local eateries. Darjeeling Cafe was a beautiful spot for breakfast or evening cocktails while having a cuddle with the owner's Akita puppies. The 'Darjeeling Darling' cocktail was a delicious muddle of pineapple, chilli, lemongrass and honey.
Next up was a 24 hour pit-stop in Fort Kochi and after a delayed 6-hour train, some questionable on board samosas, 3 tuk tuks and a ferry, we arrived hot and hungry. A tip-off from a fellow traveller led us to Dahl Roti, a local thali restaurant. The platter included dahl fry, steamed rice, fish curry, cauliflower curry, okra and spinach curry, curd and warm rotis. It was an absolute feast at only 250INR – £3! The next morning after ginger tea and fluffy cheese and tomato omelettes at Loafer's Corner Cafe we headed to Cochin International, the world's first fully solar-powered airport housing over 46,000 solar panels – a dazzling view as we took off for Mumbai.
Mumbai
Nothing I'd previously seen or heard about Mumbai could fully prepare me for the utter deluge of wonderful chaos that it was. An attack on all the senses, there was no time to even catch our breath once stepping out of the airport into the sticky air. Cattle, cars, tuk tuks, buses and endless mopeds created a cacophony so powerful I could swear I still heard it in my sleep. Where Keralan life was slow and steady, Mumbai forced us to think fast and move hastily. We dumped our bags at our hotel and after a brief power nap were happy to discover that we wouldn't have to venture far from our little wedge of Colaba to find good food. A couple of streets away was Bademiya – the BEST kebab I've ever had (added emphasis on this due to the fact that I'm half Lebanese). Like the street-to-seat evolution of Patty & Bun and Breddo's Tacos in London, Bademiya is Mumbai's answer to a food truck fairytale. Housed in a disused art gallery, at 8pm the clientele varied from families and locals to international businessmen and couples. The chicken tikka rolls were so good I ate two, totally justifiable as I wanted to try both the green and red hot sauces. The real charm of Bademiya lies in its logistics – the food still comes from the food stand, with waiters running back and forth across the street to serve the tables in the gallery. Post dinner we quenched our thirst around the corner at Colaba Social where the bar's creative drinks offering, such as curried apple margaritas, kept us well-entertained for the night. Bleary eyed, we headed back to the scene of the crime the following morning, this time for a breakfast of fried eggs, homemade baked beans and grilled tomatoes. The rest of our time in Mumbai was spent getting lost in the city's hectic streets, exploring Dadar flower market and the antiques at Chor Bazaar, picking up vintage Bollywood posters, developing some of our photos in Prabhadevi (way cheaper than London) and wiling away the hours at Chetana, an indie spiritual bookshop in the business and arts district of Fort.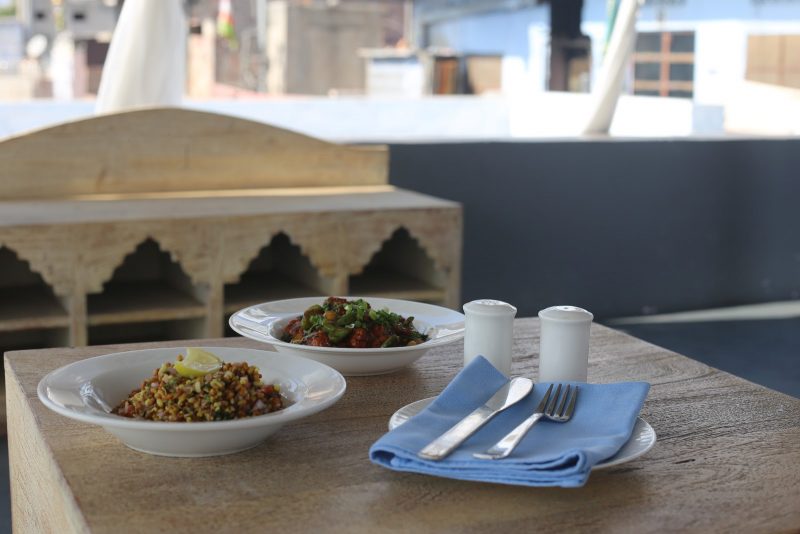 Rajasthan – Udaipur, Jodhpur and Jaipur
The northern leg of our trip began in Udaipur, known as the 'Venice of the East'. We stuck to a plant-based diet whilst in Rajasthan and despite being a meat-lover, I didn't miss it at all. The traditional vegetarian fare was vast and varied and when I grew tired of veggie curries or rice dishes I stuck to a simple order of dahl. It was soothing, cheap, easy on the digestive system and gave my taste buds a welcome break from the spice-loaded dishes I was often tempted by. Decompressing after the madness of Mumbai, we sipped mango bellinis at Jag Mandir Garden while looking out onto Lake Pichola and visited Monsoon Palace to watch the sunset. When our time in Udaipur was up, we embarked on a 6 hour drive to Jodhpur, the city known for its sea of blue houses, historic havelis and monumental forts. Along the way we stopped at the Jain temple in Ranakpur for a meal at the temple food hall, called the 'Bhojan Shala'. Food is cooked and served by volunteers and you can have as many helpings as you wish for a donation of 100INR. Once in Jodhpur, we found a few rooftop hideaways where we could admire the city's views – Namaste Cafe, for fruity breakfasts with Tulsi tea and The Step Well House Cafe for lunchtime salads under a shady canopy. Baradari was another beautiful find, a serene haven in the Raas hotel's courtyard. They serve seasonal, organic food which is locally-grown in their very own garden – and all with a view of Mehrangarh Fort, which is spectacular at night time.
Jaipur was the last stop in Rajasthan, where we spotted the most monkeys, visited the historic Raj Mandir cinema and bought silk saris and cashmere scarves. I tried a few of the local snacks sold from street carts including chaat, crisps and salty popcorn. Anokhi is a great spot for lunch there, it's an organic cafe which within a store selling ethical, organic cotton clothing. I had a roasted pumpkin, feta and onion salad with savoury muffins and fresh orange, carrot and ginger juice. An obligatory visit to the Taj Mahal led us to a cosy homestay in Agra where I had one of the best breakfasts of the trip, a cumin-spiced potato dish which had been passed down from the homestay owner's mother. It also features in Madhur Jaffrey's 'A Taste Of India', who is a family friend of theirs!
Varanasi
Our final stop was Varanasi, also known as Benares, the holiest city in the world. Just as our journey had begun by the water, it ended so too, this time on the River Ganges. The atmosphere was pure magic along the ghats. Mad and calming at the same time, I was enchanted by the way of life and people's pure devotion to spirituality. Within the winding maze of alleys we found a cafe serving 24-hour slow cooked black dahl. It was the perfect comfort food after four weeks of rigorous travelling and experiencing all of the vibrant, rich flavours India has to offer. I've no doubt I'll be back but for now, my suitcase full of spices will keep me busy in the kitchen. Until next time, India!
words by Eva Ramirez
More travel articles we think you'll love…