Our love of Christmas (like most people) is a given. It's the most wonderful time of the year, so says Andy Williams. But staying on top of your #healthgoals whilst attending all the fabulous parties, seeing friends, making merry, drinking mulled wine and eating all the mince pies is a definite challenge. So why don't you double-tap your fitness with some Christmas shopping and something social on the side? Here's where to workout, eat well and shop this Christmas!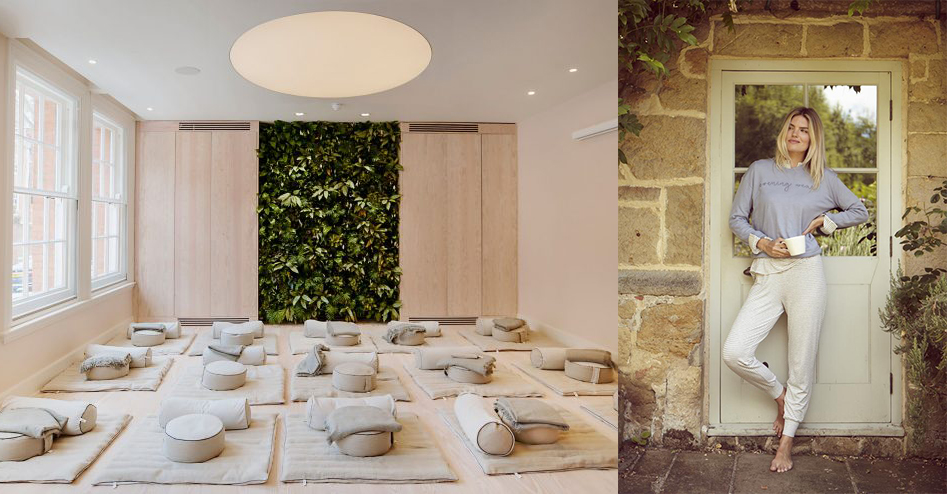 Meditate at Re:Mind, Refuel at Daylesford Organic and shop cosy rest wear at Luxe + Hardy in Belgravia
Our dream day goes a little something like this! We're absolutely loving Re:Mind in Belgravia for our meditation fix. It's a drop-in studio with many different classes and their interior style just makes the whole experience more lovely. If you're anything like us, then lunch at Daylesford Organic is one of our favourite things to do on a weekend. Their farm shop is perfect for browsing around after (warning, you'll spend all your money here!). Finally, new to Belgravia is Luxe + Hardy's concept store on Elizabeth Street. They've nailed luxuriously cosy sleepwear and restwear so why not stop by for some Christmas shopping?
Box at Kobox, go vegan at Wulf & Lamb, then cruise the Kings Road.
Kill multiple birds with one stone. Destress whilst working up a sweat at nightclub-esque boxing mecca (and supermodel favourite Kobox). Sixty minutes of intense upper and lower body moves are split into a rotation between the bags and time spent on the wall. When you're on the bag, you'll run through various drills (hooks, jabs, upper-cuts – the lot!) to challenge your focus, coordination and power. Back on the wall expect explosive plyometric body-weight exercises boosted with sandbags and a TRX to increase strength. After class and hitting the showers, cruise down the King's Road to vegan café Wulf & Lamb where you can tuck into a vegan burger, warming curry, fresh salad and greens to adequately refuel. Leave room for a side of Mac N Cheese or if sweet is more your style there's always an array of freshly baked vegan treats to choose from. From here you're all set for some Christmas shopping; the weekend farmer's market is a great place to pick up artisanal home-made gifts for foodie friends, and Peter Jones has got everything you need for the obligatory mother-in-law present.
Hot Yoga at SOMA House, get your greens at Market Green Food and get last minute bits at Spitalfields.
Time to recharge from the Christmas chaos before getting back out there for some last-minute bits. Elementals Hot flow yoga class at SOMA House is your remedy. Book the Earth elementals class – the slowest, deep flow which focuses on strong grounding postures with longer holds. The earth flowing classes are designed to help anyone with tight shoulders and hips (so everyone then) and helps to ignite that inner resilience so when you leave you feeling like you can take on anything that life throws at you. After this refresh head to Market green food to get in some nutrients before the indulgent festivities really start to kick off. Their market boxes make a wholesome packed lunch for hungry shoppers and busy office workers. Choose a protein source (honey & soy salmon, pomegranate chicken, sweet potato tagine) on a bed of grains or greens along with a choice of two side dishes (think cheddar cheese and pear, courgetti straws and avocado) to complete your box. Then it's off for those final bits and pieces at some of Spitalfields most interesting and one of kind artisanal shops.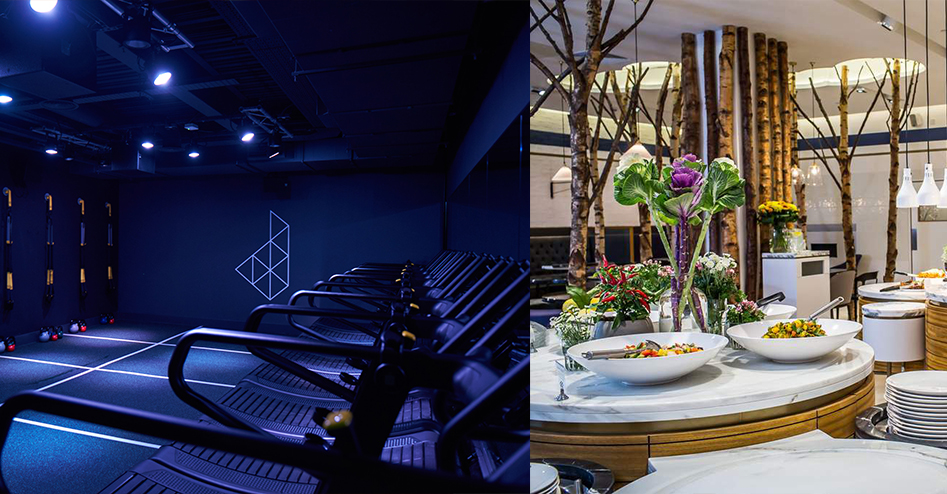 Build some Skillz at Digme, lunch at Ethos and shop in Soho.
With a few branches across London (and one in Oxford), Digme Fitzrovia studio is the perfect location to combine food and some cheeky lunchtime shopping. Try out their Matrix class – a full fifty minutes made up of short bursts of high intensity combining running on the Skill Mill, conditioning and movement on the floor using a variety of your own body weight, kettlebells, TRX for a full body fat burning workout. Ethos a.k.a. veggie salad heaven is a short five-minute walk afterwards to pile up your plate and regroup before taking on the Soho shopping scene. Think halloumi bites, aubergine meatballs, beetroot and carrot cake with cardamom yoghurt, Moroccan tagine, seitan BBQ ribs, cauliflower fritters, coconut tempeh curry, veggie pie and is your mouth watering yet?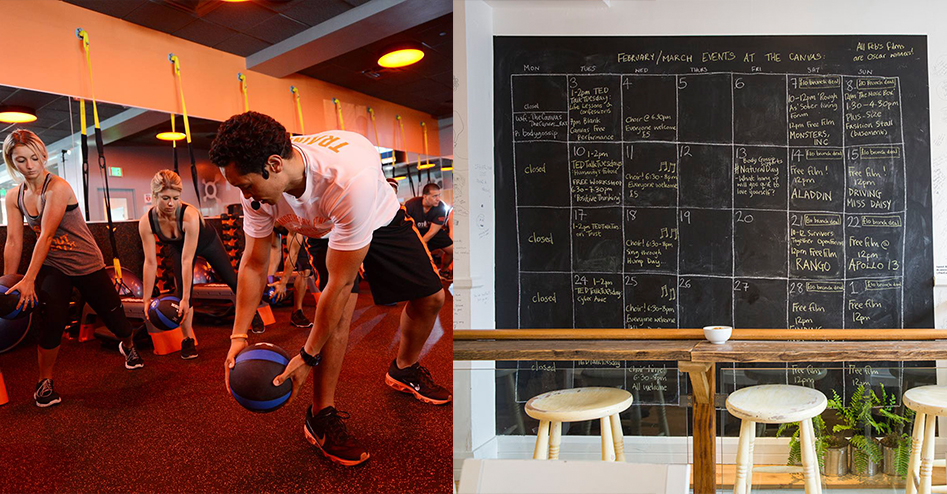 Sweat it out at Orange Theory Fitness, try Canvas Café's Vegan Bottomless Brunch and browse on Brick Lane.
If you haven't yet tried American favourite Orange Theory then now it's your excuse for making your fitness social with a friend before hitting the shops. Every day is a different full-body workout that combines running, rowing, weights and bodyweight work so you will never experience the same class twice. Heart-rate monitoring is used to track heart-rate and make sure you're getting into the right zone for optimal class calorie burn and afterburn. But it comes down to how competitive you want to get with yourself – so it can be as hard or as easy as you like. And from what we've heard the trainers here get it right with the motivation; no yelling in your face about 'making it count' but still full of energy to push yourself. After smashing the class, you should celebrate in style at London's first happy café – Canvas Café – with a vegan bottomless brunch. They've got healthy classics like tofu scramble, Avo on Sourdough, Jackfruit sandwich and Salads. You can also pay it forward by buying some hot food or drink for those in the community who can't afford it. You can't get more in the spirit of Christmas than that! And then you're on Brick lane to browse as you please for those quirky family members you never know what to get.

Spin at First Light, grab a Leon hotbox then get serious about shopping at Westfield
If you and your friends are longing for some winter sun then this could be the class to visit to get it before taking on some serious Christmas shopping. First Light in Westfield is the first spin studio to combine sunlight simulation, mindfulness and meditation on a bike and takes the senses to another level. Expect a sweaty spin class for forty-five minutes, or if you're feeling peppy go for the full hour, where you'll be combining typical hill climbs, sprints, upper body strength work with additional light stimulation throughout to motivate and energise you during and after class. Visit Leon at Westfield for the healthiest quick high-street food fix before knuckling down for some serious present shopping. Our favourite is the Brazilian black bean box or for carnivores, the Sicilian Chicken meatballs are a winner.
words by Sophie Heywood, Founder of double shot https://doubleshotcollective.com @double.shot.colective
---