While we're all for the good parts of winter (cosy knits, hot chocolate-fuelled walks, and hot water bottles) – the bad parts? Not so much. Especially when they wreak havoc on our skin and hair. Yes, we're talking about the cold outdoors, the hot indoors, and what a combination of the two does to our bodies. Read; cracked lips, limp locks, red faces, and fearsome feet. No thank you. But before you go into full-on hibernation mode, don't panic – because Hip & Healthy's Beauty Editor, Frankie, is here to the rescue with her ultimate winter beauty maintenance guide. Read on for her top tips, tricks, and product picks to help you combat the top five winter beauty woes. You're welcome.
DRY SKIN
Cold winter weather really takes its toll on our skin's hydration levels. Because humidity outside drops, the water in our skin evaporates faster, leading to everything from dryness and tightness to flakiness and dehydration. Add to that our cranked up central heating (the drier the air, the drier your skin) and your skin has a lot to contend with during the winter months.
"Cold weather causes the blood vessels in our skin to constrict, ensuring we maintain heat in the centre of our body. This constriction means that moisture isn't carried around the system as well", explains Johnson & Johnson skin expert, Rebecca Bennett. "The other effect winter has on the skin – particularly the wind – is that it can damage the skin barrier. Conversely, central heating, which we all switch to maximum at this time of year, is equally bad at damaging that topmost layer of skin. The skin barrier should act as it should – as a barrier to keep moisture in and bacteria and allergens out. It's so important that we maintain, protect, and restore our skin barrier."
So, to keep your skin happy and hydrated and to keep dreaded winter dryness at bay, try these top beauty-boosting tips:
Moisturise. A lot."If your skin is feeling dry, sore and crinkly, then using a good moisturiser containing humectants and barrier building ingredients can make a difference very, very quickly." Bennett recommends. "In terms of ingredients, glycerin and ceramides both help rebuild the skin's barrier. Of course, hyaluronic acid is great to add moisture into the skin, but there's no point doing that if you're not restoring the barrier. It's like pouring water into a leaky bucket!".

Humidify Your Home
By boosting the moisture levels of your home, you're in turn boosting the moisture levels in your skin. A win-win situation all round! If you opt for a humidifier that doubles up as a heater, be sure to keep the temperature low or medium, to avoid encouraging moisture loss.
Try: Dyson 'Humidifier'
Avoid Hot Baths
"One thing we're all tempted to do during colder weather is crank up the temperature of our showers and baths and make them really hot and steamy. Whilst it's lovely to lie in a hot bath at the end of a cold day, watch out for hot water on skin. If it's too hot and you soak for too long, you're actually making your skin barrier leakier. So, try keep a hot bath as a once a week treat and keep your daily shower temperature medium", advises Bennett.
Cleanse Cleverly
If there was ever a time to switch-out your soapy, foamy, heavily perfumed cleansers in favour of a nourishing balm or oil-based formula, it's now. Not only will they skin retain its natural oils (unlike the harsh sulphates that cause that frothy lather), but they'll also protect the skin's natural moisture levels while gently washing away daily dirt and grime.

BRITTLE HAIR
Just as the lack of moisture and harsh winter weather zaps moisture from our skin, so too does it dehydrate and dry-out our locks. Brittle, flyaway hair is one of winter's biggest beauty bug bears, and it leads to everything from split ends and frizziness to breakages, dandruff, sore scalps, and even hair loss. Just as with our skin, a simple tweak in routine and the addition of nourishing ingredients can make the world of difference, so try these easy hair hacks to minimise damage and ensure you maintain your luscious, healthy mane all winter long.
Shampoo Less (And Better)
Overwashing your hair is one of the biggest causes of dry scalps and locks, so this winter try and leave it a little longer between washes so as not to strip your head and hair of moisturising and protecting oils. When you do wash your hair, always opt for a sulphate-free shampoo that won't stress out your scalp or dry out your hair. Plus, less hair washing = less need for heat styling.

Switch To Silk
Banish bedhead and wake up with soft, smooth, frizz-free strands simply by switching to a silk pillowcase. Cotton can dry out hair and cause it to drag and tug across your pillow, whereas silk ensures locks glides effortlessly and gently across the surface without damaging or drying – all while helping hair retain its natural moisture.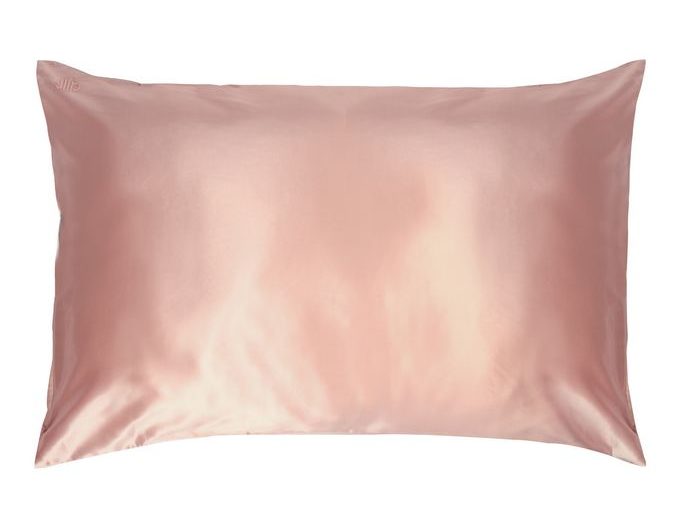 Slip 'Pure Silk Pillowcase' – £85
Treat Yourself
There's nothing quite like treating yourself to a good old pamper session, especially when at the end of it you have silky soft hair and glossy locks to rival Kim K. Take the time to invest in a once-a-week deep treatment mask to load your hair and scalp with nourishing ingredients. A great (and easy) way to provide locks with a whole host of protecting, hydrating, and softening benefits, most work in as little as 20 minutes to deliver serious strand-perfecting results.

Don't Skip Your Scalp
It's no use tending to your tresses if you're neglecting your scalp. It is the (literal) root of your hair and contains the exact same cells as the skin on your face. So, by not looking after it regularly, you can end up with lacklustre locks, flakiness, and even more dryness. To combat this, use a scalp scrub once a week to unblock hair follicles and gently remove dry, dead cells, and follow with a nourishing scalp serum or oil to replenish moisture levels and soothe and calm. You, and your hair, will thank you for it.

REDNESS
Cold weather and sensitivity go hand in hand, which – unfortunately – doesn't just mean dry, irritated, stressed-out skin, but redness too. Going from central-heated indoors to cold, windy outdoors (there's nothing like a freezing slap in the face to get that redness going) throughout the day increases sensitivity and everything that comes with it. Aside from protecting as much of your skin as possible from the elements (think scarves, hoods, and yes – even face masks), by introducing calming, soothing ingredients into your skincare routine, you'll be able to reduce redness and care for your complexion.

CHAPPED LIPS
Nobody likes a parched, cracked pout – especially when there's mistletoe to contend with. Winter can be your lips' worst enemy, with the lack of humidity and cold air causing chapping, cracking, and flaking. Because our lips don't contain oil glands like the rest of our skin, they're even more susceptible to dryness at this time of year. Aside from investing in a nourishing lip balm (our top picks below), there are a few other things you can do to keep your smile soft and smooth, all winter long.
Stop Licking
You may think that licking your lips and keeping them wet makes them more moisturised, but in fact that dries them out even more. Once that saliva evaporates, your lips will be more dehydrated than before, so stop licking!
Watch Your Diet
The ultimate way to boost your beauty and look after your lips, hair, and skin? Through your diet. "Although it's very tempting to face plant into mashed potato and apple pie during winter, it's more important than ever to eat lots of colourful vegetables and healthy fats", says Bennett. "Oily fish, such as salmon, and avocados are amazing for skin. Also make sure you drink plenty of water. If cold drinks aren't tempting, try herbal tea, and keep your caffeine levels low." Of course, no one is expecting you to skimp on the mince pies or turn down the Christmas choc, but make sure you're still loading up on the good stuff if you want the perfect pout.

FRIGHTFUL FEET
During the summer our feet take front and centre stage in both our clothing and grooming routines, with days spent flaunting flawlessly painted toes and perfectly pedicured soles in our sandals and flipflops. Come winter, however, and we're all guilty of totally neglecting them, pretty much completely. The result? Dry, cracked heels, brittle nails, flaky cuticles, and – as one of our editors (who shall remain nameless) describes – "wintery gremlin feet". You don't need to be booking in for monthly pedis to maintain the health (and appearance) of your tootsies, as all it takes is a few hero products and you're good to go. Remember to keep your feet clean and hydrated, regularly (and gently) buff away hard, dead skin, and be sure to replenish moisture levels just like you do with your skin, hands, and lips. These lotions, potions, and tools are just the ticket.
words by Frankie Rozwadowska
---