Yep, we're doing it. We're talking about all things lady parts. And it's about time. Not only do most of us not give "down there" a second thought when it comes to our intimate beauty and bathing routines, but we're often guilty of slathering on harsh and potentially harmful washes and products that can completely disrupt the natural bacteria that keep our vaginas' ecosystem happy and healthy. Read itchiness, discomfort and even infections and unpleasant odours. Not what we want…
But whilst caring for our nether regions isn't something we talk about freely and is definitely still taboo, in recent years there have been more and more brands emerging on the market that promise to care for down there. With social media and easier access to information online, women are educating themselves about what's good and what's bad for their bodies when it comes to beauty products, and brands are taking notice. But how should we be looking after our vaginas, and what are the best products to use? No – we're not talking popping in jade eggs or vaginal steaming. Sorry Gwyneth. Here, Hip & Healthy investigates…
It's all about the PH
"When we started DeoDoc, we saw that there are a lot of misconceptions about the female anatomy. Women have no idea about their own anatomy, and they can't name their female parts!" explains Dr. Hedieh Asadi, co-founder of medically-backed vagina-friendly brand DeoDoc. "The biggest misconception is about vaginas and vulvas. We tend to say vagina for everything, but actually – we have a vulva! And they have totally different pH levels."
This is something that's super important, because using washes and products that haven't been specially developed for your intimate area can wreak havoc on the skin's pH levels. "The pH of the vulva area is the same as the skin – pH 5 – but inside the vagina has a pH of 3.5. It's like a lemon, very acidic." So, make sure your product pick has a pH of 5 to maintain your vulva's pH (the outer area). Your vagina is a whole different story, and this is why…
Stick to the Outside
Washing the outer part of your intimate area, with the right product, is absolutely fine. Inside, however, is most definitely not. "We should never wash inside the vagina, because its self-cleansing", Dr. Asadi explains. "But outside, where the pubic hair is, we have sweat glands – just like in our armpits. If you just want to use water, that's fine – but for me personally, washing my armpits with only water isn't enough. We recommend an intimate wash with a pH of 5 because we have sweat glands in this area, and you can get a bacterial build-up during the day. You might have heard expressions such as "sweaty balls", and it's the same for women too! This area has a very delicate ecosystem, and if the pH gets disrupted, you can get irritation, discomfort and infections."
A Little Goes a Long Way
Whilst it might feel wonderful slathering on your various oils, lotions, and foams all over your body, that's one thing you need to not do when it comes to caring for your intimate area. Overloading it with any product can disrupt the pH and throw the natural balance totally out of whack. Be sure to pat dry rather than rub, too – the skin here is very delicate. Remember – a little really does go a long way, especially down there.
Don't Douche – Ever
"I can't think of any circumstances where douches are helpful, because all they do is wash out everything that's in the vagina, including all the healthy bacteria," explains Professor Lamont, renowned consultant gynaecologist and obstetrician. Commercial douches contain incredibly harsh chemicals as well as antiseptic and harmful fragrances (more on that in a moment). Even "natural' douches, often made of a simple vinegar and water solution, should be completely avoided.
Douching has been linked to huge health problems from bacterial vaginosis to cervical cancer and even pregnancy complications, because it destroys the good bacteria key in keeping our vaginas healthy. These are responsible for everything from preventing harmful bacteria from entering to keeping the balance of the pH. So, in a nutshell, don't douche. And don't put any products inside your vagina – ever!
Shun Strong Scents
One of the main problems with mainstream feminine hygiene products is that they are packed full of fragrance. There's no denying that they might smell nice, but these strong, artificial scents (or even natural ones) only cause more disruption. They're also part of a bigger problem – women are made to feel conscious of their natural smell, and therefore try to eliminate it. "What we know from ourselves and with our patients, is that we have a natural odour – but women tend to excessively wash their intimate area", explains Dr. Asadi.
This natural smell also changes depending on our monthly cycle, so that's something to be aware of. Of course, if you're worried about your vagina's smell or if it's unpleasant – firstly, stop using perfumed products to cover it up, and secondly – go see a professional. As Professor Lamont says, "If nature had intended the vagina to smell like roses or lavender, it would have made the vagina smell like roses or lavender".
The Best Intimate Beauty Brands in the Business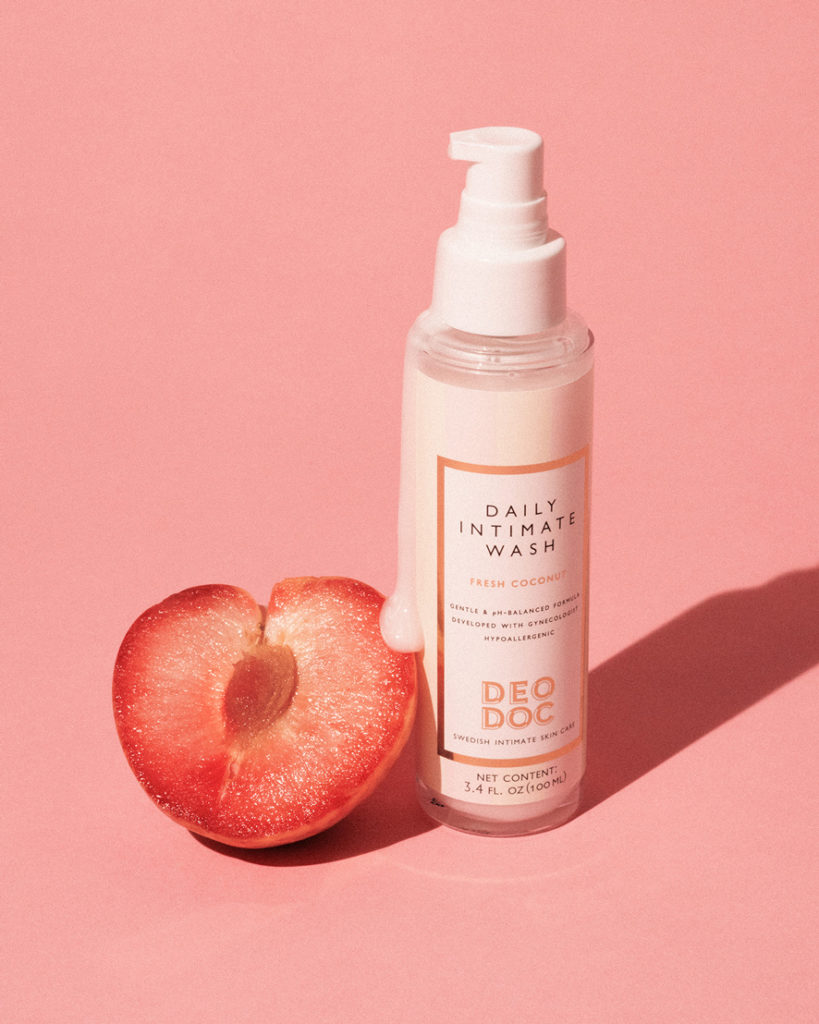 DeoDoc
"I started DeoDoc – together with my sister – five years ago, after we got problems from using existing products on the market. Discomfort, itchiness, yeast infections, things like that. I also saw these problems amongst my patients, as did our third co-founder Dr. Gunvor Ekman-Odeberg –a professor of OBGYN with over 50 years of clinical experience", Dr. Asadi tells us. "I thought, we can send people to the moon, but there aren't good products for women! It's not enough to tell our patients to stop using these products – there should be medically and scientifically backed feminine hygiene." And thanks to DeoDoc, there is.
All products have been tested and developed by experienced doctors and gynaecologists, are 100 percent vegan and pH balanced, and have been made by women, for women. From gentle on-the-go cleansing wipes to a pH balancing wash and pre-shave oil that boasts an anti-itch formula and inhibits hair growth, there's everything you need to tend to your lady parts.
Try: DeoDoc Daily Intimate Wash – £19.50
Nessa Organics
Whether you're a mum-to-be, going through post-partum recovery or menopause, or looking for some extra TLC at that time of the month, Nessa Organics has the answer. Offering clean, functional products for any stage of life you're in, each product has just the right blend of vitamins, minerals, antioxidants and anti-inflammatories and the backing of leading doctors and women's health practitioners.
Created by mother of three Fiona Toomey, who struggled to find clean, good-for-you products when dealing with the changes to her body after having children, you can rest assured that there are no nasties or harmful additives – only gentle, effective formulas that really work. "I became increasingly frustrated by the lack of functional and effective products to tackle my ever-changing body and my recovery…NESSA exists to empower women to take control of their own recovery", Toomey explains. We particular love the 'Vagina Victory Oil', which boosts collagen and eases discomfort thanks to a blend of rich butters and oils. Perfect to use post-partum, to soften skin pre-shave, or to soothe dryness and irritation.
Try: Nessa Organics Vagina Victory Oil – £24
FUR
Celebrity favourite FUR is making waves in the feminine hygiene world thanks to its vegan, cruelty-free, non-toxic products that promise to look after your intimate area whilst also looking seriously chic on your bathroom shelf. "As mothers and childhood best friends, we believe in a more inclusive definition of beauty, whether you think the bush is back or skin is in. That's why we created effective, simple, clean, and inclusive products for the whole body, including places you used to only whisper about", explain founders Laura Schubert and Lillian Tung. And we really mean whole body – Emma Watson revealed she uses their 'Fur Oil' on everything from her pubic hair to her split ends.
Whether you wax, shave, or embrace the bush, FUR's nourishing oils and creams tackle everything from in-grown hairs and clogged pores while softening hairs and keeping skin soft and smooth.
Try: FUR Ingrown Concentrate – £28
Baûbo
Named after a mythical Ancient Greek goddess who celebrated female sexuality and beauty and power of her parts, Baûbo was created by two French friends who wanted one intimate balm that could be used to soothe post-sex, cycling, or just a day spent in skinny jeans. Made with organic, natural ingredients derived from plants, their balms have been specially formulated to soften, soothe, and hydrate the vulva area thanks to rich, nourishing ingredients including avocado, coconut, and calendula. What's even better, is you can use them on dry hands, elbows, or wherever you fancy, and their 'Gorgeous Balm' is perfect to use on postpartum skim or on bellies, boobs, and bums. A true. multi-tasking must-have.
Try: Baûbo Le Baume – £38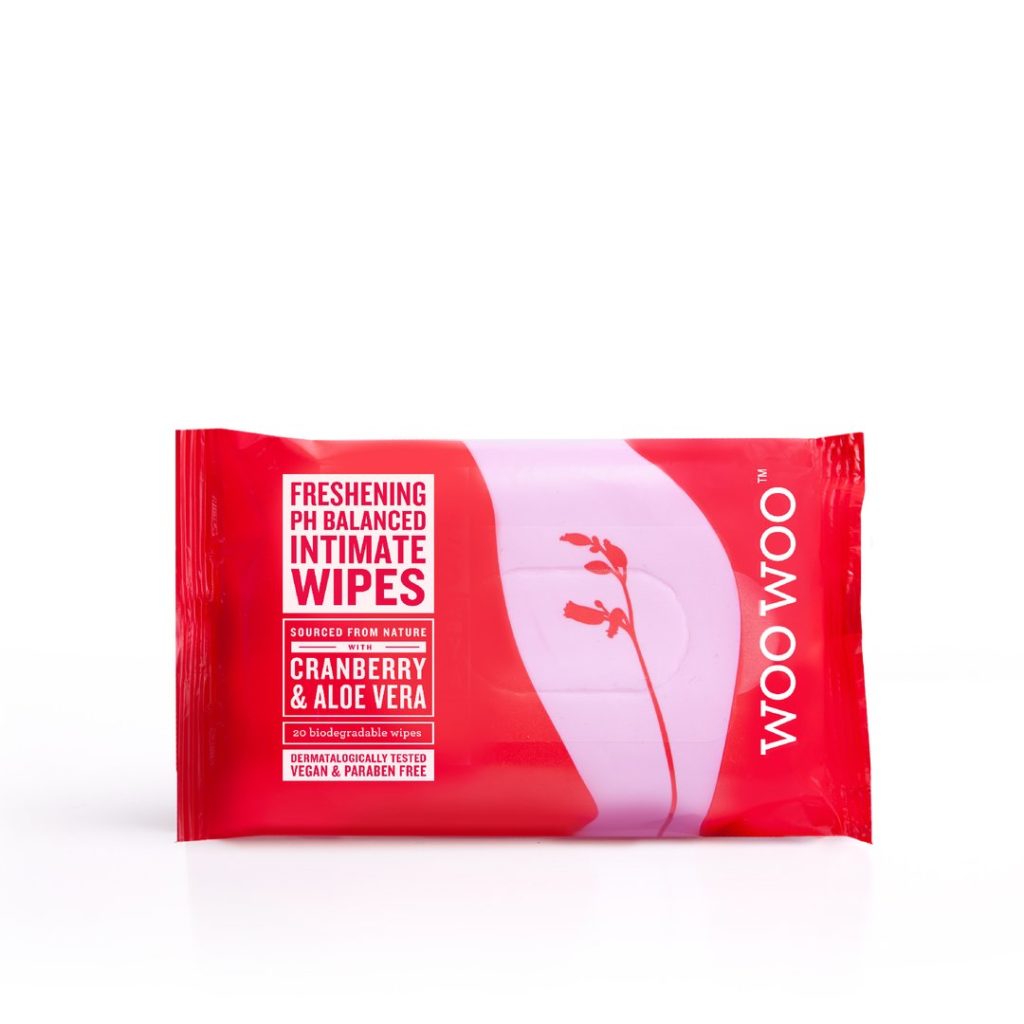 WooWoo
In the words of the WooWoo team, "We were unhappy with the way female care products were presented to us. We felt that 'feminine care' was lacking a place to be bold and open so we launched our all-natural range of fun and fearless care down there products to add a bit of va va voom to the 'feminine care' aisle." And bold they are – from their punchy packaging to their cheeky names. We're looking at you 'Saddle Sore!' Intimate Soothing Balm.
Carefully selecting clean, natural, cruelty-free ingredients that care for our intimate areas, including aloe vera, chamomile, jojoba oil, shea butter, and Japanese honeysuckle, WooWoo's cleansing wipes, washes and balms gently care for delicate skin whilst putting some fun back into feminine hygiene.
Try: WooWoo Freshening PH Balanced Cranberry & Aloe Intimate Wipes – £3.75
words by Frankie Rozwadowska
---
READ MORE
---
The Beauty Superfoods You Should Be Adding To Your Skincare Routine