We are super excited to be stocking The Beauty Chef and adding to our wellness offering online! We chatted to the founder, Carla Oates, all about how she turned her suffering of eczema and allergies as a teenager into a global brand that is helping people overcome the same hurdles.
You founded your global beauty brand, The Beauty Chef, in 2012. How did you get into organic beauty and health?
My interest in natural health and beauty began as a teenager when I suffered from eczema and allergies and went and saw a naturopath who eliminated certain foods from my diet and introduced others. I saw a profound difference in my skin. From there I understood the importance of what you put in your body for good skin health.
I was then working as a beauty editor about fifteen years ago and became concerned with the amount of toxic chemicals in skincare. I had always been interested in alternative/holistic health so I started researching the benefits of looking after your skin with clean ingredients, predominantly super active plant compounds that rejuvenate the skin from the inside, out.  I made the decision to write only about natural and organic health and beauty and delve into more researching and formulating organic products to offer women healthier options.
I had been researching the benefits of plants and natural biological processes such as lacto-fermentation for around 10 years and was writing in the area of natural health and beauty. I had published a book called Feeding Your Skin with Penguin (in 2004) and had a DIY beauty column for the Sunday Telegraph for eight years as well as being the natural beauty editor for Wellbeing Mag for 12 years (which I still am). During this time I made all my own skincare from scratch from plants and organic foods and was giving them to friends and family to use. I created quite a demand and that demand grew to friends of friends. It seemed a natural progression to create a brand.
One thing that really stood out, too, was the difference in people's skin when they ate my lacto-fermented vegetables. People were addicted to my fermented veggies and kefir coconut water – hence why The Beauty Chef started with my lacto-fermented inner beauty superfood powder, Glow.
The Beauty Chef believes that good skin begins in your gut. Our motto is "Beauty begins in your belly".  Natural, active skincare follows.  I have been researching and writing about the positive effects of natural and organic skincare on skin and health over the last decade and at the same time formulating products for myself and my research.
You say "beauty begins in the belly". What do you mean by this?
If you're working toward more radiant and glowing skin, you might be surprised to know that the answer lies more in your digestive tract rather than on how much you're spending on creams and cleansers.
Our guts are where 70% of our immune system lies, where we make nutrients, metabolise hormones, neutralise pathogens, make detoxifying enzymes. All of these things can wreak havoc on our skin if they are not in balance. More and more research is showing the gut/skin link. For example, a lack of hydrochloric acid in the gut is implicated in skin problems such as acne and rosacea. Lactic acid bacteria (found in our fermented products) helps increase levels of this acid. Poor digestive health means that the lining of our gut becomes more permeable than it should (also called "leaky gut"), food particles can slip thru and our immune system sees those as foreign substances. This leads to an inflammatory response in the body, and one of the main effects we see is skin disturbance, such as eczema, acne, and dermatitis. When we restore healthy digestion, our skin can revitalize.
At The Beauty Chef we embrace the time-honoured art of fermentation in our products because fermenting ingredients not only pre-digests them to make the nutrients more available for the body to use, but it creates probiotics to help balance digestion.
The fermentation process and probiotics found in our Glow Powder work together to help get the digestive system back on track. Fermented foods promote better digestive health, leading to greater absorption of nutrients and improved liver. Probiotics are billions of good bacteria to keep the digestive system healthy and boost the immune system of the body and skin.
You are passionate about fermentation, both in your product formulas and in your cooking. What does fermentation involve and what are its benefits to our health and wellness?
More than twenty years of research have gone into the development of our unique bio-fermentation process called Flora Culture™ that breaks down foods, making them more available for the body to use as well as creating a natural, broadspecturm probiotic to help support gut health. Our blends are rich with carefully selected Certified Organic ingredients that nourish from the inside, so it glows on the outside.
When you ferment, nutrients are made more bio-available for the skin to use. For example, if you eat a plate of super foods, you may only actually digest 25% of the nutrients. However, if you lacto-ferment these foods, you can actually absorb up to 85%!  The beneficial bacteria break down the foods so they are easier to digest. Lacto-fermentation also creates naturally occurring probiotics that help balance the skin. We have this incredible process that turns natural ingredients into supercharged and super-active ingredients – and it is all done by nature!
What or who has played the biggest role in your health journey?
Improving my own health has been the biggest influence. Suffering from eczema, allergies and asthma as a child and teenager and seeing a naturopath who introduced me to the concept of 'food as medicine'. My uncle was a chef and very into macrobiotics when I was a teenager – he lived in the mountains of Maleny, QLD; was the founder of brand of organic sauces and engaged a homeopath for all of his health issues. He also had a big influence on helping change the way I perceived food, health and medicine.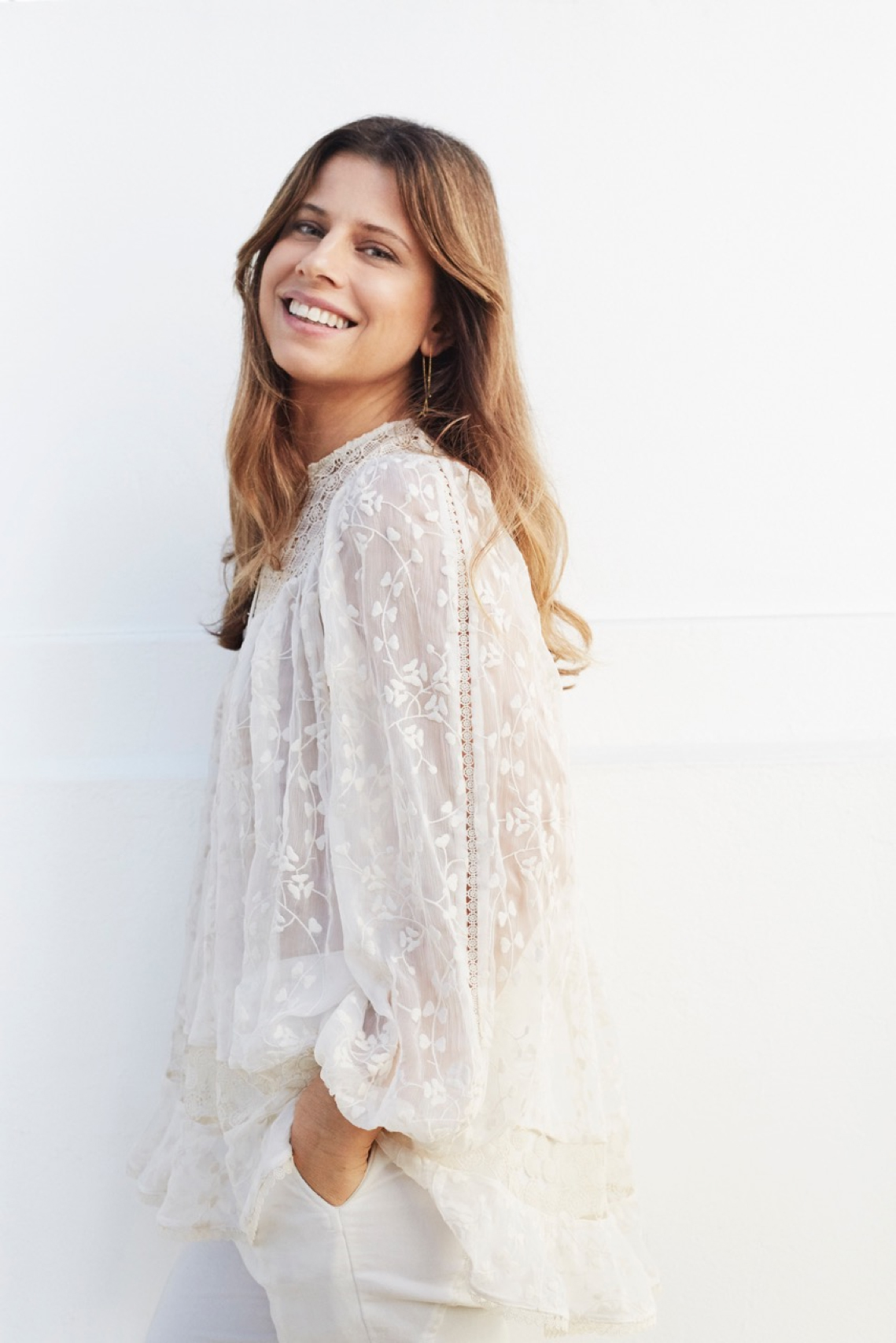 Alongside constantly developing your brand, you write for Wellbeing Magazine and you're a mum of two! What are your tips for keeping a healthy work/life balance?
You are at your working best when you are healthy and content; so looking after your body with good nutrition and exercise is one of the most important steps to success. Giving energy to the things you love, be it your hobbies or simply sharing food with those you love, doing everything with love makes this life meaningful and worthwhile.
I believe family and friends should always come before business; it is not always easy, but striving for life/work balance (and not the other way around) is always top on my agenda. Along the way, you learn what supports you. Going for long walks is one of the most fruitful things for me to do. It fills up my energy reservoir and is like a natural filing system for my brain. I start a walk sometimes with a very busy brain and by the time I have finished my walk, I have solved the world's problems and feel energised. It is my slow time.
Humour is also very important – and fun. Fun should be on the top of our list and should not be limited to childhood – like everything, it should get better with age! My husband is a bit like Peter Pan, so sometimes we just do silly, childish things and it really breaks up the seriousness of adulthood, which I love. I think adults sometimes forget about how important having fun is for your mind, body and soul.
The supplements are designed to take daily. How long does it take to see/feel results? And what happens if you miss a day?
Each Beauty Chef Inner Beauty Powder is formulated for different skin and health benefits, but each is designed to improve gut health and digestion, and promote healthier, glowing skin from the inside out.
It really depends on the current state of your digestive system for how long it will take to see and feel the results.  As our powders offer bio-available nutrition, your body doesn't have to work hard to digest it, so it is like you are getting an instant infusion of nutrients into your body, which is why people talk of the incredible clean energy our products give them. If it is really out of balance, you will likely notice results straight away, but it may take a few weeks for your tummy to settle as you load it with goodness.
The feedback we get is "My skin is glowing, I can grow my nails, which I haven't been able to before". "My tummy feels better", my hair grows faster", "My skin has cleared up". These results vary, some people notice it straight away, for others it can take a few weeks to one month. Over time and especially if you make other lifestyle changes that support good gut health, you will notice a huge difference in the way you feel, your skin and your weight.
If you have built up momentum with feeding your gut nutrient rich food and probiotics, it is ok to miss a day!
What does your morning beauty routine look like?
In the morning, I go for a run along Bondi Beach, and when I come home I drink a glass of GLOW Inner Beauty Powder in purified water – because beauty really does begin in the belly! I then enjoy a big breakfast of eggs and fermented veggies, sometimes with avocado and smoked salmon, or if I am in a hurry a BODY Inner Beauty Powder smoothie with some extra berries and almond milk. I keep my skincare routine very simple and use only natural products – I make a lot of my own skincare at home form wholefoods.
What is one product you can't live without?
I never go anywhere without my GLOW Inner Beauty Powder. GLOW is my daily skin support and maintenance staple. It gives me a good dose of skin loving nutrients and also probiotics to nourish and boost digestive health.
You love cooking and published your own cookbook, The Beauty Chef, at the end of last year. What ingredients do you always have in your kitchen? Which is your favourite recipe from the book
Sauerkraut is my favourite thing to eat. I make a lot of it, I love it. We quite often have it with our breakfasts with eggs and avocado.
Other ingredients I always have on my kitchen are apple cider vinegar, eggs, fermented veggies, salmon, goats cheese, coconut milk, pesto, spices, fresh herbs and sprouted seed bread. RE: supplements, all of The Beauty Chef Inner Beauty products, grass fed colostrum and medicinal mushrooms.
My favourite smoothie recipe is the GET GLOWING SMOOTHIE BOWL from The Beauty Chef Cookbook. It's super delicious and jam packed full of nutrients that feed your skin from the inside. I also love the autumn smoothie bowl (with BODY), the yum chai smoothie (with BODY), the chocolate peppermint smoothie (CLEANSE) and The GLOW, Blueberry and cinnamon smoothie is also delicious!
Shop The Beauty Chef online at Hip & Healthy!