A true pioneer in the world of organic beauty, Dr Pauline Hili founded Nourish London with a mission to highlight the amazing skincare benefits of plants. With over 30 years of experience researching and working with natural ingredients we wanted to find out more about what organic beauty means to her, the skincare heroes she swears by and her ultimate evening beauty routine.
With a background working at Neal's Yard Remedies, all things organic seems to be a huge passion of yours. Where did that stem from?
I was born and raised in Australia where our family grew our own fruit and vegetables so eating organic came naturally. Eating healthy food and exercising regularly was part of daily life and now organic living is part of my DNA. The opportunity to work in the organic sector as part of my career progression has been a joy. Doing something you love that resonates with your personal values is pure bliss. To think that when I started at NYR organic certified skincare was still in its infancy. It's incredible what we have achieved since with innovative formulations based on research.
You branched out into the wonderful world of beauty with your brand, Nourish London, which is proud to be certified organic as well as vegan and cruelty-free. In your opinion, why is the organic certification important when it comes to beauty products?
Organic certification provides a framework for us to ensure all our raw materials are grown and manufactured in a way that supports our values. We operate to the HEK principle which means our products need to be Healthy, Effective and Kind to people and planet. The Soil Association certification helps us make that happen. Organic certification is also a really good shorthand for the consumer to know that our values are aligned with theirs and that your claims have been validated by an independent entity. Our soil, air and water are the most precious commodities we have to pass on to future generations – the organic movement works very hard to protect them.
Getting the right formulations in beauty products is incredibly important but that can be a challenge when using organic ingredients. What was your goal with Nourish's formulas?
I wanted to prove that you could get clinically proven results that would compete with conventional products using organic formulas. Ours are Bio-positive products that deliver to the skin the vitamins and active ingredients to support its long term health.
Do you have any favourite ingredients you love to use in skin care to protect the skin and get that all-important glow?
The list of favourite ingredients is long and gets longer depending on what I am working on. The industry over the last few years has produced some marvellous ingredients from fermentation and green chemistry processes to give exceptional results on the skin. My favourite anti-pollution active is our Kale extract because it is great at breaking down particulate matter which can trigger inflammatory processes on the skin. My favourite antioxidants are our Turmeric extract and Algae extract – these deliver an antioxidant activity even higher than Resveratrol! My favourite all-round super hero ingredient is Rose of Jericho – it is an exceptional plant that can survive in really harsh climates and is excellent in bringing the skin back to health. My favourite topical use vitamins are C and B – because they deliver instant improvements to the skin.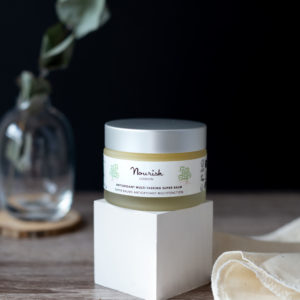 If you had to pick one, what Nourish product could you not live without?
The Multi-tasking Super Balm and the Kale Enzymatic Exfoliator are my dynamic duo. The multi-tasking Balm, when used as a mask, is the miracle worker in our range, and always gets my skin to bounce back when I need it most. Used together these two make up my home spa set. We had some incredible feedback on the Balm when we donated some to NHS nurses earlier this year. It can restore and revive even the most tired and dry, stressed skin.
Can you give us a run-down of your ideal evening beauty routine and what you use? We want to know your pro-tips!
This is my self-care skin routine, which I try to do most Fridays to re-assess and relax…
First, I rinse my face with cool water. Then I apply the multitasking balm and let it sit for about 20 minutes, which you can use to do a little meditation on the week gone by (aided by the wonderful organic oils of Geranium, Frankincense and Rosemary). I then remove using warm water and the organic muslin cloth enclosed with the full-size Balm. I apply our Exfoliator and massage into the skin. The probiotics and enzymes really energise whilst buffing the skin and the Almond meal with Jojoba beads reveal a new, perfect glow without causing any exfoliation damage, which is crucial. I finish off with our Argan Anti-Ageing Peptide Serum, sometimes kept in the fridge for an extra cooling effect, and layer our Probiotic Repair Mask on top to work its magic overnight!
Discover Nourish London here.