Are you having a bad hair day/week/month? It's your hair care, not you! Below we explain why switching to natural hair care products could just be the best thing you do for the health of your locks.
The winter months affect us in many ways. Our bodies crave more comforting, warming and filling foods and our skin needs extra attention as it battles the colder climes. But while you're taking extra care to use richer moisturiser and incorporating oils and serums into your skin routine, how often do you consider that your hair requires just as much TLC to combat the changing seasons?
What exactly causes damage to our hair?
First, there are environmental aggressors; pollution, wind, rain and the sudden changes in temperature from indoors to outdoors. Then, there's heat styling, colouring and chemical-laden products which compromise the levels of amino acids which make up your hair, causing weakness that leads to frizzy, dehydrated or lacklustre strands. While we can't prevent the damage from external factors, we can counter their effects by making smart, clean choices on the hair products we choose.
What should we be avoiding when it comes to hair care?
The hair follicles on our scalps are open and susceptible to absorbing the chemicals found in synthetic products, meaning you're taking in toxins without even realising it, and they can affect more than just your hair. Nancy Twine, founder of natural haircare brand Briogeo says they "have been linked to things like skin lipid damage, hormonal imbalances, and endocrine disruption." A 2016 study from the University of California, Berkeley, showed that short breaks from shampoos with chemical ingredients led to a significant drop in the levels of people's hormone-disrupting chemicals.
"You are what you eat and your hair is what you put on it" says Nancy. Much like reading your food labels, checking the labels on your hair products is the easiest way to avoid nasties. Look out for parabens, phthalates, formaldehyde, Ammonium Lauryl Sulfate, Sodium Laureth Sulfate, Myreth Sulfate, petrochemicals, synthetic fragrances and oxybenzone. These are used as preservatives, foaming agents, very strong detergents, thickeners and emulsifiers, but are proven to be harmful.
What are the alternatives?
There are plenty of products made from natural, plant-based ingredients that are gentle on your hair and will still give you the results you are looking for. They're also less likely to irritate your scalp or strip your hair of the necessary oils it creates itself. Seaweed and other algae extracts are proven to stimulate hair-growth and a hero ingredient now found in many products is biotin, also known as vitamin B7. This vitamin counteracts signs of damage to your hair by improving the structure of keratin, which are the building blocks for your hair. Panthenol, essential oils, wheat germ and silk proteins are other beneficial ingredients.
In terms of reversing the effects of long-term use of cheap/chemical-laden products, it can be done! "You can really focus and nurture your hair to revive it and bring it back to it's best shape." Says Nancy. "This means a lot of intense moisturizing and nourishing not only of your hair but your scalp as well. If you've been using a lot of chemical-driven products, your scalp is probably suffering which then causes our hair to not grow the best it can."
Does our diet affect the health of our hair?
Of course, the foods we eat have a huge impact on our hair's strength and appearance too. Clarissa Lenherr, Registered Nutritional Therapist says "our hair is built from amino acids, which are the building blocks of protein, so it is vital that you are getting adequate protein in your diet. These can be found in whole protein sources such as meat, poultry, dairy, tofu and tempeh."
Another key element for healthy hair is fat, in particular, Omega 3s, which Clarissa says "are crucial for providing your scalp with moisture and keeping your hair hydrated." She recommends opting for "oily fish such as salmon, mackerel and sardines or choosing flax seeds and walnuts if you're vegan."
As well as proteins and fats, vitamins A and C are also vital for achieving glossy, healthy hair. "Vitamin A is found in two forms, Retinol, sourced from animal products and Beta-Carotene which is found in yellow/orange vegetables such as butternut squash and carrots. Vitamin C helps the absorption of iron (crucial for prevention of hair thinning) and also helps form collagen which boosts hair follicle growth. Red peppers, broccoli, kale, oranges and strawberries are all fantastic sources."
If you're already choosing to shop for organic foods and natural beauty and makeup products, then shifting to a greener hair routine that's more in line with your diet and skincare values makes sense, right? Here are some great hair products and tools which we're currently using and loving:
Briogeo
Briogeo champions a green approach and all of their products contain at least 93% naturally-derived ingredients. "We are a 6-free brand which means we don't use ANY sulfates, parabens, silicones, phthalates, DEA, or artificial dyes," says founder Nancy Twine. This Scalp Revival Charcoal + Coconut Oil Micro-Exfoliating Shampoo proves that exfoliating is as beneficial for your hair as it is for your skin. It gently draws impurities while tending to dry, irritated and flaky scalps, something which many of us deal with during the winter months! 
Cloud Nine Hair Straighteners
As far as heat styling appliances go, we're often taught that they're not great for your hair. While there's no denying that frequent heat styling can weaken strands, these Cloud Nine Hair Straighteners are ideal for when you want a styled look which will hold. They have ceramic plates which are infused with minerals, so they lock-in moisture, seal the hair's cuticle and minimise damage to the hairs natural structure. At least this way if you're going for a styled look, you can do so with minimal damage. Being able to control the temperature of these straighteners is also beneficial, as thinner hair requires less heat.
Boucleme
If taming the frizz on holiday is a top beauty priority then we highly recommend the Boucleme Curl Cream. It contains kukui nut oil which is humidity resistant and really helps curls keep their shape without feeling super sticky or greasy.
Josh Rosebrook
We've been a fan of clean beauty brand Josh Rosebrook ever since we discovered the hydrating accelerator spray. Now we've tried his hair products too, we like to indulge in weekly or fortnightly use of the Josh Rosebrook Enrich Mask. It's intensely conditioning thanks to lots of fatty acids such as African marula, baobab, argan, Tahitian tamanu and coconut oil. Despite the intense moisture, it doesn't actually weigh your hair down which is a bonus.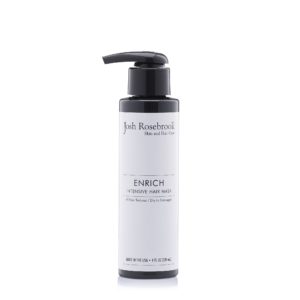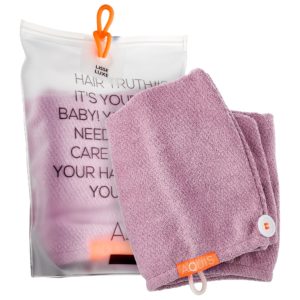 Aquis Rapid Dry Hair Towe
l
Can't you just use an ordinary towel? – That's what we asked when we came across the Aquis Rapid Dry Hair Towel, but we decided to give it a go and realised it makes a huge difference in reducing the breakage of hair when wet, as strands are much more sensitive when you've just washed them. It also cuts drying time by 50% as it's super absorbent and protects from frizz too!