We're lucky enough to live in a city that is a global cuisine mecca, and we're not just talking about your average curry house or Italian joint…London has arguably one of the finest gastronomy scenes, with globally renowned chefs setting up shop to show diners the very best of what their country has to offer. We've swerved away from the typical cuisines we tend to gravitate towards and have highlighted some slightly more 'out the box' culinary art that is sure to wow your taste buds. Here are six restaurants serving up healthy, hearty dishes from around the globe worth booking a table at…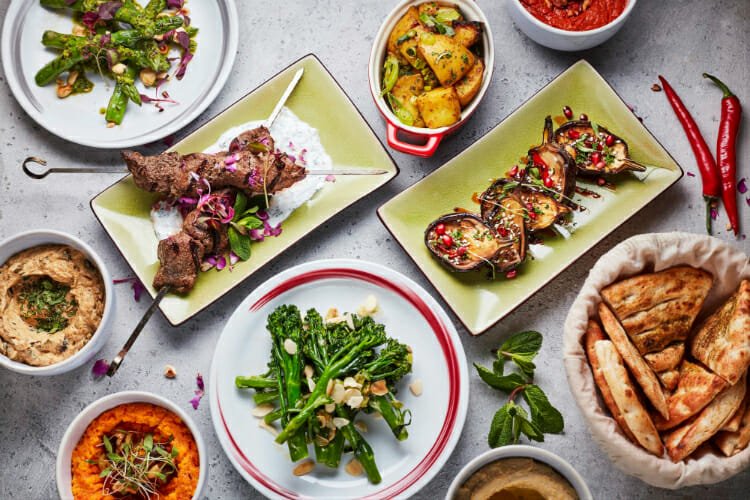 Levantine – Ceru
Inspired by the cuisine of the Levant region, Ceru brings the taste of the Eastern Mediterranean to South Kensington. Fusing cultural recipes from Cyprus, Jordan, Syria, Turkey, Lebanon and Palestine, Ceru's menu captures the Middle East's fare for exquisite culinary.  Encompassing nearly 100 ingredients with over 20 spices, Ceru's dishes do not fall short on flavour. Expect sauteed king prawns with tomato, dill and fenugreek, grilled cornfed chicken breast with a lemon, mint and green lentil salad and Cypriot halloumi and red peppers with a harissa dressing. From peach, feta and red onion salad with crushed pistachio to zucchini and feta fritters and sticky roasted baby aubergines with date and tamari dressing, there are plenty of options for vegetarian eaters on the menu. Embracing numerous cultures, Ceru is the place to relish in a feast with friends and family.
Greek – Suzi Tros
From the team behind the acclaimed Greek eatery, Mazi, Suzi Tros is the Greek-inspired bistro in the heart of Notting Hill. Channelling a chic Mediterranean vibe through the ceramic tiles and nattering of Greek lingo in the open grill kitchen, Suzi Tros transports you to the city of Thessaloniki, albeit without the sun and sea. The menu, which is designed for sharing, is divided into hors d'oeuvres, raw, garden, fish market and butcher. With so many exceptional options to choose from, the menu features smoked aubergine dressed in tahini, thyme and honey; okra fries with paprika dip; white crab, orzo pasta with Metaxa bisque and Grandmama's meatballs with tzatziki and pickled cucumber. Focusing on sustainability and seasonality, Suzi Tros shines a light on a slightly different style of Greek dining from what you may have experienced on holidays to Greece's islands and is certainly one to visit for an authentic taste of the countries cuisine.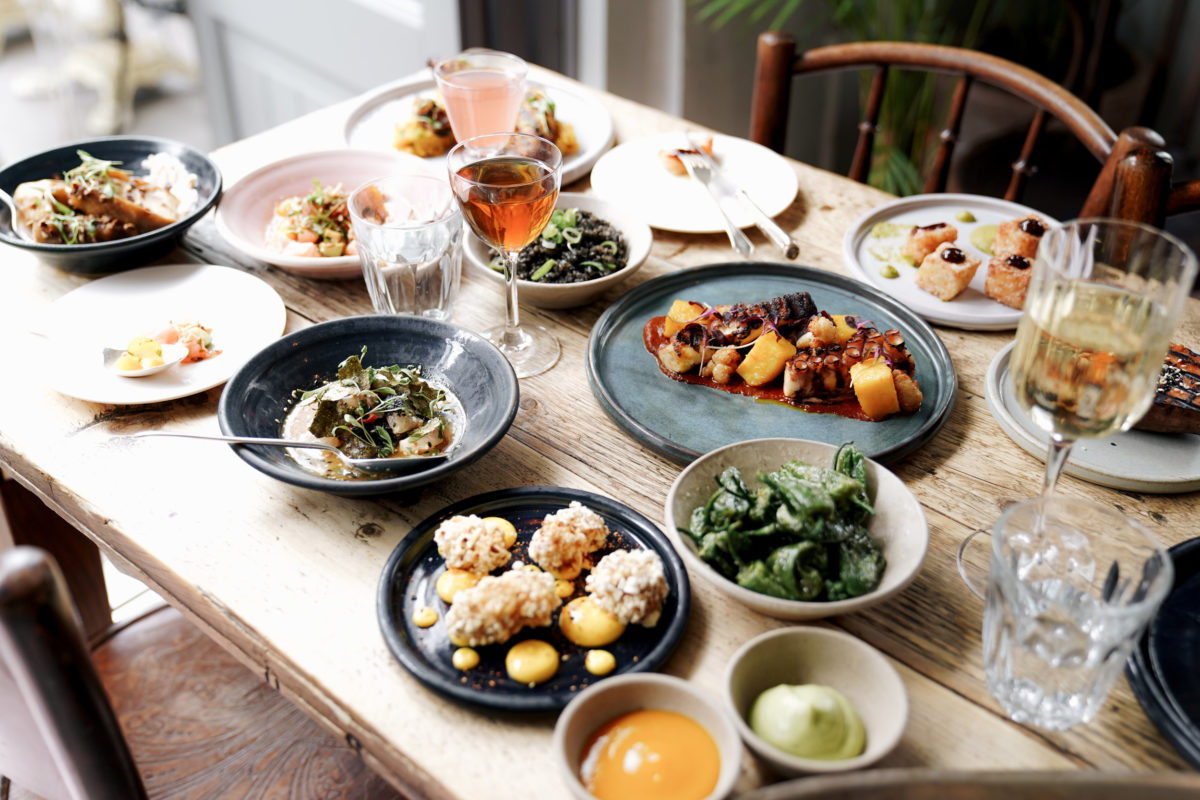 Peruvian – Pachamama
Pachamama is the hidden gem serving up Peruvian brunch, lunch and dinner in both their Marylebone and Shoreditch restaurants. With a distinctive Millenial pink aesthetic contrasted again exposed brick, the style is both understated and chic. Constantly filled with a stream of diners, the atmosphere is somewhere between bustling and relaxing with people engrossed in the delicious food on their small plates. Arranged into snacks, sea, land, soil and sweets, the menu is designed for sharing, with each person recommended to order two to three dishes. With a number of alluring options to choose from, selecting just a few is a difficult decision, both yuca churros with brown crab and miso-cured carrots in the mix. Fresh for the 'sea', the sea bass ceviche elevated with tiger's milk, choclo and sweet potato crisps is utterly divine. Pollito A La Brasa, which is Peru's answer to a rotisserie chicken is equally a worthy contender, drizzled in a lemon-y thyme sauce that adds extra succulence. For those who struggle to stomach a hefty dessert, the Peruvian chilli and cacao truffles are the perfect way to finish off your meal with a punchy kick! Showing Peru's zest for creating delightful cuisine, Pachamama's twist on modern Peruvian dining exceeds all expectations.
Indian – Pali Hill
Bringing the authentic taste of Indian cuisine to one of London's wellness hotspots, Mortimer Street, Pali Hill is the newly opened restaurant. A far cry away from your average curry house, the eclectic menu showcases India's diverse culinary heritage, with odes to regional influences. Pali Hill's open kitchen takes centre stage, soundtracked by traditional Indian music, the rattle of cocktail shakers and the buzz of dining out. The sharing dishes give you the essence of what it's like to feast amongst the communities of Bombay, hence the name Pali Hill after the old city neighbourhood. The menu includes a selection of incredible small plates; including the Mangalore bun with crab sukkha and Pondicherry fried squid with crispy zucchini flowers, noteworthy grill dishes; featuring the Tandoori Monkfish with mango pickle marinade and the grilled asparagus with hempseed chutney and flavoursome big plates; such as the canteen thali with coconut broad beans, blackeyed beans and saag paneer and the sea bass steamed in banana leaf. If you've got a sweet tooth the Alphonso Mango Cheesecake is the perfect way to round off the unique dining experience Pali Hill has to offer.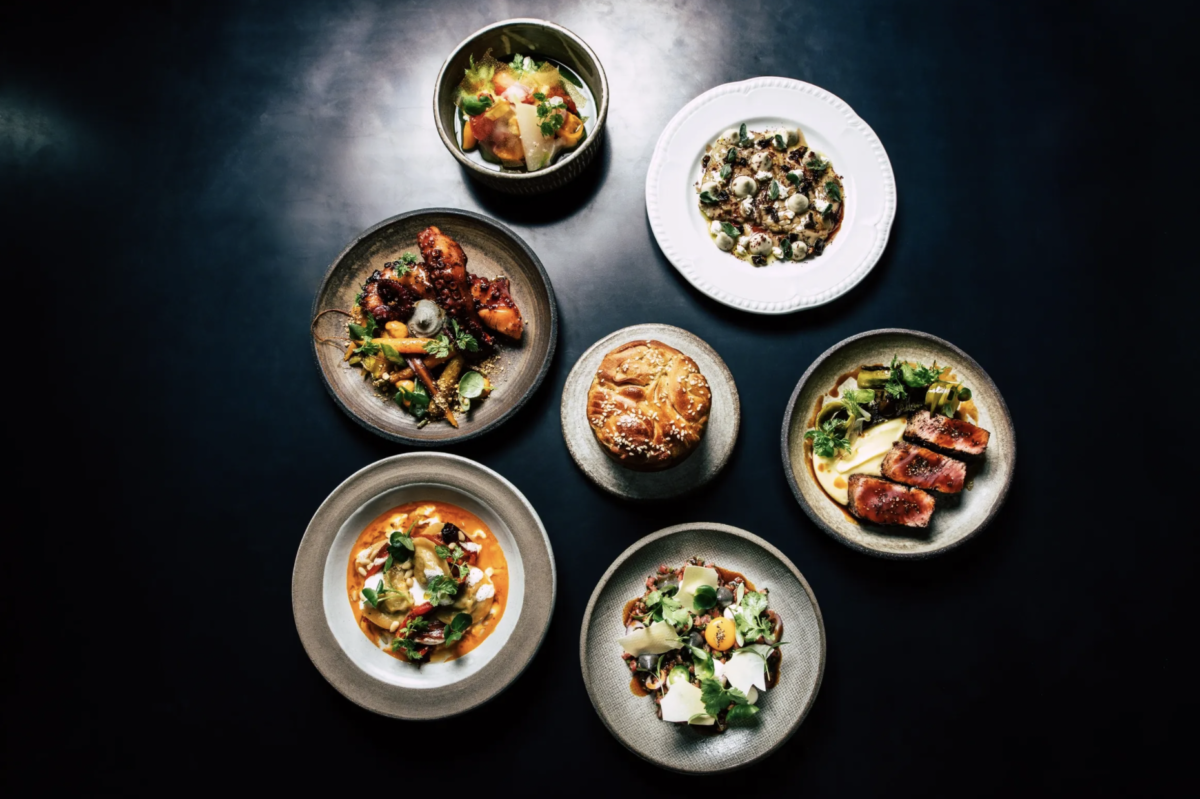 Israeli – Chameleon
Encompassing the flavours of the city of Tel Aviv, Chameleon offers a dining experience like no other, in one of London's most impressive locations, One Marylebone. Critically-acclaimed Israeli Chef, Elior Balbul, brings his signature Tel Avivian gastronomy over to the UK, giving Londoners a taste of Israel's finest recipes. The Georgian-era church surroundings set the scene for a lavish meal, with the sounds of live music or Chameleons resident DJ filling the alfresco-style restaurant. Offering a Tel Avivian sharing style menu, the dishes are exquisitely presented and equally taste sublime. From chargrilled romanesco steak with black lentil salad to Josper octopus with yuzu-carrots and black hummus, the menu includes a variety of showstopping plates, with vegan and gluten-free options. The Kubbana brioche is an absolute must, dunked into the sweet harissa, white tahini and za'atar dip it is a real taste sensation! Idyllic in the summer months, for long, indulgent dinners filled with great cocktails, food and company, Chameleon is one to book for the great taste of Tel Aviv.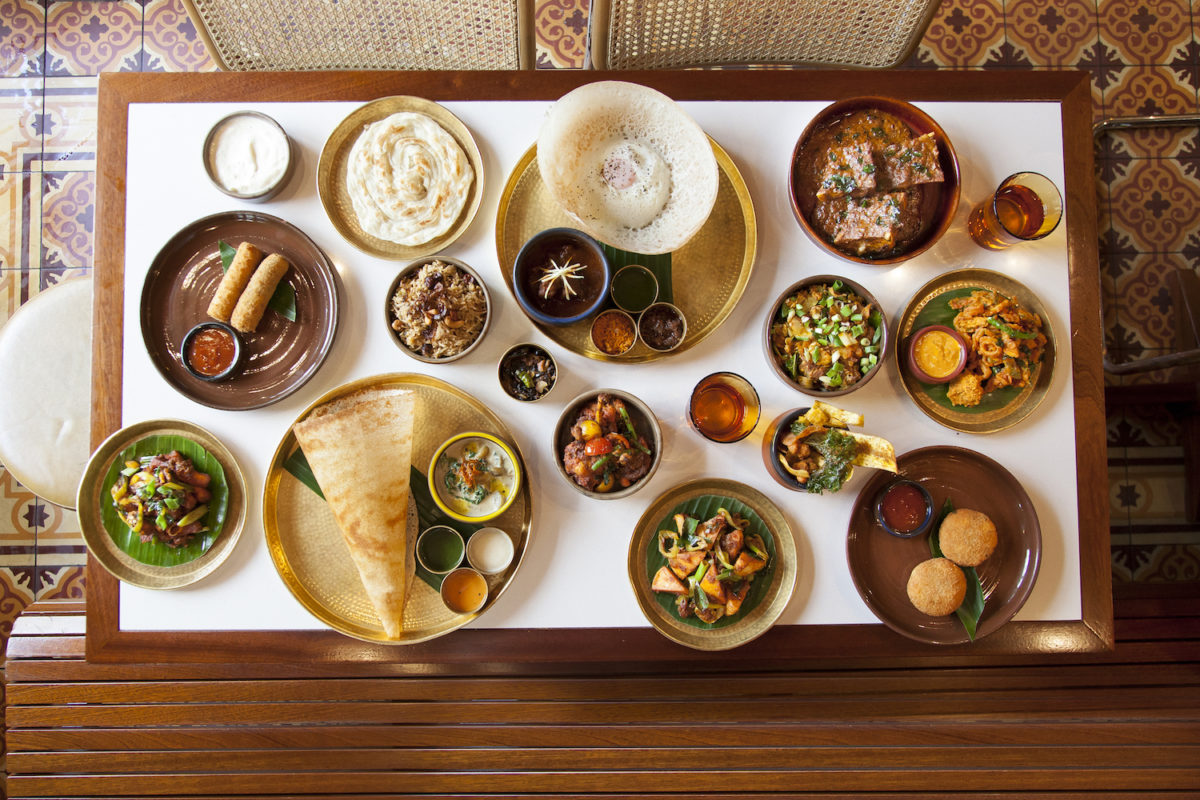 Sri Lanken – Hoppers
Inspired by traditional Sri Lankan cooking, Hoppers is London's fast-growing restaurant with spots in Soho, Kings' Cross and Marylebone. With prices that don't break the bank, you can enjoy a hearty Sri Lankan meal with all the trimmings, think sambols, rotis, karis, doshas and of course, hoppers, the bowl-shaped pancakes, which the restaurant handpicked for its name. Highlighting flavours of the spice gardens of Sri Lanka, each dish takes you on a worldly journey of vibrant aromas. Leaving you feeling satisfied on every level, the menu encompasses traditional home cooking, as well as, street food inspired by the cities. Tuna Cutlets with Curry Leaf Dip immediately caught our attention within the 'Short Eats + Bites'. For your main dish, the jackfruit and mushroom kothu roti; the tamil aubergine kari; and the lentils, cashew, broccoli buriani and raita are both worthy options that are both nourishing and comforting. The menu's side dishes are definitely one of the highlights, from the beet and carrot mallung to the dosas and hoppers, which are perfect for accompanying your mains to soak up the delicious sauces. Hopper's may not be the easiest to secure a reservation at, which says a lot about how popular it is, but when you do manage you're in for a Sri Lankan gastronomical treat! 
words by Isabelle Shury
---
READ MORE: Little Black Book: A Wellness Guide To Ibiza