Although known for being a hip party destination, there is another side of Ibiza that is more relaxed and has come a long way in recent years when it comes to being a prime spot for wellness lovers. Yoga shalas, relaxing hotels, crystal shops, tranquil spas, healthy restaurants and juice bars are actually sprinkled all over the island; hence, Ibiza truly is a sanctuary and Mecca for yogis, healers and basically anyone interested in health and wellness. What really elevates these spots is how they manage to perfectly combine authenticity and that "true-and-connected-to-nature-feel", along with a contemporary and curated style. In order to peruse what the island has to offer when it comes to nourishing both your body and mind, here is a guide with some favourites for your next Ibiza visit: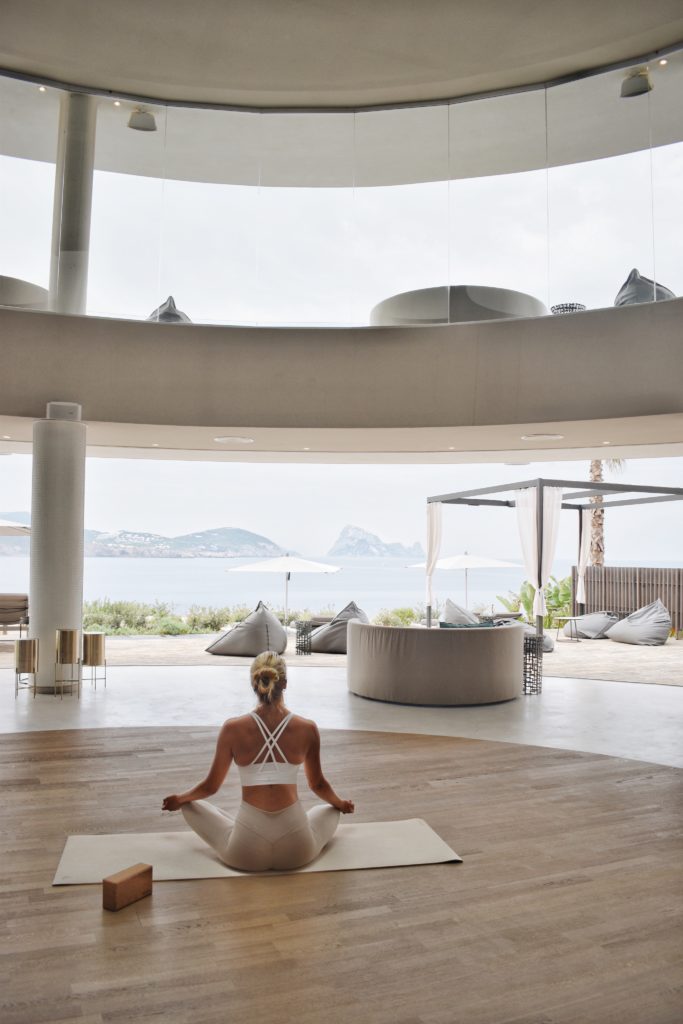 OKU IBIZA
One of the island's newest gems is OKU Ibiza, perched on a hill on the west coast, in Sant Antoni de Portmany. With a jaw-dropping interior that will appeal to design-lovers as well, OKU is where modern luxury meets the wellness world. You are able to enjoy everything from Le Labo products in the lovely rooms and a stunning pool area with king size sunbeds, to Reiki treatments and crystal facials in the spa, as well as a fully equipped gym and yoga classes in the morning. In addition, the food at OKU is something we have to talk about. If there was such thing as "Breakfast Buffet Of The Year Award", OKU would definitely be on the winning podium. Relish fresh fruits and berries, coconut yoghurt, pressed juices, vegetables, and basically anything else you fancy for a healthy start in the morning. The OKU Restaurant (a fusion kitchen with influences from both Japan and South America) also has a vegan menu that really is able to show that vegan food is everything else than boring or limited. Their Japanese eggplant with honey miso and wakame salad as well as grilled avocado with truffle and pickled onions are truly to die for.
NOBU IBIZA BAY
Another incredible place on the island is Nobu Ibiza Bay. Located in Cap Martinet, close to the main port and Old Town, this amazing hotel is perfect for a stay filled with rest, nourishing food, and self-care. Immediately upon entering the hotel, you feel welcomed and taken care of thanks to their incredibly helpful staff, the much-appreciated cold AC-air, and the lovely scent in the lobby. Start your day with yoga on their rooftop and experience the most incredible view as the sun rises. A visit to their lunch restaurant Chambao or their healthy Bay Café, perfect for a health boost during the day, is also a must. The spa shouldn't be missed either, and the hotel offers everything from relaxing massages, organic facials and they also have visiting practitioners and specialists offering workshops, rituals and personalized treatments within breathwork, sound healing, kundalini and other areas within holistic wellbeing. End the day with a dinner at their Nobu restaurant, and make sure to order their signature dish, the Miso-Marinated Black Cod, for a heavenly and nourishing food experience.
SIX SENSES IBIZA
The newest and brightest gem in the calmer northern part of the island is without doubt Six Senses Ibiza. This brand new hotel features contemporary and spectacular rooms, including accommodation options like townhouses, cave suits, and sea view rooms, the most stunning pool area, restaurants, and gyms. The hotel even has an own farmer's market and garden where celebrity chef Eyal Shani, famous for his fervent passion for vegetables, gets the ingredients from for his mouth-watering dishes. The organic and locally sourced produce can also be found and enjoyed in the juice- and farmacy bar if you desire a liquid munch. In addition to experiencing delectable food, Six Senses Ibiza also offers a wide range of activities, both for the Zen-seeker and adrenaline junkie. Relish wellness facilities such as the hammam, steam room, infra-red sauna, seafront yoga deck, outside boxing ring, as well as happenings such as sound healing, shamanic healing, workshops, cleanses, retreats, and more. You can also participate in hikes, mountain biking, sailing, paddle boarding, diving, and more.
7 PINES RESORT IBIZA
Another favourite sanctuary on the island is 7 Pines Resort Ibiza, where you also get the best of both relaxation and a bit of an active vacation. Unwind by the infinity pool and enjoy the most stunning view, overlooking Es Vedrà (the small but majestic island, shrouded in many myths and legends, and being one of the most magnetic spots on Earth). If you, against all odds, get a bit tired of the view and pool, a workout session or a yoga class in their outstanding gym and yoga shala should be up next. Moreover, you can always enjoy the challenge of trying to choose between all the treatments in the spa, including body wraps, salt scrubs, wellness rituals, reflexology, massages, hydrafacial etc.
HACIENDA NA XAMENA
Talking about spa and treatments, a must-stay is Hacienda Na Xamena – a gorgeous spa hotel with a breath-taking view and all possibilities to enjoy the most peaceful and health conscious vacation. Enjoy walks in the beautiful surrounding hills, yoga and meditation overlooking the ocean or a foot massage by the pool. Their spa, La Posidonia, offers not only incredible massages and facials, but also a unique experience in their outdoor bubble pools, the Cascadas Suspendidas (with a view that begs for an Instagram moment). Furthermore, the restaurant offers a great selection of healthy and locally sourced bites, such as a beetroot gazpacho, tomatoes from their garden as well as fresh fish from the coast.
GECKO BEACH CLUB
Gecko Beach Club is another sanctuary on Formentera. Start your day with a yoga class, followed by a feast of enjoying their incredible coconut chia puddings, fresh fruits, avocado toats, and fresh juices for breakfast. Then treat yourself with a relaxing spa treatment in their peaceful outdoor spa, and relish locally sourced vegetables and seafood in their outdoor restaurant to wrap up the day.
AMANTE BEACH
If you're looking for a relaxing day by the beach, a visit to this delightful little enclave called Amante should definitely be on your itinerary. One part of its charm stems from just how secluded and peaceful it is. It only hosts a few tables and sunbeds, and you will literally have the little pebble stone beach with the cliff backdrop to yourself. Kick start the day there with a morning yoga practice, unwind in their sun beds, enjoy a bite from their healthy lunch menu (their chicken salad is a favourite), and then spend the evening enjoying an outdoor cinema experience.
CASA MACA
Perched on a hill overlooking the old town, the island's watering hole for BBQ-lovers is the extremely popular Casa Maca. A booking long in advance is essential, but you will understand why when you get to taste their grilled aubergine, sweet potatoes, garden salads, and burrata. And for the love of god, don't forget to finish with their roasted pineapple with coconut ice cream.
La Mesa Escondida
The restaurant at the lovely hideaway Petunia Hotel work with local farmers and has a menu full of healthy and vegetable-based options. But before you relish the Mediterranean gastronomy, make sure to check out their La Mirada Rooftop for a small tapas or drink and enjoy the magical view of Es Vedrà.
LA PALOMA & AUBERGINE BY ATZARO 
Two country-chic farm-to-table restaurants on the island where authentic homemade food is prepared with nutritious ingredients are La Paloma and Aubergine By Atzaro, both located in the heart of Ibiza's countryside. Dishes like salads, bowls, homemade pasta, vegetarian burgers and hummus platters grace the menu, and the solution to the problem of indecision is definitely to try a bit of everything.
CASA PACHA
Ibiza's little sister, Formentera, is just a short boat ride away and definitely a must-visit if you have time. If swimming in the most crystal-clear Maldives-like water is something you're dreaming of, this is your place. One of the newest hideaways on the tiny island is Casa Pacha, a small and picturesque, yet incredibly stylish, boutique hotel with an exceptional restaurant right on the beach. Forget all about stress and to-dos here, and spend your days reading a book in the sun chair while watching the tranquil turquoise water in front of you.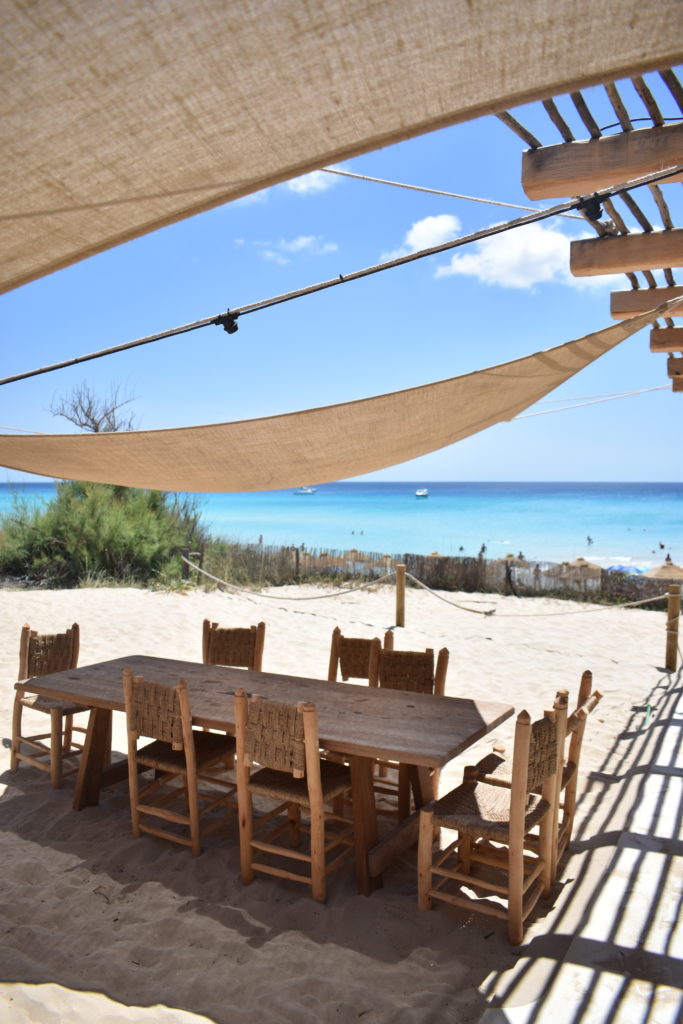 PASSION & WILD BEETS
If there is such thing as upscale and healthy fast food, Passion Café seems to have found the formula. With an impressive menu including everything from acai bowls, salads, and avocado toasts, to smoothies, juices, elixirs, superfood lattes and shots, Passion café is where all health lovers on the island will linger around to get a quick and healthy bite. Luckily enough, Passion has several locations on the island, so chances you'll be nearby one are big.
A similar menu and concept can also be found at Wild Beets – a quaint little spot in Santa Gertrudis, in the heart of the island. You will find a plant-based menu and an extensive list of fresh juices, and you can't leave without having tried their kombucha and homemade truffles.
ANGELS IBIZA
Just around the corner from Wild Beets is this gem, literally. The store Angels Ibiza might be tiny, but you will still be able to find all sorts of dazzling crystals, Palo Santo sticks and incenses in here. Whether you're into crystal healing and interested in the properties of the different kinds of stones or not, this is the perfect place to shop your souvenirs at.
MARKETS
Ibiza is also known for all the different markets on the island, and who doesn't love the idea of being able to bring home some locally made honey or a handmade soap? Mercat De Forada, Las Dalias de Ibiza and Hippy Market Punta Arabi are some worth checking out if you have a chance.
words by Matilde Wergeland