Before I'd even arrived at the Absolute Sanctuary, their wellbeing vibes oozed into my inbox. An email landed asking for my pillow preference, my favourite essential oils, and the prudent question – what exactly did I want from my visit. To relax, pamper, rebalance, renew, cleanse, or energise? I ticked all of the boxes in a nano-second – I was so in need of a break.
And this was to be a holiday with a purpose. Besides re-awakening my own off/on/off again yoga practice, I'd be visiting the Absolute Sanctuary with my thirteen year-old daughter – to ease her into some beginner classes. By leading her to the yoga mat and igniting an interest early, I hoped to put something in her toolbox she could turn to to strengthen her body and calm her mind when things get a little bit Mean Girls in the years to come. This was to be confidence booster completely unrelated to being pretty, popular or fitting in.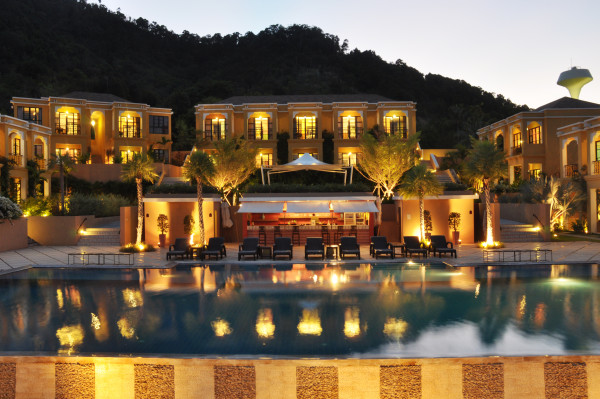 The Absolute Sanctuary is set amongst abundant tropical greenery in Choeng Mon on the north shore of Thailand's second largest island Koh Samui. A five minute drive from the airport and tucked away from the party pockets of the island, Choeng Mon is a peaceful bay that's a favourite with families and relaxation seekers. There are just a few high-end hotels, some budget-friendly beach bungalows and a quiet main street with a smattering of restaurants and shops. The Absolute Sanctuary perches proudly on the hillside with panoramic views of the sea beyond.
This Moroccan-inspired retreat houses 38 guests, in five honey-stoned blocks overlooking lush gardens and the infinity pool. The decor is serene but unpretentious with horseshoe arches, pretty glass pendants lights and ornate tiling throughout. Along with a dreamy tropical location and all the trappings you'd expect from a smart boutique hotel, the resort promises a body and mind overhaul with its structured wellbeing programmes and menu of holistic spa treatments.
It's a renowned getaway for yoga and pilates – both for its classes and teacher training, there's fitness and weight management packages, expertly designed detox programmes (ranging from their three-day signature detox to a more hardcore twenty-day complete cleanse) and a healing anti-stress/burnout plan to re-boot the weariest of souls. We signed up for their five-day yoga holiday – an inclusive zen-on-a-plate agenda of stretching and spa time. We could choose unlimited yoga from the variety of classes, our daily massages were timetabled pre-arrival, and we'd eat three vegetarian meals a day from the nutritious menu at the Love Kitchen – the resort's gourmet restaurant.
After check-in, our first stop was the poolside juice bar where I made a beeline for Koh Samui's best export – a top-off, straw-in coconut for a charge of electrolytes. With two fresh juices a day on the programme, you can happily hydrate your way through the choices. The Watermelon-Mint mix became a fave and the Bugs Bunny, a zingy blend of apple, carrot and ginger, hits the spot in the heat. That night we bedded down in our Moorish style room – complete with crisp robes, organic toiletries, a fridge and flat screen TV. We fell asleep to an orchestra of crickets and bullfrogs – our nature neighbours outside.
Yoga takes place in the light-filled Jungle Studio and its doors open at 8am with 30 minutes of pranayama and meditation before the scheduled classes begin. During our stay, we took in a mix. The beginner's All Styles yoga class – with focus on the sun salutation sequence – was the perfect foundation class to gain understanding of the poses in the series. In Detox yoga, we followed a specific sequence of twisty, bendy poses to flush blood to our organs and to stimulate our digestive systems. The Yin and Yang class melded gentle, meditative Yin – where we held each deep stretch for five minutes with the aid of bolsters – and the dynamic energy of Yang yoga. We found German-born teacher Jana encouraging and inspiring. She took the time to champion the benefits of yoga practice to my daughter  – in terms a teenager could relate to – and was on hand with straps and blocks, adjusting her poses as needed. My daughter soon stopped worrying about whether she could 'do it' and relaxed into the classes.
We breakfasted on coconut milk yogurt (dairy-free and delicious) and colour-pop platefuls of melon, pineapple and papaya. At lunch and dinner we recharged with wholesome bowls of masuman curry, soba noodles with spinach and edamame and garden-fresh broccoli with tofu. Meals were washed down with glasses of water that were swiftly re-filled without you even noticing. If you're partial to a stronger dinnertime tipple, the zero alcohol policy keeps you on the straight and narrow.
I met with Janelle, the retreat's knowing naturopath and wellness consultant, who weighed me and measured my BMI and body fat percentage. We then drilled down into my typical food intake and lifestyle back home. Janelle highlighted the possible causes of some niggling health grumbles and suggested how I could boost my energy levels and balance my hormones with meal tweaks and supplements. For me, it's all about more magnesium. The consultation was highly insightful with take-home tips such as adding a sprinkle of sea-salt to drinking water to aid absorption.
After stretching and eating clean, the icing on the (gluten-free carrot) cake was the spa. On open-air day beds, under swathes of white fabric, we succumbed to our powerful 90-minute Thai massages – the traditional technique of full-body presses and stretches quickly ridding us of London-life tension. The aroma massages, to help to loosen our muscles and eliminate toxins, were delivered by strong and skillful therapists May and Took in the dark, calming treatment rooms. We'd begin by biting down on the bed and finish up asleep – waking to find our hair had been gently braided too. My daughter described the whole experience as kind.
I was then relaxed enough to face my ultimate spa fear – colonic hydrotherapy. Trying to visualise the end result of a revamped, toxin-free colon, I lay back and was flushed with a series of warm water, vinegar and coffee infusions. The Absolute Sanctuary uses an open system, meaning your body dictates the flow of the outbound 'water' – making for a more in-control experience. You're left alone or the unfazed practitioner stays close and rubs your tummy to help the process along. Being the needy sort, I opted for this. Afterwards, feeling smug I'd survived, I necked my post-flush shot of probiotics (cheers!), slipped into bed and slept for a full ten hours.
The atmosphere by the pool was chilled, with solitary guests resting, reading or doing the odd lap. As my daughter cooled off in the water, I joined a hot yoga class – crazy as it seemed be entering a 38° studio as the sun beat down outside. With only four of us on the mat though, it was pleasantly less intense than the wall-to-wall of sweaty bodies in my usual class at home. Jana led us through the 50 classic hatha yoga poses and gave each of us attention, challenging us to a deeper, satisfying practice. The 90 minutes passed, and as I lay on my back, palms turned out for savasana, the overhead fans were finally switched on. Blissing out on the breeze is your sweet reward.
With our schedule of goodness, we were too busy being healthy to feel restless, but should retreat-fever set in, the resort shuttles you to Choeng Mon's picture-perfect beach or lively Chaweng for a bit more action. A trip to the Fisherman's night market is also on the agenda – a must for holiday-tat shopping and a Thai street-food fix. And should you want to take the focus off you and your body, there are in-house alternative workshops. In one you can master towel art – think elephants, swans and crabs created from a bath towel. Cheesy or genius? You decide.
Our five days of rejuvenation flew by and we left the Absolute Sanctuary feeling leaner, cleaner, brighter and undoubtedly happier. When I asked my daughter what she enjoyed most about yoga, she answered simply 'savasana'.
A five-day yoga programme at the Absolute Sanctuary starts from £850 for single occupancy including airport transfers www.absolutesanctuary.com
Flight to Thailand were booked with www.bermondseystreettravel.com
 words by Ali Horsfall