Everyone has their own, unique way of switching off and zoning out when life's stressful moments get in the way. For some it might be Yoga or Pilates… others might find comfort in meditation. For healthy foodies like us though, we love to relax and take our minds off emails and deadlines with whipping out our aprons! Being in the kitchen and getting to work with wholesome, nourishing ingredients definitely helps us to not only feel closer to nature, but it helps re-ignite our creative souls. Ok, yes there isn't much preparation or time needed for Deliciously Ella's famous energy balls (which we make pretty much on a weekly basis!), but it's the process of turning the simplest of ingredients into delicious, mouth-watering meals that is the most wonderful thing.
Cooking classes are such a great way to unwind and even spend quality time with the ones you love… So we took it upon ourselves to hunt down the UK's best cookery schools that we think are worth a visit, not only for a fun, experiential day out, but to also get a deeper understanding of where exactly our food comes from and how cooking from scratch isn't as daunting or as difficult as it may seem!
Daylesford Organic
The mecca of all things organic and delicious, Daylesford Organic in Gloucestershire hold expert-lead classes in their very own, state of the art cooking quarters that aim to not only inspire but impart a depth of knowledge on cooking and creating recipes from scratch. We were lucky enough to be taught by one of Daylesford's long standing cookery school masters, James, who was unbelievably inspiring and passionate about how your end product (i.e meal) will only taste as good as the produce you used to make it. This way of thinking is exactly what Daylesford are about. Growing organically, ethically and sustainably is at the heart of their philosophy and everyone who works there from the people who work in the Farm Shop to the hard working gardeners! Booking yourself on to a course or even just a one off class is definitely the best way to really see this first hand and to get a true taste of cooking healthy, wholesome meals.
We took part in the Seasonal Dinner Party class, which aims to give an insight into organising hassle-free dinner parties with dishes that are simple to prepare but have the wow factor when it comes to taste. Aside from cooking, we took a break from the kitchen to go on a guided tour of the farm and the Market Garden where every type of vegetable you could think of grows, lovingly nurtured by the chefs and produce managers. It was truly astonishing and inspiring to see such a global, household company leading the way in organic farming. James was so knowledgeable and answered any question thrown his way. We played around with flavours and learnt a lot more about seasonal cooking which is not only delicious, but can also help reduce your carbon footprint. Prepare to leave feeling inspired and never wanting to go to your regular, run-of-the-mill store for veggies ever again! We're converts to shopping at local farmers markets and of course Daylesford's Farm shops in London! Book your Daylesford cookery experience here!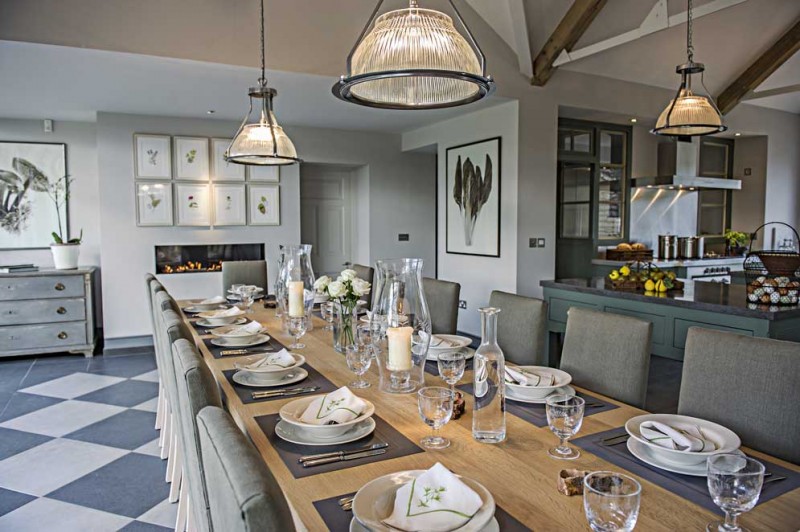 Thyme
Situated half way between Oxford and the picturesque Cotswold town of Cirencester, Thyme tell the complete story of the process of taking food from the earth or tree to the kitchen and onto your plate. Classes feature demonstrations, tastings, talks and garden tours but what we loved most were the foraging classes that are hosted by wild food expert and cook, Claudio Bincoletto and take place around Thyme's kitchen gardens and water meadows.
This is an experience like no other, whether you are a seasoned country forager or a complete beginner. During the nature walk with Claudio, we learnt about "no trace" foraging and how this sustainable approach has little to no impact on the environment. It was so relaxing and enriching walking around in the natural elements learning about all these wild ingredients we had never heard of or at least cooked with before. We finished our adventurous morning with a seasonal lunch cooked on an open fire. The perfect ending to a wonderfully wild experience! For more information on booking a course, click here. Want to make a weekend of your trip to the Cotswolds? Thyme is also a hotel! Book your stay in one of their beautiful rooms and cottages here!
Le Manoir aux Quat'Saisons
If you can handle the hefty price tag, there is nowhere quite like Le Manoir aux Quat'Saison in Great Milton, Oxfordshire. This highly prestigious cookery school is the brainchild of cooking legend, Raymond Blanc. Where else can you learn to cook in two-Michelin star facilities? From half-day introductions to residential programmes, courses at this lavish hotel and cookery school focus on recipes inspired and created by Mr Blanc himself and showcase the very dishes that made him the Michelin-starred chef he is today.
There's a wide range of courses available, from The Magic of Vegetables, Herbs & Pulses, to Kitchen Secrets and Treasures from the Sea! Expect to master a variety of cooking techniques that are certain to impress your dinner guests… You really will be the hostess with the mostest! Under the guide of Raymond and his team, you'll walk away having conquered exceptional dishes and recipes that will undoubtedly become permanent fixtures in your own recipe corner at home! Don't worry though; you'll be given a course book with all the recipes you created so you don't forget any details! Find out more about Le Manoir aux Quat'Saison's cookery school here!
words by Molly Jennings