Following on from Dy Rupy's bestselling cookbook, The Doctor's Kitchen, Eat to beat illness, will teach you how to use food to trigger and amplify your defences against disease. In his second book, NHS Doctor and GP, Rupy Aujla builds on the message that what you choose to put on your plate is one of the most important health interventions you can make. Below we chat to him about his aspirations for more nutritional education in the medical world and his plans to help more people to live a happier, healthier life.

The Doctor's Kitchen is all about flavour and celebrating cultural diversity to make delicious and healthy meals, where do you draw inspiration?
For me, I draw inspiration from my cultural background, raised in an Indian household, we have a lot of influences from Punjab to Gujarat to Sri Lanka and Southern India where they have lots of different cuisines. It's just so diverse and the use of flavours and the influences from other cultures like the Portuguese, the Spanish, the French – it's all like one big melting pot of incredible food with global influences and I think that was my earliest inspiration when I started cooking myself at medical school. But beyond that, experimenting with different cuisines like Italian cuisine and watching Saturday Kitchen growing up, I was addicted to the food channel. Also, my patients as well, I mean they come from such different backgrounds, living in London, we're so blessed to have a huge multi-ethnic community that is woven into a British society, which is something to celebrate. Even when I am giving healthy advice about eating, I'm going to be faced with people from a Korean background, people from a Jamaican background and I have to think about ways in which to make it culturally relevant to them and so through that whole process, I have come into contact with so many different sorts of foods and really, healthy eating is about variety as well so that's sort of my take on celebrating cultural diversity, it is something that can be very healthy and just because I believe in the principles of a Mediterranean diet, doesn't mean that can't have a different flavour base and you can apply those principles to Chinese cooking, Indian cooking etc.
What inspired you to start The Doctor's Kitchen?
It was really a recognition that a lot of people didn't realise or didn't know how to cook. They didn't understand the beauty of food and the medicinal effects of eating well. Through that whole process of me having consultations with patients and whilst I was training to be a general practitioner and having my own experience of food and medicine, that was really the trigger for me to say, you know what, I think there is a way in which to add value to peoples' lives by using social media platforms through a blog. I really feel that if we can teach people to look after themselves, we can create a healthier, happier population.
You say you are a firm believer in the power of food and lifestyle change as medicine. How does this fit in with The Doctor's Kitchen?
I think The Doctor's Kitchen is really an expression of my belief in the power of food and lifestyle and I think it's beyond belief really, it's just scientific facts, I mean that's why I'm doing my masters in Nutritional Medicine at the University of Surrey. The power of food and its ability to impact health is undeniable and The Doctor's Kitchen is essentially making that knowledge accessible, exciting, motivating, whilst bringing a lot of enthusiasm around the subject. I want people to appreciate why food and lifestyle are so important to health and if you look at the statistics of the proportion of NHS money spent on preventable diseases, this is really where we need to start.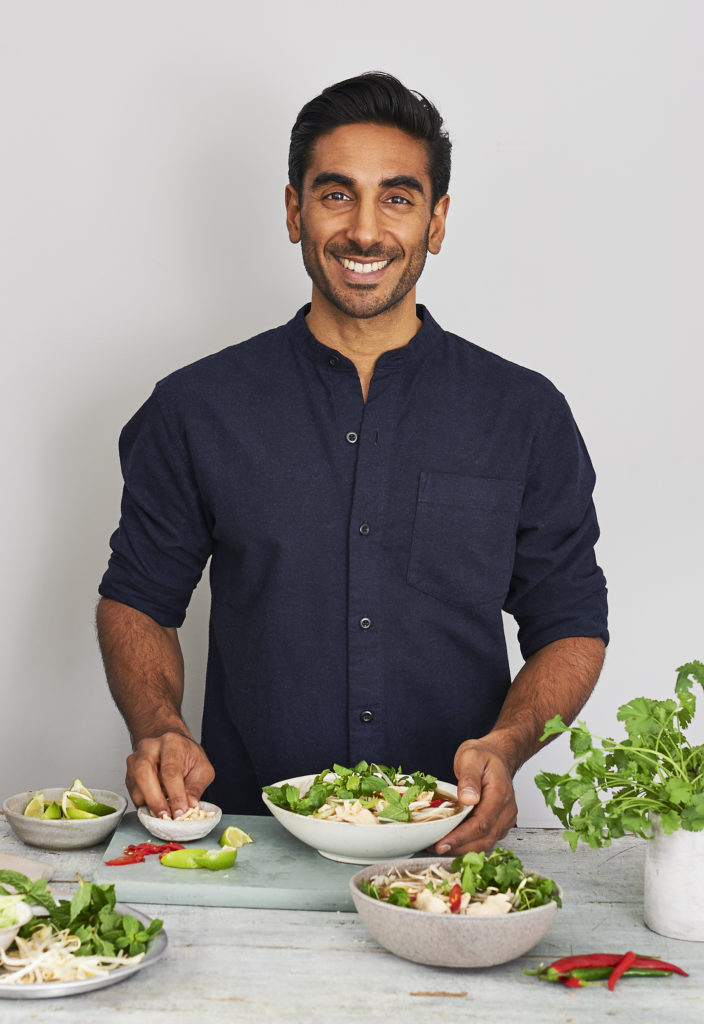 What are your top tips for an all-round healthy lifestyle?
I think my top tips are to not focus on one particular aspect. I think we in the medical profession and the general public have a binary focus on one thing: I need to lose weight, or I need to make my skin look better or I need to try and fix my migraines. When you take a step back and you focus on putting your body in the best environment as possible, when you focus on being well, truly in your mind and your health and how you feel when you wake up in the morning, that's when you can actually instigate huge change because that is really changing the perspective to something that is much more holistic and appreciative of all the different facets of healthy living. So it's how we eat, yes, and I find that's a very good way of starting the conversation but it's how we sleep, what our community is, our sense of purpose, how we move and our mindset as well and I think all these different things really are inseparable if we're looking towards creating a healthier lifestyle. So, my top tip is to actually take a step back and look at the bigger picture – don't focus on one thing, focus on feeling well and being well and what healthy habits can you instigate. In a lot of cases, it's improving your diet, but in others, it's focusing on other things.
The Doctor's Kitchen offers so many delicious and mouth-watering dishes. If you had to pick one, what's your favourite recipe?
If I had to pick one, it would probably be the Aubergine and Walnut Ragu. It's got a beautiful meaty texture, it's got tons of your 5-a-day (much more than that I think!), lots of different herbs and spices, it's got a fantastic sort of like family feel to it as well. The meat lovers won't miss the meat, the walnuts give extra fat as well. It really does embody, what I believe, is a Mediterranean style diet and I think a lot of people will find it becoming one of their go-to meals.
Has being an NHS doctor helped you with creating The Doctor's Kitchen?
I think being an NHS doctor is the reason WHY I started The Doctor's Kitchen and the two wouldn't go without each other. My experience as a frontline clinician, both in general practice and in emergency medicine, has really influenced my belief and the need for a bigger conversation around the topic of food and medicine. But also, like I said about where my inspiration comes from, we are so blessed to live in a multicultural society, where we have access and experiences and interactions with so many different faiths, so many different cultures and food, and it's how we celebrate that. So absolutely, it's been pivotal, and I aspire to maintain my position in the NHS. Obviously, my resources have been stretched with everything else I do, but I think it's been fundamental.
As an NHS doctor, how do you find juggling life as a doctor with The Doctor's Kitchen?
It's quite hard. I am very fortunate in that I am fully qualified as a general practitioner, I have a lot of experience and a specialist interest in the emergence of medicine. I am learning how to use the ultrasound machines as I think that's a good tool to be able to scan someone, like gall bladders and sports injuries and all the rest of it. But because I'm fully qualified and I am an experienced GP, I can essentially go part-time, so I do 2 clinical sessions/days a week and I can dedicate a lot of my time to my non-profit, culinary medicine, teaching doctors how to cook as well as the foundations of nutrition. We're also experimenting with additional products coming out in The Doctor's Kitchen, creating an online course teaching people the basics and I really feel that dedicating some of my time to the bigger picture is actually going to help more people in the long run. I want to maintain my NHS content because it just keeps it real and keeps me humble.
What's been the most exciting and or inspirational thing about the launch and journey of The Doctor's Kitchen?
I think the most exciting thing for me is the humbling experience that there are people who I've never seen or never met and never had any interaction with, but they've got my book, they've watched some videos or they've heard about me through the papers and they have been motivated to change their lifestyle and it's led to positive benefits for them. For me, that is exactly why I started this whole project. It's to impact the masses beyond those that I can see in my clinic as an NHS GP. I don't believe that is scalable, and I think utilising digital platforms and spreading the message and giving people the means to become experts of their own health, I think, is the way forward. We can't rely on evermore increasing numbers of doctors and health professionals and services, we really need to teach people how to better look after themselves to, yes, reduce the burden on the NHS but actually create a healthier, happier population. When people tell me I've made a difference to their lives, it makes everything worthwhile, all the late nights, the weekends, the fretting about deadlines and all that kind of stuff, just that one message makes it all worth it.
You say that you "have a vision for mainstream 'food in medicine' practice and community kitchens affiliated with every GP surgery across the country". How do you hope this fantastic idea would work?
I envisage a lot more people talking about food and medicine in the medical profession beyond just me. This mission is far greater than one person and that's why I called it The Doctor's Kitchen. It's not tied to Dr Rupy Aujla. In fact, if you ask people who Dr Rupy Aujla they probably wouldn't know. I really think it's going to be about educating the new generation of doctors about how to have more meaningful conversations around food and medicine and lifestyle and that's why I started the non-profit culinary medicine group and working with medical schools. We've done a special module in Bristol that's going into its second year now. We are working with UCL this year to create an entire day of cooking in the kitchen with clinical nutrition for 350 medical students. A lot more universities are coming into the mindset of teaching medical professionals about nutrition and so that's how I think we're going to create this vision and really, it's going to be about general practices, thinking laterally and installing kitchens in their own practices as part of their wellness hubs. There are already examples of some really forward thinking surgeries that are doing this, like Doctor Michael Dixons, who is also the founder of College of Medicine down in Devon. So, there are already people doing this but it's about scaling that and it's going to be something that will take a lot of investment from the NHS but I truly believe it's going to have some pretty wide-ranging positive effects.
This year, you're speaking at a number of events and leading some exciting workshops such as the Eat & Drink Festival, at the Ideal Home Show in London's Olympia, on Saturday 31st March. What other exciting things can we expect from you and from The Doctor's Kitchen this year?
So, I think the UCL project is massive, I want to put the final touches to the course I have created online. It's a 4-week course that will take people through educating them how to navigate a supermarket, how to stock their fridge, what store cupboard essentials to have, quick healthy meals that everyone needs to master as well as 30 days of cooking in the kitchen with Dr Rupy, where I will give a shopping list and people can cook along with me. So yeah, that's essentially how I am trying to work things. I'm just trying to think out of the box of ways in which we can elevate peoples' understanding of food and medicine and qualify and define exactly what we mean by food and medicine but yeah. I think my book is going to the US as well at some point and I am looking forward to people getting Eat To Beat Illness because I think it's the blueprint behind teaching people the basics of lifestyle and medicine.
The Doctor's Kitchen, Eat to beat illness (Harper Collins) is out now.
---
Subscribe to our Newsletter + receive our Sugar & Dairy Free E-Recipe Book, In The Hip & Healthy Kitchen.