Whether you're travelling on a budget, on mass, with kids or want to splurge on a bucket list adventure…this is your travel guide for the 22/23 ski season.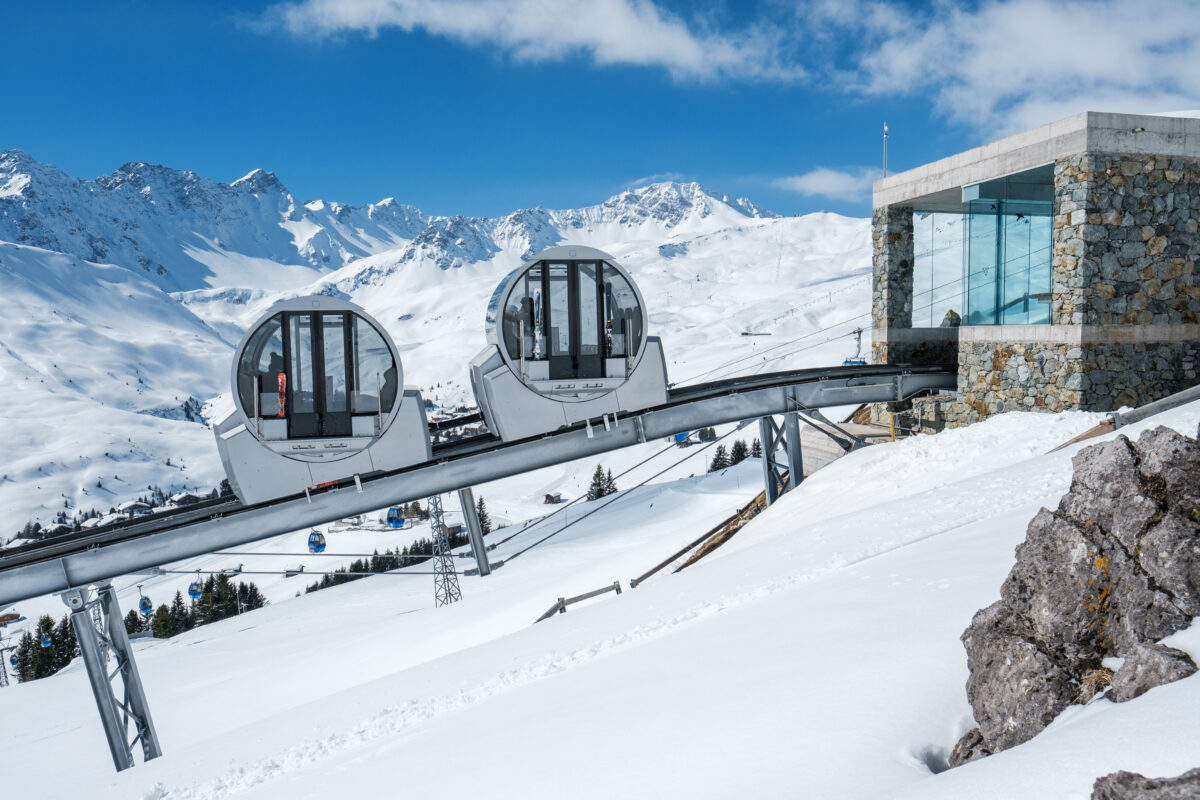 BEST FOR CONVENIENT SKIING – 5* Tschuggen Grand Hotel • Arosa, Switzerland
Boasting a private railway that zips you directly up to the pistes from the hotel in just under four minutes, the 5* Tschuggen Grand Hotel takes all the hassle out of skiing! Their exclusive Tschuggen Express is not the only selling point, hinting to its name Tschuggen Grand is the epitome of alpine affluence with the 5,000sqm Bergoase Spa, four floors of outstanding wellness being another major allure. The hotel espouses four restaurants, ranging from gourmet cuisine to laidback dining all with panoramic views of the serene Schanfigg Valley.
BEST FOR BIG GROUPS – Hip Hideouts, Val D'Isere
Sizable chalets always work best when travelling on mass, and Hip Hideouts' portfolio of 16 awe-inspiring properties dotted around Val d'Isere and the neighbouring town, Le Fornet, proves the ideal setting for large groups. With chalets that sleep four to twenty guests, Hip Hideouts has something for everyone, whether you would like to be looked after by their selected professional team of chefs, hosts and drivers or you prefer to self-cater. The one thing that remains consistent is the level of luxe, each chalet is oozing with elegance and charm inspired by alpine chic interiors.
BEST FOR FAMILY SKI TRIPS – Hotel Le Coucou • Méribel, France
Hugging the slope, Hotel Le Coucou is set right into the mountain, an ideal location for ski-in, ski-out lovers. Based in the picturesque town of Méribel, which accommodates well for little ones, Hotel Le Coucou will please the entire family with facilities ranging from the kids club, pool, spa and fitness space, not to mention the exclusive organic treatments signed by Tata Harper. The family-fit rooms and suites embody a refined contemporary style that lends itself well to the mountainous surroundings, with wood and stone textures throughout. Right on the doorstep, guests have access to snow trekking to explore Méribel's hidden gems, pony sledging for the little ones, tandem paragliding and of course, the sprawling slopes of Méribel.
BEST FOR A WEEKEND BREAK – Das Central • Sölden, Austria
Just one hour from Innsbruck airport, Das Central is the perfect place for a short trip. Offering  145 kilometres of high alpine skiing linked by two glaciers Sölden is home to one of the fastest ski lifts in the world, transporting you from ground level to the top of the Giggijoch mountain in just eight minutes. Luxury hotel, Das Central, is the perfect place to rest your head after an adrenaline-packed day, positioned at the bottom of the mountain. The hotel is traditional in an up-market sense, offering Austrian fine dining, an impressive 3-story spa and impeccable hospitality. From comfortable rooms to exquisite suites, Das Central's plethora of accommodations varies from high-end to off-the-charts, think in-suite gym, sauna and fireplace! 
BEST FOR ONCE IN A LIFETIME EXPERIENCE – Higashiyama Niseko Village, Japan
After a two-year hiatus due to strict travel restrictions, Niseko Village Hotel is raring to welcome skiers to the slopes of Niseko in Hokkaido. Japan may not seem like the obvious choice for a ski holiday, but this bucket list trip will undoubtedly be one of the most memorable ever. The Niseko United ski area has access to inter-linked ski resorts boasting 2,191 acres of skiable terrain. Higashiyama Niseko Village is the most sought-after place to stay, the hotel is the epitome of Japanese luxury, with a fine dining and retail village hub, luxury residences, an international snow school and alpine activities. The Japanese know how to recover from a day on the slopes in the most rejuvenating, purest form at The Green Leaf Onsen, an incredible natural rock pool in Niseko Village.  The onsen water emerges from deep within the earth at 53.2 degrees and cooled to just over 40 degrees before entering the onsen. Flowing at 270 litres per minute, the water is believed to have natural healing powers derived from the mineral content.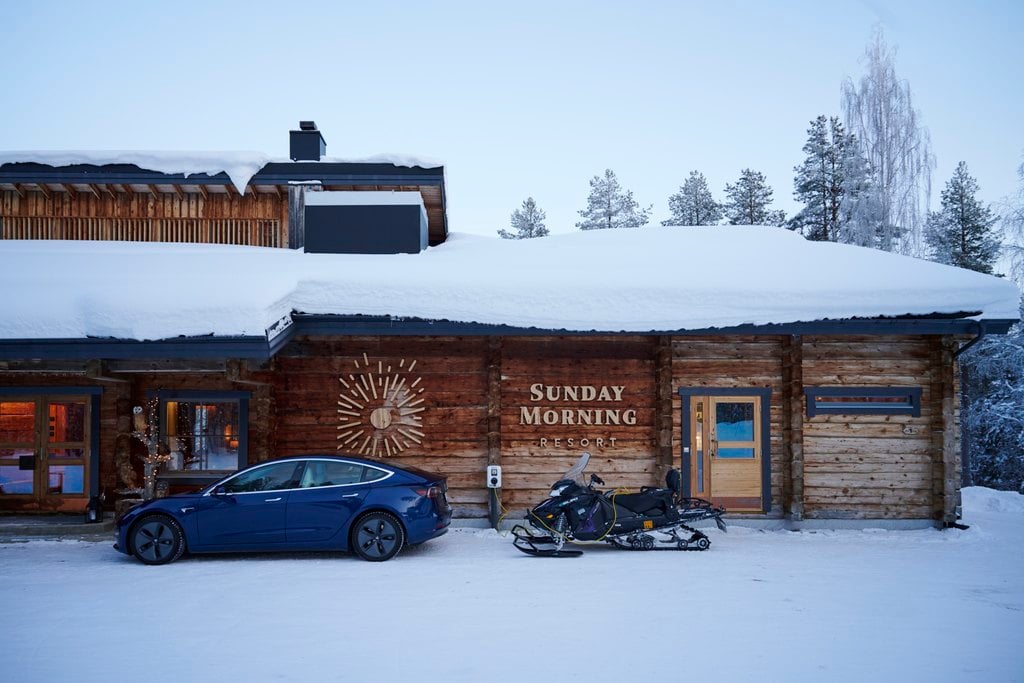 BEST FOR ECO-CONSCIOUS TRAVELLERS – Sunday Morning Resort • Pyhä, Finland
Having achieved a net zero carbon footprint way back in 2011, Pyhä has long been socially responsible for taking exceptional care of the natural surroundings. There's a small but diverse range of runs, wide and quiet, ideal for beginners and steep black pistes for thrill-seekers. Boutique hotel, Sunday Morning Resort emits tranquillity through the picture postcard lakeside spot perch next to a peaceful forest. Honouring the nature that enhabits the resort, the lodge and apartments are made of old pine timber, fitting seamlessly into the idyllic background. Housing Restaurant Aihki serves predominantly plant-based cuisines and locally caught fish, a lounge, a cosy lobby bar with a fireplace, a small gym and a modern sauna, this carbon-neutral resort uses an innovative eco-friendly heating system and offers carbon-zero emission activities such as safaris with electric snowmobiles and tours with electric fatbikes.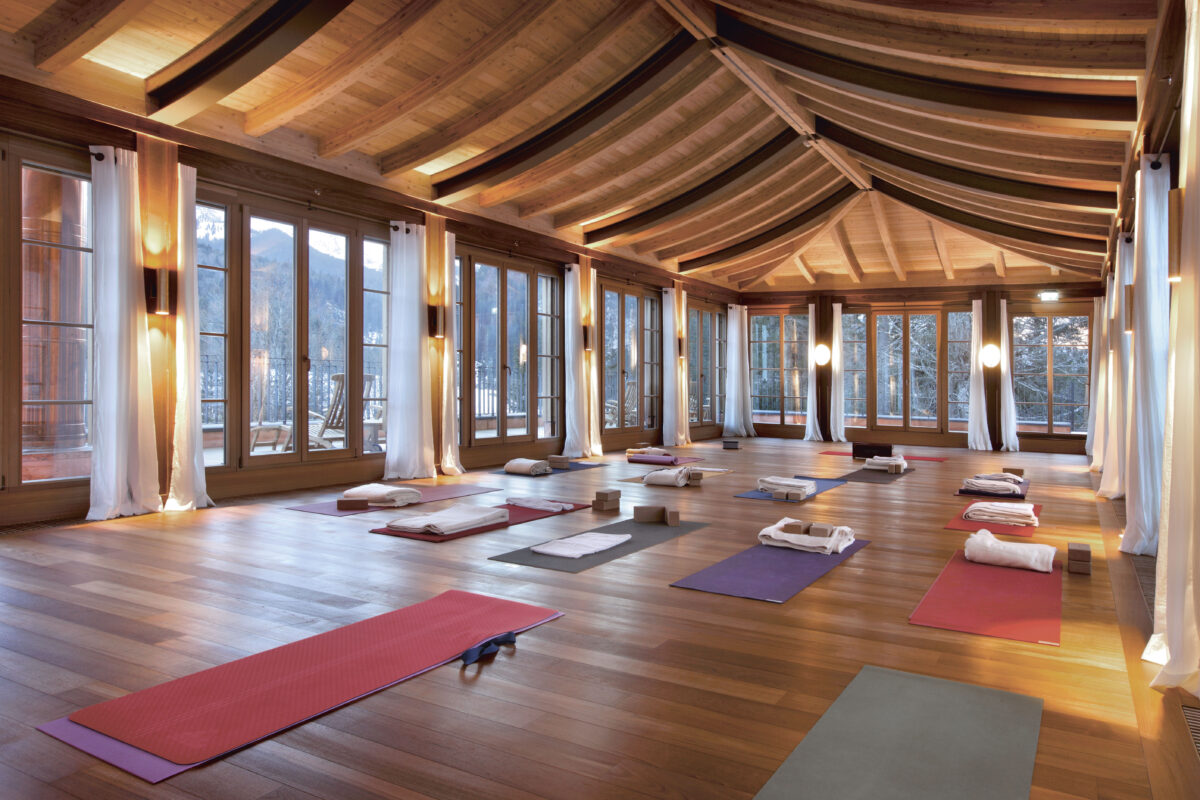 BEST FOR MINDFUL SKIING – Schloss Elmau • Bavaria, Germany
If a slow pace of travel appeals to you, Schloss Elmau's 'Mindful Skiing' programme will restore peace in a typically quite hectic holiday. After a day of skiing, feeding the soul with the fresh mountain air, guests can cultivate relaxation with daily yoga and tai chi classes and immerse into one of the six spas which include an Oriental hammam and Japanese onsen pool as well as many intimate relaxation rooms, brine steam rooms and saunas, one of which located on the crystal clear Ferchenbach in the Nature Spa. Regeneration and healing are vital to alleviate the body after a day of skiing, hence the enthesis on yoga at the Schloss Elmau. The certified Jivamukti Yoga Affiliate Studio that overlooks stunning views meets the highest quality standards, with amazing teachers that capture the essence of your practice to restore peace in your mind and leave the body agile in prep for the next day.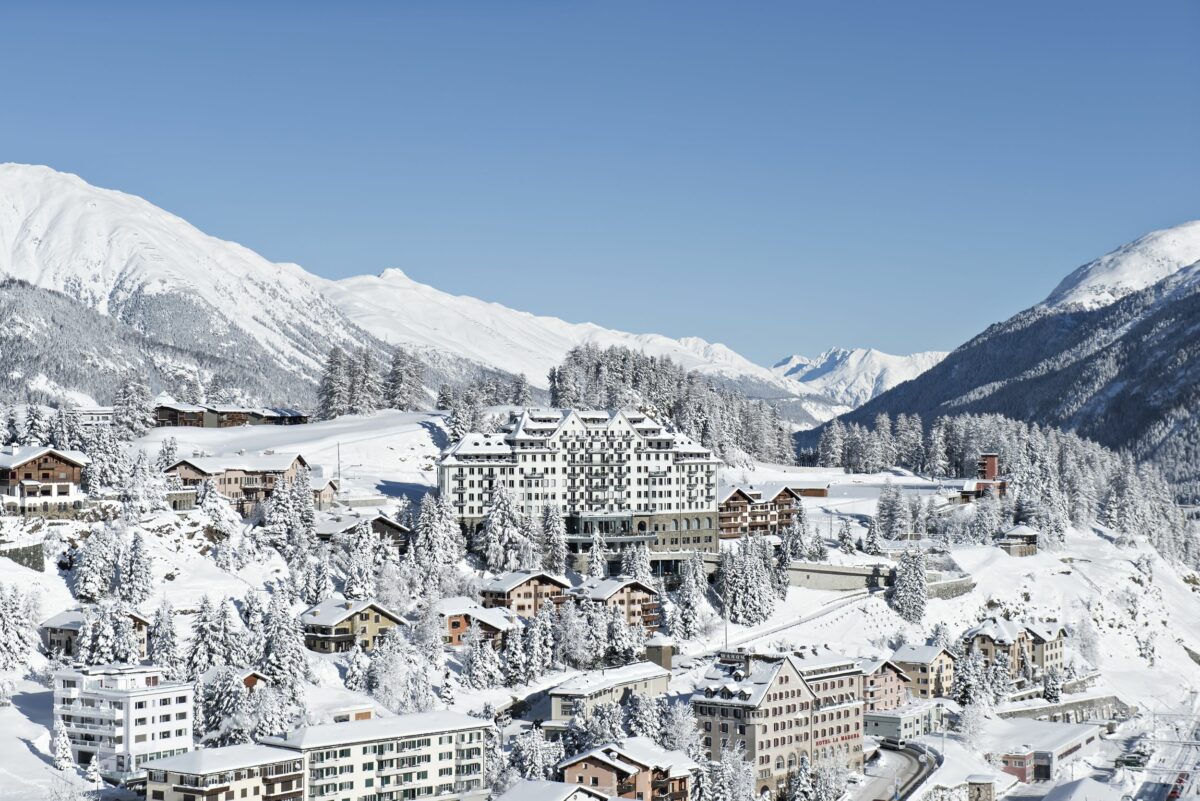 BEST FOR ALPINE ADVENTURE – The Carlton • St Moritz, Switzerland
In recent years grand hotel, The Carlton has adapted to modern trends of the wellness industry with an array of alpine adventures to endure and enjoy. Of course, skiing is a given in St Mortiz, offering some of the most well-groomed slopes in the Alps with an abundance of runs ranging from green to black. The Carlton has diverted off the beaten track with their newer offerings, run by its very own outdoor concierge, a role most hotels are yet to fill. As part of the hotel groups Moving Mountains programme, which centres on boosting vitality and experiencing nature in a new way, guests can embark on nighttime torch-lit hikes, ice-bathing up at altitude and toboggan sledging. These wellness-enhancing excursions will satisfy your need for adventure and mindfulness, elevated by the incredible backdrop of St. Moritz. The hotel itself is dripping in heritage, rich wooden tones and luxe finishings throughout. It's a seamless skiing experience, with ski hire available from within the hotel!
BEST FOR SPECTACULAR SPA EXPERIENCE – Hotel Hubertus • Olang, Italy
Boasting an insta-worthy spa which has caught the eye of many wellness wanderlusters, Hotel Hubertus in the Dolomites is designed to adorn the alpine panorama that surrounds the impressive architecture. Nestled between the Dolomite peaks, guests can overlook the jaw-dropping valley basin while delving into what can only be described as a spectacle of a spa. The Alpenreych Spa houses five outdoor pools, a relaxation pavilion with a fireplace, a log cabin sauna, an alpine panorama sauna, a Dolomite cave steam bath and the Heaven & Hell Sky Spa, which has captured the imagination of every Insta travel account. From family suites to one-person bedrooms, the hotel's cosy rooms are filled with fragrant wood that fills the air. With 192 kilometres of slopes and 32 state-of-the-art lifts at your doorstep, Hotel Hubertus is what winter travel dreams are made of.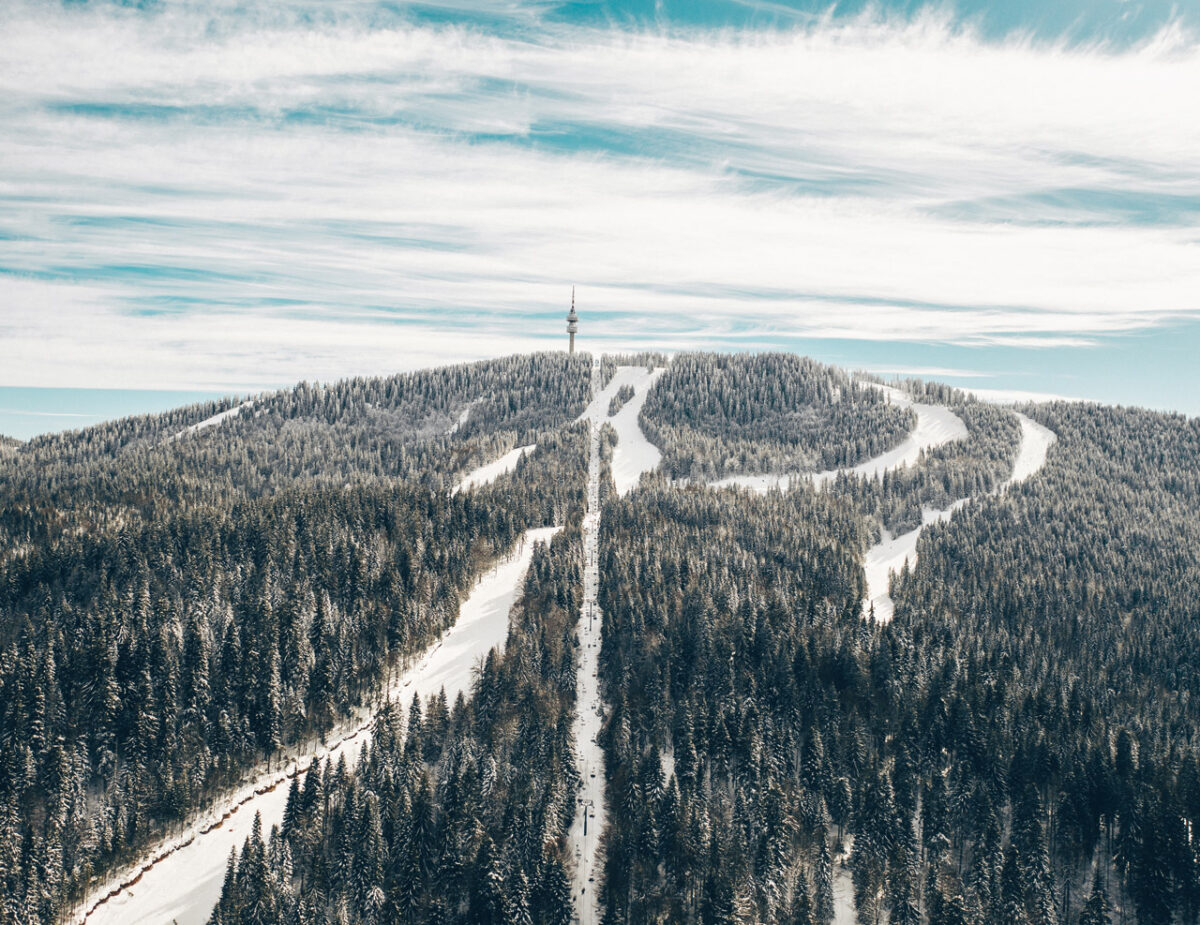 BEST FOR AFFORDABLE TRAVEL – Perelik Hotel • Pamporovo, Bulgaria
Flaunting 5 stars at a modest price point, The Perelik Hotel in Pamporovo was newly renovated prior to the pandemic. Running regular shuttles to the main ski area, the hotel is in a great spot for skiing and with ski passes priced at around £20 per day, Pamporovo is a very reasonable option if you're on a budget! The runs are based around Snejanka Peak at 1926m and cater for all skiing abilities. The hotel has everything you need, spacious bedrooms, a spa, a swimming pool, a restaurant and a bar which has panoramic views of the mountains. 
BEST FOR BEGINNERS – Six Senses Residences • Courchevel, France
Recognised for wide open pistes, gentle gradients and high-performance ski schools, Courchevel, in the Three Valleys area of the French Alps, is the perfect resort for beginners. Set at the heart of Courchevel 1850, Six Senses Residences is a popular choice amongst wellness seekers. Fitted with the renowned Six Senses Spa and Japanese restaurant Sumosan, this hotel will bring the wow factor to your ski holiday, with interiors inspired by their Alpine surroundings. Courchevel Moriond is the largest space for learners to practise and has three free ski lifts, 4 green pistes and around 13 blue pistes. There is a fenced-off area exclusively for beginners serviced by a free drag lift where you can build your confidence.