In celebration of our good friend Alexandra Dudley's first cook book, Land & Sea, we thought we'd share a little sneak peak at just one of the many many mouth watering recipes featured in the book! Since Poke is a hot dish in the food industry the moment, this Salmon Poke Bowl seemed like the perfect recipe to share with you all! Over to Alex!
Incredibly easy to throw together, poke is one of those dishes that I make when I don't feel like spending hours in the kitchen but still want to make something spectacular. A traditional Hawaiian dish, poke came to be when the fishermen began making use of the offcuts from their catch, seasoning them to eat as a snack.
Bright, colourful and zingy, it is a dish I love serving to friends in the summer – it has a wonderfully exotic feel to it, despite being quite effortless to prepare. I tend to make this with salmon rather than tuna as it is usually the more sustainable option. Be sure to use sushi-grade salmon – any good fishmonger should be able to help.
Ingredients
Serves 4
about 500g sushi-grade salmon
½ red onion, finely sliced
2 spring onions, finely chopped
4 tbsp tamari (gluten-free soy sauce)
1 tbsp sesame oil
2 tbsp rice wine vinegar or apple cider vinegar
thumb-sized piece of ginger, peeled and grated
1 avocado, peeled, stoned and cut into cubes
2 tbsp sesame seeds – black, white or a mix
For the rice
200g black risotto or sushi rice
400ml tin full-fat coconut milk
pinch of salt
To garnish (optional)
grated radish
grated carrot
fresh sliced chilli
pickled ginger
Method
Begin by cooking the rice, as you will want this to be cold by the time you are ready to serve.
Put the rice in a large saucepan with a pinch of salt and the coconut milk and then using the coconut milk can to pour in about half a can's worth of water. This is also a great way to ensure you get all of the coconut milk out of the can, so none goes to waste. Bring the liquid to the boil, giving it a stir to ensure all the creamy coconut has infused into the water. Once the liquid is bubbling, reduce the heat to a simmer and leave for about 30 minutes. Check after 15, adding more water if needed. Once the rice is cooked, remove it from the heat and allow it to cool.
Prepare the salmon, beginning by removing any bones before chopping it into 1cm cubes. Set aside.
In a medium bowl, combine the sliced onion, spring onions, tamari, sesame oil, vinegar and ginger. Give it a stir before adding the salmon and using either a spoon or your hands to coat the salmon with the marinade.
Place the salmon in the fridge to marinate and chill for at least an hour.
When it is time to serve, remove the salmon from the fridge and add the avocado and sesame seeds, stirring gently to combine. Plate up your rice, then top with the salmon poke and garnish with grated radish, carrots, chilli and pickled ginger, if you like.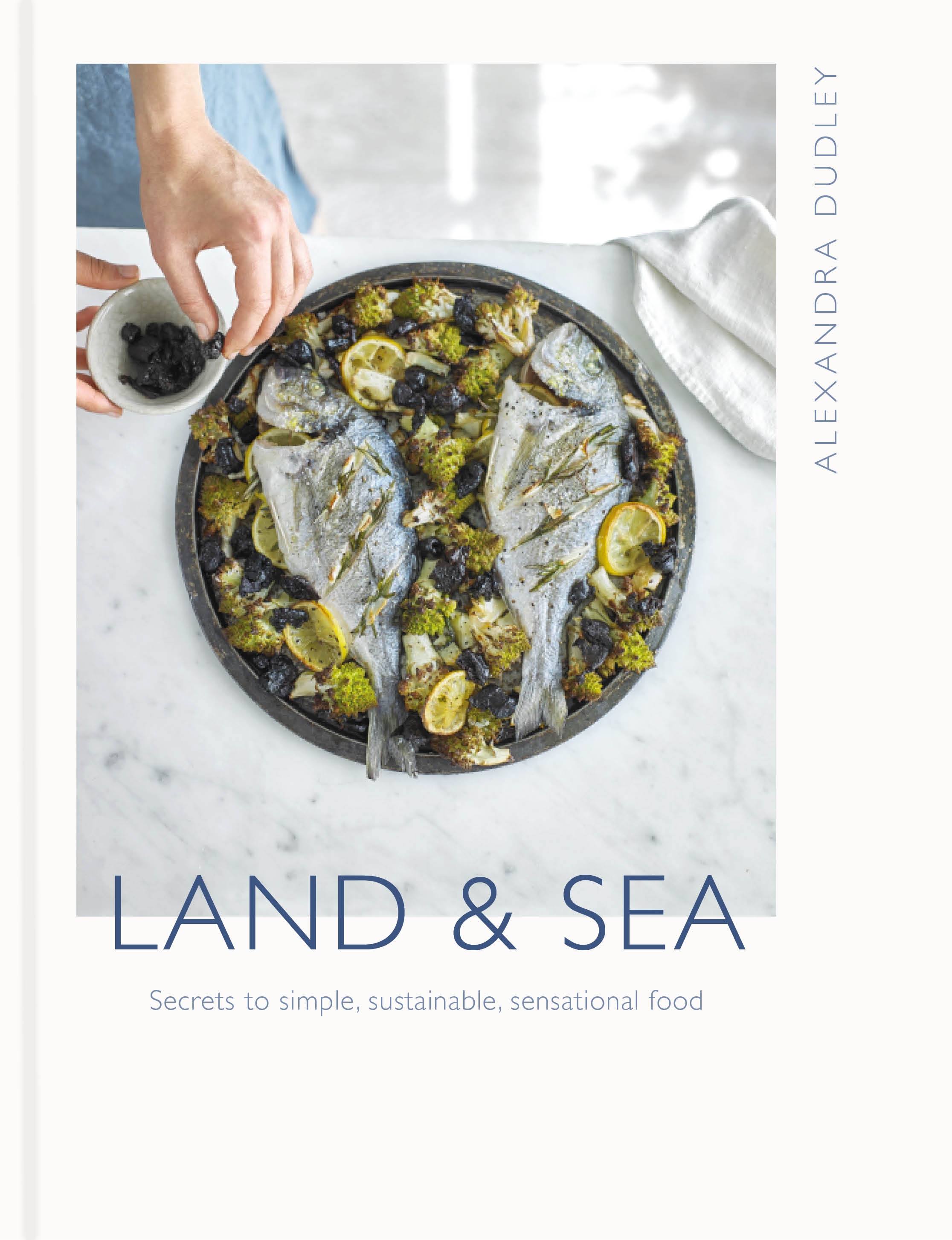 Recipe is from LAND & SEA: Secrets to simple, sustainable, sensational food by Alexandra Dudley, published by Orion as a hardback & eBook, priced £25/£12.99. 
Photography by Andrew Burton.