image: Denise Norden
Here, at H&H, we are continuously inspired by the ahh-mazing community that promote health and wellbeing. We love people who are changing the game for the better and who not only inspire us, but also you! The fact that we can find some of our favourites right next door in the EU makes it that much sweeter! We've asked some of our favourite European bloggers to give us a peek into their day to day lives from what's in their gym bags to what inspires them! See why we love these girls so much…
Entering the blogging scene almost ten years ago, Denise gives us some serious inspiration to live a fit and healthy lifestyle but also just to be happy. Her lifestyle blog, Denise Norden, has amazing imagery that makes us want to live life to the fullest and to enjoy every moment! Not only is she a talented photographer, her positivity definitely shines through each of her posts and makes it hard for us to not want to live a well-rounded lifestyle!
We are absolutely obsessed with the content and aesthetic of your blog. What inspired you to get started?
Thank you so much! I've been blogging since 2007 so it's almost 10 years now! I've always been a "diary girl" and when I heard about blogging I new that that was something for me.
What is your favourite workout to stay in shape?
I'm an old gymnast from the start and did gymnastics for 10 yeas so working out has always been a part of my life. I've done everything from gymnastics, thai boxing, crossfit…But now I'm all about finding the perfect balance. So at the moment, I'm all for yoga, running and gym. I do what I feel for and what I think is fun, not what social media is telling me to do.
Do you have any cardinal wellbeing rules?
My rule is to always have fun when you workout and do it with love. Don't stress and the result will come!
What are your gym bag essentials?
I always have a pair of indoor shoes with me. I also have my wireless headphones with me so I can listen to great music that will keep me going while I'm working out! I will also have a water bottle with me in some cool color to match my outfit. Don't forget to drink lots of water when you workout too!
Nadia, aged 20, based in Switzerland, is the creator of Eat Better Not Less. Her alluring blog features mouthwatering recipes. Each of her creations is a work of art. Nadia's ethos highlights the importance of nourishing your bodies with wholesome and delicious food. Her breathtaking recipes will have you heading to the kitchen to whip up the best breakfasts, lunches, dinners and snacks!
How did you get started on your own recipes?
Cooking was always a big passion of mine. Ever since I was 10 years old, I never liked to follow a recipe; I always made up my own. I think in pictures and colours, and like to try out new things! I think most of it just comes from my imagination combined with my passion for creativity and desire to create new things! With every recipe I make I want to create explosions. Taste explosions and fireworks for the eyes!
Based on your Instagram, it looks like you're a breakfast girl! What is your favourite go-to breakfast recipe??
Oh gosh I love breakfast! I could eat it all day, haha! There are so many options, from sweet to savoury, but I prefer to have something fruity and sweet for breakfast. Banana ice cream with fresh berries & crunchy homemade granola would be my go to recipe. Super easy & absolutely delicious! In winter, when it's colder outside, I love to make millet porridge for breakfast. It keeps you full and satisfied and is great for heart & soul! There's plenty of recipes of both on my website www.eatbetternotless.com
Best well-being advice you have received?
Whenever people tell me that they can see how passionate I'm about what I do and that my eyes start shining when I start taking about food & cooking. I would just love to hug them and never let go, haha. The reason that I do what I do and love is to make people happy. That's my biggest intention. And I feel like this is only possible if you do what you do with a lot of passion and with your heart!:)
What is your go-to workout?
My favorite workout? Maybe cooking!? I cook so much so it's kind of like a workout! I love to go for long runs. I run about 15-20 kilometres every other day. The other days I do HIIT for like 30-40 minutes with body weights and dumbbells. I love to push myself to the limit and the feeling after of course! I also love to do the Kayla Itsines 28 minute workouts but usually do 4x 10 minutes instead of 4x 7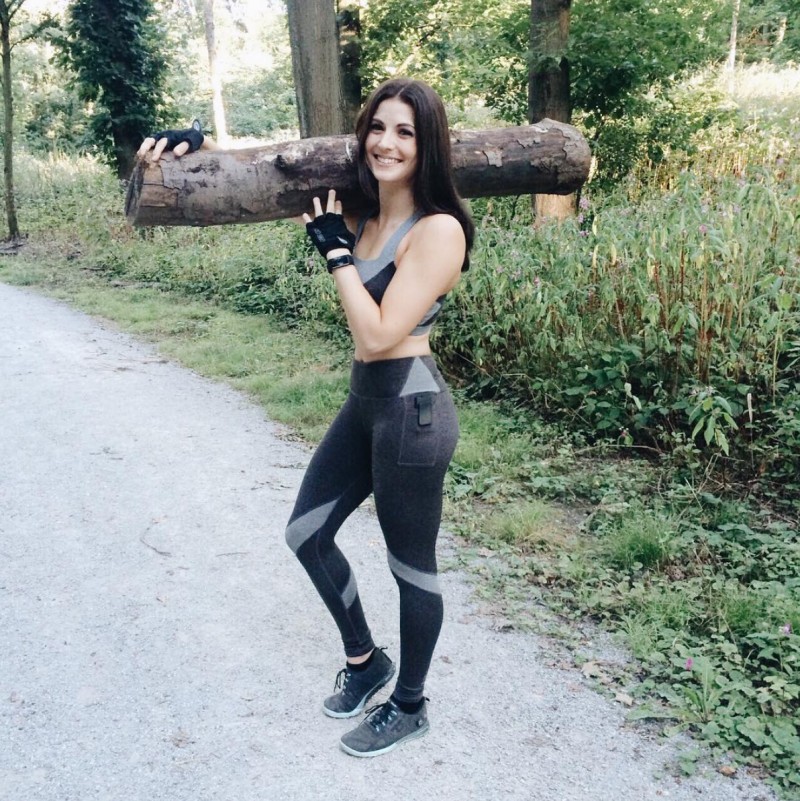 Starting her blog in 2011, Jannú created Janne in Wonderland. She continues to inspire her followers (us included!) with her positive attitude and her healthy outlook on life. She is a true inspiration when it comes to balancing health and well-being with such a busy traveling schedule. Her blog includes everything from her OOTD to her latest experience like running her first Spartan Race! We love girls who aren't afraid of a little mud!
What is your go to workout that always leaves you feeling strong?
From my social media channels, people may wrongly think that I am always motivated and up for a workout. But the truth is that I am human and, like everybody else, I have days in which I am totally motivated and others in which my mood is low or the day at the office may have been long and my energy levels ask for an evening at the couch instead of hitting the gym.
I always try to focus in the feeling that you obtain after the training session. Those who follow fitspo accounts may be familiar to the motto "You will never regret a workout". And it is so true. A bad day can be made better by going to the gym and that is what I always keep in mind. The feeling of leaving the building after giving your best is comparable to no other. This is not only about physical exercise; this is about self- confidence and overcoming obstacles you think you couldn't.
Can you describe your day on a plate for us?
Breakfast: 3 egg whites, avocado on toast and soya latte
Snack: apple, goji berries, quark and cinnamon
Lunch: Vegetables with chicken breast, quinoa and cottage cheese
Snack: Peanut butter on corn or rice toast and protein shake
Dinner: Broccoli soup with salad and Spanish ham
How do you balance travel and wellbeing?
It can be really challenging. I always try to make healthy choices but the truth is that it can be really difficult when traveling and eating away from home; even a simple plate like salad can hide unhealthy fats (ex. sauce) and unnecessary sugars. It is normal that the body craves sweets and searches for unhealthy carbs when traveling. I always take fruit with me and try to pick unprocessed snacks (I would prefer the 600 calories of some peanuts rather than the sandwich they offer on board while flying).
I also stop at supermarkets inside airports and buy coconut milk, quark and nuts to have something to snack in case I'm hungry while waiting for my next connection.
We hope these awesome ladies help inspire you to become the best versions of yourselves! If you'd like to get to know them more head over to their blogs and give them some love!