Now more than ever, research into sleep is growing and for good reason…because we need it! The cultural and technological innovations of the 21st century are hindrances to deep and lengthy sleep and that, in turn, is causing health issues from obesity to blood pressure, mood alterations and immunity.
There can be many reasons why you're not sleeping well. Lifestyle habits, diet, hormonal imbalances, sleeping environment the list goes on. But one thing that can turn your sleep world upside down is anxiety and there's a good chance you're feeling more anxious than usual in these worrying, COVID-stricken times. 
As well as making sure we're eating well and nailing our wind-down routine, our go-to for managing anxiety and improving sleep is CBD. Full-spectrum CBD works by interacting with the natural endocannabinoid system in the human body. The endocannabinoid system supports pretty much every important function in our bodies, from pain and mood to anxiety and sleep.
Typically you'd take CBD in the form of drops, and while they do serve a great purpose, we love finding new and inventive ways to reap its benefits. We've recently discovered MEDA, a premium CBD drinks brand that is leading the field in CBD wellness. MEDA'S range of targeted functional wellness drinks contain nutrients, adaptogens, nootropics and best-in-class broad-spectrum liposomal CBD for optimal absorption and effectiveness. If you've tried all the chamomile and milk drinks you can stomach, it might be time for something different.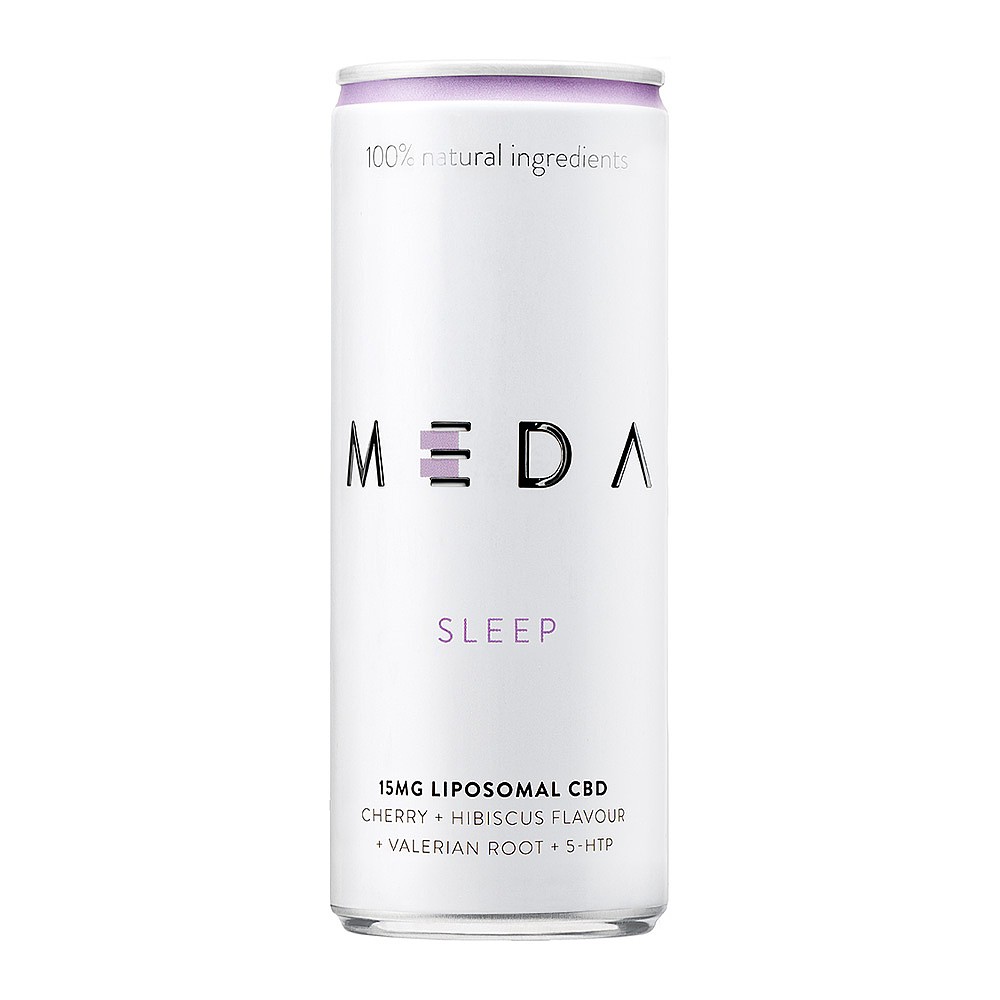 MEDA's new Sleep drink is a delicious cherry and hibiscus infused drink that has been formulated for those suffering from nighttime anxiety. It is a blend of calming cannabinoids, terpenes and other supercharged ingredients to induce a night of deep, restorative sleep. This is just the ticket if stress, anxiety and difficulty sleeping is making you feel frazzled!
How CBD can positively impact your wellbeing…
Promotes better sleep – Not sleeping enough can contribute to health conditions like depression and anxiety, obesity, and heart disease. Many people report improvements in the quality of their sleep after taking CBD.
Supports the immune system – A healthy immune system is key to maintaining optimum health. Weakened immunity leaves us open to infections, whereas too much immune activity results in autoimmune diseases. CBD is a known immune modulator, helping to keep our immune system in balance.
Induces feelings of calm – Stress is an inevitable part of life, but when it takes over, our wellbeing suffers. CBD helps bring calm to our sometimes hectic lives, so we can get on with our day.
Improves focus – Staying focused throughout the day is key to achieving our professional goals. But if we're honest, how many of us struggle with workplace concentration? Common feedback from CBD users describes an improved focus and sharper thinking.
MEDA's Sleep drink has fast become a firm part of our evening routine to combat anxiety before bed. We know how vital sleep is for our wellbeing and this will definitely help you feel more relaxed and calm so you can drift off with ease.
Buy at www.medahuman.com
Reader offer: Help master your sleep with our exclusive 20% off discount, at checkout simply use code HH20.