We've been living through life under lockdown for a little while now and we're slowly finding our "new normal" for the time being. With most things in life turned completely upside down, trying to stick to routines and keep daily habits on track can be quite a challenge. 
The world of fitness has truly outdone itself during these difficult times… from the nation's PE teacher (aka Joe Wicks) to many physical studios lighting up our social channels with mood-boosting virtual workouts, exercising at home has never been easier. Unless you're parents with kids off school for the foreseeable future… our thoughts are with you.
With many a great sporting event falling victim to COVID-19 (Wimbledon and the Olympics being the latest) you might be wondering what Team GB athletes (past and present) are doing to stay fit during the lockdown. Having been used to such rigorous training regimes, below we're sharing how these female athletes are training and getting their sweat on at home!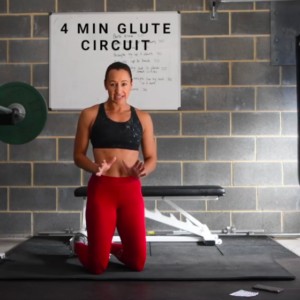 Jessica Ennis-Hill
Like most parents right now, Jess is also having to juggle work, home life and entertaining children off school/nursery. No mean feat especially when you love nothing more than a bit of alone time to exercise and release those endorphins. Time-restricted, Jess is resorting to quick circuits that provide maximum burn in no time at all. She's shared her 4-minute glute circuit which is guaranteed to put some fire through your booty!
Katarina Johnson-Thompson
Bringing home the gold for the Heptathlon at the World Championships just last autumn, Kat will have been training hard for the, now postponed, 2020 Olympics. Remaining in positive spirits, she's been making use out of her once-a-day outing allowance by releasing pent-up energy doing hill sprints. Getting outdoors is so good for your mental and physical health so why not use your allocated time for a bit of outdoor HIIT?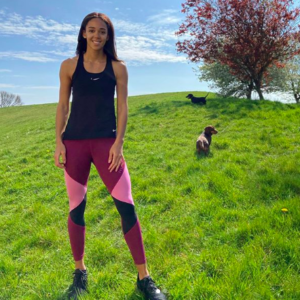 Nicola Adams
Female boxing legend Nicola Adams isn't letting lockdown get in the way of training. Also one for taking workouts alfresco, she's coming up with creative ways to exercise without equipment. Simply by filling up her backpack with household items, she's showcasing you don't need a fancy home gym set-up to get a great workout in. Take some time to look around your home and you might be surprised what you can use to add some weights into your session!
Dina Asher-Smith
One of Team GB's top sprinters right now, Dina is another athlete facing an extra year's wait for the rescheduled Olympics in 2021. Like all of us, she's staying safe and well at home and has joined the Instagram challenge set by Nike called #LivingRoomCup. Athletes from across the globe are taking part in these mini-challenges and anyone can join! The question is, how many core crushes can you do in 45 seconds? Dina can do 124… can you beat it?