Monday: Day 1 of our 3-Day Matcha Makeover
Focus: Cleansing
After a weekend of, let's face it, too much coffee, sugar and probably the odd glass (read bottle) of wine, we love to start the week as we mean to go on with a much needed cleanse. But cleansing needn't be boring, calorie restricting (we literally hate those words) or limited to juicing, water and some obscure vegetable soup, which is why we have teamed up with the experts at PUKKA to bring you an enjoyable three day guide to getting greener (and leaner) with the good stuff: matcha.
So, what's the deal on matcha: Amongst an array of different health benefits including boosting your metabolism, being a powerhouse of antioxidants, rich in fibre chlorophyll and vitamins, matcha also has the super power of being able to assist the body with cleansing as all these amazing properties help fight off and expel toxins. And now this superfood has never been easier to get hold of with Pukka's delicious range of matcha teas… and today we want you to introduce at least two cups of the Pukka Clean Matcha Green Tea into your day. Like all of Pukka's teas it is 100% organic and totally fair trade, not to mention it actually makes matcha tea taste good (they add a hint of lemon!).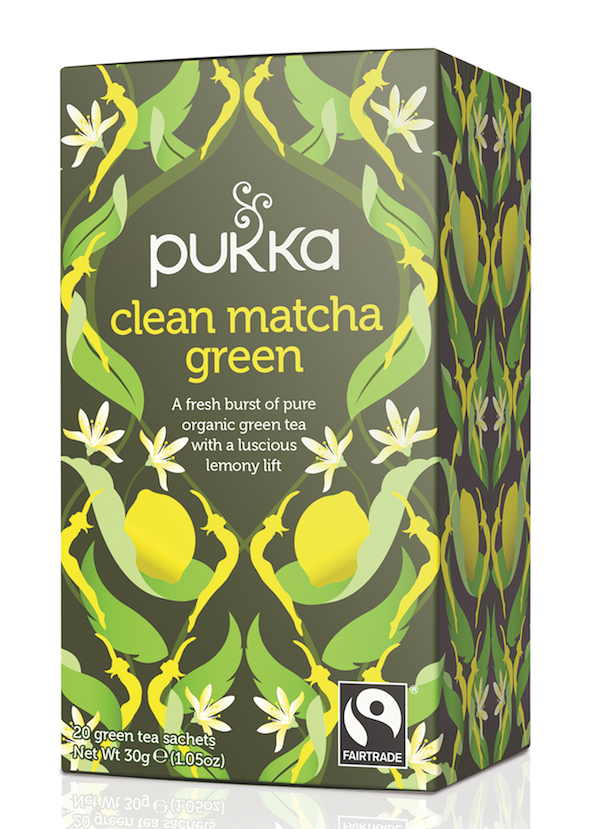 Cleansing Tips:
Drink lots of water! This can be with Pukka herbal teas or just from your tap but whatever you do make sure you stay hydrated!
Take a bath with Epsom salts. They help rid the body of toxins by absorbing the magnesium and sulphate through the skin causing reverse osmosis to take place, which means toxins are drawn out of the skin as the goodness goes in! They are also said to have a very calming effect.
Meditate to cleanse the mind and rid yourself of negative thoughts. Try downloading the Headspace app – whether you're new to meditation or guru standard this app is a great help.
SUGGESTED EXERCISE: Yoga
Yoga will be gentle on the body and on the mind too, which is important when cleansing. But it is so important to stay hydrated even when doing the gentlest of yoga sessions; Steffy White, yoga instructor to famous foodies such as Deliciously Ella says "When it comes to hydration, even in the most soft of yoga classes you must hydrate before and after because the work is very deep even if it doesn't feel strenuous.  Think about when you get a massage, the therapist always says you must hydrate when you get home, yoga is the same, it's an internal massage and the work is very deep, shifting and moving lots of energy and stimulating areas that perhaps haven't been focused on or tapped into for a long time, if ever!". Make sure you take your water bottle or herbal tea to class to reap the full benefits and help flush those toxins out!
 Your cleansing makeover plan!
This sample menu plan is based on delicious foods that can support the body's natural cleansing and detoxification processes. Go organic with all your ingredients if possible, to help minimise exposure to pesticides and other chemicals.
On rising: One cup of Clean Matcha Green tea.
Breakfast
Cleansing green smoothie. Blend together a handful of baby spinach, 1 kiwi fruit (peeled), half a green apple, the juice of half a lemon, 1 rounded teaspoon of greens powder (such as Pukka's Clean Greens powder), and 1 tablespoon of hemp protein powder, with 300ml of water or enough to reach the desired consistency. Add a couple of tablespoons of oats if you want, to make your smoothie more filling. Sip one cup of Clean Matcha Green tea.
Why? Apple is rich in a fibre called pectin, which can support digestive transit to ensure proper excretion of toxins. Hemp protein provides valuable amino acids (components of protein) that are needed by the liver to bind and excrete toxins from the body. Lemon juice can help to stimulate the digestive system, supporting elimination of toxins through the gut. Spinach is rich in minerals including manganese, and kiwi fruit is one of the best sources of vitamin C – both these nutrients have antioxidant activity, helping to protect us from free radicals that are produced during detoxification.
OR
Chia seed pudding with coconut milk and berries. Prepare the night before. For one person, use 2 tablespoons of whole chia seeds, half a cup (120ml) of coconut milk (or use unsweetened almond milk for a 'lighter' version), ¼ teaspoon of cinnamon and a small handful of raspberries or chopped strawberries. Stir the chia seeds and cinnamon into the coconut milk in a bowl and leave overnight in the fridge. In the morning, top with – or mix in – the berries.
Why? Chia seeds provide fibre to support digestive transit, as well as protein and omega-3 fats. They're also said to be higher in protective antioxidants than other seeds or nuts. Berries are especially good sources of antioxidants too, of course. Coconut or almond milk are ideal alternatives to dairy milk during a cleanse; dairy can be difficult to digest and cause food sensitivity reactions for some people.
Lunch
Three-egg frittata with broccoli and red pepper. Sauté 1 small chopped onion and 1 clove of finely chopped garlic in 2 teaspoons of ghee for a couple of minutes, until translucent. Add the half a chopped pepper and 5 halved broccoli florets and sauté for around 3–5 minutes, until starting to soften. Beat the eggs and add to the pan. Cook until starting to turn white around the edges, then transfer to a grill until the top is cooked and starting to brown gently. Sprinkle with parsley, and serve with a side salad of watercress and rocket. Sip one cup of Clean Matcha Green tea.
Why? Eggs may be unexpected in a cleansing makeover, but they're included because they're a fantastic source of choline, which is vital for healthy liver function. They also provide protein to support liver detoxification, with high levels of an amino acid called L-cysteine that plays a particularly important role.  Broccoli provides compounds called glucosinolates, which have been found to support detoxification. The bitterness of watercress and rocket can stimulate the digestive juices and flow of bile from the liver and gallbladder – bile is the primary way the liver gets rid of the toxins it filters out of the blood.
OR
Grilled cod with griddled asparagus and vegan pesto. Make sure you buy cod that's not coated in breadcrumbs or batter! Simply grill (or bake) the cod fillet as per pack instructions. To prepare the asparagus, snap the woody ends from the asparagus, boil for 2–3 minutes in water, drain, and then griddle on a griddle pan in a single layer for 3–4 minutes, turn and repeat. Serve the fish drizzled with lemon juice, topped with a tablespoon of vegan (i.e. dairy-free) pesto.
Why? White fish such as cod is a high-quality source of protein that's easy on the digestion. Asparagus, like eggs and onion-family vegetables, contains sulphur compounds that may be supportive for liver detoxification. Vegan pesto provides a tasty addition, while avoiding dairy in standard pesto; and the garlic it contains can also provide an extra boost for the liver.
Mid-afternoon snack
Green juice made with cucumber, apple, celery, ginger and watercress. Juice one small organic cucumber, 1 green apple, 2–3 sticks of celery, a 2-cm piece of ginger and a small handful of watercress.
Why? Green juices are rich in nourishing vitamins and minerals that are easily absorbed without taxing the digestion or the liver. Ginger can act as a digestive tonic that may help to stimulate 'bowel motility' – i.e. keeping food and wastes moving through the gut. Watercress again provides bitterness to stimulate digestion and bile flow.
OR
Carrot sticks with guacamole. If you're using shop-bought guacamole, go for one with the simplest ingredients and that's free from additives and e-numbers. Or make your own simple guacamole with ripe avocado, diced ripe tomato, fresh coriander, lime juice, chilli and sea salt.
 Why? A light snack that's high in antioxidants and healthy fats.
Evening meal
Sumptuous avocado salad. A big salad made with a handful of rocket, 5–6 halved radishes, 1 small or half a large ripe avocado, 1 small grated raw beetroot, 2 finely chopped spring onions, and a tablespoon or so of alfalfa sprouts. Sprinkle with pumpkin seeds, and drizzle with olive oil and lemon juice.
Why? It's best to eat lightly in the evening to support better detoxification overnight. Healthy fats in the olive oil and avocado help to stimulate bile flow from the liver and gallbladder to encourage elimination of toxins. Rocket and radishes provide bitterness to stimulate digestion and bile flow. Beetroot contains unique substances called betalains, which have been found to support the liver. Pumpkin seeds are a great source of zinc, which also has antioxidant activities.
OR
Butternut squash and lentil soup. Makes 4 servings. 1 butternut squash, 1 onion, 2 cloves garlic, 2 teaspoons of ghee or coconut oil, ½ teaspoon turmeric, 2 teaspoons ground cumin or cumin seeds, 1 litre of vegetable stock and 250g (half a standard pack) of red lentils. Peel and chop the squash into 1-inch pieces, and chop the onion and garlic. Fry the onion and garlic in 2 teaspoons of coconut oil or ghee in a large saucepan for a few minutes, until translucent. Add the spices and the chopped butternut squash and stir to coat, then add in the stock and lentils. Leave to simmer for about 30 minutes, stirring occasionally. Leave to cool for a few minutes, then purée using a stick blender or food processor.
Why? This is also a light meal and a great alternative to a salad for a colder evening. Onions and garlic contain those valuable sulphur compounds that support detoxification. Lentils provide protein and minerals including zinc and manganese. Butternut squash is rich in antioxidant carotenoids including beta-carotene. Turmeric, as also featured in the Clean Matcha Green, has blood-cleansing and liver-supporting activity too.
Stay tuned for day 2 and 3!