If ever there was a place to stay healthy on holiday with ease, it's Greece. This magical, sunbathed corner of Southern Europe is the perfect place for the conscious foodie and lovers of all things sun, sand and sweat. The food is fresh, light and delicious, the relaxation and reboot options are ridiculously picturesque, and the opportunities for adventure are unlimited. Maintaining the remnants of a routine while island hopping through this patch of paradise really does take little, to no effort.
MYKONOS
Eat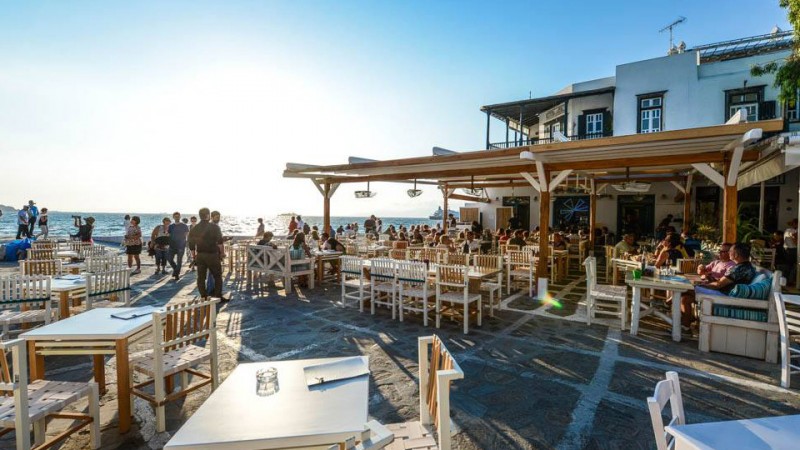 How do you indulge while staying healthy on the so called 'party island' of Mykonos? Easy! You can have your sunset view and your quinoa and buckwheat noodles too. Nice and Easy is the island's only all organic restaurant. The menu is to die for and the view so Instagram worthy it will have you instantly drooling. Kastro's bar is another beautiful spot to watch the day end. But make sure you get there early and stake out the seat right at the front of their outdoor area. It will feel like you are dining in your very own open air balcony. We can highly recommend the sea bass with broccoli and coconut puree – it's out of this world. For dessert, build your own crepe or waffle at The Taste Diaries here, you can be as healthy… or as naughty as you want.
Sleep
Greece is usually associated with resorts and all of the luxury that comes along with them. But we suggest saving the pool-side hangs for one of the other islands. On Mykonos it's better to stay in town, in the thick of the action. We highly recommend Fresh Boutique. The service is divine, the rooms cute and the included breakfast yummy, healthy and full of variety. But the best part is you are minutes away from everything, right in the thick of the hustle and bustle.
Do
The best way to see the island, well most of the islands in fact, is via quad or motorbike. For around £25 a day, you can hop on a bike and beach hop to your heart's content. For a touch of luxury in the form of sun-beds and a waiter on tap, head to stunning Paraga beach. But for untouched beauty you can't go past Ftelia. This slice of paradise is a little way off the beaten track, but the crystal clear water and beautiful cliffy surrounds will take your breath away.
PAROS
Eat
Beautiful, traditional, peaceful and romantic, Paros is pure paradise and a foodie's heaven. Dining around the Naousa harbour is a must do, but my recommendation will require you to peel yourself away from the gorgeous water-front. SoSo is hidden in one of the winding backstreets of Naousa, and is one you'll have to book ahead for. Menus change sporadically and are hand written, and the food is fresh and lovingly made, with an unforgettable homey flare. Afterwards you'd be crazy not to pay a visit to Nonna Crema. This home-made ice cream has a depth of flavour and creaminess to rival even Rome's best gelato. Which is a mighty call, we know.
Sleep
Now this is the island you do want the luxurious resort experience. It's a smaller island, with a slower pace. The perfect place to relax, unwind and catch up on that book you've been meaning to read. We can highly recommend Kallisti rooms and apartments. Run by a Greek-Australian family, it has a very down to earth feel, while also sporting lavish rooms, jaw dropping pool facilities and cosy balconies, all at an affordable price.
Do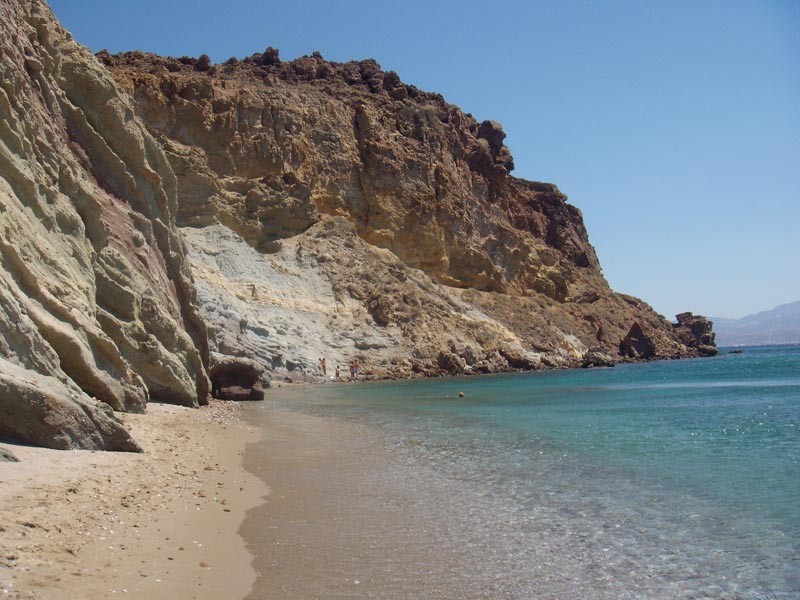 Kalogeros beach is a hidden gem and a local hangout on Paros, and is well worth tracking down. The rock produces an amazing therapeutic mud that once you've lathered, dried in and washed off, will have you feeling silky soft and smooth. Locals say the mud has healed them of all sorts of skin conditions from acne to rashes, even eczema. Leftka is also an amazing little town centre to pay a visit too for a touch of tradition and stunning architecture.
SANTORINI
Eat
Santorini is full of amazing places to eat and drink, all with an absolutely fabulous view of one of the best sunsets in the world. Oia has a reputation for being the best spot to watch the sun dip, but we beg to differ. Head to Santo Wines for canapés and a glass of Ageri Rose and you will not be disappointed. They have the most gorgeous array of wines to sample, many of them organically farmed and the view gives you a bird's eye view back over glistening Santorini. Another must dine spot is Classico. It can be quite overwhelming picking a spot to eat in Thira when the choice is so vast, but this restaurant and coffee bar is the perfect mix of fresh quality produce and a good price, with a stellar ambiance to boot. We can personally vouch for their salmon and quinoa salad.
Sleep
There are so many incredible waterfront resorts, hotels and bed and breakfasts right along the Santorini coast. If you are on a bit more of a budget El Greco is a 10 minute stroll from the main town centre of Thira but still sports incredible views. If you manage to secure a room at the front of the resort, you will have un-spoiled views of the entire Santorini coast from your balcony. During the day, take your pick from five luxury pools to laze beside, or head for a deep tissue massage and facial at the resort's Loftus Spa.
Do
Wake up early, and run. This was our absolute favourite thing to do in Santorini. With a coastline path THAT spectacular, it's a magical time and place to squeeze in some exercise. What made it even more amazing, was running from the empty boardwalk into the backstreets of Thira, to watch the fisherman and locals start their market set up for the day. Another good place to visit is Perissa, the black sand beach. If you get the direct local bus, it takes less than half an hour, and the journey itself is dotted with gorgeous scenery.
Words by Gemma Bath – wwwsunliteyes.com. Instagram/Twitter: @gembath