I truly believe surrounding yourself with incredible and beautiful people is so healing and nourishing for the mind and heart. Sri Lanka is a country where its people are exactly this – Sri Lankans are so happy, so kind, so welcoming and so genuine. Through all my travel I don't think I've come across a nation of people who boast these qualities to such a high degree (even the street dogs were friendly and beautiful creatures). Hiriketiya or 'Hiri' as the locals call it, is a little slice of paradise where the jungle meets the ocean, tucked away on the south coast of Sri Lanka with the perfect mix of locals, travellers, fun-loving, inquisitive and happy people.
SLEEP
Set in the jungle but only a 5-minute walk to the ocean, The Hiru House is a plantation-style villa with all the style and décor you'd see in a trendy beachside location in Australia or California. Local art adorns the walls, as well as various artefacts and ornaments, are seen throughout. The property has been tastefully built and decorated, yet with a completely practical mindset – creating a home from home experience. The villa has four rooms with three, four-poster king-sized beds with beautifully decorated ensuites in keeping with the surrounding nature and a bunk room.
The property's location is ideal, being in the jungle, yet only a stone's throw from the spectacular Hiriketiya beach, the villa is situated just down a small dirt track (all the tuk-tuk drivers will happily drive you to the door), therefore completely private and quiet. The stunning garden is a peaceful haven where you can listen to the birds and monkeys, it is also the perfect place to practice your own exercise whether it's Pilates, yoga or something more high intensity.
The villa also has a pool which we found to be the most welcoming escape in the middle of the day when the beach got to hot – shaded by overhanging coconut trees and at a beautifully cool temperature; where better to do a few laps or just wallow in the water.
Whilst staying at the villa our hosts Jude and his wife Asha, came and cooked the most delicious Sri Lankan feast for us. They cooked various Sri Lankan dishes using freshly caught fish as well as vegetables from the local market.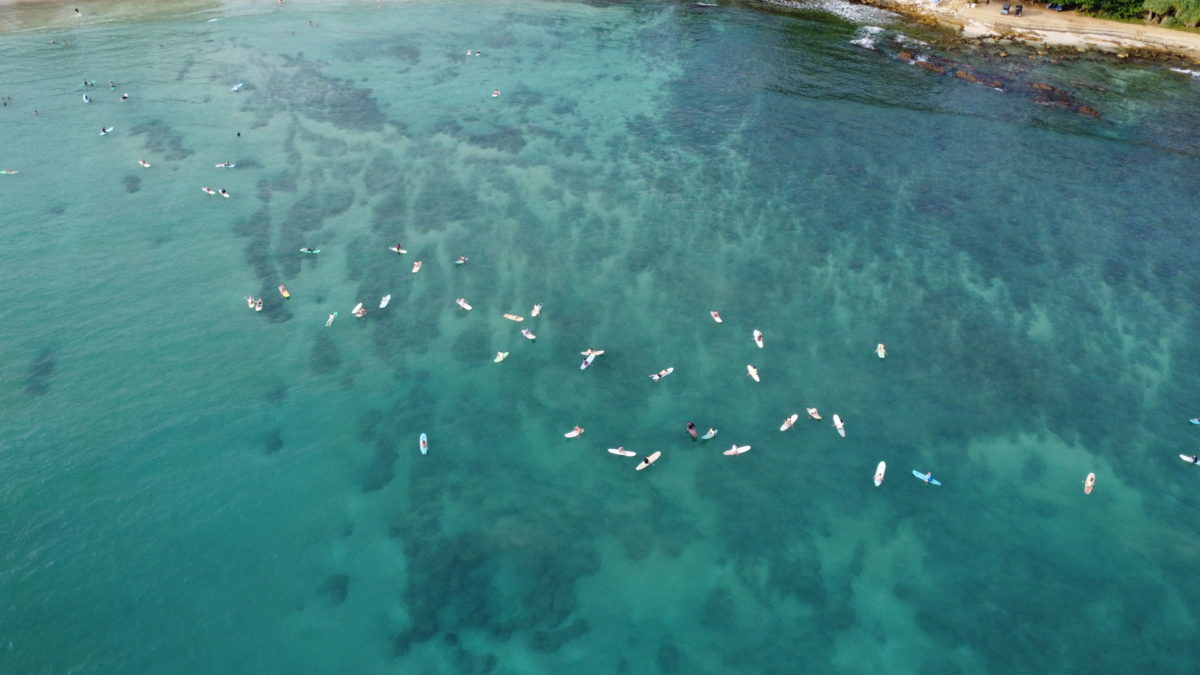 SURF
I'm not sure what drew me to Lucky but thank god I chose him for my surf lesson. On Hiriketiya there are plenty of surf 'schools' to choose from, everyone is extremely friendly and knowledgeable. Having done some surfing in various places around the world, I'd never quite nailed it. Lucky had me out on the water in 20 minutes and with the first wave he had me standing, the waves kept rolling and I kept catching them (I'm pretty sure Lucky is an expert teacher as this has never happened before). From that moment I was hooked, going back to Lucky for one more lesson and then each day I'd get a board from him and he'd tell where best to go in the water and if the waves were any good. As well as being an expert teacher Lucky is also (as we discovered with all Sri Lankans) a kind and genuine person who only wants to share his love for something with everyone else. Even if you have never tried surfing before you must in Hiriketiya.
YOGA
A must is Yoga at Dots Bay with Marleen. Sessions at the beautiful Shala take place every morning at 8 am as well as post-surf stretches in the afternoon, where you can hear the waves from the ocean nearby yet you're tucked away in the jungle. Taking part in her Vinyasa Flow on a few mornings was definitely one of the highlights of our trip. Her cueing and knowledge is exceptional and her voice delivering instructions a little hypnotic – I could listen to her all day. The sessions were always bursting with people trying to join so if you don't book in I'd recommend arriving early so you get a spot.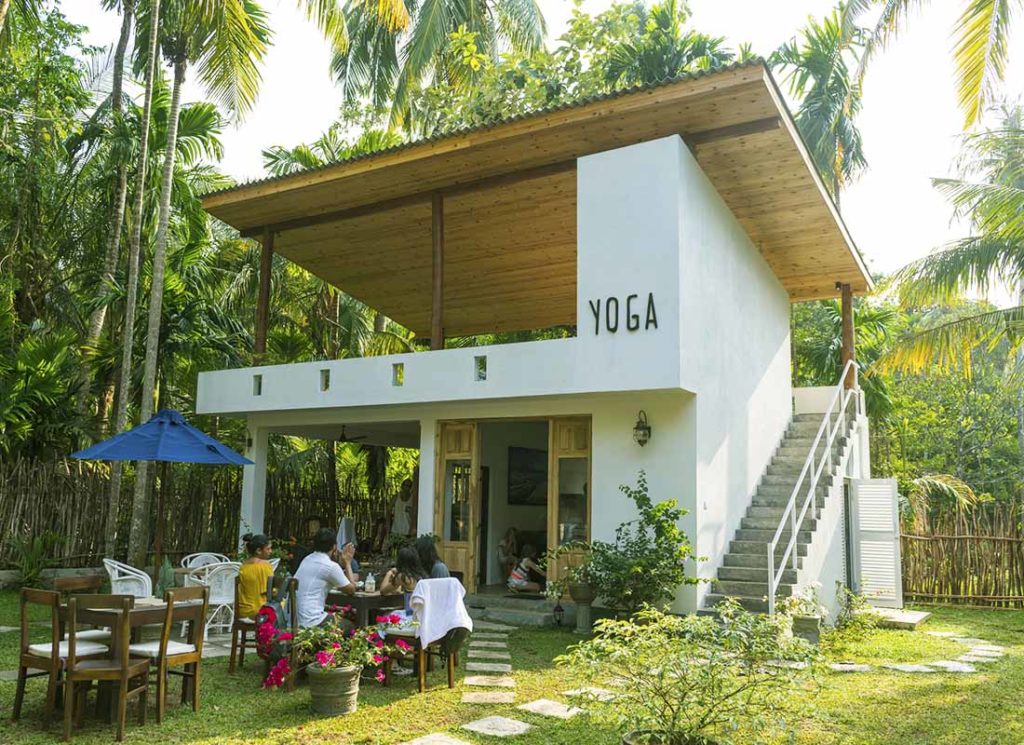 For those who can bring themselves to get up a little earlier whilst on holiday, Charlie does a great and challenging Vinyasa every morning at 7 am at Salt just down the road from Duni's. Another knowledgeable yogi in Hiri means Charlie's classes are also popular so make sure you get there early for a spot. Set a little further back from the ocean you are amongst the palms and monkeys whilst taking her classes.
However, if you don't even want to venture more than a few steps from your room, you can do your own practice in the beautiful garden at Hiru House.
EAT
It's not just the yoga that's brilliant at Dots Bay but also the people, atmosphere, food from breakfast through to dinner and they also have rooms you can book to stay in. On every visit the staff were extremely attentive and made us feel at home immediately. Set just back from the beach next to a lagoon in the jungle, there is a pool open to residents and a couple of nights a week they hold open mic nights, which was great fun and the perfect spot to meet new people.
Neighbour to Smoke n' Bitters is Verse Collective, one of the island's best co-working spaces catering to the area's digital nomad community. Expect to see a good selection of Ceylon teas and coffees as well as mouth-watering vegan sweet treats. The menu caters to all tastes, a particular highlight was the vegan laksa noodle dish which pair perfectly with a bottle of their kombucha. As well as a decent co-working space there is a small boutique where you can pick up some smart and trendy surf kit and a skateboard ramp for hipster travellers.
Tucked away by the ocean road that leads from Hiriketiya to Dickwella, is Smoke n' Bitters with coconut tree pillars propping up a roof of antique tiles and a garden full of palm trees. It only opened in early 2020 and is already making a name for itself in the Sri Lankan culinary world. With views over the Pehembiya beach, it is the perfect location for sunset sundowners. Using only the freshest and in-season ingredients, their cocktails are made with the restaurant's own bitters using locally sourced ingredients from the island. It's not just the drinks but 95 per cent of their produce is also locally sourced from Sri Lanka's endless delicious offering.
Tucked away down a small dirt track is the stylish, minimalist, yet discreet MOND where the baristas know how to make a decent coffee, but also delicious juices and smoothies. We only tried breakfast and it was the perfect start to the day with incredible views over the Indian Ocean. Like Dots, they also have rooms if you want to stay there too.
At the time of writing Duni's had only been open a month and it's already one of Hiri's hot spots for a morning coffee, smoothie or hopper. Set up by British traveller turned local Rachel and her partner Dulanjan. After noticing not enough places served the traditional Sri Lankan hopper, Duni's was born. Hoppers are a staple in the Sri Lankan diet and are essentially a rice and coconut crepe but shaped like a bowl – filled with Dal, coconut sambal or an egg. Duni's is the perfect little spot to stop by on the way to the beach and although small you can't miss its fresh, light and airy style.
Just down the hill from MOND, Bombora is definitely one of the best places to go for a view over Hiriketiya Beach. They have a prime spot overlooking the ocean and beach whilst serving fresh juices and cocktails with a bohemian vibe.
Other places to mention are the local street food trucks dotted along the beach road, coconuts on the beach and Bahia just set back from the beach serves a decent coffee.
VISIT
Wewrukannala Viharaya Buddhist temple – Only 1.5km outside of Dickwella we took a tuk-tuk with our friend Sudath to this Buddhist temple – at 160ft it is the tallest Buddha statue in Sri Lanka. It is the most beautiful and spectacular statue even our two little ones were very excited. We skipped the Buddhist hall of horrors due to having the children with us however we heard it was quite an interesting and fascinating part to visit.
Massages – In Sri Lanka, most massages involve Ayurveda techniques and we can't recommend booking in for an Ayurvedic massage more. There are a number of places dotted around, but you can also book in at Salt House and Jasper House.
I left a little piece of my heart in Hiriketiya so I will definitely be back…
words by Claire Howe