Where effortless luxury and wellness work hand in hand – Six Senses Zighy Bay.
Six Senses Zighy Bay is one of those places you hear about but never think you'll be lucky enough to visit, this year however, was our lucky year, we visited in March and Six Senses Zighy Bay did not disappoint. The resort completely lived up to its reputation, in fact it went far beyond. On the search for a 'babymoon' destination and winter sun, Oman isn't somewhere we would have normally considered, however, it's easy to travel to and offered everything we needed for a relaxing stay. It also offers the perfect combination of wellness, delicious cuisine and a destination to be as active or sedate as you like.
Fly in to Dubai and 45 minutes into the 2 hour drive you will leave behind the brass, flashy and ostentatious ambience – Six Senses Zighy Bay is far from this; our kind of place. We drove from Dubai and were met at the border by a friendly representative, to be taken to the resort gates where we left our car. It was no match for the harsh mountain assent required, you can only get there by 4×4. Slowly climbing the rugged mountain, as we came over the crest of the hill we were immediately struck by an incredible view of the resort and the blue ocean.
Six Senses Zighy Bay exudes effortless luxury and integrated wellness in stunning surroundings. Each enormous villa has its own private pool and the attention to detail is paramount. It hasn't been overdone however the simple things like the rustic labelling of the hot and cold taps and the amazing smelling aloe vera after sun and insect repellent are just a few of the tiny details we loved. The design throughout is natural and relaxed – and the bath, we've seen some baths and this was the biggest bath we have ever come across by far.
The people at Six Senses Zighy Bay are wonderful. The spa therapists, the waiters, guests' relations (Sharif looked after us so well) and the beach boy to name a few. Nothing was too much trouble and although attentive to our needs, we didn't feel like there was someone watching over our every move, which is a particular peeve at meal times.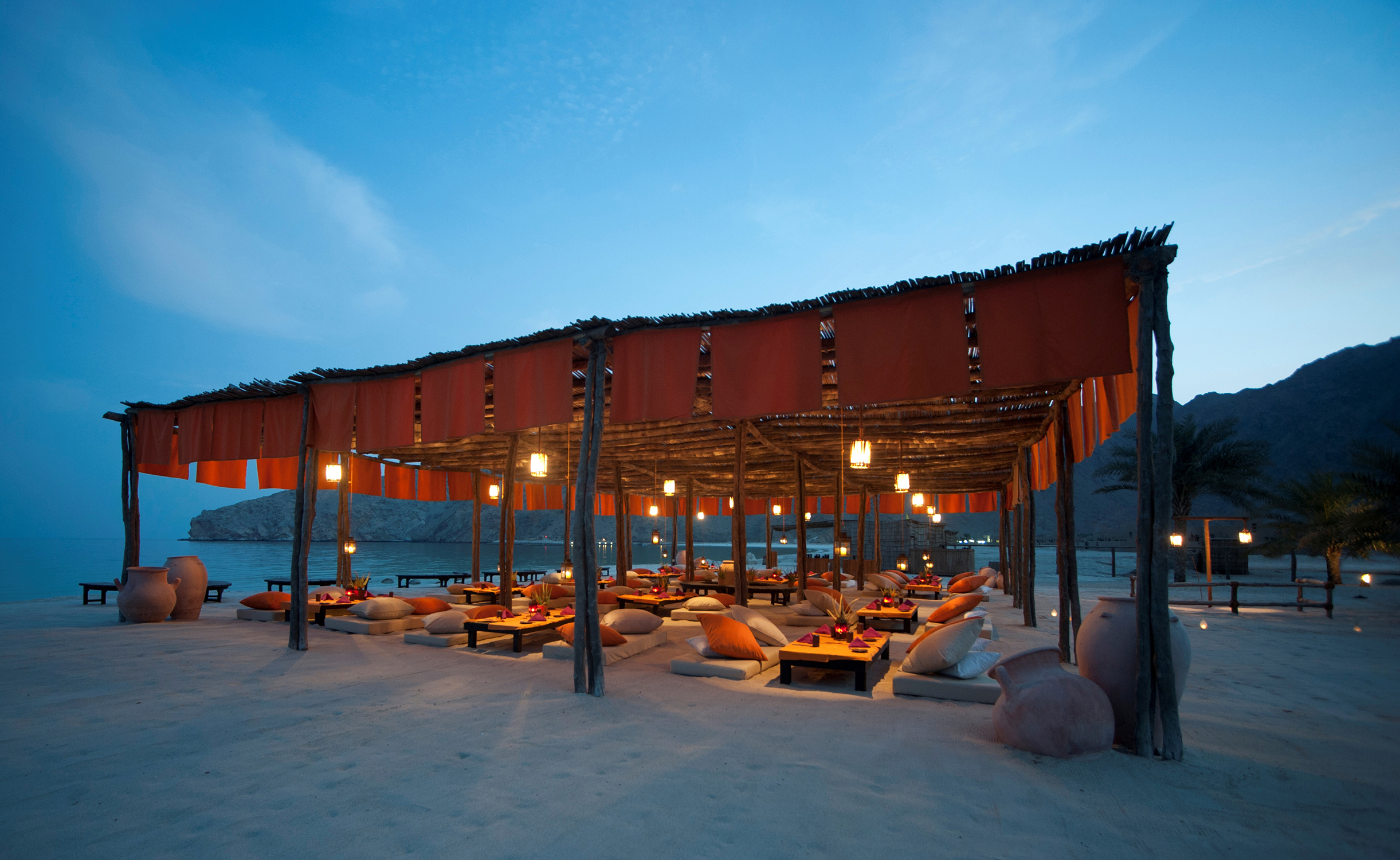 The resort has its own organic garden, full of fresh herbs, vegetables and fruits, which are all used in the hotel's restaurants. The food is incredible, we tried the Spice Market which had an Arabian buffet one evening – there was so much to choose from with fresh salads, authentic side dishes, an outdoor BBQ with meat and freshly caught fish. At Summer House, the menu is well laid out and clear for the health conscious, where you can see if a dish is low in sugar, fat and/or gluten free (a particular feature I loved). The Chef, Tim Goddard also treated us to his homemade avocado chocolate mousse, a guiltless treat. Once a week the hotel offers guests a unique Bedouin experience at Shua Shack where the lamb is prepared and cooked in a traditional way in an underground oven – my husband, particularly, was a huge fan of this experience and menu. At breakfast, as well as the usual buffet options, Six Senses is known for it's healthy, wellness options, which aren't forgotten here. There is a dedicated section of healthy foods and each day there is a different fresh juice and smoothie to choose from (they really are healthy and have no refined sugar added to them!).
As a brand, the Six Senses Spas are famous for their different wellness programmes and spa treatments, as well as beautiful interiors and expert therapists. Although we weren't experiencing one of the wellness programmes I was lucky enough to enjoy a facial at the spa. After the air travel and harsh air conditioning of Dubai I opted for the Collagen Facial to restore some moisture back to my skin. It was an incredible facial and my therapist was wonderful. Using Margy's the treatment did exactly what it was designed to, intensely hydrating and plumping my face.
As well as relaxing by the pool, salt water pool or on the beach, there are plenty of activities and watersports to choose from. We took to the water by kayak and paddleboard, paddling up and down the beach – a waterproof camera is recommended as the views from the ocean are amazing. My husband also went diving (although a diver myself, at 5 months pregnant, I think I would have just bobbed around like a beach ball…and it's not advised at 5 months pregnant!). Oman isn't somewhere we'd associated with diving but the visibility and sealife was great.
For all you Hip & Healthy readers, Six Senses Zighy Bay is one to add to the list – it's perfect combination of winter sun, wellness, lovely people and easily accessible location makes it a must visit.
HOW: Rates at Six Senses Zighy Bay start from 661 USD (approx. £529) per night for two people sharing a pool villa www.sixsenses.com
words by Claire Howe