Amandari – a secluded paradise that will soothe your soul and reboot your mind and body. We choose to stay at Amandari after a week in Bali, which is the perfect base to explore Ubud and the surrounding jungle. The hotel is one of the oldest luxury properties in Indonesia having opened in 1989 and this year celebrates its 30th anniversary. It easy to see, through its staff, the design, history and location that it is one of the most iconic hotels in Bali.
On arrival at the hotel, we were met by the friendly staff and some adorable children dressed in traditional dress, who showered us in colourful flowers. We later found out that a local couple teach Balinese children traditional Balinese dance at the hotel every afternoon and we were lucky enough to be staying when the children performed one evening.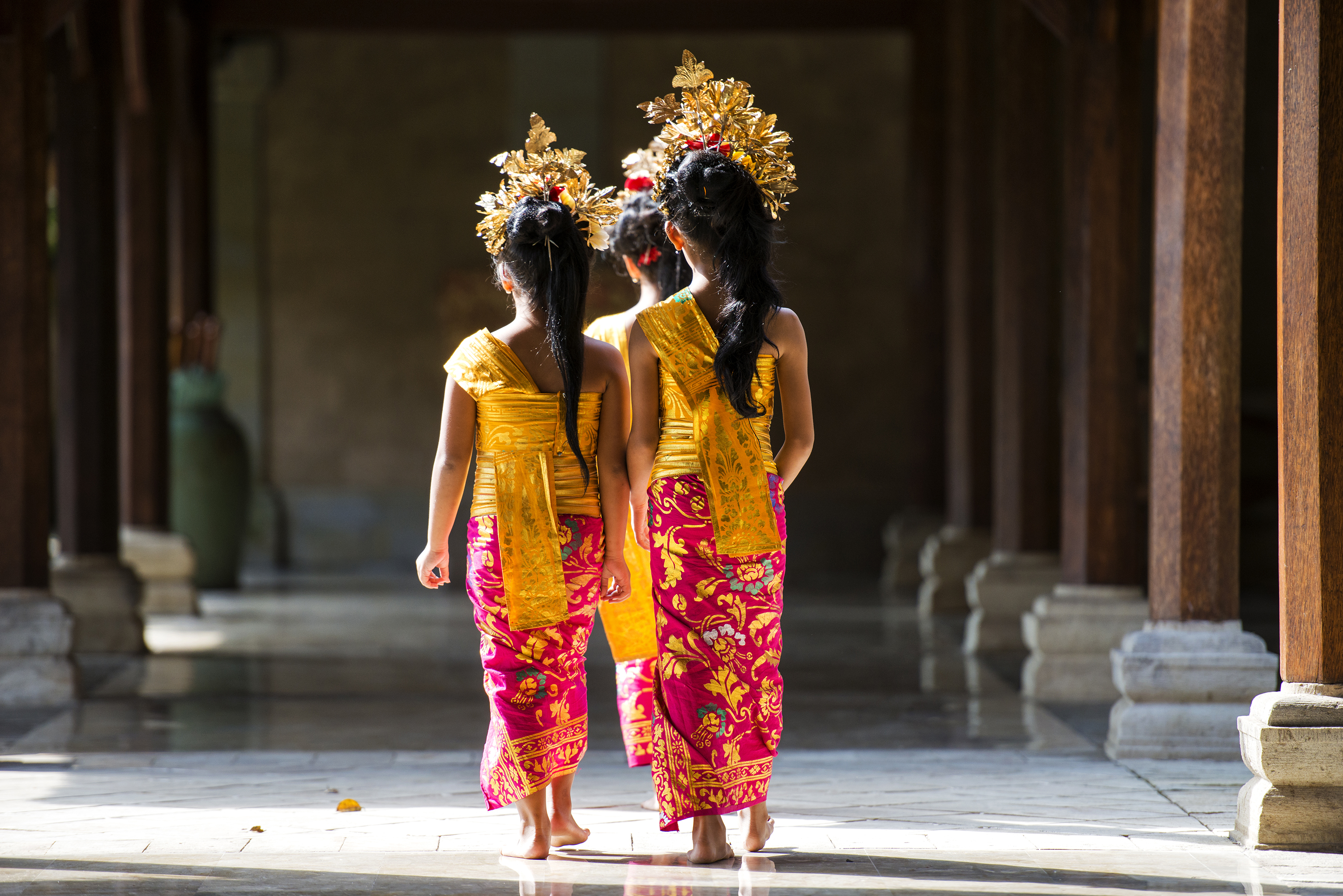 We were staying in one of the luxury duplex villas with tropical views over the paddy fields, Ayung River and local villages. These vast thatched suites are absolutely stunning, we had so much space, with an outdoor bath, our own pool and the main bedroom featuring wrap around windows allowing for an almost 180-degree view of the canopy immediately surrounding the room and incredible views to wake up to. It was the start of the rainy season whilst we were in Bali and the first night of rain came when we were at Amandari and with it, the hotel's surrounding nature came alive (literally!), We've never heard anything quite like it, the chorus of excited frogs celebrating the much-needed rainfall.  

Wellness at Amandari is set in a peaceful spot next to a lotus pond through the gardens. At the spa, they take a holistic approach using the highest quality, natural, local ingredients. We sampled a traditional Balinese couples' massage in a beautiful setting, the room for the couple's treatments doesn't have walls and instead opens up to the surrounding pond and greenery, during your treatment you are lulled in to a sense of pure relaxation before the therapist has even started with the sounds of the nearby nature and trickling water. The massage itself was outstanding and the therapist really worked the areas we had requested. Amandari is the perfect setting to practice yoga and meditation whether out on the terrace by the pool or in the privacy of your own villa where private sessions can be organised. The Balinese teachers come from the villages around Ubud and offer both Hatha and Ashtanga yoga styles.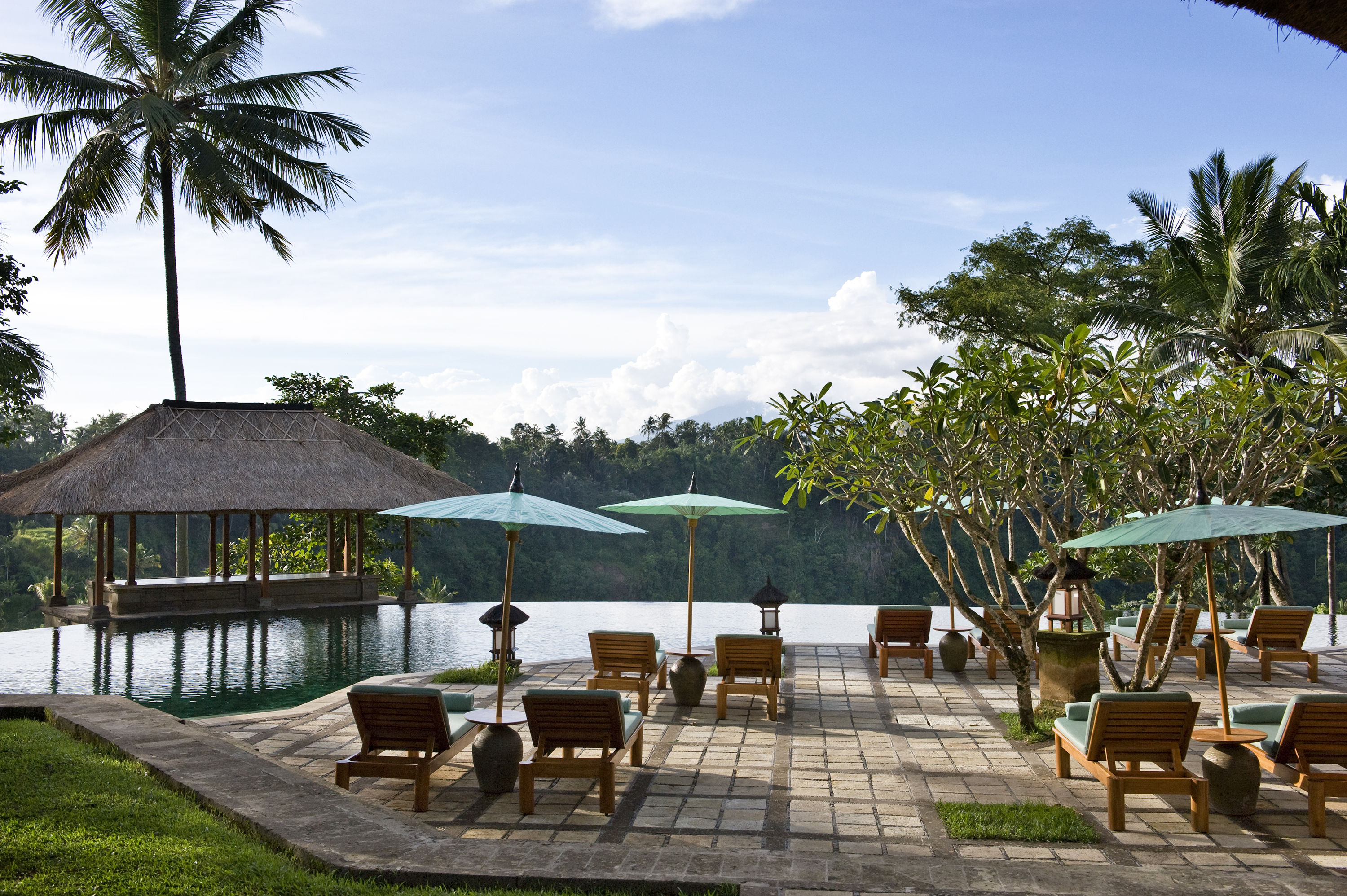 The food at Amandari is expertly created by Chef Reynaldo and his team, offering a variety of local and international cuisine, during our first evening we tried the Rijstaffel Rice Table Feast – an Indonesian spread of local small plates. Breakfast has always been my favourite meal and the excellent offerings at Amandari made it very hard to choose what to have. The menu offers a delicious selection of choices including a key with 'Conscious Eating' marked against dishes to help those looking to eat a little healthier whilst away. Included in the 'Conscious Eating' choice was the Breakfast Bruschetta and Cacao Granola, which were both so delicious that I didn't need venture from the 'Conscious Eating' choices. The food choice for little ones is brilliant with plenty of variety and lots of fruit. Taking a one-year-old on a long-haul flight is quite a challenge and as many other mums will agree, having snacks readily available is essential and if they can be sugar-free even better to avoid any craziness and to make sure they sleep. This is easy when leaving London, however on the way back a different story, but Reynaldo came to our rescue and made some delicious sugar free biscuits for us to take with us on the way home.
When leaving this magical and special place we did shed a tear, it could have been because we were about to embark on an 18-hour journey with a one-year-old or the fact we were leaving Amandari, my feeling is, it was the latter…
Rates at Amandari start from £656 for a Village Suite. The rate is inclusive of daily breakfast for two, airport transfers and tax.
words by Claire Howe
---
Read more: The Best Yoga Studio In Ubud, Bali