In Mexico's Yucatán peninsula, 25 minutes from the historic city of Merida, a 300-year old hacienda which was once a sisal plantation has been converted into an enchanting luxury sanctuary, Chablé Resort. H&H contributor, Eva Ramirez, explores what this recently opened wellness destination has to offer.
Chablé Resort is a treasure chest nestled within the Mayan jungle. It sprawls across 750 acres of 'tierra caliente' (hot lands), was recently awarded the Prix Versailles by UNESCO and is considered the best-designed hotel in the world.
The expansive renovation which transformed Hacienda San Antonio Chablé honours its heritage by combining the original colonial architecture – framed entryways and long, column-lined terraces – with an elegant interior design. Upon arriving, I was warmly greeted at the main hacienda, which houses a lobby, library, bar and private dining room, before being led to my private casita. The first thing which struck me was the sheer size of the resort.
Hotel grounds
Endless lawns and multiple buildings are dotted around the grounds, encouraging guests to explore the many varied spaces the hotel has to offer. There is no shortage of these – I passed two restaurants, a cigar house, wine cellar and tropical swimming pool along the way.
A winding path lead off from the main walkway to my standalone casita. There are 38 in total and 2 villas, each has their own plunge pool with an overhead hammock, daybed and patio furniture. Heavy, wooden sliding doors peel back to reveal a spacious room with canopied beds, a walk-in wardrobe, sofa and writing desk. A further set of doors open up into a glass-walled bathroom, complete with indoor and outdoor showers – the perfect jungle retreat. The suite was bright and minimally adorned, allowing the surrounding nature to provide all of the necessary beauty.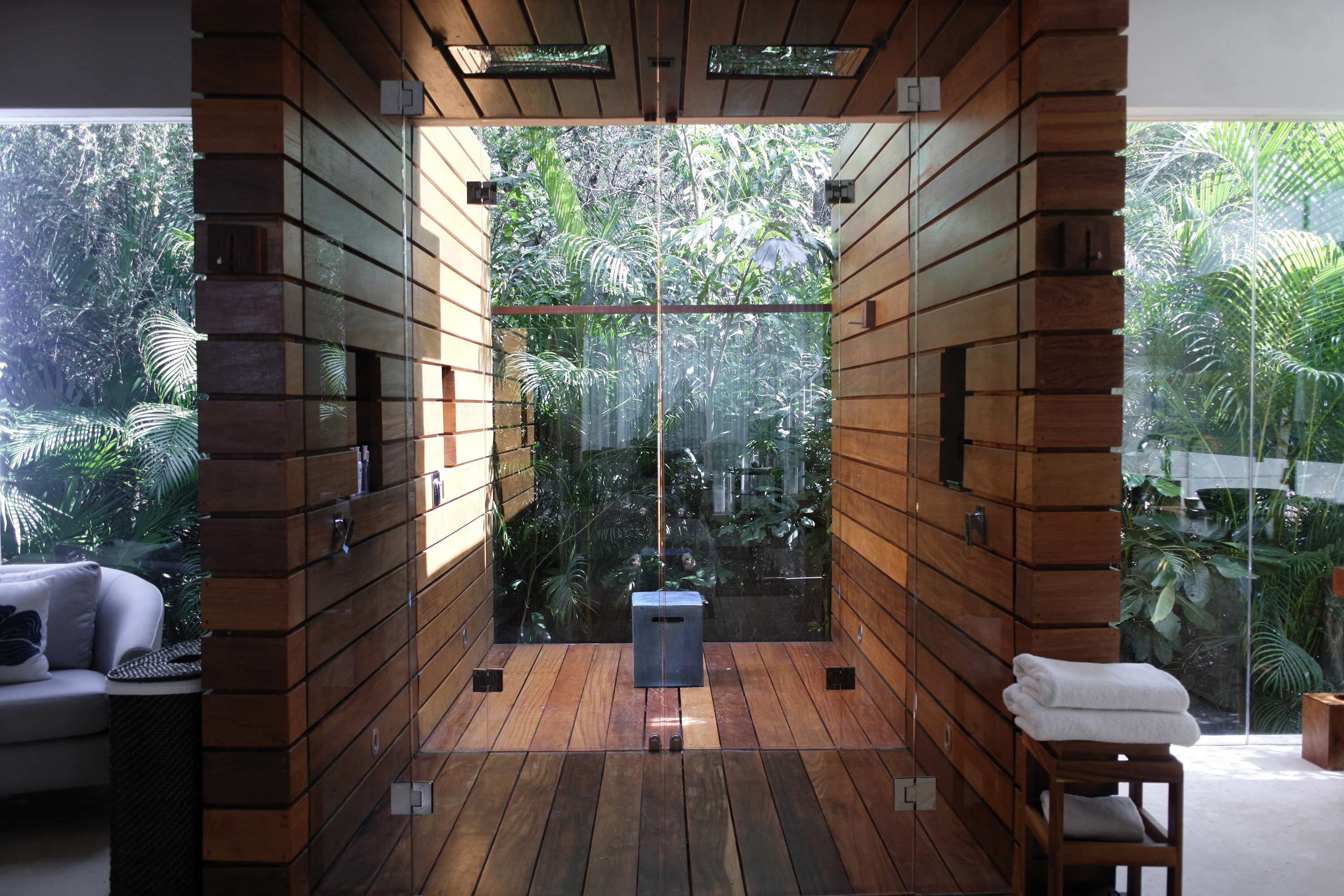 Outdoor shower
My first port of call after dropping my bags and freshening up (I couldn't wait to use the outdoor shower!) was an alfresco breakfast at Ki'Ol, the hotel's poolside restaurant. The colourful menu gives a nod to traditional Mexican fare without being intimidating to the regular tourist. I sat down and was instantly presented with a bowl of chopped fruit, yoghurt and granola and, as though they'd read my mind, a cup of steaming Mexican coffee was poured for me. Perhaps my face was more telling of the 12-hour journey than I'd thought! I ordered a vegetable and fresh chile omelette and deliciously refreshing papaya, pineapple, beetroot and ginger juice. Eye bags, be gone.
Everything served, from the citrus butter to the warm multiseed bread was not only prepared from scratch at the hotel but also sourced either from the onsite gardens or locally. Even the organic honey I drizzled over my yoghurt had come from native Yucatán honey bees, harvested at Chablé's very own apiary.
Spa infinity pool
Design and food are two of the resort's main attributes, but it's the best feature has to be the spa, built around a spring-fed natural cenote which was discovered during the hotel's renovation. If Chablé is a treasure box, its spa is the crown jewel. Here, shamanism and luxury combine to offer a holistic wellness philosophy which celebrates ancient traditions while still bringing forth a sense of opulence. "If our planet is a living being, cenotes are its chakras" reads the 14-room spa menu. Existing in harmony with the environment, everything you experience here seems to draw from its surroundings. The list of treatments are grouped into three key essences, flow, balance and inspire. I opted for balance and booked in for a Mayan herbal compress massage. Before my treatment began I was led to a large, shell-like structure for a Mayan welcoming ritual of chanting, burning incense, offering thanks to the elements and setting intentions. My treatment took place in a raised, wooden room, overlooking the cenote. 90 minutes of transcendental heaven ensued as clothbound compresses of traditional herbs and essential oils were pressed and rubbed over my body. The therapist finished by massaging my head, plaiting my hair and leaving me to relax for a while until I was ready to emerge from my dream-like state. It was the most unique and relaxing spa treatment I've ever had.
Aside from personal treatments, Chablé offers many wellness activities and experiences including daily yoga and meditation, breathing workshops, reiki, fitness classes, Mayan calendar readings and Temezcal ceremonies led by local shamans. The spa also houses a glass gym with a view of the jungle, a floatarium, steam room, gold-tiled sauna, health-focused restaurant, hydrotherapy circuit and beautiful infinity pool, tiled with petrified marble from the Amazon, no less. I'd advise spending an entire day dedicated to the spa alone.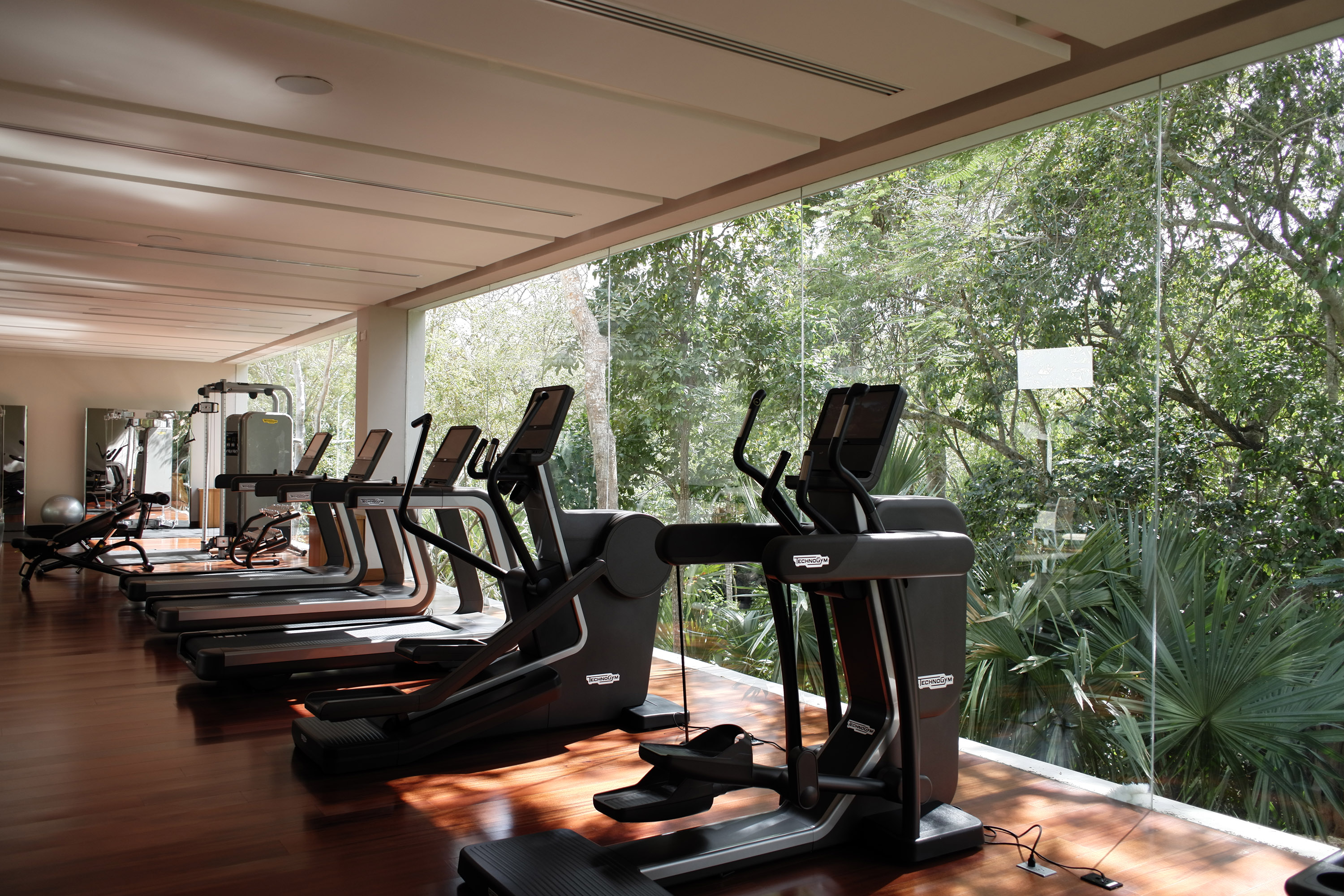 Glass gym
At night time, the sense that you are ensconced by nature sinks in deeper as Chablé lights up under the stars and the sounds of nocturnal creatures can be heard. Chandeliers which hang from trees and would perhaps go unnoticed in the daytime illuminate the grounds. It truly is an enchanting place.
In the evening I dined at Ixi'im, the hotel's main restaurant. An elegantly decayed stone exterior sits majestically at the front of a huge lawn. Inside, dark and sexy decor provides a buzzy atmosphere and the world's largest private tequila collection of 3,165 unique bottles is displayed.
Jorge Vallejo of Mexico's famed Quintonil restaurant is behind the concept at Ixi'im and works with executive chef Luis Ronzón to create an inventive menu that presents Yucatánean bounty with a fine dining approach. Think mezcal-cured trout followed by roasted chicken with homemade mole and local pumpkin. The cilantro sponge cake with charred pineapple and soursop sorbet is a spectacularly unique dessert.
During the day, gourmands can also take part in cooking lessons and tours of the Ka'anches, which are traditional Mayan farming structures used to grow fresh produce including herbs, fruit and vegetables.
Returning to my room in the evening, a schedule of the following day's activities had been left by my bedside along with two chocolate chip cookies. The attention to detail at Chablé Resort is unparalleled and the knowledgeable, passionate staff are so welcoming you feel like part of a family. I glanced over the list, underlined a few things that interested me and turned down for the night. Chablé Resort is as unique as it is luxurious and if you ask me, highly deserving of the accolades it has received in the short time it has been open.
For more info to book, click here!
words by Eva Ramirez @evieramirez. Photographs were taken on Leica Camera TL2
MORE TRAVEL ARTICLES YOU MIGHT LOVE…