These Vegan No-Bake Reindeer Brownies are such a festive, jolly way to eat one of life's most delicious creations! We know what's going to be on our Christmas dessert table this year!
INGREDIENTS – makes 9
For the brownies:
250g pitted dates
80g cashews
40g pretzels (GF if needed)
140g cashew or almond butter
1 tsp vanilla
30g cacao powder
A pinch of salt
Chocolate Ganache:
60g cashew or almond butter
15g maple syrup
10g cacao powder
2 tbsps plant-based milk
Pretzel Reindeers:
9 pretzels
15g chocolate, melted
9 Chocolate Raspberry Brownie Protein Balls
Googly eyes (or more protein balls, chopped)
Edible stars
Extra pretzels
1. Soak the dates in boiling water for 10 minutes and then drain, reserving 1-2 tbsps of the water.
2. Blitz the cashews and pretzels in a blender to form a fine flour with small chunks then pour into a bowl.
3. Add the dates to the blender with the cashew/almond butter and vanilla and process until jammy. Add in the cashews and pretzels, cacao powder and salt and blitz until it forms a sticky dough. Scrape down the sides as necessary and add 1-2 tbsp of reserved date water if needed.
4. Line an 8-inch square dish with parchment paper. Transfer the sticky brownie mix to the dish and press down firmly to form an even base layer. Transfer to the freezer for 30-60 minutes.
5. Meanwhile, make the pretzel reindeer. Spoon over a little chocolate in the middle of the pretzel and add on the protein balls for the nose and then the eyes (or use extra protein balls chopped in 1/4). Place on a parchment lined tray and set in the fridge for 20 minutes.
6. Make the chocolate ganache by whisking or stirring together all the ingredients until smooth and creamy.
7. Spread the chocolate ganache over the brownies, chop into 9 squares and decorate with extra pretzels, some edible stars and the pretzel reindeer.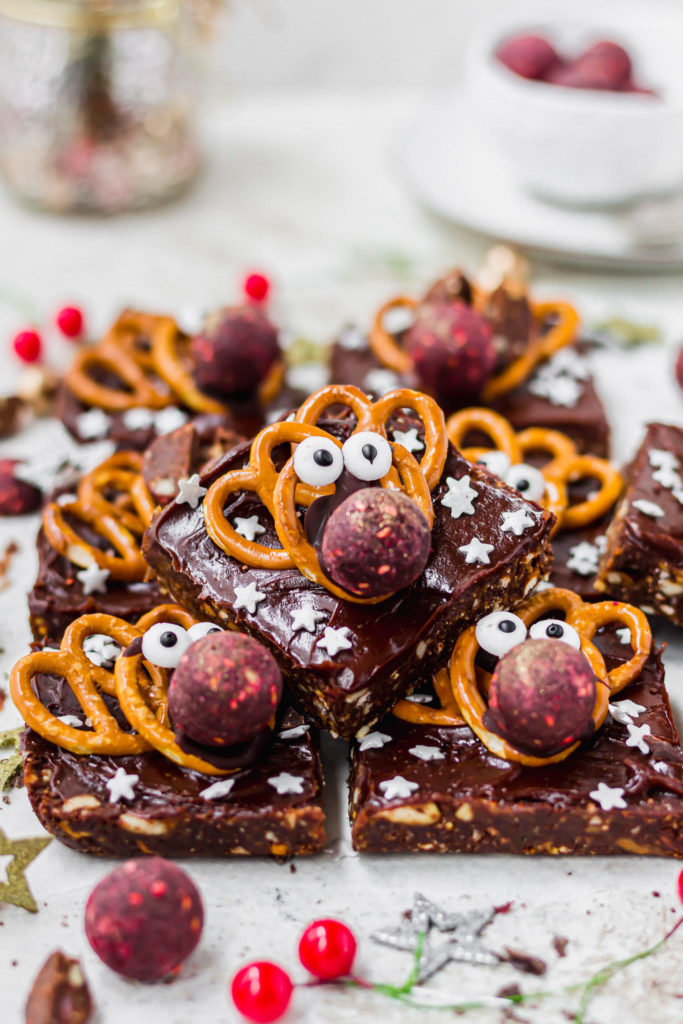 Recipes devised for The Protein Ball Co. by Amy Lanza @nourishing.amy
---
READ MORE
---