From freezing temperatures to stuffy central heating, these long dark days can make your skin feel more gloomy than glowing. It's always the time our skin tends to take the most beating so establishing good skin health is paramount to keep dull, dry and generally troublesome skin at bay. On top of an already challenging season for our skin, we've got the dreaded maskne to combat too this year… thanks coronavirus.
When it comes to looking after your skin, it's more than just vowing never to go to bed with a full face of makeup or committing to wearing SPF daily (although those things are still important!). It's about understanding the link between our overall health and our skin that is most crucial on the journey towards happier, healthier skin. This is something The Nue Co is incredibly passionate about. Offering ingestible and topical supplements which bring together the best in scientific innovation and nature, The Nue Co redefines the relationship we have with our overall well being and provides solutions that target skin health, gut health, immunity, stress and sleep. With a brand new year upon us (and a 20% discount available exclusively to H&H readers), we think now is the perfect time to re-address your beauty habits and rituals for your best skin yet
Why is skin health important?
Things like stress, poor gut health, low immunity and even nutritional deficiencies can all impact your skin health and your complexion can often be a valuable indicator of what's happening on the inside. This is what The Nue Co want to help bring awareness to, that actually taking care of your body and treating skin as an element of holistic health will also positively affect your skin. Inner and outer beauty are connected, with the right supplements you can give your body what it needs to boost the health of your skin. Looking after your skin will have so many benefits in the short term but it's also important when you think about your skin health in 10, maybe 20 years from now. Protecting your skin from modern-day stressors like pollution and poor diet as well as avoiding products that strip your skin and protect your skin barrier is the key to maintaining good skin health for years to come.
With that in mind, below are our top tips and skin supplement picks from The Nue Co to help you look after your skin health.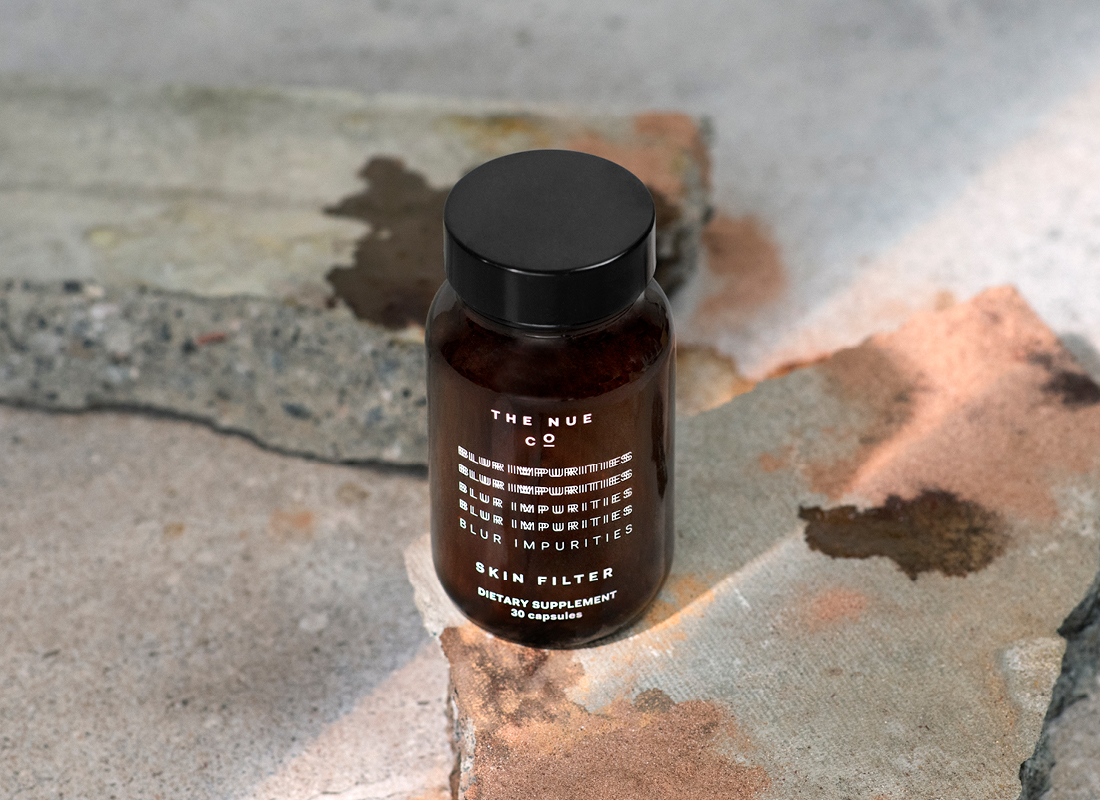 SKIN FILTER
Known as an ingestible retinol, the closest you're going to get to an instagram filter in a bottle is The Nue Co.'s SKIN FILTER. Dermalogically tested in France, it has been proven to brighten, tighten and reduce blemishes within 30 days of use. This is perfect for anyone looking to blur imperfections, improve sun damage and calm redness. Containing a proprietary blend of champagne grape seed, melon and zinc, it helps target the three key issues known to be responsible for dull, uneven skin: collagen degradation, melanin overproduction and impaired microcirculation. SKIN FILTER also contains a blend of skincare heroes like Camu Camu, which is a potent source of vitamin C known for brightening and fighting free radicals. It's an antioxidant powerhouse, put it that way! On top of that, it delivers almost 50% of your daily Vitamin A in the form of beta-carotene, a natural and safe precursor to Vitamin A.

THE PILL
Taking the guesswork out of the often-confusing art of layering your skincare is THE PILL, The Nue Co's first topical supplement in the form of a serum. Using a formula containing natural and innovative ingredients, THE PILL pledges to change the appearance of your skin in three minutes, and the health of your skin in six weeks. It instantly tightens and sculpts the skin, hydrates and plumps. Longer term, it increases collagen production, reduces pigmentation, brightens and resurfaces the skin. It contains skin-loving ingredients like hydrating hyaluronic acid and K-beauty favourite tiger grass making this a perfect all-rounder for boosting hydration, reducing inflammation and tightening your skin while also protecting your skins' barrier function. Using a combination of AHAs naturally derived from passion fruit, bilberry and pineapple, this elixir gently exfoliates the skin revealing a brighter, smoother, plumper complexion. 87% of consumer testers reported more hydrated skin within six weeks of using THE PILL daily every morning. 94% of consumer testers reported more radiant skin within six weeks of using THE PILL daily every morning.THE OI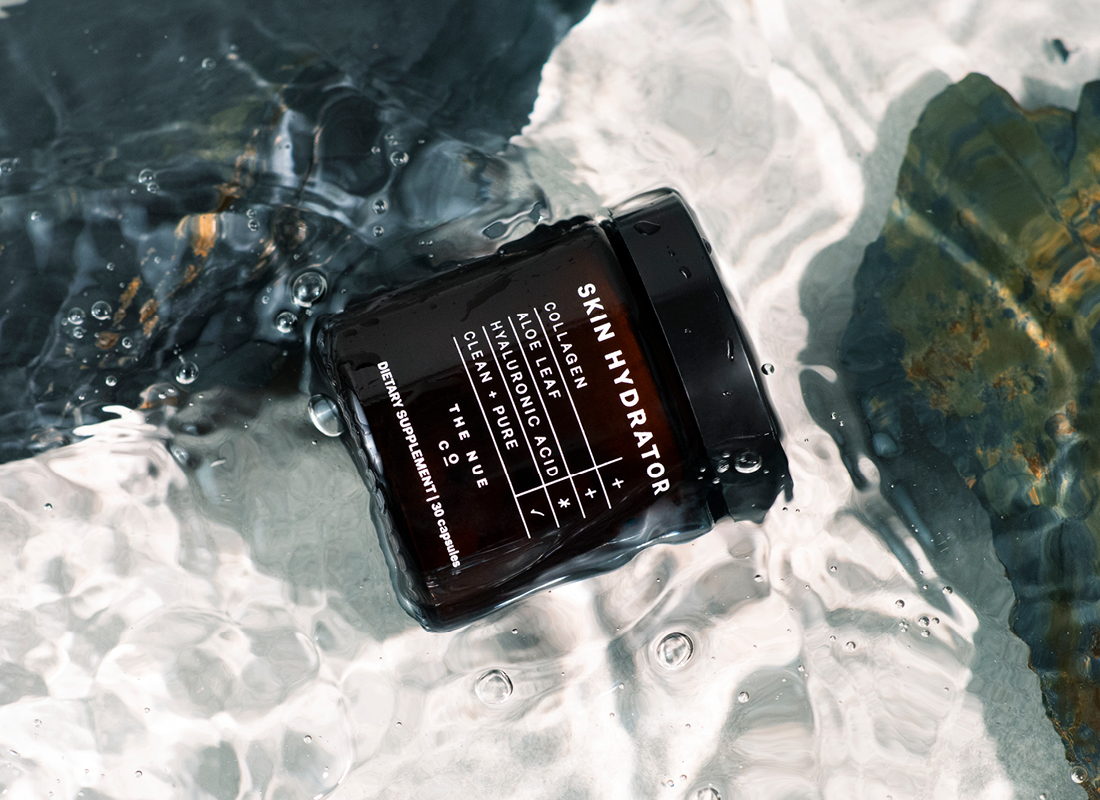 SKIN HYDRATOR
An important element of boosting your skin health is building and protecting your skins' lipid barrier. As we age, that barrier tends to weaken over time which is why those in their 20s often have more plump, fuller skin. But all sorts of things can speed up that process, poor skincare products, UV exposure, pollution, diet… the list goes on. What SKIN HYDRATOR does is repair your skins' lipid barrier function from the inside. This ingestible supplement contains a complex of concentrated phytoceramides along with other lipids which have been clinically proven to reduce wrinkles, improve skin hydration, and increase elasticity. In one clinical study, the phytoceramide blend was proven to increase skin hydration by 16%, reduce wrinkles by 9%, and improve skin elasticity by 18% –– all within just 15 days of use. Along with these phytoceramides, the unique blend also contains hyaluronic acid, collagen and aloe vera to support the structure of the skin and also reinstate that youthful plump appearance. Yes please!
PREBIOTIC + PROBIOTIC
Last but most certainly not least, a good probiotic supplement is an important piece of the puzzle when it comes to looking after your skin health and should be an integral part of your daily wellness rituals. The Nue Co believe your best health starts with a healthy gut and that couldn't be more true when it comes to protecting your skin. We know a strong, diverse microbiome helps to boost immunity by reducing inflammation in the body and when it comes to many common skin problems, most stem from an inflammatory response. With The Nue Co's PREBIOTIC + PROBIOTIC, better digestion means better absorption and that means healthy radiant skin. Delivering 15 billion spores per dose this best-selling product is formulated specifically to help combat symptoms of IBS + long-term digestive issues and to improve your gut health. If you want to learn more about how to look after your gut health, click here.

---
READ MORE: How To Look After Your Gut Health