Want to get your glow on this summer? Check out Secret Urban Escape! Offering  mind-blowing pop up lifestyle events at unique, unusual and extraordinary locations throughout London,  Secret Urban Escape is designed to re-energise, inspire and wow you.  Escape the daily grind and prepare to be surprised!
This amazing concept is the brainchild of Iris and Tash, two super cool ladies who love socialising, exercising and generally spreading positive vibes. Tash is a trained yoga teacher whilst Iris is a career and life coach – what a pair! Together they can solve all your mental and physical wellbeing woes!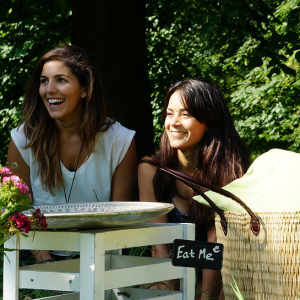 The first event, Pilates in the Park launched on 21st June and took place in Hyde Park. It was a beautiful day, the sun was shining and we all met, after having been drip-fed clues via email as to the exact whereabouts of the event.  The Pilates class was taught by the talented Chloe Hodgson, our resident fitspiration for January.
Chloe taught a dynamic class ensuring all our bodies were quivering and shaking after each posture. The class flew by, Chloe has a really engaging teaching method – you feel inspired and constantly motivated throughout the class due to Chloe's can-do, enthusiastic attitude. I really felt like it was a full body workout and I didn't even leave the mat! Amazing what you can achieve with such a small amount of space.
The class lasted an hour then we were treated to some delicious food from the Detox Kitchen to reward us for our virtuous feat of dragging ourselves out of bed on a Saturday morning to do exercise. The food consisted of homemade granola with coconut yoghurt and berries, brown rice risotto with squash washed down with alkalising green juices. These delightful pots of goodness were wolfed down by the group and we all sat and chatted in the sun – it was like having a picnic with your friends!
Afterwards I felt inspired, happy and ready to enjoy the rest of my weekend. Everyone was really friendly and it was a great way to meet like-minded people – I even got a few people's number and have met up with them since!
Secret Urban Escape makes you forget about the daily grind. Instead you feel as though you have been transported out of a city. Iris and Tash's vision is exactly what London needs – time out to reconnect, meet new people and relax.
At Secret Urban Escape they like to mix things up, so you can expect something different from each event. Some might make you #SWEAT, #RELAX, #MOVE and so much more…
The next event takes place on Sunday 20th July from 9.30am-12pm. Get ready to run your socks off, build up a sweat and enjoy some post-run yoga to stretch out those weary muscles. After your workout, you'll enjoy a scrumptious picnic with delicious healthy food and drinks plus chilled music – the perfect setting to rest those legs and meet their growing community. So lace up your trainers and run Forrest run! For more information and to buy tickets visit Secret Urban Escape.
words by Bex Fairbrother
Buy the leggings here