There's nothing that we love more than a well-deserved holiday, especially when our destination embodies an ethos that ticks all of our Hip & Healthy boxes. Nestled on the edge of the ocean, the Scarlet Hotel is one of Cornwalls go-to healthy holiday destinations and one that has been on the top of our to-go list for a long while. Boasting a locally sourced and organic food menu, ayurvedic spa treatments, cliff-top hot tubs and a sustainable and ecological philosophy to top it all off, even before setting foot in the Scarlet Hotel, we knew we were in for a treat.
The Food
Locally sourced and mostly organic, throughout our stay we were treated to a vast array of the finest food that Cornwall and its surrounding areas have to offer. As the hotel is situated on the beach, fresh and locally caught seafood was in abundance, however as my partner and I are both vegetarian, we opted for their appetising array of veggie options. For breakfast we indulged from the comfort of our beach-front room in a banquet of home made granola with Cornish natural yoghurt, banana smoothies and poached eggs and mushrooms on toast. For dinner, highlights included the chargrilled organic fennel with truffled goats cheese, hazelnuts and Cornish honey and the most amazing roasted pumpkin soup with sautéed chanterelles and pumpkin seed brioche. All meals are available to be enjoyed in the privacy of your room, or in their gorgeous beach facing dining room where we enjoyed more than a few romantic sunset-suppers.
The Spa
With sweeping views over Mawgan Porth beach to the beautiful Atlantic and beyond, the Scarlet Spa is a peaceful, calming and serene sanctuary of tranquillity. Featuring luxury tented treatment rooms lit by lanterns, the Scarlet Spa focuses on achieving holistic wellbeing through the nourishment of mind, body and soul. Drawing on the wisdom of Ayurveda entwined with their own characteristic Cornish twist, a visit to the Scarlet Spa during your stay is an absolute necessity. Whether you're keen to experience a traditional bathing ritual in the hammam, slather yourself in rich mineral mud in their rhassoul or learn the art of massage guided by one of their therapists, the Scarlet Spa is well worth a visit. For all of our yogi's out there, daily yoga classes are held at their beautiful light-filled studio suitable for all levels. In addition to daily yoga, Pilates, Sivananda yoga, Laughter yoga, Quantam yoga, Ashtanga yoga, guided meditation, breathwork, transformational dance, personal coaching, homeopathy and silent walking meditation are available on a one to one basis on request.
The Service
Unique in their approach to customer service, the Scarlet prides itself on caring for its customers as if you were in the house of a friend. There is no front desk for checking in, instead expect to be greeted upon your arrival with a cup of tea and a chat whilst taking in the scenic views of the beautiful Mawgan Porth beach, just a stones throw away. The staff are warm, welcoming and were eager to fulfil any requests or requirements that we had during our stay. We were pleasantly engaged in numerous conversations with the knowledgeable and passionate staff who were happy to fill us in on the philosophy and ethos of the hotel. Throughout our stay, we were cared and catered for in the friendliest of manners, which made our short stay pleasant, comfortable and relaxed throughout.
 The Rooms
Arranged over five levels, each room at the Scarlet offers its own scenic views over the gardens, cliffs, beach, sea and sky. Our room was on the first level with the most amazing views of the beach on our doorstep. We loved the open plan design of the room, including a bath set out in the open, the perfect romantic setting. Featuring handmade bath and beauty products with ingredients mostly of natural origin, a long soak in the bath at the end of the day quickly found its way into our evening ritual. Big sliding doors leading to a private outside balcony, provided the perfect location for afternoon tea and general picturesque recuperation and reflection.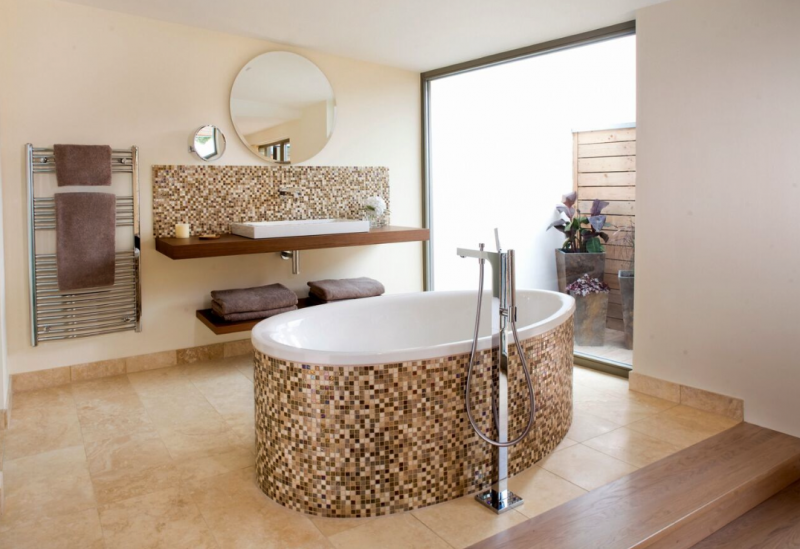 The Philosophy
Striving to redefine the meaning of luxury travel as 'a richness of experience without over consumption', sustainability is at the heart of the Scarlet's philosophy. With an aim to create a memorable holiday experience and escape that doesn't cost the earth, the Scarlet ensures it sources its products and services responsibly, reduces the amount of waste sent to landfill year-on-year and even publishes their energy and waste date transparently to name a few. Take a look at the 101 different ways in which the Scarlet is sustainable here.
Getting There
By road:
The Scarlet is a 4 ½ hour drive from central London and located in the heart of Mawgan Porth. For driving instructions visit www.thescarlethotel.co.uk
By rail:
There is a regular rail service from all parts of the country to Bodmin Parkway Station, which is only a 25 minute drive from the hotel. It is possible to connect with trains for Newquay Station, which is closer to the hotel, but requires a change at Par, so we recommend Bodmin Station. Taxis can be arranged to meet guests travelling by rail.
For details about train times visit the National Rail site.
Trenance Taxis can provide a convenient and environmentally friendly taxi service, just give them a call on 01637 26 26 26.
By air:
Scarlet is 5 minutes from Newquay airport, we recommend using Trenance Taxis for your connection; they are based at the airport and provide a convenient, stress free and friendly service and can be contacted on 01637 26 26 26.
Words by Zsa Zsa Vella
---
MORE: H&H Guide To Paris | H&H Guide To Bodrum
---