As autumn leaves begin to fall and a chill permeates the air, avid winter sports enthusiasts eagerly anticipate the impending ski season. It's that time of the year when snow-covered slopes beckon, and the thrill of carving through pristine powder becomes a reality. In this article, we delve into the world of alpine wonderlands and unveil the premier ski destinations that promise an unforgettable winter holiday experience. Whether you're a seasoned skier seeking the challenge of black diamond runs or a snow bunny looking for cosy après-ski atmospheres, these carefully curated destinations are not just about skiing—they're about creating enduring memories amidst breathtaking mountain landscapes. So, gear up and get ready to traverse the snowy peaks as we guide you through the must-book ski destinations for the upcoming winter season.
Six Senses Crans-Montana, Switzerland
Unveiled in February 2023, Six Senses Crans-Montana stands as the inaugural Swiss resort under the esteemed Six Senses brand, nestled in the charming Alpine enclave of Crans-Montana. Boasting south-facing slopes, glacier skiing, a vibrant cultural hub, exquisite dining venues, and upscale shopping, Crans-Montana emerges as the ultimate destination for elevated winter escapades. Situated in the heart of the awe-inspiring Swiss Alps, this property is meticulously designed to seamlessly blend with its natural surroundings, affording guests breathtaking panoramas and an idyllic sanctuary to unwind from the rigours of daily life. Enjoying direct ski-in, ski-out access to 140 kilometers of expansive slopes cascading from the 3,000-meter-high Plaine Morte glacier, the resort ensures a seamless experience with a dedicated ski concierge. The 2,000-square-meter Six Senses Spa, featuring nine treatment rooms, an innovative Stretch Pod, cutting-edge fitness facilities, and a yoga studio, promises rejuvenation each day. As twilight descends, guests can cocoon themselves beneath a starry sky, partake in the open-air cinema, savour wholesome cuisine in the two restaurants, or recount the day's exploits by the crackling fire in the bar.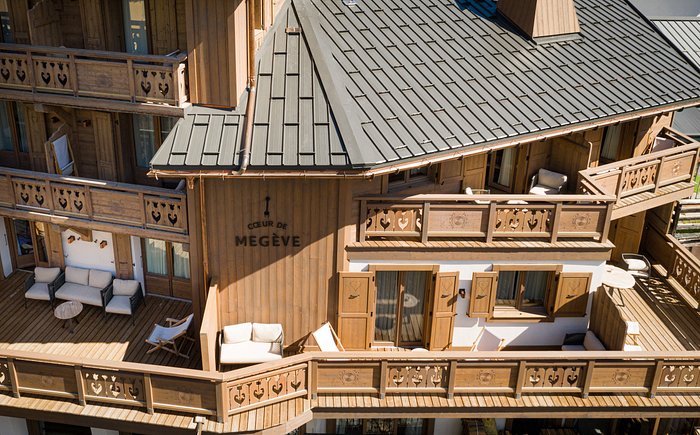 Cœur de Megève, Megève, France 
Nestled in the Haute-Savoie region of the French Alps beneath the majestic Mont Blanc, Megève has captivated the skiing elite for nearly a century. Positioned along the bustling pedestrian thoroughfare, mere steps from the church square and ski lift, the ultra-stylish Cœur de Megève hotel has undergone a remarkable transformation under the creative direction of renowned interior designer Sybille de Margerie. Departing from the traditional ski chalet concept, de Margerie envisioned a contemporary mountain retreat characterized by brushed walnut panelling, plush furnishings, and vibrant hues. Boasting 38 rooms and suites of various configurations, some featuring open-plan bathrooms, others with village-view terraces, and family rooms nestled in the attic beneath sloping ceilings, the hotel offers diverse accommodation options. Megève, a perennial favourite winter getaway, caters to a spectrum of activities, from skiing to dog sledging, winter markets, and historic hiking trails. The expansive ski domain surrounding Megève, encompassing 445km of slopes with the 'Evasion Mont Blanc' lift pass, includes the spa town of St Gervais and an additional 120km of slopes in Les Contamines. Back at the hotel, guests can bask in the cosy ambience of evenings by the fireplace in the lounge or opt for the après-ski vibe on the covered terrace. The main restaurant, Le Cœur, opening onto the village, serves up a seasonal, elegant, and delectable cuisine, showcasing the richness of the Savoy region. As dusk settles, patrons can retreat to Le Meige for custom and classic cocktails. Following exhilarating mountain pursuits, the rejuvenating Le Spa Tata Harper beckons with two treatment cabins (convertible into a spacious duo cabin), a sauna, a sensory shower, and a nail bar for guests to unwind and pamper themselves.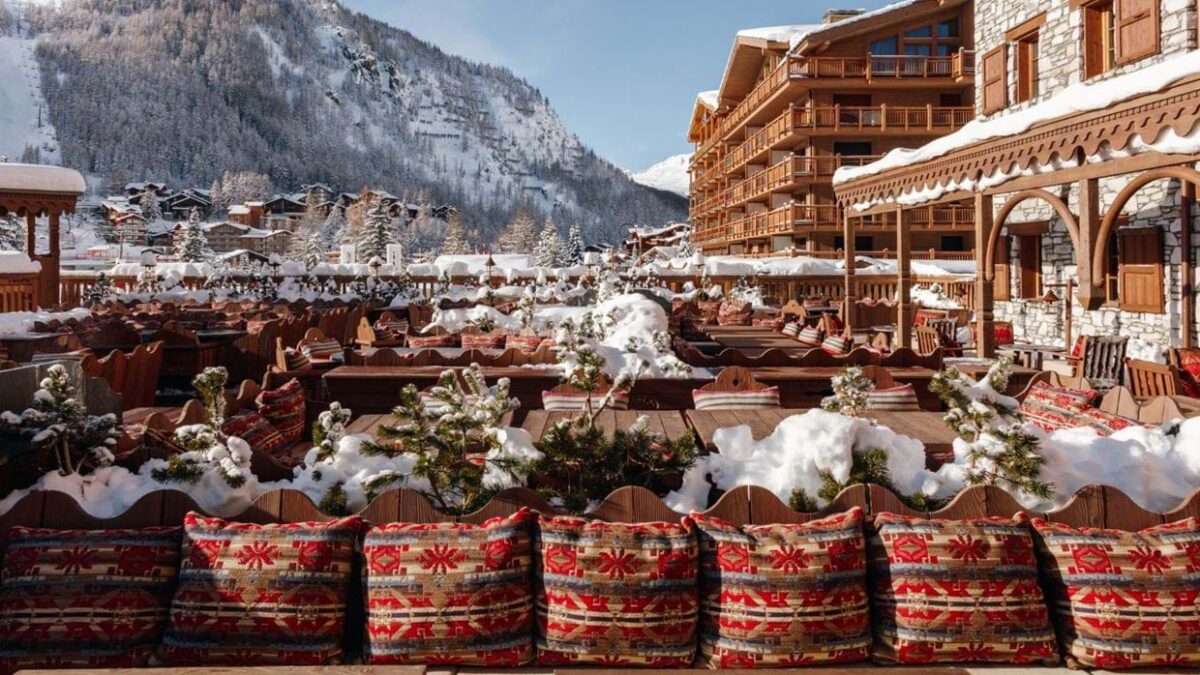 Airelles, Val D'isere, France 
Nestled in the heart of the French Alps, Airelles Val d'Isère stands as a beacon of luxury and alpine charm. Situated in the renowned ski resort of Val d'Isère, this opulent haven epitomizes sophistication and grandeur. Seamlessly blending with its surroundings, the hotel exudes a timeless elegance, offering an exquisite retreat for discerning travelers. Airelles Val d'Isère boasts a prime location, close to the slopes and the vibrant pulse of Val d'Isère village. The hotel, characterized by its unique architectural design, is a masterpiece of comfort and style. The accommodation choices are diverse, ranging from lavish suites to cozy rooms, each meticulously appointed with a harmonious blend of alpine aesthetics and modern comforts. Val d'Isère, celebrated for its world-class skiing, provides an extensive playground for winter enthusiasts, and Airelles ensures a seamless experience with its attentive concierge services. After a day of carving through pristine powder, guests can unwind in the sumptuous spa, where relaxation is elevated to an art form. Indulge in bespoke treatments, rejuvenate in the pool, or soothe tired muscles in the sauna—every aspect of Airelles Val d'Isère is crafted to pamper and enchant.
Aman Le Melezin, Courchevel, France
In the heart of Courchevel 1850, Aman Le Melezin seamlessly combines alpine charm with the refined elegance characteristic of the Aman brand. With direct access to the expansive Trois Vallees ski area, this distinguished resort invites guests to seamlessly connect with exhilarating slopes and panoramic mountain vistas. The architecture reflects a harmonious blend of Savoyard tradition and contemporary design, providing a warm ambience. Luxurious suites and residences offer havens of comfort, some with ski-in, ski-out convenience. Aman Le Melezin extends beyond exceptional skiing to become a sanctuary of relaxation with its Aman Spa, offering rejuvenating treatments inspired by global wellness traditions. Dining experiences celebrate local and international flavours, providing a gourmet culmination to days spent in the invigorating alpine air. Aman Le Melezin presents the perfect blend of luxury, adventure, and relaxation in the heart of the French Alps.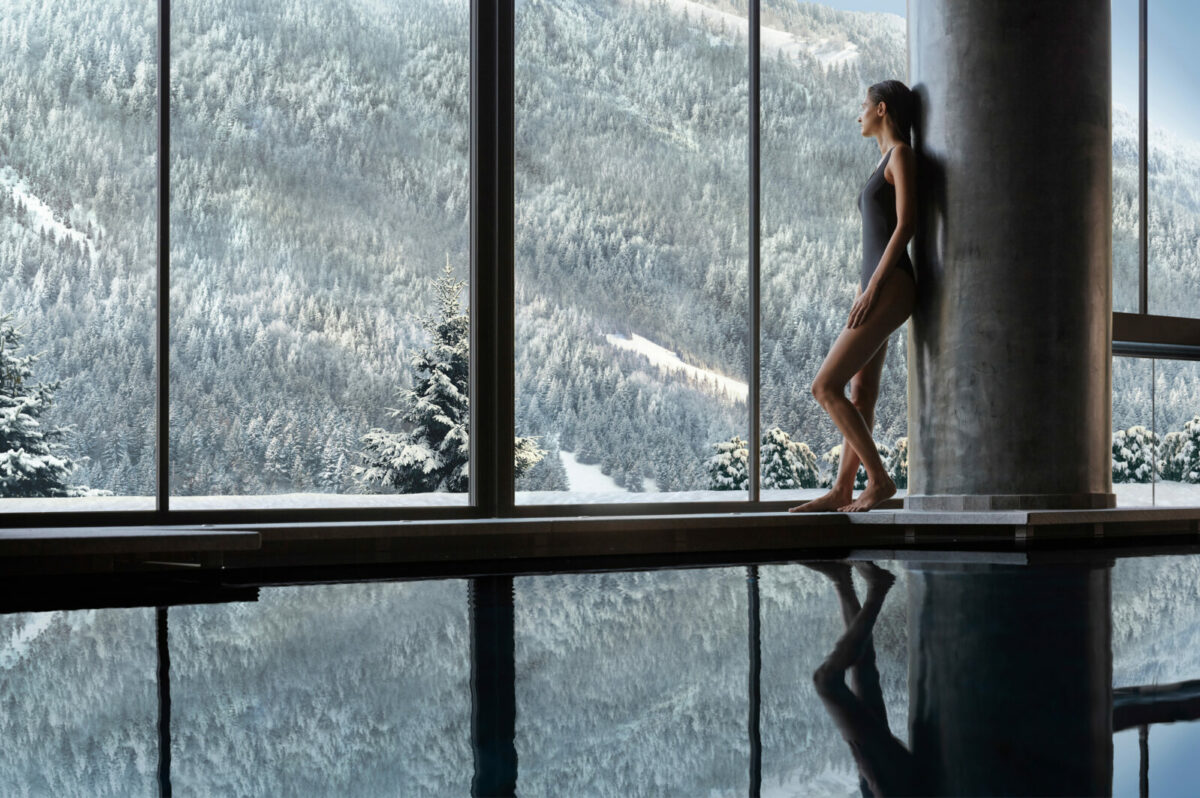 Lefay Resort & Spa Dolomiti, Italy
Amidst the majestic peaks of the Dolomites, Lefay Resort & Spa Dolomiti stands as a pinnacle of refined luxury in the heart of the Italian Alps. This exclusive resort seamlessly blends with the alpine landscape, offering an idyllic retreat in a renowned ski destination. Perfectly situated for both ski enthusiasts and nature lovers, Lefay provides a seamless fusion of contemporary elegance and mountain charm. The accommodation choices, ranging from lavish suites to intimate rooms, showcase meticulous attention to detail and a commitment to guest comfort. With immediate access to ski slopes and the enchanting scenery of the Dolomites, the resort becomes a gateway to unparalleled alpine experiences. Lefay's attentive concierge services ensure a tailored and unforgettable stay. Following days of exploration, guests can unwind in the spa, indulging in tailored treatments or relaxing in the pool and sauna. Culinary excellence awaits at the resort's dining establishments, where a gastronomic journey unfolds against the backdrop of stunning mountain vistas. Lefay Resort & Spa Dolomiti invites guests to immerse themselves in a world where luxury meets the natural wonders of the Dolomites, promising an extraordinary alpine escape.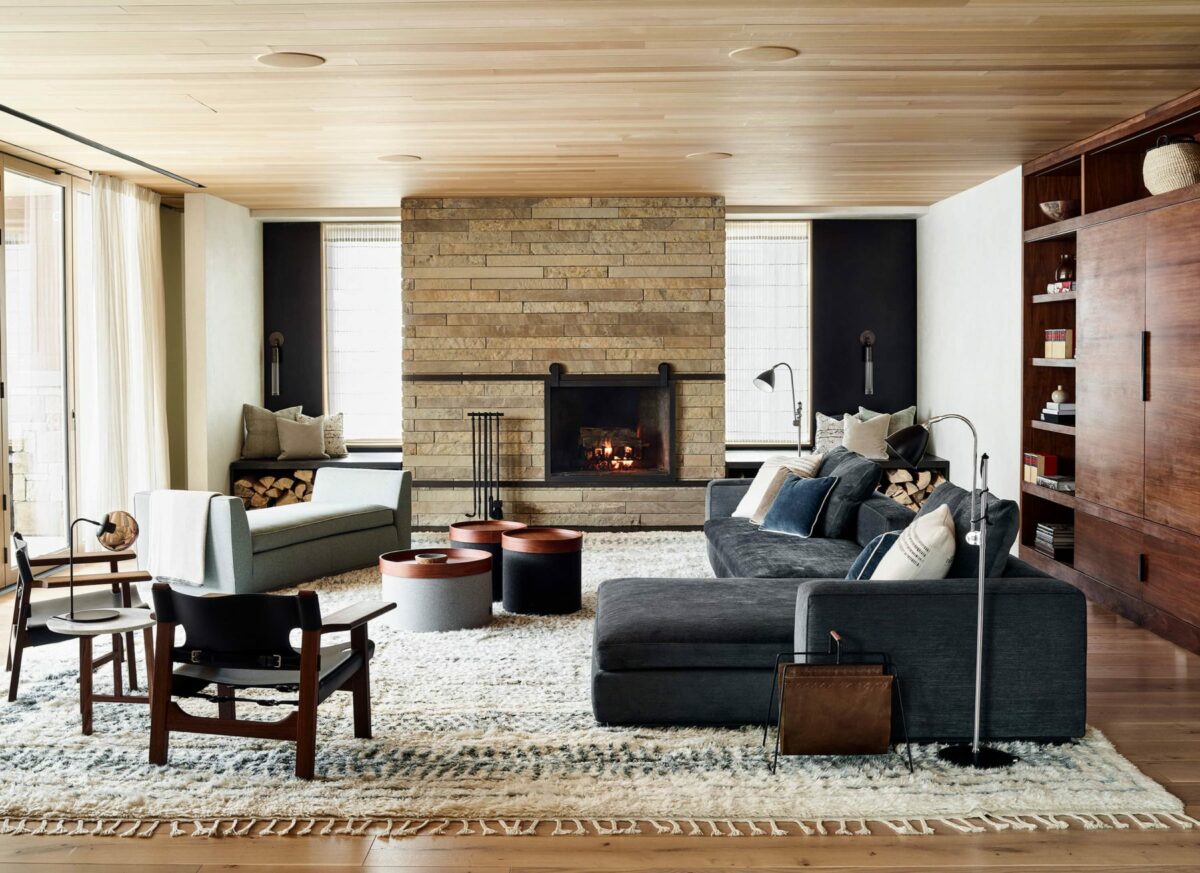 Caldera House, Jackson Hole, USA
In the enchanting realm of Jackson Hole, Caldera House emerges as a distinguished haven where rustic allure meets refined luxury. Poised in the heart of this iconic ski destination, the boutique hotel beckons with direct access to the legendary slopes and the awe-inspiring vistas of the Teton mountain range. Infused with a contemporary design that seamlessly intertwines with the warmth of mountain tradition, Caldera House exudes an inviting ambience throughout its entirety. Offering an intimate selection of suites and residences, each meticulously crafted provides a stylish and comfortable sanctuary after a day of adventure on the slopes. Enhanced by ski-in, ski-out accessibility in select accommodations, Caldera House ensures an immersive mountain experience. Beyond the thrill of skiing, the resort transforms into a retreat of relaxation with its spa, where guests can unwind amidst rejuvenating treatments in the tranquil mountain surroundings. Culinary experiences at Caldera House celebrate local flavours and international cuisine, offering a delightful conclusion to days spent in the invigorating mountain air. This boutique gem in Jackson Hole presents an exquisite fusion of luxury, adventure, and relaxation in the heart of the American West.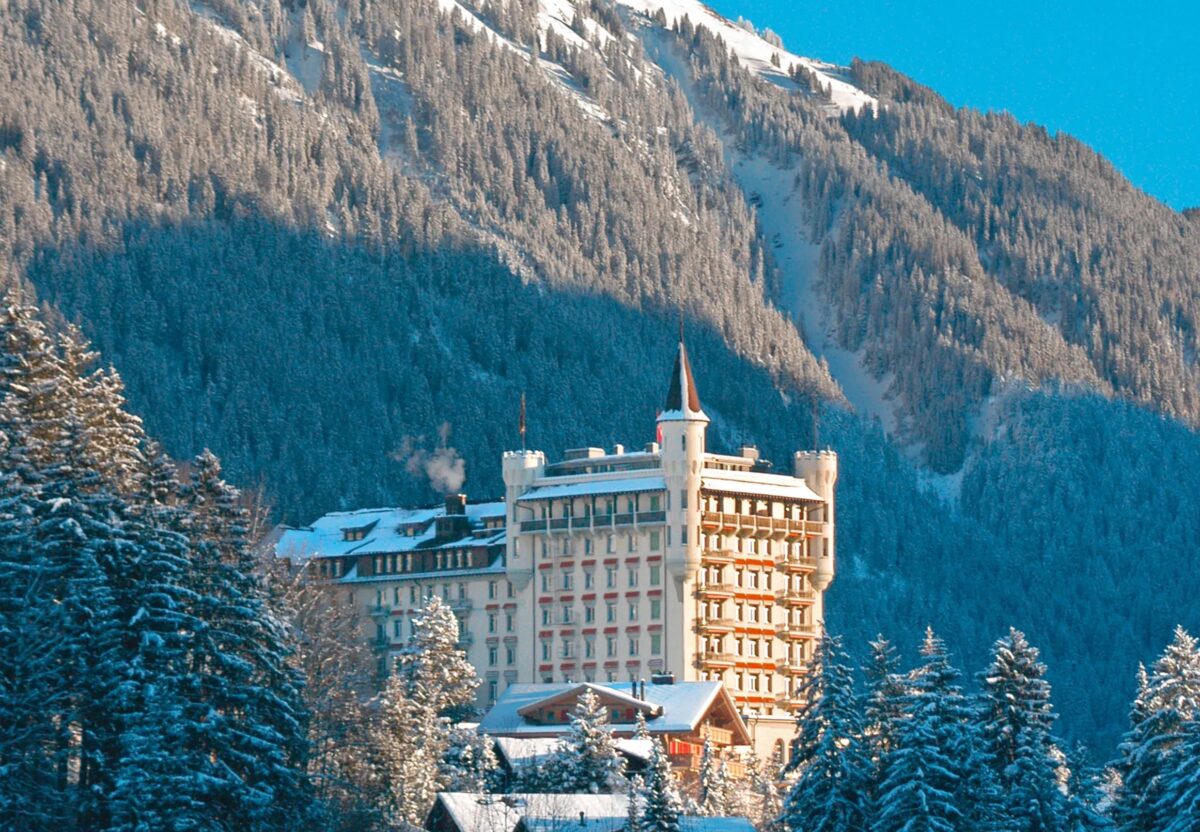 Gstaad Palace, Switzerland
Perched majestically in the Swiss Alps, Gstaad Palace reigns as an emblem of timeless elegance and alpine grandeur. Surveying the picturesque landscape of Gstaad, this iconic palace hotel seamlessly combines Old World charm with modern luxury. Enveloped by the enchanting Bernese Oberland, Gstaad Palace offers unrivalled access to the region's renowned ski slopes and the captivating beauty of the surrounding mountains. The architecture is a masterful blend of traditional Swiss chalet aesthetics and sophisticated design, creating an inviting atmosphere throughout the property. Gstaad Palace boasts a collection of luxurious rooms and suites, each exuding opulence and providing a regal retreat after a day on the slopes. Some accommodations feature balconies with panoramic views of the snow-kissed peaks. Beyond skiing, Gstaad Palace transforms into a sanctuary of relaxation with its sumptuous spa, where guests can indulge in rejuvenating treatments amidst an alpine haven. Culinary excellence takes centre stage in the hotel's restaurants, offering a gastronomic journey that celebrates local and international flavours. Gstaad Palace, a regal sanctuary in the heart of the Swiss Alps, presents an exquisite fusion of luxury, adventure, and relaxation for the discerning traveller.
---
READ MORE: 9 Showstopping Hotel Rooms To Have On Your Radar