Introducing a world of opulence and luxury, the travel landscape is adorned with remarkable, showstopping hotel rooms that redefine the art of hospitality. From Jaipur's serene landscapes to Madrid's vibrant heart, these accommodations offer an array of experiences that tantalize the senses and provide an escape from the ordinary. Join us as we journey through nine show-stopping hotel rooms that beckon travellers with their unique designs and captivating amenities. From secluded beachside sanctuaries to mountain retreats, each of these accommodations promises a lavish escape that transcends the boundaries of mere lodging. Let's embark on a virtual tour of these remarkable havens that have captured the essence of elegance and exclusivity in every detail.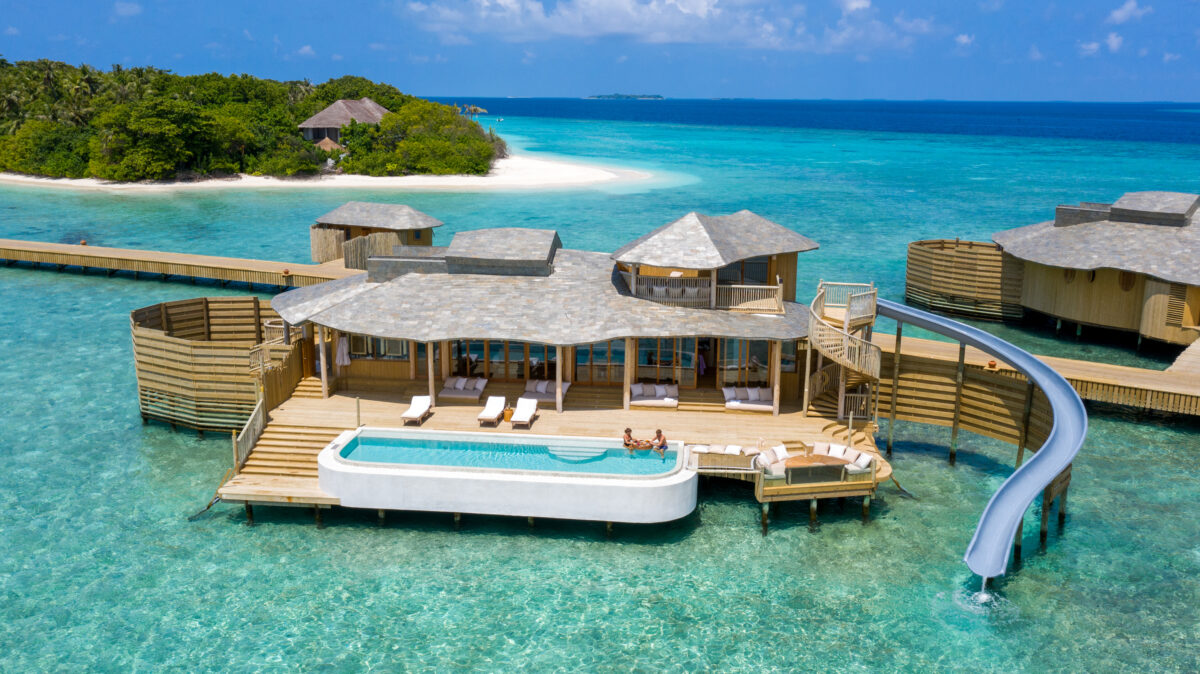 1 Bedroom Water Reserve with Slide, Soneva Fushi, Maldives
If the Tom Hanks film Castaway did uber luxe accommodation – this would be it. It's hard not to love any accommodation in the Maldives but the 1 Bedroom Water Reserve with Slide at Soneva Fushi really does take it to another level. Perched above on the turquoise shallows, this one-bedroom suite offers laid-back luxury and ultimate privacy at its finest. It even comes with its very own pool and waterslide.
Thabametsi Treehouse, MORE Lodges & Hotels, Marataba, Marakele National Park
Camping out under the African canopy with nothing but the flora and fauna for company is a bucket list experience of mine. This remote Treehouse in Marakele National Park gets you even closer to nature without having to rough it – my kind of camping. Offering an other-worldly experience enjoy your coffee whilst observing an array of animals in their natural habitat, or enjoy a candlelit dinner under the stars – what could be more romantic?
Penthouse, Forestis, Dolomites
At Forestis, their motto is "peace is the ultimate luxury" and we couldn't agree more. However, the peaceful mountains certainly aren't the only luxury at Forestis, the two-storey, 200 m² penthouse suite has a rooftop pool, open fireplace and even a sauna – all with incredible views of the pine forests and mountains beyond.
Suite, Villa Palladio, Jaipur, India
The brain-child of Italian-Swiss entrepreneur Barbara Miolini and Dutch designer Marie-Anne Oudejans, Villa Palladio opened just last year in September. Each of the nine rooms is beautifully designed, and hand-painted with marble floors and although just 20 minutes away from Jaipur, they provide an intimate hideaway away from the hustle and bustle.
1 Bedroom Villa, Amanzoe, Port Heli, Greece
Overlooking the Aegean Sea, Amanzoe provides a Mediterranean home away from home amongst thoughtfully landscaped gardens. A one-bedroom villa boasts a 22-meter swimming pool, a large outdoor living area and a private kitchen. You can also enjoy extensive 360-degree views from sunrise to sunset.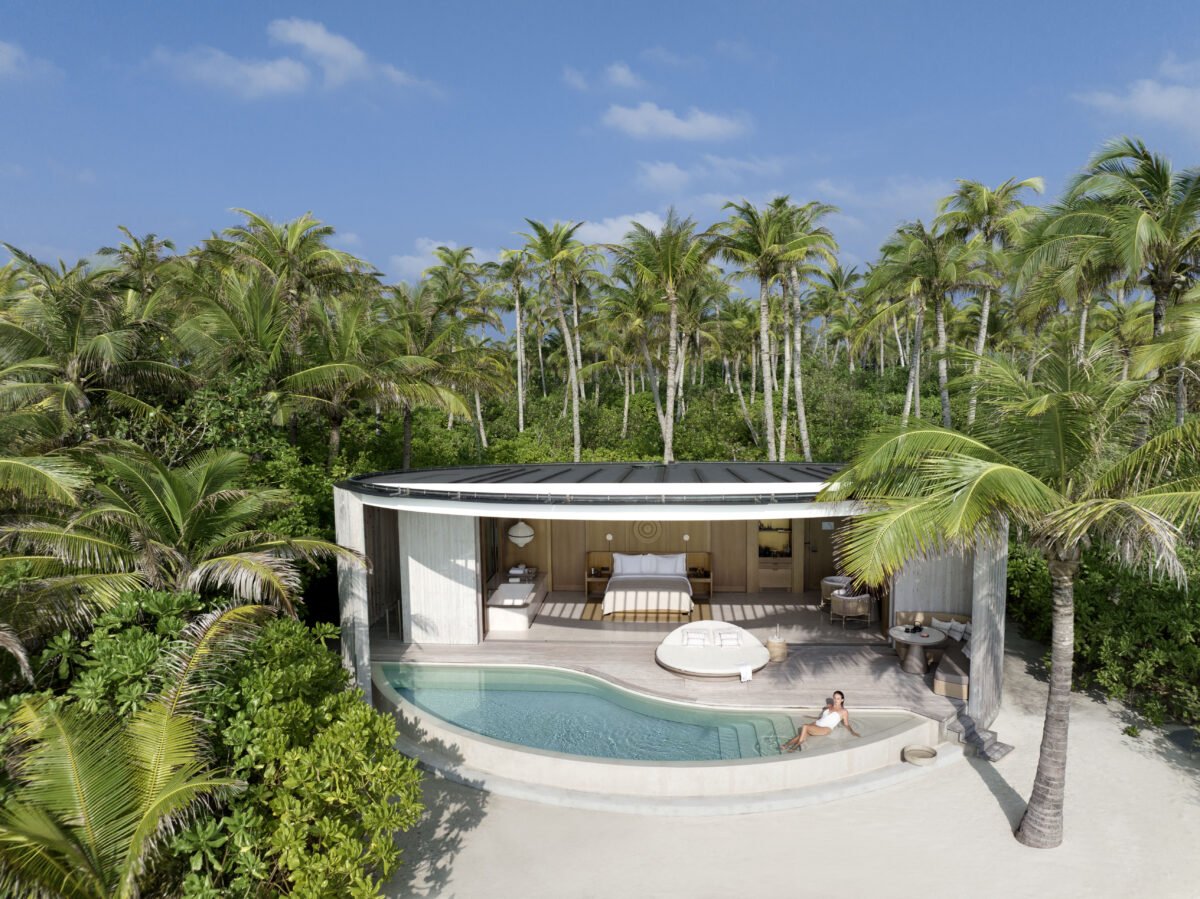 Beach Pool Villa, The Ritz Carlton, Maldives
Another property in the Maldives (because… why not) but on the other end of the luxury scale with uber modern designs, is the Ritz Carlton's villas. We love the Beach Pool Villa which reminds us of a James Bond film. Each villa boasts water views, an infinity pool, a sundeck, and a personal butler.​
Sky Pool Suite, Atlantis The Royal, Dubai
Launched earlier this year with a star-studded event (Beyonce was the opening act), Atlantis The Royal is the first skyscraper hotel to offer dozens of suites that have their own private infinity pool on the terrace. Designed to make jaws drop, this hotel is lavish, opulent and vast. Each of the Sky Pool Suites offers extraordinary views of the Dubai skyline all from the comfort and opulence of your own pool.
Lodge 8, Carbis Bay, Cornwall
For a luxury beach staycation, Lodge 8 at Carbis Bay offers the ultimate privacy. Positioned at the end of the beach, Lodge 8 boasts outstanding sea views and includes Bang & Olufsen entertainment systems, a hot tub, a kitchenette and a private garden.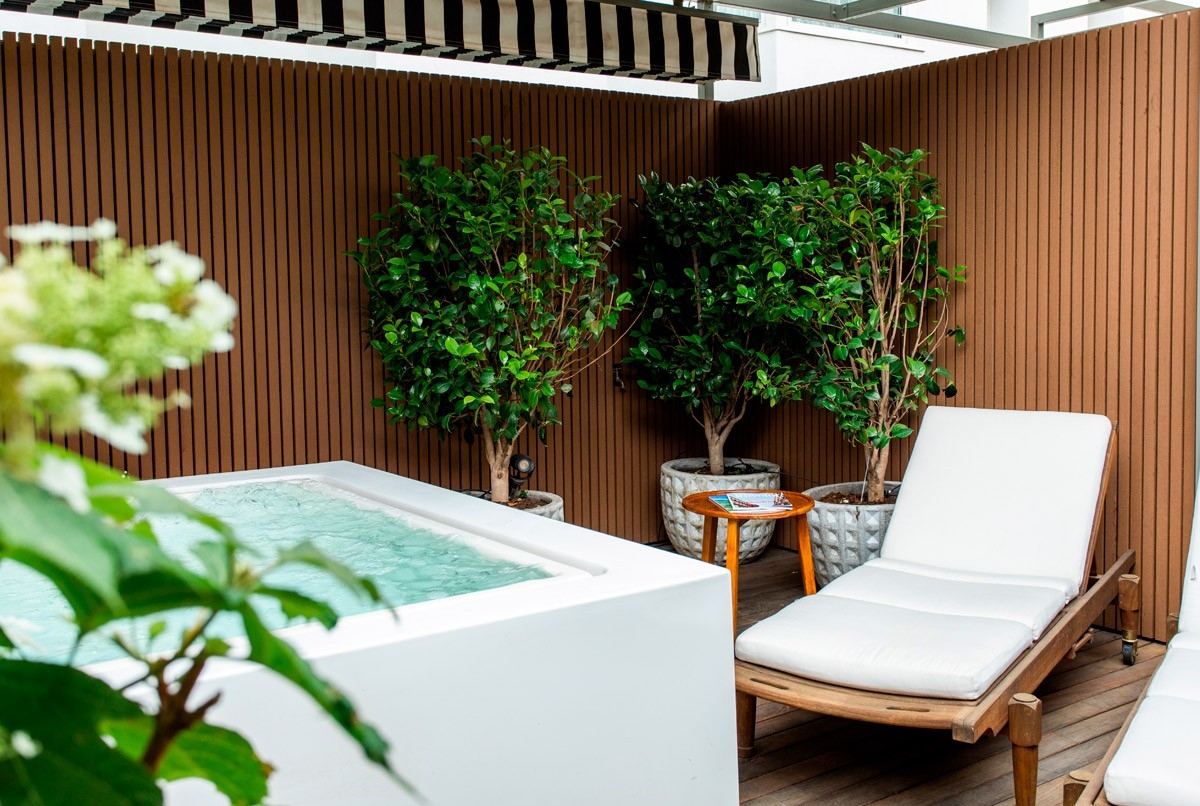 Wellness Suite at Bless Hotel, Madrid, Spain
Located in the heart of Madrid, The Palladium Group's Bless Hotel is the perfect bolthole for city breaks. For a little oasis amongst all the hustle and bustle make sure you book their Wellbeing Terrace Villa with jacuzzi and not one but two terrace patios. Whilst you visit be sure to book into the hotel's Urban Spa to complete the relaxation experience.