When we got the opportunity to meet Donna Hay (aka the whole food queen) we just had to pin her down from her awesomely busy schedule to ask her a few questions about her latest book, life in balance, and of course all things healthy eating! 
You were one of the originals when it came to the "eating whole foods" movement, paving the way for food bloggers and chefs alike. Where did your inspiration to start something so different than what was happening in the foodie scene at the time, come from?
It's something that I saw becoming popular over a few years – it was just a matter of knowing when something so niche would make the leap into mainstream. It's also genuinely the way I love to eat and cook – using a wide variety of incredible fresh produce in my recipes, experimenting with new 'superfood' ingredients and enjoying balance (so eating healthily, while allowing yourself a little treat every now and again). It's a way of eating that's very easy to embrace here in Australia, as we are spoilt for choice when it comes to impeccable fresh produce and good-quality ingredients, and it suits our active outdoor lifestyles.
What are some of your best tips when it comes to incorporating wholesome food into a busy lifestyle?
Plan your meals and lunches ahead, and always have a well-stocked pantry and fridge – if you get home after a busy day at work and there's nothing to prepare for dinner or snack on in the fridge, you're more likely to turn to something that's not great for you. I usually bake or make batches of power snacks for my kids on the weekend and freeze them for all of us to take to school or work during the week (such as bliss balls or muffins made with buckwheat and quinoa). I also always ensure I have fresh (or frozen) ingredients for my morning green smoothie that helps get my day off to a great start.
What is your current favourite ingredient to cook with at the moment?
I know it's not the most exciting ingredient in the world, but I just love baby spinach leaves. They're so versatile and packed with nutrients – perfect for incorporating into lighter dinners, salads for lunches and my morning smoothie.
If you could choose three recipes from life in balance cookbook (Breakfast, Lunch, and Dinner) to have everyday, which would they be?
I love the coconut and chai chia pots for breakfast – p14 (and I often make up a batch to bring in the office for my team when they need an energy boost); then the toasted grain and cauliflower tabouli (p97) for lunch – it has great flavour and texture. For dinner, the cauliflower pizzas with mozzarella, kale and lemon (p42) are the perfect go-to– they're so easy to make and even my boys love them!
We all know that diet is crucial for your body, but keeping active is also incredibly important. What are our favourite ways to break a sweat?
I'm slightly addicted to running and try to start every day with an energetic 4 or 5km loop around a coastal route near my home in Sydney. It never fails to make me feel great and set me up for the day ahead. I'm also into swimming and paddle-boarding. Running around after my two young boys is also a lot of exercise in itself!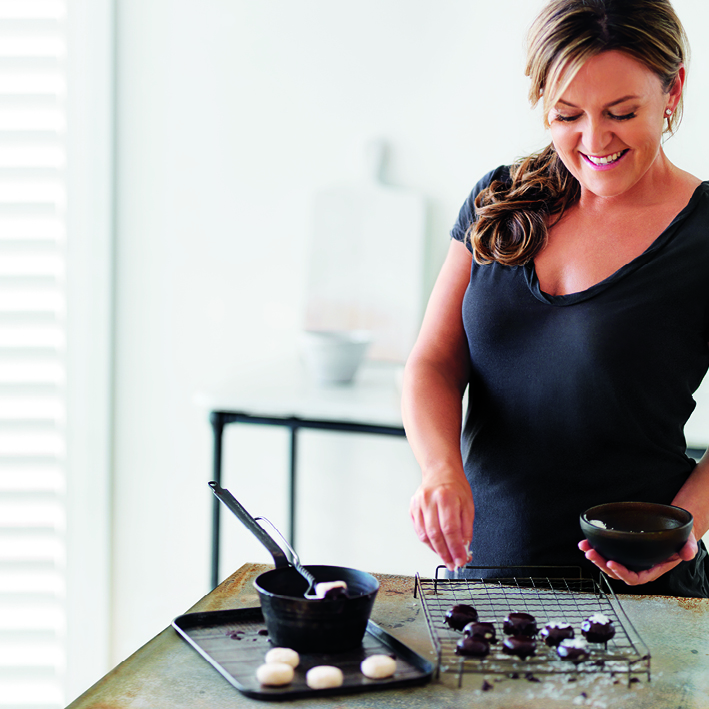 How do you get inspired for each of your cookbooks?
I spend a lot of time thinking about what I think my readers want or need, and the kind of content that I know will resonate with them. I'm constantly thinking of new ideas and I take inspiration from both current food trends and ingredients, as well as my own experiences of cooking and eating.
Aside from the basics, what is one appliance or tool that everyone should have in their kitchen?
I absolutely love my stand mixer and my blender – both are so handy when it comes to creating beautiful baked treats and nutritious smoothies. I use both constantly.
What is the most rewarding part of your career?
Getting to come to work every day and do a job that I genuinely love, being creative and working with a bunch of very talented people (and getting to eat lots of delicious food, of course).
How do you see the whole foods movement growing within the next few years?
I only see it growing and becoming more mainstream. Eating more healthily, and eating superfoods and whole foods regularly, is becoming such a part of people's lifestyle, as they incorporate it into their everyday cooking and eating. These days we are so much more aware of what we are putting into their bodies, and how food can benefit our general wellbeing. I love that idea of food being a type of medicine, and that eating better genuinely can make you feel and look great! What's not to love?!
Click here to purchase Donna's new book, life in balance!