If Veganuary was a roaring success and you want to take with you your new plant-based way of eating into February and beyond then we'd like to introduce you to Lauren Lovatt (if you haven't heard of her already!). Lauren is a plant-based chef, founder of Plant Academy and author of Mind Food, eating in a way that feeds her mind is of utmost importance and as a vegan chef, she has a particular knack for knowing how to get the most flavour in your food! We thought you might be curious to see what a plant-based chef always orders in their weekly food shop and below Lauren shares why her essentials are non-negotiables for eating well on a plant-based diet.
Hemp 
Hemp is my seed of choice not only for flavour but for its omega boost! Whether it is sprinkled on salads, made into a milk or cream, used in overnight oats, turned into a butter or granola hemp is an incredibly understated ingredient that is always in my cupboard. Good Hemp is in my opinion the best brand of Hemp and they make a good CBD I enjoy using in my recipes too!
Nut milk
Nut Milk is a very easy ingredient to make and I often make my own hemp, almond or walnut milks for the optimum taste and befits but when I'm on the go I look for nut milks without any refined oils because of the impact they have on our health. Nutty Bruce is my favourite for flavour (try the activated almond) and Plenish has a great selection of 3 ingredient milks which are tasty too.
Seed Butter 
Nut/Seed butters are such a staple in my kitchen for smoothies, porridges, sauces and dressings. They add richness to any meal and are a great source of nutrition. Variety is key and trying different seeds rather than too many nuts, so at the moment I'm feasting on Sunhini, the revolutionary sunflower seed tahini, and anything from Sun and Seed, especially their apricot kernel butter.
Winter porridge with toasted walnut oats and rosemary berries
© Sara Kiyo Popowa 
Vegan Probiotics
Having worked my way through all the supplements out there when it comes to Probiotics I very much rely on fermented foods and the one thing that has changed everything for me is Rhythm Health's potent probiotics. I have a bamboo dispenser in my fridge and have this tangy coconut kefir every day without fail.
Kimchi
If not making any myself I always pick up a jar of Vegan Kimchi by Cultured collective, I use it in salads and sandwiches, on savoury pancakes and even in curries for its flavour.
Olive oil
Any Kitchen needs a good olive oil, I have one for cooking with and one for dressing and always use Odysea which is a brand championing smaller producers and organic ingredients.
Cavolo Nero 
Seasonal Greens are always in my shopping basket. Cavolo Nero is currently my green of choice and I enjoy it massaged in oil, tahini and salt, finely shredded and cooked or made into crisps. These greens will go alongside any veggies currently in season… right now my faves are beetroot, cauliflower, Alouette potatoes and parsnips.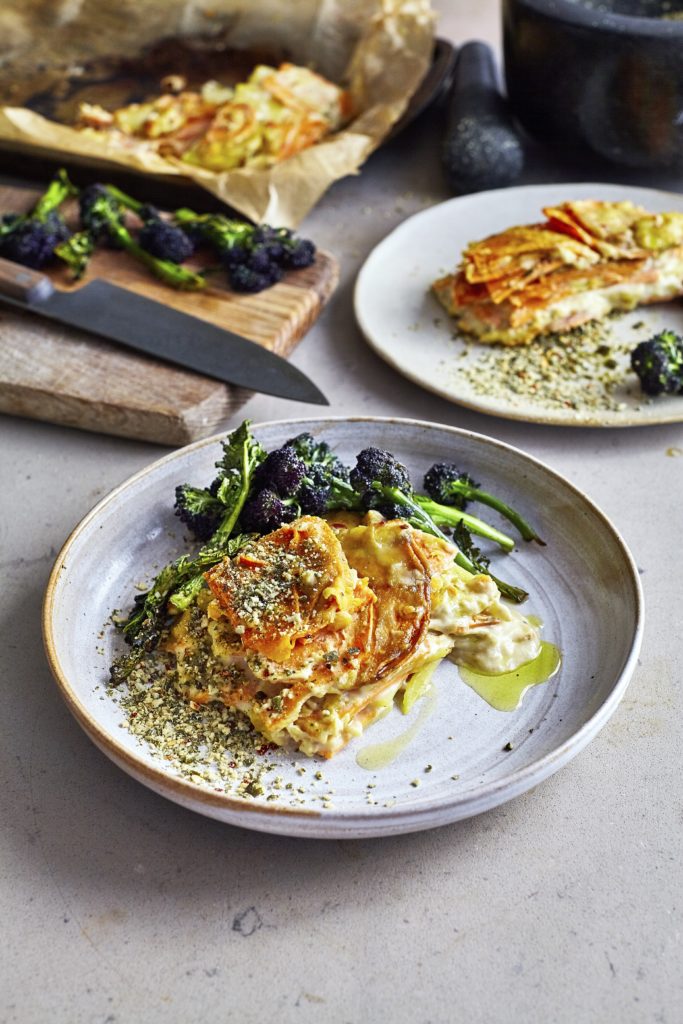 Sweet potato and chilli dauphinoise © Sara Kiyo Popowa
Vegan Cheese
The ultimate vegan cheese brand is Palace Culture making absolutely delicious vegan cheeses in the style of everything from Sacré Bleu and Camembert to the fantastic 'Mouldy Goaty'. Mirko, the founder, recently taught the cheese Module on one of My Plant Academy courses and he is such a fountain of knowledge, I can highly recommend them!
Pasta and Pesto!
When I need a quick meal I always opt for Pasta and pesto with has to be Saggiano raw Basil pesto and ZENB Pasta. I will always add all the vegetables possible to this dish with wilted kale, loads of leaves and sundried tomatoes.
Chickpea Flour
Chickpea flour is so useful to have in your cupboard and can be used in many ways, my favourite is pancakes, especially savoury. Whisk one cup of chickpea flour with one and a half cups of water until smooth and the texture of pancake batter. Leave to ferment overnight lightly covered and then season with any herbs and spices the next day, heat oil in a pan and make pancakes. Load with kimchi, greens and dressings!
Oat fritters, windfall apple slaw & candied walnuts
© Sara Kiyo Popowa
Mung Beans
I am a little obsessed with sprouting so if you come to my kitchen you will always see something in a jar sprouting on the counter. Mung Beans are my sprout of the moment – I use them tossed into salads or on top of warm dishes for their amazing health benefits.
Miso
A light and dark miso are a pantry essential to me and I use them instead of salt often in sweet and savoury food. Adding white miso to porridge or hot chocolate and dark miso to soups and dressing is such a game-changer. I always use Clearspring miso and know their products are of great quality.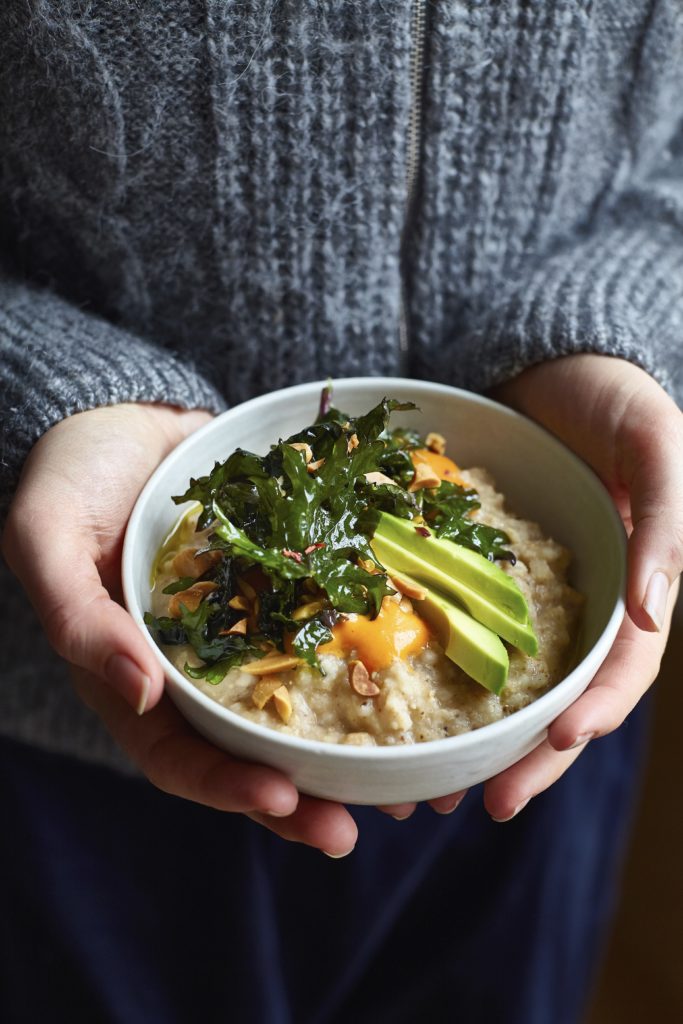 Savoury miso porridge © Sara Kiyo Popowa
Medicinal mushrooms
As a huge advocate of medicinal mushrooms, I really use these fantastic fungi to support my mind through the day and at different times in my cycle. Lion's mane is my everyday mushroom, amazing for focus and concentration and I also frequently use Reishi the mushroom of balance and chaga the mushroom of creativity. Kaapa Health makes incredible mushroom tinctures, Raw Living sell all the powders and Oh My Shrooms is THE BEST ever creator of mushroom snacks for those wanting to try something new or take their mushroom consumption to the next level.
Cacao
Every day for me ends with cacao so, I tend to always pick up a new brand of chocolate bar in my weekly shop, normally prioritising a stone-ground bar, something funky or something with superfoods. My favourites include  The Well Bean co, Harth (artisan truffles) , Carres Sauvages (when in Paris!) or Ombar which is very easy to find.
Turmeric, cinnamon and saffron
Wunder workshop is all about bringing wonderful ingredients to the market including medicinal mushrooms and superfoods and I love to use their high-grade turmeric, cinnamon and saffron in drinks and recipes, all sourced consciously with the environment at the forefront of their brand.
Change the mood chocolate pots © Sara Kiyo Popowa
For Shops you will find me shopping at Planet Organic, The Organic Farm shop, ordering from Riverford and shopping for potent plant foods online at Raw Living.
Keep up with Lauren…

Lauren Lovatt @lauren_lovatt 
Plant Academy @plantacademylondon
Mind Food @feedyourmindcandy