We all want that little bit extra from our travels in a post-pandemic world. Gone are the days of endless lazing on the beach, we're looking for new experiences and adventures to dive into. The good news is that the travel and wellbeing worlds have collided and the outcome are resorts like Palmaïa, a playground for wellness-seekers perched on the white-sand beach of Mexico's Caribbean coast. Issy got to visit and we're mega jel. Here's her review…
The perfect place to embark on a welcoming hiatus from my normal routine, I was ready to immersive myself in everything Palmaïa had to offer. Jet lag had me in the gym prior to sunrise, so my first proper look at the Palmaïa came through shafts of golden sunlight glinting through the jungle scenery that surrounded the glass shipping container studio. Blessed with epic sunrises, Palmaïa overlooks the sea giving birth to the sun at around 7am each morning, the idyllic wake-up call. Located in Playa del Carmen, the region of the Mayan Riviera in Mexico is dripping in natural beauty, from the vibrant turquoise Caribbean Sea, the 400 hectares of luscious greenery and the wildlife that roams undisturbed, soundtracking your scenic routes around Palmaïa.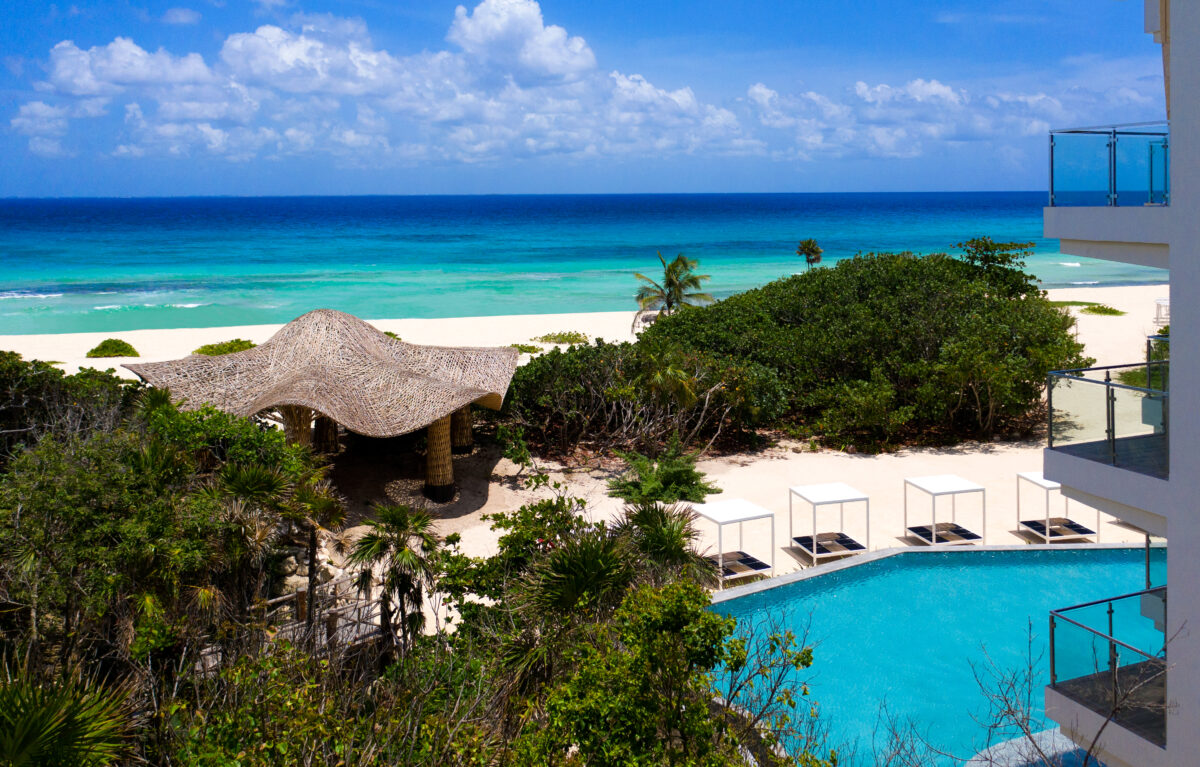 Doing their utmost to preserve the sacred jungle landscape, Palmaïa is set amidst the tropical wilderness with narrow winding paths that conjoin the various restaurants and wellness spaces. The ocean hugs the resort so that every single room has a sea view. The interiors have been meticulously designed to blend effortlessly with the environment, using natural materials, earthy tones and Mexico's signature use of colour popping. The rooms have a more elevated approach, with a luxe finish and plush amenities, including a supersized egg-shaped bathtub and a fully stocked plant-based mini bar.
Created with the intention to spiritually uplift your mind, body and soul, Palmaïa is a new kind of resort that optimises holistic endeavours in an inspiring setting. Now we're not just talking about a few morning yoga classes here and there, Palmaïa's timetable will impress the most seasoned wellness lovers. The detailed programme, available to all guests at no extra cost, is built on three pillars; holistic practices, healthy gourmet cuisine and curated sound.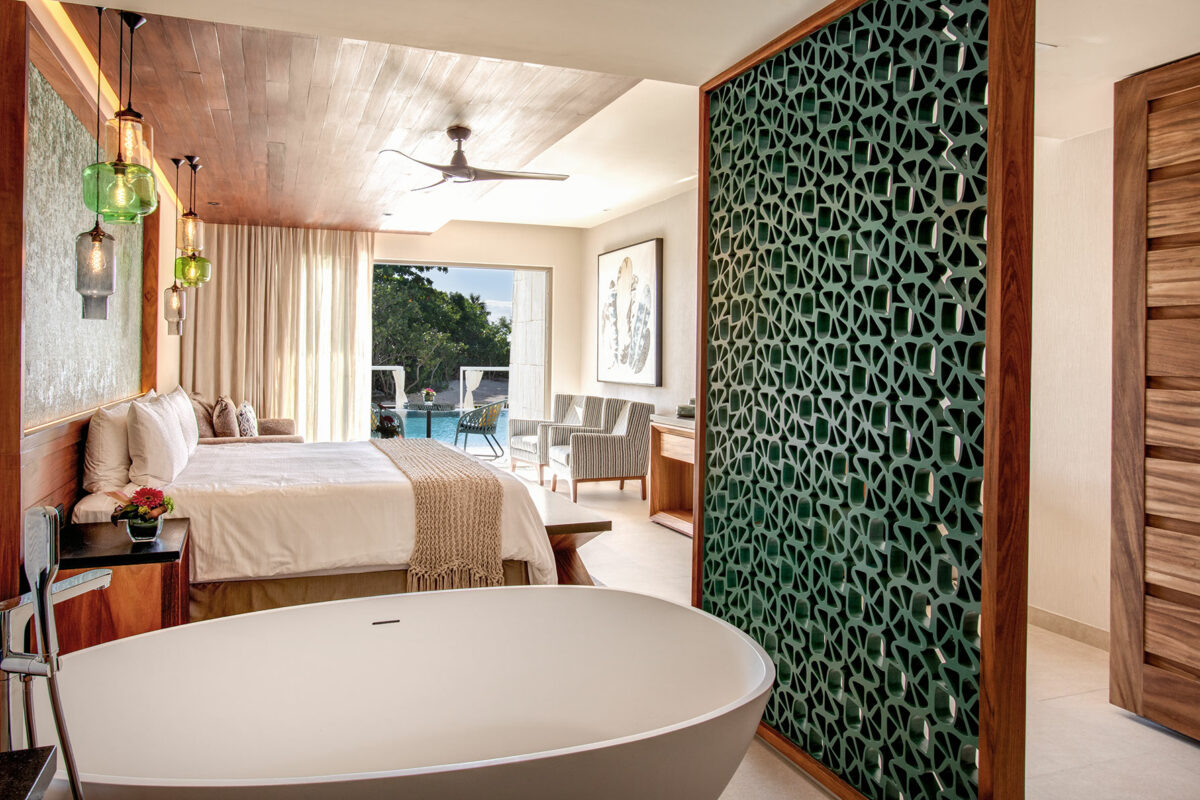 Palmaïa has adopted a 'PBB' food concept; predominantly plant-based. I'm used to finding a menu that gives you the option to make a dish 'plant-based', their philosophy flips this on its head, making the addition of meat if you deem it necessary. My advice when visiting, stick to being fully plant-based and completely immerse yourself in Palmaïa's ethos. The Michelin-trained chefs know what they're doing when it comes to vegan cuisine, it's their speciality and trust me, it doesn't disappoint. When in Mexico, tacos are a must, and the laidback 'El Caminante' food truck makes them as authentic as they come, with fillings such as smoky seitan and oyster mushrooms topped with zingy pineapple salsa and a dollop of guac. 'Su Casa' is a beachfront open-plan restaurant serving adventurous dishes from breakfast to dinner. The eggs will have you second-guessing whether they're really plant-based on not, how they achieve the uncanny resemblance and texture is beyond me! Palmaïa has three fine-dining restaurants to choose from for a swanky dinner setting, at no extra cost. Ume offers Asian fusion cuisine, bursting with sensual flavours presented in the most intricate manner. Mar de Olivo redefines Mediterranean dining with vegan twists on Italian classics. Paying homage to the Mexican food scene, LEK elevates native dishes retaining the hyperlocal flavours with spices and herbs cultivated in Palmaïa's greenhouse.
Although not advertised as 'all-inclusive', the food and drink are included in your stay. Palmaïa scrapped the all-inclusive tagline to avoid preconceived notions and align with a more holistic approach, you won't find buffet breakfasts or all-you-can-eat dinners. Having no bills to deal with adds to the ease of Palmaïa, I don't think the novelty ever wears off of being able to order a fresh coconut to your sunlounger at any time whilst basking in the sunshine! 
Traditionally, retreat holidays are pretty full-on with a tightly packed schedule to follow. Palmaïa's approach differs from regimented regimes and instead allows you to cherry-pick the activities that draw you in. Guests are free to create their own schedule with as much or as little as they please. The Weekly Architects Program features mindful classes, movement classes, ceremonies and rituals and ancient mysticisms. The vast amount on offer blew my mind, I was like a kid in a candy store, eagerly highlighting all the things I wanted to do. Palmaïa has done a noteworthy job of recruiting the very best holistic practitioners and teachers, that make up their stellar 'Resident Architects'. From all corners of the globe, you'll find healers, yogis, shamans, reiki masters, musicians, channelers, astrologists, artists, nutritionists and much more, ready to share their wisdom and rich life experiences with you.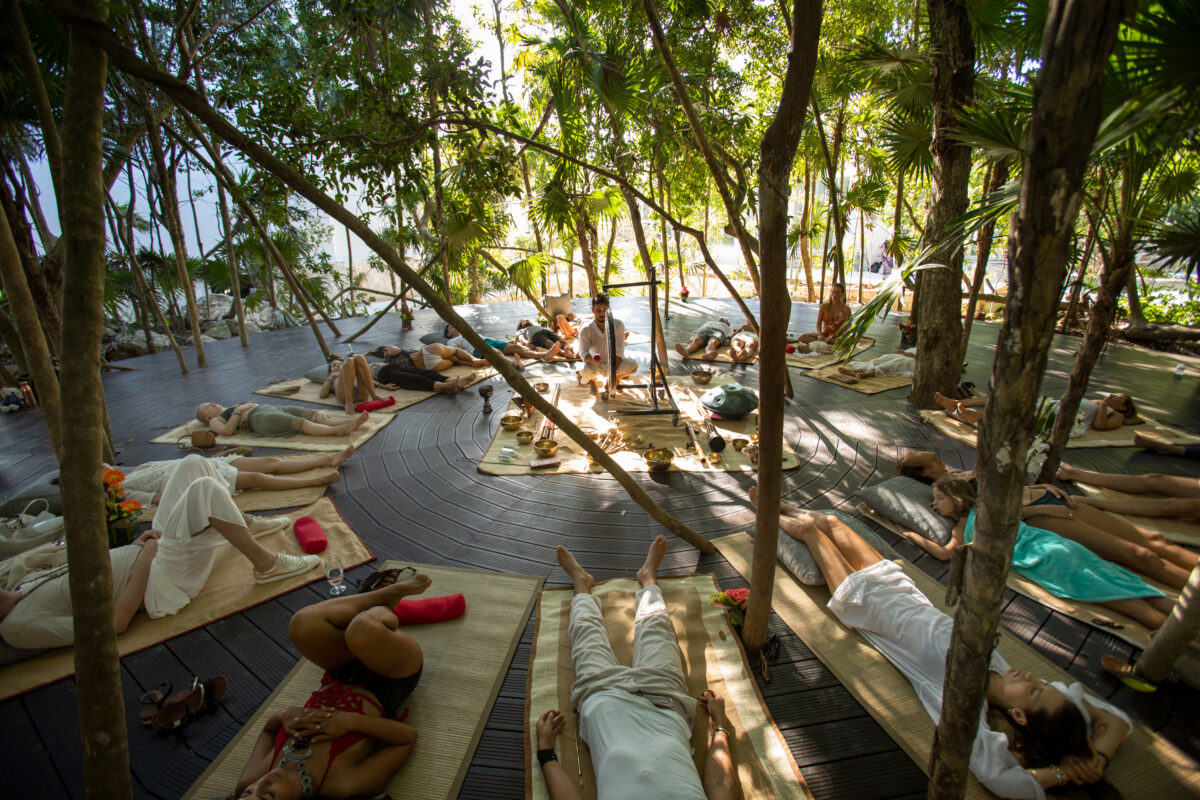 Yoga is practised in an array of disciplines from Hatha to Vinyasa. I've had the privilege of experiencing yoga in some incredible vicinities and Palmaïa's offering outrivalled them all. The multiple decks used for yoga each have unique qualities that make them special, from the crystal blue outlook of the Ocean Tent or the intertwining trees in the periphery of the Ritual deck. The teachers have a world of knowledge in their pocket, adapting their flow to accommodate all yogis in the class. Adopting an easygoing aura, the teachers non-verbally invite you to completely surrender to your practice, no mirrors to critic yourself, no super-challenging postures to get frustrated by, just you, the mat and the all-encompassing jungle to energise you.
The ceremonies and rituals are what really set Palmaïa apart from the rest. Giving guests the chance to try something new, whether it be a Transmutation Ritual, a Soul Purification Circle, a Cacao Ceremony, a Gong Bath or a Prehispanic Cleansing Ritual. The options are somewhat kooky and quirky, taking inspiration from spiritual ancient practices that we've become very disconnected from in modern life. Whatever journey it is that you want to embark on, Palmaïa paves the way to forgiveness, compassion and self-love through their offerings, giving you permission to delve deep into your soul and uncover anything that isn't serving you to embody your higher self.
Our Top Picks
Meditative Concert…An hour of utter bliss as you flicker in and out of consciousness listening to the immersive instruments and frequencies that unlock the chakras leaving you feeling balanced.
Soul Reading Circle…Chant your full name three times and let your channeller hone in on your energy to reveal a guiding reading that may help you gain clarity in areas in your life. This is the only workshop you'll be encouraged to record, so you can reflect at a later date.
Fermenting Workshop…Holistic nutritionist, Christine Weiss, will take you through the fermentation process to make gut-loving recipes such as sauerkraut and kimchi that you can recreate when you get home!
A highlight of my trip was our group excursion to visit historic archaeological sites as well as a local Mayan community. DEPTH is a one-of-a-kind day trip that allows you to truly connect with the culture, and all of the proceeds from the tickets go towards developing the community. First up you'll cycle around the emblematic archaeological zone of Coba which has the largest network of stone causeways in the ancient Mayan world and the highest Mayan pyramid in the Yucatan Peninsula. The majority of the day is spent meeting the residents of Nuevo Durango, a small Mayan village that follows traditional Mayan culture. Running agriculture projects to keep the community operating smoothly, each family has their own projects to keep them busy, from protecting endangered species to harvesting honey, growing organic crops, and producing jams and chutneys using local fruits. The community welcomes guests with open arms, proud to show off the work they do. Palmaïa works closely with the residents of Nuevo Durango to boost the work they're doing by providing support by rebuilding kitchens, facilitating a rainwater water harvester and using the honey in the resort.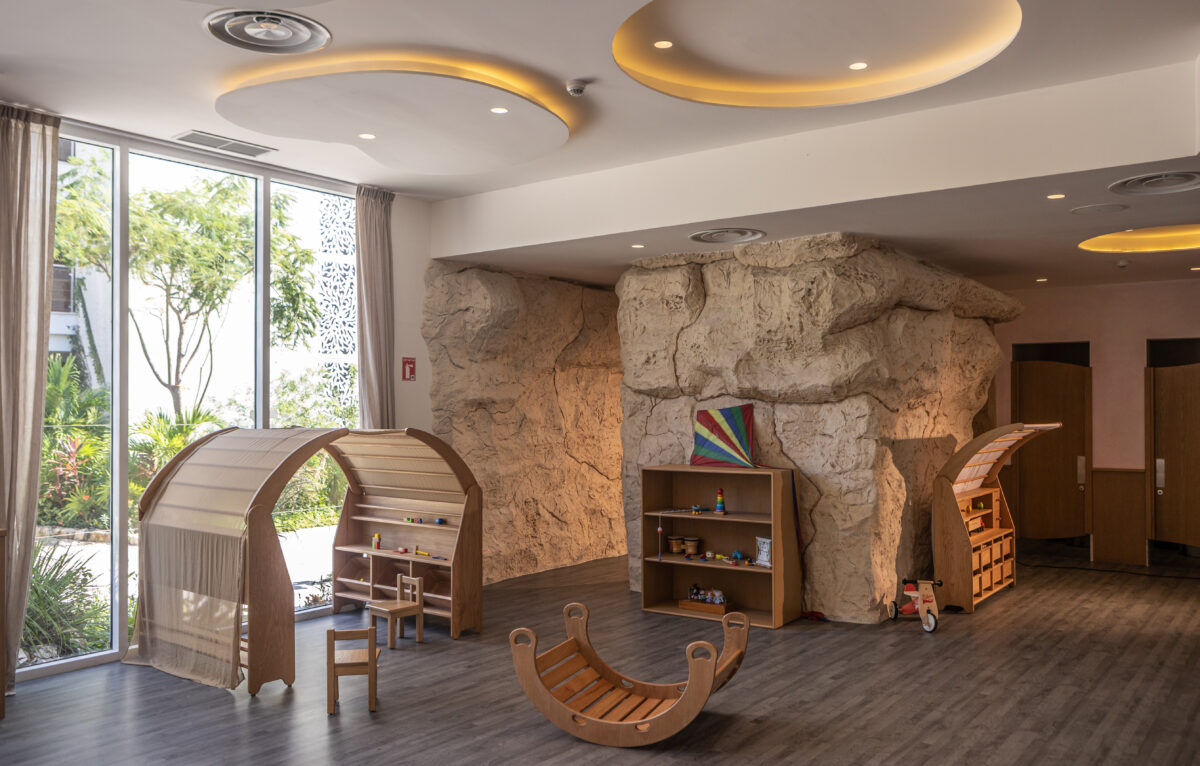 Palmaïa welcomes the whole family, with a kids club to accommodate the little ones when the parents are trying out the classes. Following the Waldorf Education system, Palmaïa aims to create an environment which draws on avant-garde thinking, giving children opportunities to explore and nurture their senses in a natural way. The space is device-free, packed with arts and crafts, wooden toys and a dedicated nap time room with adorable little beds. Much like the adult programme, the children's timetable makes use of the great outdoors, with the likes of gardening, beach games and treasure hunts to keep the kids occupied.
Palmaïa's eco spa, Atlantis is a tranquil sanctuary to heal your physical, mental, emotional and spiritual bodies. The reception sets the tone with a calming incense aroma that hits you the moment you enter and spiritual trinkets scattered around the room. The Atlantis Spa is a secluded area of the resort set in the untamed jungle with treatment rooms dotted around and cenotes which guests are invited to plunge in. The experiences take the form of traditional massages and facials, heightened by healing techniques such as thermotherapy (with the use of hot river stones), aromatherapy, therapeutic pressure points, detoxification​​ scrubs and reiki therapy. Aligned with Palmaïa's holistic ethos it was no surprise to see there is a range of Energy Healing Therapies on offer, including the Temazcal Ceremony, Biomagnetism Therapy, Fire Ceremony and Universal Energy Therapy.
Recognising the synergy between the mind, body, spirit and nature, it's clear that Palmaïa's approach is rooted in the foundations of the ancient cultures within Mexico, many of which still exist today in rural communities nestled deep within the jungle, such as the Mayans. Whether it's ceremonies, readings or rituals, nature is the constant thread that each experience reverts back to. Showing awe-inspiring respect for nature, it's clear that the holistic practitioners as well as the Mexican people at large are incredibly appreciative of the natural surroundings they've been blessed with. The culture is ingrained in nature, hence why I left with this newfound sense of connection with Mother Nature. An archetypal city girl, petrified of insets, monkeys and lizards may I add, turned nature seeker, now with open arms to endeavour the healing powers the jungle has to offer. Hopefully, I can mentally forge a portal with this rooted connection to nature, revisiting Palmaïa's magical aura in my mind at times of need as I return to normal life.
Learn more about Palmaïa
words by Isabelle Shury