As we enter lockdown 2.0 and wave goodbye to restaurants, shops, gyms and most of the things we love, it's important to lift yourself up with the things that you can do from home! Self-care, home workouts, family zoom quizzes…all that good stuff that we're no strangers to from round 1 of lockdown!
Lockdown 2.0 means meal deliveries are back on, aiming to perk up your evenings once again. There's no doubt that we'll be missing our favourite foodie spots throughout the month of November, but these at-home meal kits will fill the void for the time being. Plus it's a great way to support the food and hospitality industry during this difficult time, and what better way to show your support than enjoying a delicious meal?
Rick Stein's At-Home Range
Serving up the 'crème de la crème' of all meal deliveries, Rick Stein's at-home range takes home food boxes to new luxurious heights. Delivering Rick's classic fish dishes straight to your door, each box includes the full works, with a starter, main and dessert. With five showstopper meals to choose from, each spotlighting fresh Cornish seafood, the boxes will blow fish-lovers minds! The Hake Box caught our eye, featuring smoked mackerel pâté with sourdough bread to start, grilled hake piperade with serrano ham and minted potatoes for main and sticky toffee pudding with Cornish clotted cream to finish. Equally, as delicious-sounding, the Lobster Box is on our wishlist, showcasing grilled scallops with hazelnut and coriander butter to start, lobster thermidor with light cream and dry vermouth sauce, new potatoes and mixed salad leaves for main and a dreamy chocolate pavé with crystallised peanuts for dessert! If your birthday happens to fall in the lockdown or you simply want to treat yourself, Rick Stein's At-Home Range doesn't get more lavish in terms of delivery services and will give you all the 'special occasion' vibes from the comfort of your own home.
Mindful Chef x Leon Sicilian-Style Meatless Meatballs
For a limited time only, Mindful Chef has joined forces with our favourite healthy fast food joint, Leon, to bring you their best-loved Sicilian-style meatless meatballs with rice at home. The box contains a step-by-step guide to recreate Leon's renowned vegan dish to a T. Starring beluga lentils, aubergine, black olives and lemon zest, spooned over fluffy brown rice, topped with a luscious tomato sauce and a generous dollop of LEON's iconic vegan aioli, this is the ultimate healthy comfort food to get you through a dreary November.
Dirty Bones Vegan Chilli Cheeseburger Kit
By no means is this the healthiest of meal deliveries available but if you're craving a burger, this epic Vegan Chilli Cheeseburger Kit from Dirty Bones will hit the spot! Packed with all the (vegan) trimming including jalapeno dressing, vegan American cheese slices, relish, red onion, gherkins, burger patties, sesame seed buns and of course, skinny fries, this mouthwatering meal makes the ultimate weekend treat to get you through lockdown 2.0. If you're feeling to indulge a little further you can add on 'Dirty DIY Cocktails', choose from a negroni, old skool fashioned or peach ice-T!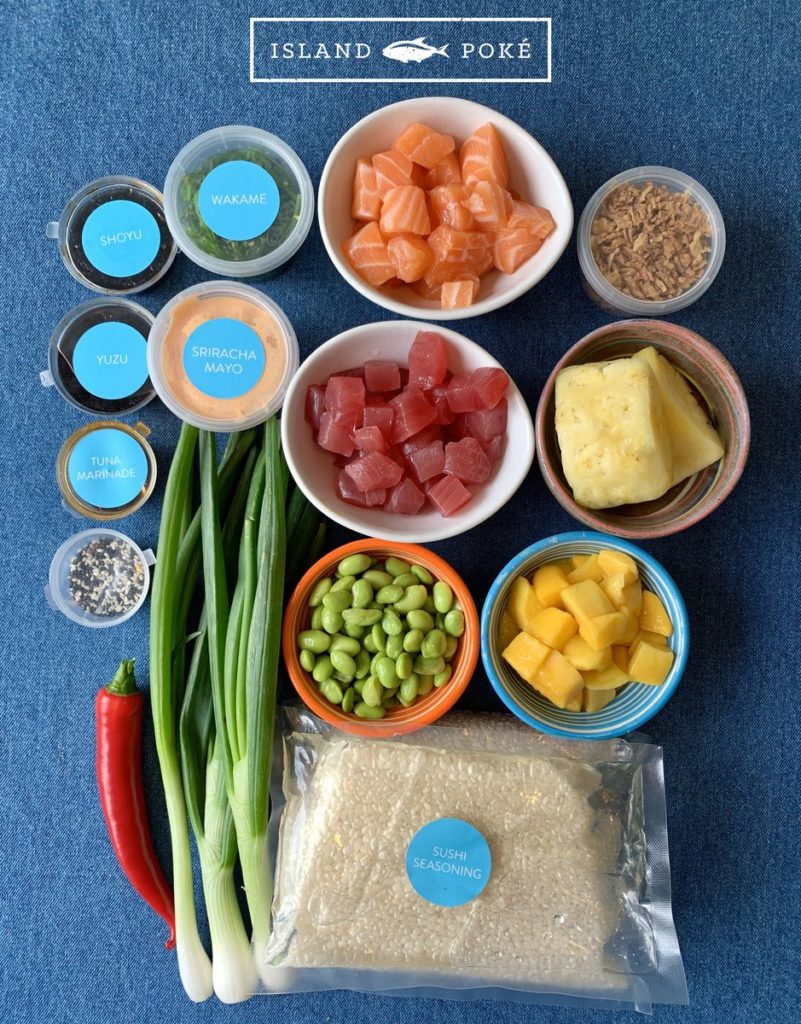 DIY Island Poké Kit
Build your own Insta-worthy poké bowl from home with Island Poké's DIY Kit's! Fully dummy-proof, these easy to use kits contain all the fundamental of a poké bowl, as well as all the delish Asian toppings that you're unlikely to find in supermarkets, including shoyu, yuzu and wakame. Both packed with fresh fruit and veggies, choose from the original Island Poké's DIY kit containing ahi tuna and yuzi lomi salmon or the vegan Island Poké DIY kit, featuring teriyaki marinated smoked tofu. Bringing a little piece of Hawaii to lockdown, these DIY kits give you the chance to get creative in the kitchen… plus who doesn't love a poké bowl?!
words by Isabelle Shury
---
READ MORE
---