Once a sleepy seaside town, Margate has undergone somewhat of a metamorphosis, emerging as the cool-cultured destination of Kent. The gentrified hub has been spruced up with art galleries, vintage shops, independent cafes, oyster bars and craft beer microbreweries. Attracting a hip crowd, not dissimilar to the folks you tend to find frequenting East London, Margate has a stream of new trendy restaurants and hotels opening with gleaming vistas over the sandy beach. Boutique hotel, No.42 by GuestHouse, slots in swimmingly with Margate's renaissance. Idyllic for a mini-break exploring the character-filled town, No.42 encompasses a restaurant, cafe, rooftop bar, treatment rooms and bedrooms spread across a beautifully revamped Victorian townhouse.
Perched in front of Margate's sprawling bay, No.42 is the hotelier group's third location. Coveting their coherent contemporary design, Guesthouse's signature touches carry themself to their newest outpost…a pantry to raid for midnight snacking along with record players in all 21 bedrooms. Rightfully so, the heritage details of the Victorian manor have been preserved, with modern embellishments to bring it up to speed with Guesthouse's noteworthy interiors. Beach-chic meets French-bistro vibes as you're greeted at the check-in desk and handed over your paperweight gold key, embossed with the trademark 'G'. The outlook of the North Sea will catch your eye, whether it is glistening with the sun beaming down or pelting with rain, it's captivating nonetheless.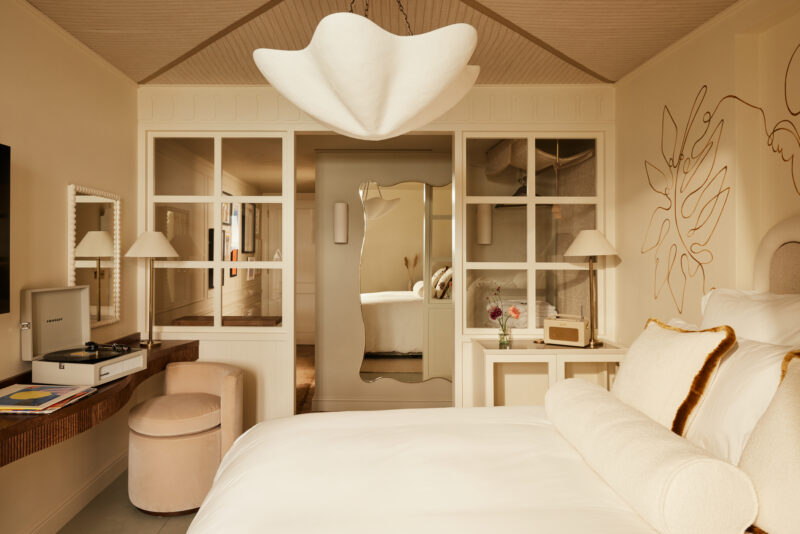 Twirling out of the stairwell each floor unravels a set of ice-cream-licked doors, like a scene out of Charlie & The Chocolate Factory. The bedrooms star a grand queen-sized bed with a plush upholstered curved headboard, backdropped by a freehand mural illustrated by local artist, Laura Ann Coates, the pièce de résistance. The warm neutral palette blends well with the brass finishings, hessian fabrics and oaky furnishings for an overall Pinterest-worthy space.
Beneath the hotel sits, Field Trip, the retro seaside cafe with a countertop full of nourishing salads, sarnies and freshly baked goods. After a breezy stroll, Field Trip is perfect for a spot of lunch or a pot of tea and cake. The pick-n-mix salad bar is our top pick, from wild black rice, bulgar wheat, roasted sweet potato and goat's cheese with your choice of grilled tiger prawns, salmon, beef or falafel.
An unassuming doorway at the back of the cafe leads into a secret lair of treatment rooms. Bespoke therapies at the helm of healing hands take place in the vault-esque nooks, dressed with bouquets of wild-dried blooms. The rituals are an anecdote of relaxation and renewal, top-to-toe pampering in the forms of massages, scrubs and facials. Curated with the intention to make you feel connected, the Copper Cove treatment for two is the dreamiest romantic experience. The treatment starts with a soak in an inviting copper tub filled with magnesium salts, sipping on a glass of English fizz or non-alcoholic bubbles. Once you've made you're way onto the treatment beds, the therapists will join you for a heavenly back, neck, and shoulder massage soundtracked by lulling melodies. Finish with your choice of a foot massage or a facial, topped off with a scalp massage to release any tension.
Pearly Cow, Guesthouse's 'land meets sea' restaurant, celebrates British flavours while embracing the art of culinary craftsmanship. Sourcing freshly caught seafood, highest-welfare meat and organic plants, this menu is beaming with dishes you'll want to try from yellowfin tuna crudo to Hen of the Woods spelt risotto and a Kentish lamb rack scattered with broad beans and heritage tomato. Prepared in an open robata grill kitchen, the meat and fish aren't overly tampered with to let the produce do the talking, and the result is sublime. Don't miss up the opportunity to try the decadent Seafood Platter, it's quite the spectacle, brimming with oysters, prawns, Cornish crab, cockles and mussels.
Greeted by the fresh sea breeze, this boutique hotel is idyllic for a mini-break in the seaside town of Margate. Embodying a home-from-home ambience, Guesthouse hotels are growing in numbers, with an outpost in Brighton set to open in 2024. As for now, head down to Margate and rest your head at this gem of a hotel.