SWEAT IT OUT Fitness Retreat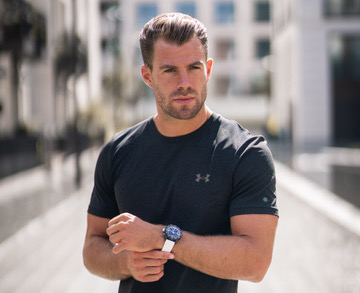 Prepare to embark on a transcendent fitness and wellness sojourn as W Maldives proudly presents SWEAT IT OUT fitness retreat, an awe-inspiring week-long fitness extravaganza set to ignite senses from 21 to 26 August 2023. This captivating event will unite fitness aficionados from across the globe for an extraordinary experience amidst the ethereal surrounding of the luxury playground.
SWEAT IT OUT is inspired by one of W Hotels' Pasion Points—BODY— and transcends the ordinary weaving an enchanting tapestry of heart-pumping workouts and body-transforming classes guided by the industry's crème de la crème. Spearheading the charge is the internationally acclaimed fitness professional, Bradley Simmonds, who will mesmerize participants with his unparalleled expertise and his mission to highlight the gym's core values—simple, unpretentious, and above all invigorating. The event will also offer pulse-quickening classes by the vanguard of electrifying exercise regimens, Jumping Fitness,  that will ignite your spirit.
Bradley Simmonds is a young and ambitious fitness professional on a mission to inspire, motivate, and empower individuals to embrace a healthy lifestyle through regular exercise and a nourishing diet.  Renowned for his remarkable work with celebrity clients, Bradley will use his no-nonsense approach, aptly named "Get It Done," that propels participants of all ages and sizes to achieve long-term, sustainable results and ignite a sense of triumph and fulfilment at the end of every workout.
Jumping Fitness is the brainchild of Jana and Tomas, two young and innovative fitness enthusiasts who have broken into the industry with their unique and trademarked Jumping programs incorporating the use of their own design of hexagonal trampolines. Since its conception in 2001, Jumping Fitness is now available in 54 countries and has produced over 1,100 trainers from across the world while gaining international recognition as it has successfully brought joy and fun into otherwise rigorous workout regimens.
"We are absolutely thrilled to join forces with Bradley Simmonds and Jumping Fitness for the first-ever SWEAT IT OUT fitness retreat, an unparalleled fitness sojourn set against the backdrop of paradise," said  Idu Ribeiro, the General Manager of W Maldives. He added, "Our curated program encompasses a  multitude of interests and abilities, assuring participants a transformative experience that will rejuvenate  mind, body, and soul, leaving indelible memories in their wake."