Alma Festival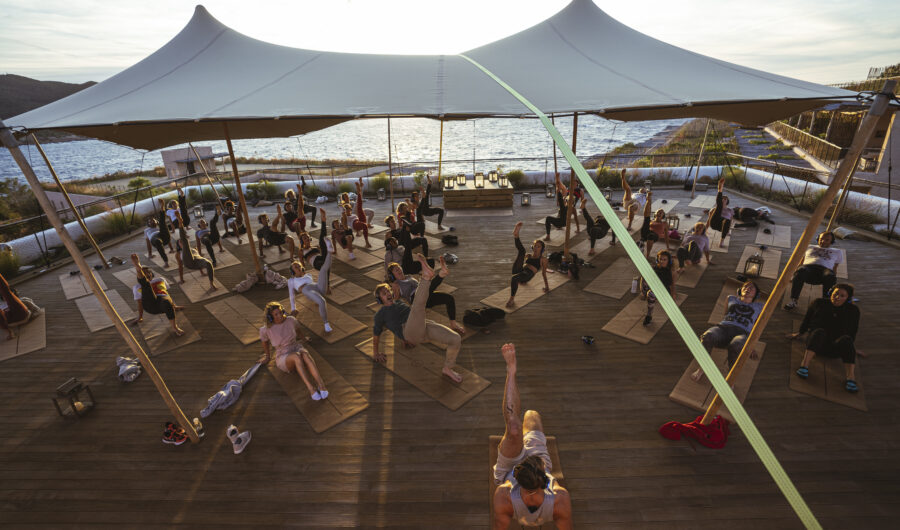 Six Senses Ibiza's eagerly awaited Alma Festival makes its return from November 2nd to 5th, 2023, for its second edition in the island's northern Xarraca Bay. Once again, the resort undergoes a captivating transformation, becoming "Alma" – the embodiment of soul in Spanish – a festival to inspire transformation through connection, celebration, and spirituality. Alma is bringing together a mix of thought leaders, thinkers, and spiritualists, to heal, to lead and to co-create in one of the most beautiful locations in the Mediterranean.
In its second manifestation, Alma Festival embraces the theme "In pursuit of unity and human connection". From the physically transformative sessions with Taryn Toomey's The Class to the mental health explorations of popular psychologist Dr. Julie Smith and thought-provoking narratives woven by spiritual teacher Krista Williams – Alma Festival gathers global experts whose exceptional expertise enhances discussions on spirituality, longevity, and personal growth.
Festival Highlights
This year's headliners include international wellbeing visionaries such as Roxie Nafousi, Dr. Julie Smith, Jasmine Hemsley, Light Watkins, Camilla Al Fayed, Taryn Toomey, Krista Williams, Jimmy Nelson, Rosey Chan, Bryony Deery and Richard Rudd with more to be announced. Days will feature inspiring workshops, transformative healing, sunset ceremonies, and community dinners, led by a handpicked tribe of international practitioners and some of Ibiza's most powerful healers, and artisans from the fields of wellness, music, and spirituality. Together they will bring unforgettable experiences rooted in the island's unique culture.
Guests can also look forward to transformative workouts with The Class founder Taryn Toomey and sessions with renowned Pilates trainer Bryony Deery. From surprise art performances to sound healing sessions, breathwork to tantra workshops, and dancing the night away with international DJs, Alma celebrates a global community of dreamers and beyond.
"This is the magic – the coming together of visionaries, thinkers, in one beautiful space to heal, to lead and to co-create. The beauty of Alma is that you will be physically immersed in these healing modalities. This year's festival draws inspiration from current times, embracing the concept of uniting individuals on a shared journey towards harmony in the pursuit of personal growth."
~ Talana Bestall, creative visionary Alma Festival
Cool Season at Six Senses Ibiza
Alma Festival stands as the focal point of the "Cool Season" at Six Senses Ibiza, heralding the onset of this distinctive time. As one of the few Balearic resorts open during the winter months, the resort invites guests to enjoy the sunny spring-like winter in the Balearics, offering an extensive line up of immersive retreats, experiences, and entertainment. Yoga, meditation, fitness, sound healing, breathwork, cacao ceremonies, and more – drawing from Ibiza's abundant talent of healers and practitioners, Six Senses Ibiza offers a rich programme of activities throughout the whole year. From September onwards, a hand-picked curation of visiting practitioners and healers will take up residence at the resort for guests to benefit from their unique services.