Every pregnancy and conception journey is different however, there are a few things that you could be doing to help increase your chances of conceiving and optimise your fertility. Taking a really good quality supplement is recommended by nearly all doctors when you start your pregnancy journey – even before you've conceived. But when it comes to the supplement market it is key to understand that not all supplements are created equally – things such as additives and fillers can find their way into supplements, making it so important to find a brand that says no to these nasties. This is where Proceive comes in – they really are the superior supplement on the market for those looking to conceive. With each product extensively researched using the latest scientific evidence, Proceive offers the most functional, comprehensive and evidence-based nutritional supplements for men and women tailored for each stage of conception, pregnancy and even breastfeeding.
No matter what stage of life you are at, it's important to understand the facts about your fertility. Contrary to what we've all been led to believe it actually takes 12 months to make a baby! Sperm is renewed every three months and an egg cell also takes approximately three months to mature. In those three months, the quality of these cells can be hugely affected by external factors. The growing demands of a modern lifestyle are having a significant impact on our nutritional health. Stress, anxiety, lack of sleep, dieting and poor nutrition all impact our body's ability to absorb the nutrition needed to optimise reproductive health. So it pays to start paying attention to what you are consuming and doing in the few months before you start trying to conceive, trying to reduce stress as much as possible and eating the best you can. However, there are some things that we just can't control though – busy jobs causing increased stress, or times in those three months when you can't fill your body with nutritious food but this is where Proceive can help. Designed to correct any nutritional deficiencies associated with the reproductive cycle, Proceive will ensure that the environment is right for you and your partner to create the best quality sperm and egg cells possible.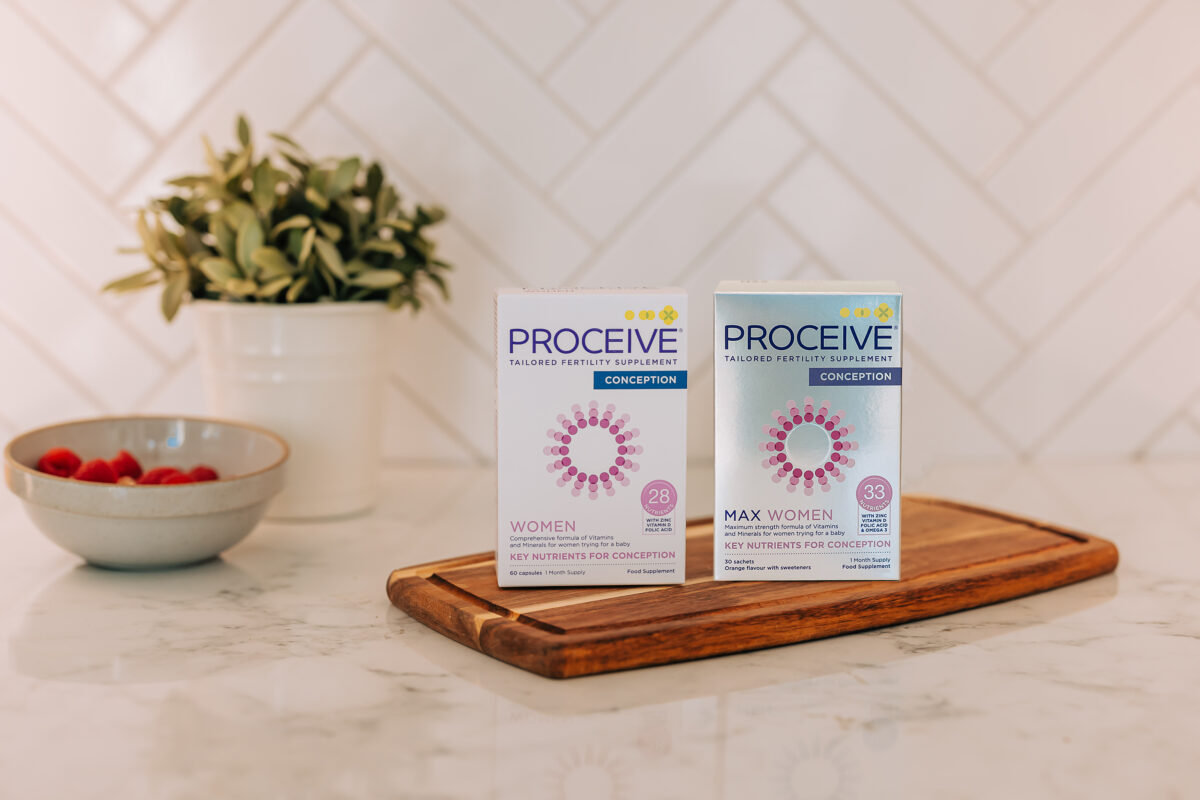 Superior Formulas
Proceive came into the market following a number of years of meticulous research by their team of medical and nutritional experts who reviewed the products using clinical data from a wide range of scientific studies on key nutrients that support the processes involved in both fertility and pregnancy. Both Proceive Conception and Proceive Pregnancy provide tailored nutrients at the appropriate levels for each stage of the conception and pregnancy journey. Each ingredient is delivered at the optimal strength in highly absorbable forms – which means you get the maximum benefit from your supplementation.
What's in Them?
All Proceive products contain the recommended 400mg of folic acid in the L-Methylfolate form for increased absorption, meaning that you do not need to worry about taking additional supplements at any stage in your journey. Minerals such as Calcium, Magnesium, Iron, Zinc, Copper (gluconate), Manganese, Selenium, Chromium, and Iodine all work together to create a synergy that supports the body with conception and fertility. In many cases women (and men) have mineral deficiencies without any symptoms, including women coming off the contraceptive pill, meaning that they never know or do anything about it – Proceive wanted to make sure that this wasn't the case for any of their customers which is why they contain such a comprehensive mix of essential minerals. Plus, Proceive also contains 13 essential vitamins that are vital for the production of energy in the body and therefore reproduction. Amino Acids, Omegas and CO-Q10 are also all in there to ensure the healthiest possible body and start for your conception journey.
And What's Not In Them…
Regarding supplements, it is true that what is in them is just as important as what is not. Proceive's award-winning formulations do not contain any fillers, binders or artificial colours or preservatives. They are also gluten-free and suitable for vegetarians (with the exception of their Omega 3 Fish Oil supplement). This dedication to only using pure science-backed ingredients is what keeps them ahead of the competition when it comes to achieving results and helping their customers to feel like their best selves!
What The Experts Say
DR PHIL BOYLE, NEO FERTILITY
"As a fertility specialist, I understand how important good quality nutrition is for couples trying to conceive. At Neo Fertility, our aim is to optimise the pre-conception environment and help couples achieve a successful pregnancy. I recommend a comprehensive fertility supplement like Proceive, with relevant dose levels of multivitamins and minerals when trying to conceive."
GAYE GODKIN, MPH NUTRITION (HONS) DIPNT CNLP
"As a nutritionist working in the area of fertility, I recognise the need to use a nutritional supplement to support conception. Formulations containing vital nutrients that are important to support a healthy conception are available now. I highly recommend Proceive to any man or woman who is considering having a baby to take a good fertility supplement."
The Proceive range is available from Boots and Holland & Barrett stores and online. Visit Proceive.com for more information.