Designed for work, play and everything in between, Birch Hotel is a co-working space, members' club, hotel, restaurant and eternal festival, all rolled into one. From mindfulness classes, beautiful interiors, top-notch food and the luxury of the great outdoors, Birch is paving the way for the new hotel era. Once home to flamboyant socialite, Lady Meux, the Georgian Estate is in a prime location for escaping the city, just half an hour north of London. Covering acres of unspoilt countryside which feels worlds away from the capital, Birch has already become a hotspot for creative urbanites looking to retreat from the city. Opening months late due to COVID, Birch has managed to immediately secure their own unique buzz that is very prominent throughout, within just weeks of launching. Idyllic, laidback and mindful are just three words that spring to mind upon arrival at Birch. With farm animals, children, dogs and a trendy crowd scattered around the grounds you instantly feel a sense of the carefree ambience that Birch embodies.
The Look…
Ceramic trinkets and dried wildflowers line the walls of the building, with little nods to the original architecture of the property. Following a classic style with a sprinkle of modernity, the design of Birch makes an everlasting impression, nailing what we would refer to as 'understated chic'. Get lost exploring the many rooms, as the hotel adopts a Narnia-Esq setting, from the retro games room, cinema room filled with desk chairs, pottery studio, library and lots of little secret nooks to uncover. Staying true to its heritage, Birch has left a handful of interior features untouched, and based some of the new features on the traditional designs. An ode to the previous owner, Lady Meux, Birch has dedicated elements of her originality to the foundations of the space, adopting her wild party-spirit and creative flare. Appointing design collective, Red Deer to challenge wastefulness and uniformity, the outcome is a Scandi-simplistic aesthetic with English heritage oozing through the cracks. Stripping back clutter and unnecessary furniture, the bedrooms remove the pressures of daily life. No corporate desks or TV's, just comfortable, well-crafted rooms full of locally made artwork.
The Staff…
The brainchild of Chris Penn, former Ace Hotel managing director and Chris King, serial entrepreneur, Birch was created with the intention of getting the most out of life. Birch's placemakers are on hand to ensure you have everything you need during your visit. With some of the friendliest staff we've encountered, it's easy to see how the space has managed to capture the hearts of some many in such a short period of time. Passionate about Birch and their role within it, each member of staff we interacted with during our stay were eager to chat, helping to create a sense of community throughout. Take resident pastry chef, Sahil for example, welcoming guests to come in and check out his bakery, giving them a little background on what is undertaken each day. If you are lucky you'll catch him masterminding the most insanely delicious almond chocolate croissants!
Eat…
Housing two restaurants, three bars and The Store, Birch has endless dining options. Looking for a relaxed quick bite to eat? The Store offers speciality coffee and tea, sandwiches, salads, and pastries throughout the day. Valerie's is the casual restaurant positioned at the front of the house, serving up grilled meat and fish plus pasta and salads packed with flavour, this is the place to dine for a laid-back meal. Run by top chef, Robin Gill, The Zebra Riding Club is a unique dining experience led by nature and sustainability. Inspired by Lady Meux's eccentric fixation on travelling to London via Zebra drawn carriage, this is where 'The Zebra Riding Club' got its name. Adopting a farm-to-table approach, the set-tasting menu showcases the produce grown on-site, cooked in an open kitchen that had us in awe. Available with pescatarian and vegan options, the menu is based on what's in season at the time from the farm and a little further afield. With the likes of heritage grains and Kentish corn with a fresh egg from their own rescued hens and wild harbour pollock with fresh cocoa beans on the menu, The Zebra Riding Club is not to be missed.
Do…
Honing in on mindful activities that we have drifted astray from in this digital age, Birch has an abundance of workshops on offer to rekindle your creative spark. Experiment with terrarium workshops, candle making, glassblowing, spoon carving, pottery lessons, watercolour painting, bird box making and more. Arts and crafts not your forte? Why not try out a soda bread masterclass, tag along on one of the guided walks, strum on a guitar in the music room, book onto a CBD tea ceremony or veg out on a bean bag in the cinema room which screens six films a day. Aside from the endless quirky activities on offer, Birch is surrounded by 55 acres of lush greenery which you are free to roam around. Plot up on one of the hammocks or desk chair scattered amongst the lawn for a lazy afternoon of relaxation. With no shortage of things to keep you busy, you can fill your stay with as much or as little as you please!
The Hub…
As offices remain shut, co-working spaces have stolen the limelight, with many people finding they prefer this new way of working. Soundtracked by residents' creative chitter-chatter, The Hub is Birch's spacious co-working space by day and party joint by night. Members' can use The Hub at any time during the day to open up their laptop and crack on with their work. There are also a number of meeting rooms for a bit more privacy if that's what you're after. Dogs are also welcome here so you don't need to leave your furry friend at home alone all day.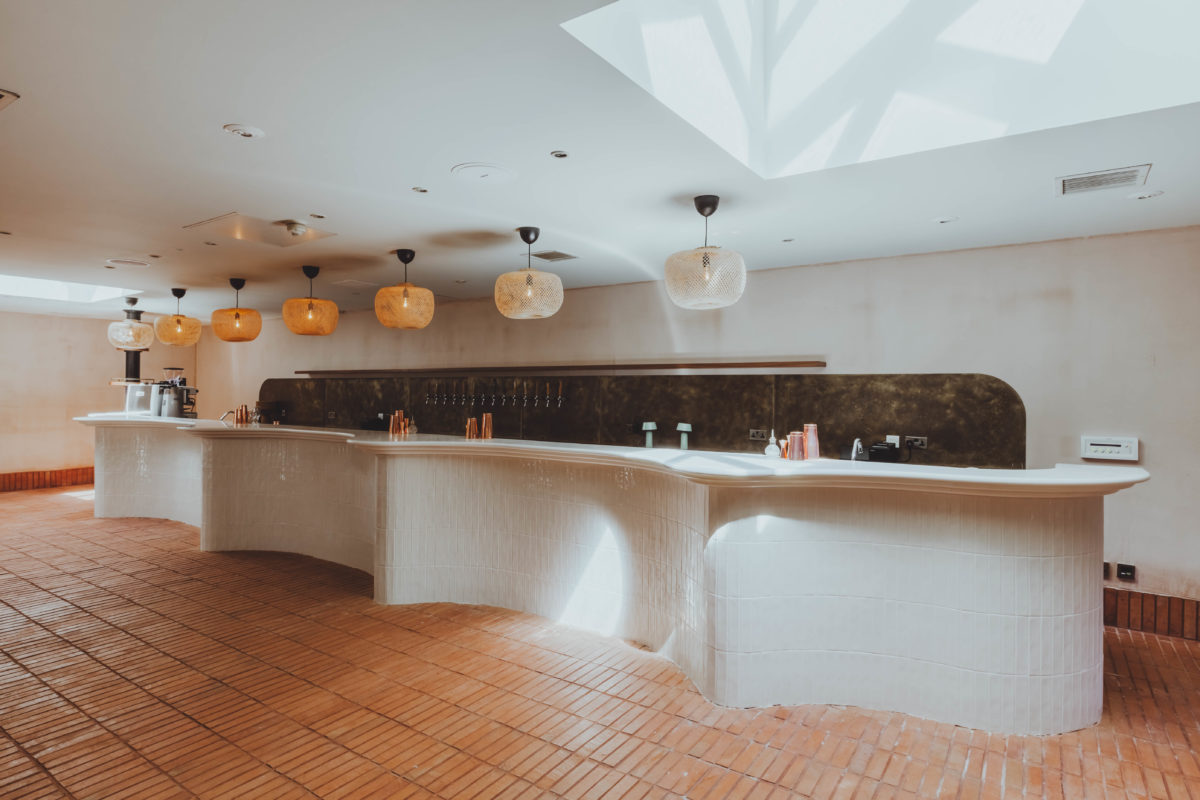 The Wellness Space…
Birch's Wellness Space includes a juice bar and a state of the art gym along with a timetable jam-packed with classes. Following Birch's signature design concept, they've even managed to master a cool-looking gym which contains all the latest equipment from curved treadmills, assault bikes, dumbbells and every machine you could wish for. If classes are more your thing, Birch has a weekly schedule with around 30 classes per week, on par with most gyms which makes the membership really worthwhile. From ride classes in their sleek spin studio to weight-based workouts, yoga, restorative mindfulness, sweaty HIIT classes, bootcamps and more, the Wellness Space is Birch's very own onsite boutique fitness studio.
The Farm…
Farmer Tom Morphew, runs the upkeep of Birch's on-site farm. Home to saddleback pigs, sheep, chickens and an array of crops, Birch plans to grow and expand their farm to eventually run a fully sustainable kitchen without outsourcing as much as possible. We have to mention that Birch's chickens are rescued hens which Farmer Tom and his team have nursed back to health. Coming from such poor conditions each hen was given a little jumper until their feathers regrew, which we thought was one the sweetest things ever!
It's A Family Affair…
Birch welcomes children and dogs with open arms so nobody needs to be left behind. There is even a Young Adventures Club which reconnects kids with nature, making tree swings, mud pies or cooking over an open fire, no iPads or Nintendo Switch's insight!
What's Coming Next…
Due to the hiccup that is 2020, Birch has had to postpone a few features including the 25-metre lido furnished with a poolside BBQ and a bar, channelling pure lazy summer lounging vibes, plus the Parlour which will offer a range of holistic treatments and massages for guests to enjoy some R&R during their stay.
It's safe to say Birch is a concept we are totally on board with. Blending wellbeing, work-life balance, creativity, sustainable dining and good times, all under one very beautiful roof, Birch has captured what we are all seeking for in this fast-paced era of living.
Click here to learn more about Birch memberships or book your stay
words by Isabelle Shury