Swollen feet, headaches, achy legs, achy backs, achy – well – everything… just some of the things pregnant mamas have to contend with for a whole nine months. The solution? A good old pamper sesh. Nothing's better than putting your feet up and having someone tend to your aches and pains, especially when the techniques are tailored to the needs of expecting mums and every product used is good for you and your bump too.
Discover Hip & Healthy's top five bump-friendly pampering pregnancy treatments that cover all your beauty needs, from relaxing massages and rejuvenating facials to cool hair colour and everything in between.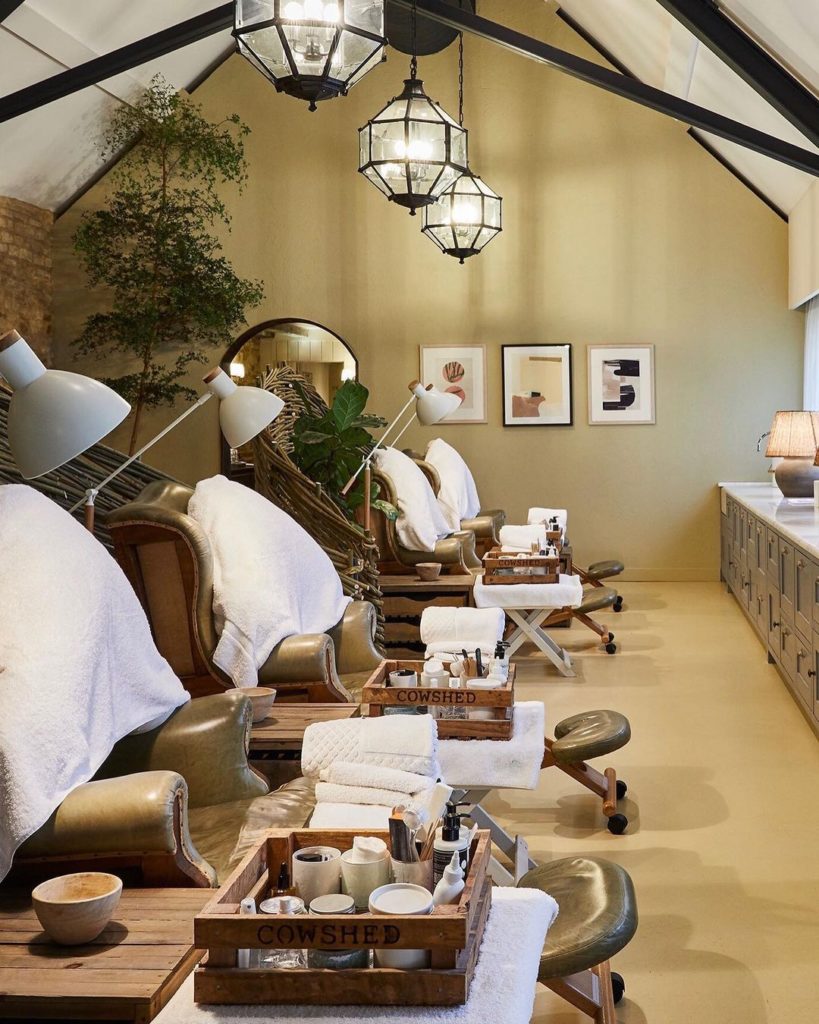 The Magical Mani/Pedi – Cowshed
If you've yet to try Cowshed's 'Mother' range, you're in for a treat. Specifically formulated to tend to the needs of expecting mums, there's everything from a stretch mark balm and hand and body wash to a cooling leg and foot treatment – packed full of witch hazel and green tea – to ease aches and pains. All boasting Cowshed's dreamy spa-like scent, of course. So, when combined with a mani/pedi treatment, what do you have? The 'Ultimate Manicure and Pedicure'. No really, that's what they're actually called, but we couldn't name them better ourselves.
Our favourite destination for all things hands and feet, Cowshed's 'Ultimate' nail treatments aren't only pregnancy-friendly, but they are – quite possibly – the most relaxing way to treat your talons possible. From the huge comfy chairs and big squidgy pillow you're given to rest your arms on, to the gorgeous, country-chic décor and dreamy spa-like smell, it's a far cry from the bright lights and loud noises of your usual high-street nail bars.
And this isn't just a case of a quick file, cut and polish, as your mitts and tootsies are treated to a proper pampering experience. First, they're soaked in warm, bubbly water, before nails are tidied, cuticles are cared for, and dry, hard skin on your feet is removed using a whizzy tool. Next up is a skin scrub before both hands and feet are coated in a hydrating mask, wrapped in heated towels, and the scalp and neck massage of dreams takes place. Plus, all polishes are free from harsh chemicals and ingredients, are safe to use during pregnancy, and are 100% vegetarian. The only problem? You might not be able to see your toes to admire their transformation, but trust us when we say this won't just transform your nails, but your mood too.
The Do-it-All – Linnaean
From the moment you walk through Linnaean's doors, you'll instantly feel your worries melt away. The ultimate one-stop-shop to all things health and wellbeing, there's every possible pampering experience on offer, from nails and hair to massages, facials, and holistic therapies. Not to mention the plant-based eatery, where mouth-watering smells of gluten-free matcha pancakes with vegan cream and healthy, homemade kimchi and noodle bowls waft through the flower filled space.
But we digress, because we're not here for the food (well, not entirely), but instead for the ultimate do-it-all pregnancy treatments they offer. Tucked away upstairs, you'll find your dedicated treatment room, gorgeously decorated with nature-inspired wallpaper and soothing green, white and pink tones. This is where the magic happens, and Linnaean's expert team of therapists use their powers to transform your body from top to toe. Starting with their signature pregnancy massage. Every little thing has been carefully thought out – from the 
smell and temperature of the room to the music that changes to complement the treatment as it progresses. Things kick off with a soothing foot massage to relieve swelling and promote lymphatic drainage before it's on to a full-body massage that incorporates stretching, pressure points, and special techniques to boost circulation, ease back and muscle pain, and – of course – promote serious relaxation.
Next up, it's time to enhance that pregnancy glow (or help you look like you've had a good night's sleep…) with Linnaean's maternity facial. Using the highest quality products from the likes of Susanne Kaufmann and Dr. Barbara Sturm, they're completely free from chemicals or harsh ingredients that can harm both mama and bump. Each treatment is totally bespoke and can include everything from skin calming and clearing LED light, hydration boosting oxygen technology, relaxing facial massage, gentle brightening plant-based peels, and – of course – a good old cleanse, exfoliation, and mask. Safe to say you'll be left totally horizontal after two blissful hours, but the good news is, you only have to make it down a few stairs to enjoy an oat-milk hot chocolate and slice of vegan cake. #bliss.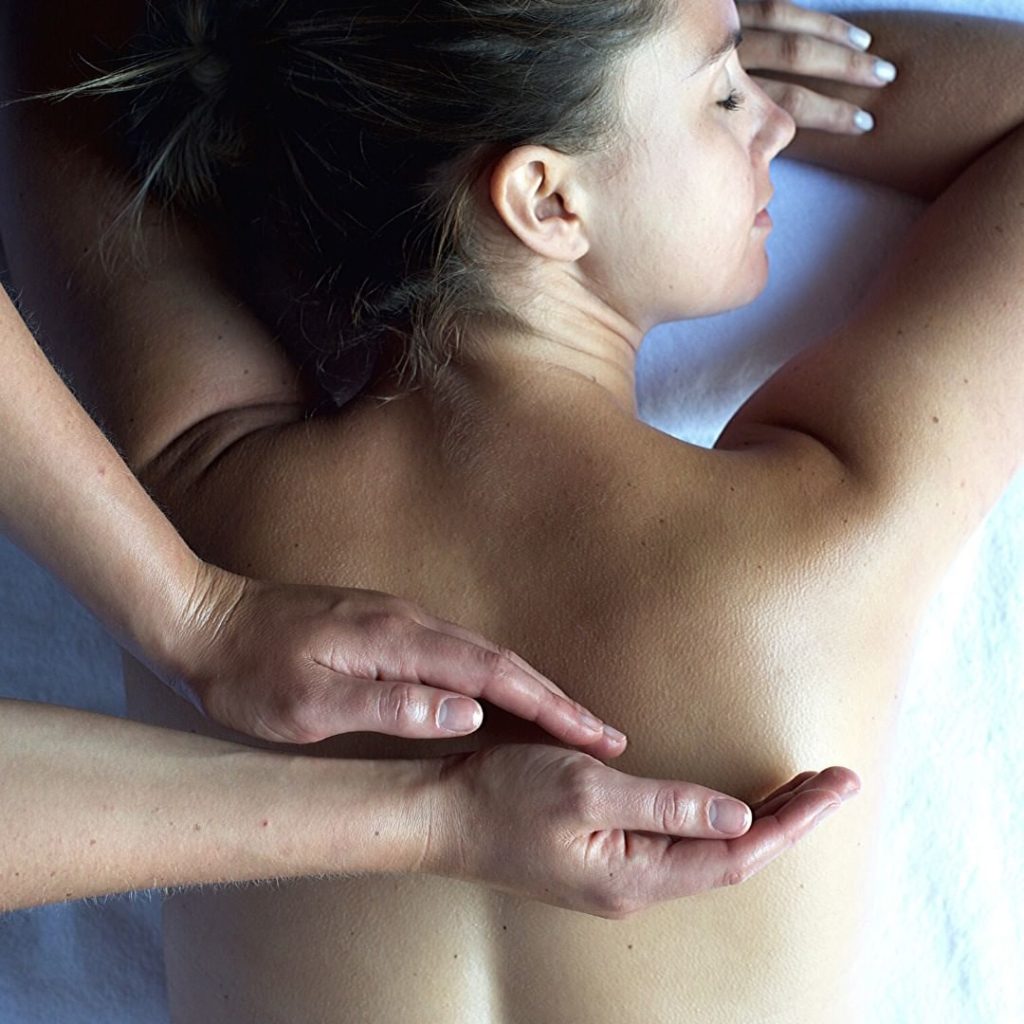 The At-Home Experience – London Serenity
What's better than treating yourself to a massage? Booking one that brings the spa to your home, of course! Yes, that's right – you can have a top-notch professional maternity massage without having to get dressed and set foot out of the door, all thanks to London Serenity. Available seven days a week, from 8am until midnight, they'll come and tend to weary limbs and aching muscles whenever you need them most. Perfect for when you can't face walking (or waddling) and lugging your bump around town in order to get pampered.
Arriving on your doorstep armed with natural oils and lotions and a soothing, spa-like playlist, they'll set up your bedroom and transform it into the ultimate zen den before inviting you in to relax and unwind. There's also no hard or uncomfortable massage bed here, because you get to lie on your own soft, squidgy bed. Which you'll be climbing straight into afterwards you'll be so calm and comfortable, trust us.
Once you're lying on your side hugging your pillow for support and comfort, your dedicated therapist kneads and works your entire body, focusing on areas that particularly suffer most during pregnancy (legs, lower back, and feet) with techniques that increase blood flow and stimulate lymphatic drainage. To finish, you're treated to a touch of reflexology to ease tired tootsies and to trigger pressure points around the body for complete rejuvenation. The best part? You don't have to get dressed and shlep it home afterwards. Actual heaven at home.
The Fancy Facial – Lisa Franklin
For the ultimate fancy facial, it doesn't get much better than Lisa Franklin's. Tucked away in Knightsbridge, the recently opened chic and swanky clinic oozes sophistication, with its elegant grey, cream and dusky pink colour palette, sumptuous sofas, luxury candles, and black and white wall art. It's impossible to believe you're in the middle of London's hustle and bustle, as once inside, this peaceful pampering sanctuary feels like a million miles away from real life. Even better? You'll step out looking totally transformed and refreshed.
Using nourishing ingredients and clinically proven natural actives bursting with antioxidants (and no harsh chemicals), all of Lisa Franklin's luxury skincare products focus on skin health and work with the skin to support DNA repair within cells, delivering both immediate and long-term results. There is a reason why countless celebrities, it-girls, and socialites have her on speed-dial, after all. But you don't need to be a celeb to be made to feel like one, because the treatments on offer cater to everyone and anyone who wants to freshen up their face – pregnant mamas included.
The 'Signature Facial' is totally tailored to your skin's needs and is all about a good old deep-down cleanse and steam session to open up pores and clear any congestion – be it from pregnancy hormones or from indulging in one too many Percy Pigs (you're preggers, it's totally allowed). After a gentle extraction to remove all those pore-clogging impurities, skin is treated to a gentle exfoliation before a nourishing mask is applied. It's at about this moment that you might drift off, especially because the heavenly heated bed is like being in a calming cocoon. The 60-minutes comes to an end with lymphatic facial massage using cooling and soothing rose quartz, which works wonders at depuffing and brightening the complexion to ensure you leave looking like one of the (many) superstars who make this top treatment their facial fix.
The Hair Care – Karine Jackson
A good hair day makes everyone feel better, especially when you don't have the energy to tackle your tresses yourself or if your bump gets in the way (it's a thing). But finding salons that cater to ethically minded mamas and that use organic, plant-based colour is no easy feat. Unless you book in at Karine Jackson, of course. An expert in pregnancy colour and former London Hairdresser of The Year, this Covent Garden gem is all about providing a sustainable experience. Not only is the salon single-use plastic free, but it harnesses the power of nature to transform tresses and create beautiful, bespoke colour.
"By using natural ingredients in colours, it minimises exposure to potentially harmful toxins that can be present in a salon environment. As the colour doesn't contain ammonia (and contains the lowest level of ppds possible – the ingredient that makes colour permanent but also causes most reactions) it's less likely to irritate someone with a skin disorder or a pregnant client. It also means you don't get that harsh smell associated with colours which can really set a pregnant lady off! It all smells fresh and natural", Jackson explains. "Another strategy during pregnancy is to adapt the technique you have – highlights or a lived-in balayage mean colour doesn't touch the scalp during application so you're absorbing fewer chemicals. Balayage is ideal for mums because as well as being on trend, it grows out beautifully leaving no stark regrowth, perfect for after you've given birth and don't have the time to come into the salon for a root retouch every few weeks."
Whether you opt for beachy balayage, a head of heavenly highlights, or you're just after a trim while you still have the chance, rest assured that the Karine Jackson team will manage your mane with the most expert of hands, ensuring your cut and colour are done just so to last you even longer between appointments. Perfect if you're literally about to pop!
words by Frankie Rozwadowska
---
Bump Beauty – The Ultimate Pregnancy Beauty Guide for Expecting Mums