Navigating pregnancy, especially as a new mum, is no easy feat. Not only have you got the extreme exhaustion, weird food cravings, and nausea to contend with – but there's also a lot you need change and cut out of your lifestyle to ensure you and your bump are happy and healthy. We don't just mean all the usual suspects (bye-bye cured meats, soft cheese, sushi, and – gulp – almond-milk lattes), we're talking beauty products. Here, Hip & Healthy reveals what to expect from your body and beauty routine when you're expecting. From what to avoid to the perfect pregnancy pampering picks, read on for our ultimate pregnancy beauty guide.
Acids & Retinols
"If you are pregnant or plan to become pregnant, always consult your GP or dermatologist for advice before trying new skincare ingredients. I advise that you avoid systemic retinoids, retinol, salicylic acid, and glycolic acid", recommends Raj Sandhan, Expert Advisor at Mustela, skincare brand for babies and mums.
Yes, retinol is the big buzzword in beauty, and acids can be found in all your glow tonics and brightening creams, but – for a good nine months – you'll need to move them to the back of your bathroom cabinet. Retinol and Vitamin-A based products speed up cell turnover, making skin much more prone to pigmentation and sun damage, which nobody wants – especially during pregnancy. Some studies have also shown retinol-based products to cause birth defects, which is why they should be totally avoided.
When it comes to acids, they're not all bad. Instead of salicylic and glycolic, opt for citric and lactic acids if you're after a nice, gentle exfoliation that won't do you or your bump any harm.
Essential Oils
Although natural, there are a number of essential oils that should be used with caution or avoided completely during pregnancy. Essential oils are highly volatile and concentrated chemical compounds that can have a significant effect on the body, which is why many health professionals advise you to steer clear, especially during your first trimester.
"There is quite a long list of oils to be avoided during pregnancy and breastfeeding though the main two that are commonly available are sage and basil", advises Susan Curtis, Natural Health Director for Neal's Yard Remedies. "The good news is that there are also plenty of oils that are considered safe and can be useful to promote well-being during pregnancy and for making massage oils and balms to help prevent stretch marks. Some of the most popular oils to use during pregnancy are mandarin, lavender, frankincense, juniper, neroli, Roman chamomile and rose absolute."
Other essential oils to avoid include fennel, cinnamon, mugwort, clove, and rosemary. If in doubt, always check with your doctor, or check with your favourite brands as to whether their particular blend is safe for your bump.
Stretch Mark Stress
Affecting 8 out of 10 women during their pregnancy, stretch marks are a common part of expecting. The good news is there are ways you can minimise their appearance and help them fade faster. "Stretch marks are due to deep tears in the dermis (middle layer of skin). They happen when your skin becomes overstretched caused by a growth spurt or rapid weight gain, such as during pregnancy. They can occur anywhere on the body but are most commonly found on the tummy, thighs, breasts and bum", says Douglas McGeorge MBE, co-founder of Science of Skin. "The best way of treating them is to keep the skin as pliable as possible. Look for products packed with nourishing ingredients that improve hydration and elasticity and keep skin soft and supple."
"Once stretch marks appear, they are difficult to remove completely. Therefore, prevention is essential to ensure they do not appear", agrees Sandhan. "How effective the prevention depends on how early you treat your skin, how regularly they appear and how long they last. It is recommended to use an anti-stretch mark product daily as soon as you become pregnant and up until one month after the birth."
Tips to Boost Your Bump-Friendly Beauty Routine
"During pregnancy, the influx of female hormones in the blood changes the equilibrium of your skin. Thyroid hormones stimulate sweat secretion, which can lead to water loss, while adrenal hormones weaken the skin's resistance. In this more delicate state, your skin can easily become dehydrated. At the same time, the volume of blood in your system increases and blood circulation and microcirculation in the skin slows, making your skin more easily irritated", explains Sandhan. "Weakened and dry skin can become uncomfortable, at times rough, causing tightness and itchiness. To prevent these annoyances, it is essential that you treat your skin with the most appropriate products in order to nourish it, and that you moisturise and soothe it every day throughout your pregnancy. Getting into a few good habits can help keep your skin comfortable and prevent it from drying out".
Avoid very hot baths and showers. Instead, use lukewarm or even cool water (if the weather's not too cold) and do not stay in the bath or shower for too long.

Add a capful of nourishing oil into your bathwater.

Wash with a dermatological bar or a soap-free mild cleansing gel, specifically formulated for dry skin.

Avoid exfoliation treatments that can weaken your skin.

After you've washed, pat your body dry with your towel instead of using a wiping motion.

Apply a moisturising and nourishing product once or twice a day to your face and body.

For makeup removal, opt for nourishing formulas such as oils and cleansing milks.

Avoid sun exposure or use high SPF protection (minimum SPF 30).

Maintain an appropriate level of humidity in your home, particularly during winter months when radiators are running. You can achieve this by placing bowls of water on your radiators, or by using a humidifier.

If your skin continues to cause you discomfort, do not hesitate to see a dermatologist.
Bump-Friendly Buys
Discover Hip & Healthy's round-up of the best bump-friendly finds that will leave you feeling and looking your best throughout your pregnancy and post-partum, from stretch mark saviours to bust beautifiers and everything in between.
Burt's Bees
Burt's Bees' extensive mama and baby range is as impressive as it is gentle, caring and soothing, whilst being kind to your skin, bump and – of course – the environment. Inside each golden yellow bottle and tub are lots of rich, nourishing, deeply hydrating ingredients that keep skin soft and supple while treating you to some top-to-toe TLC. We love the Mama Bee Body Oil with Vitamin E, which makes for whole-body treatment so perfect, you'll be using it long after the nine months is up.
Neal's Yard Remedies
We're obsessed with all of Neal's Yard Remedies' mother and baby products, which is why the range was a winner in our first ever Hip & Healthy Beauty Awards! From the Mother's Bath Oil bursting with botanical extracts and uplifting scents to the Mother's Massage Oil rich in vitamin E to deeply nourish and relax, there's something all expecting mums can enjoy. Or, if you can't choose just one, treat yourself to the Mother Organic Collection – a pretty lilac box full of organic delights including both oils and the nourishing Mother's Balm.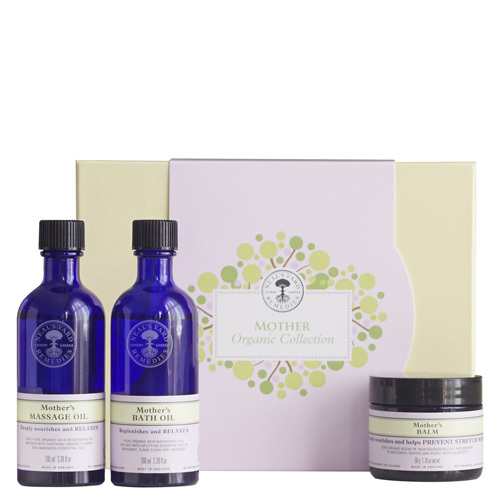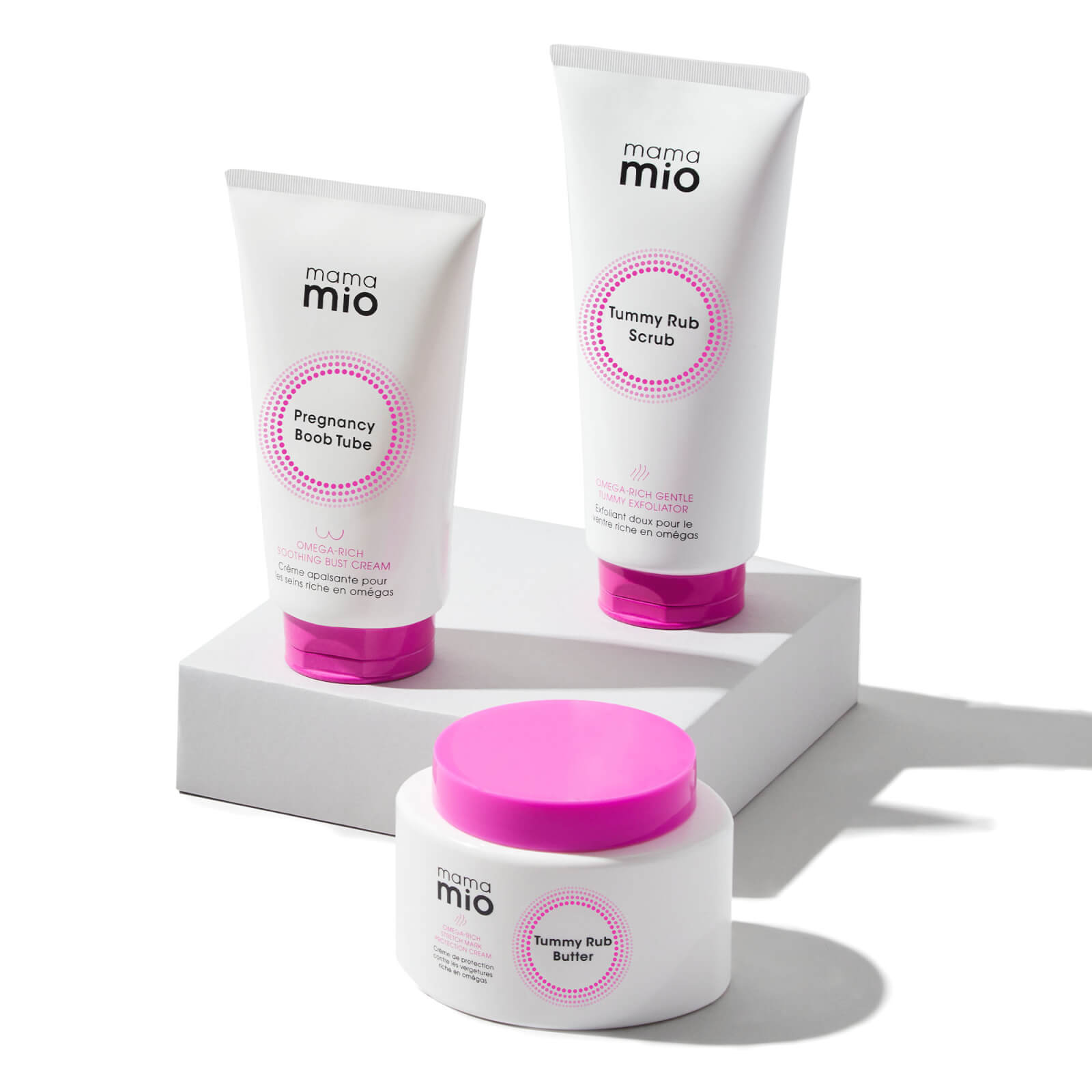 Mama Mio
Packed with plant-based actives and a unique Omega-Rich Skin Stretch Complex, Mama Mio's products are a must-have for all mums-to-be. From the bust-boosting Boob Tube Cream to help soothe sore breasts, to the cooling Lucky Legs gel to combat weary limbs, and their gentle Tummy Rub Scrub to keep your tummy soft and smooth, they've got all your bump-friendly beauty needs covered. Plus, the newly reformulated products are vegan-friendly, smell divine thanks to 100% natural fragrances, and come housed in chic sustainable packaging.
Science Of Skin
Founded by two medics who wanted to bring their expertise and knowledge of skin together with natural, vegan, cruelty-free formulas – Science of Skin proves that natural products can, and do, actually work. After developing a breakthrough treatment for scars, they grew their range to include the Solution for Stretch Marks, which – thanks to a powerful blend of active ingredients – relieves signs and symptoms of skin stretching throughout pregnancy.
Mustela
With eco-friendly high tolerance formulas containing 95% natural origin ingredients, Mustela makes pregnancy beauty a breeze with their hypoallergenic products. Their particular forte is stretch marks, and they boast not one, not two, but three stretch mark-soothing products that load skin with goodness. If you thought serums were reserved solely for your face, think again – because Mustela's Stretch Mark Serum is a concentrated blend of active ingredients, including passion fruit, avocado oil and hyaluronic acid, that works during pregnancy and post-partum to reinforce skin elasticity.
Cowshed
Cowshed's Mother & Baby Range is guaranteed to leave you feeling relaxed and pampered throughout your pregnancy. Start off with a blissful soak or invigorating shower with the florally scented Mother Bath & Shower Gel, before putting your feet up and treating them to the Mother Leg & Foot Treatment. Before bed, be sure to spritz your pillow with the Baby Pillow Mist, which will help you (and your little one when they arrive) drift off to the land of nod thanks to a calming blend of mandarin, neroli, chamomile and bitter orange flower.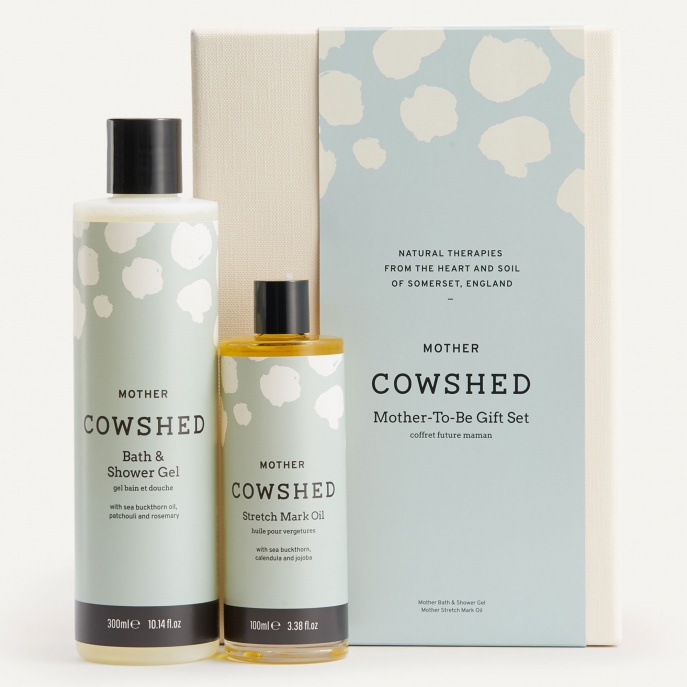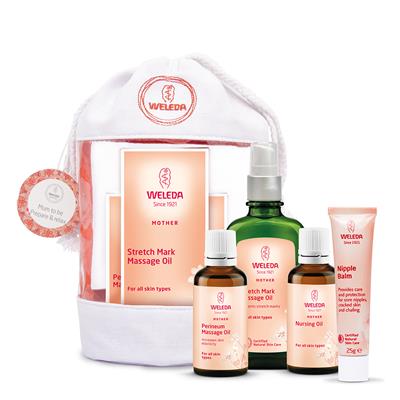 Weleda
Not only are Weleda's mum-to-be products made from nourishing plant-based oils, but they're also developed by experienced midwives and pharmacists who understand the needs of mums and bumps. Using only the gentlest and safest of essential oils, such as lavender, orange and ylang-ylang, each blend has been specifically formulated to nourish and nurture. Whether you want to while away your evening in a tub of relaxing bath milk, need to give some love back to sore, cracked nipples, or want to feel soft and smooth while preventing stretch marks, Weleda's Mum-to-be Relax & Repair Collection has you covered.
words by Frankie Rozwadowska