We couldn't think of a better person to whip our bodies into shape than the lovely (but tough) Hollie Grant, owner of the award winning PilatesPT studios on the New Kings Road. Loved by the likes of Ella Woodward (Deliciously Ella for those that don't know) we knew we'd get our sweat on to the max but in a fun, enjoyable way. Yes, its possible! Our Editorial Assistant, Flora, shares her experience and below and reveals why you should definitely go to Hollie for you beach body prep!
During the session, Hollie recorded my weight, muscle mass, bodily water percentage (Ideally 55% is what we should be aiming for so I was very pleased that my constant water guzzling was paying off  –  my results showed that 54.2% of my body weight was water). She also told me my calories burned per day were 1,458 – that is, if I were to stay still all day long. This proved to be really fascinating to me as exercise and movement on top of that would mean my body required over 2000 cals per day. She then told me if I were to continue with PilatesPT, we would aim to strip my body fat down to around 21%, that of an athletes body. It is definitely a very challenging workout, but I left feeling energetic and of course looking forward to my next sweat-inducing meeting with Hollie!
It is no wonder that she is in demand and people see great results – I did a variety of exercises, beginning with a little interval training on the treadmill, followed by short bursts of HIIT training, such as burpees and box squats, and lastly the pilates reformer machine, my new favourite. I wore a heart rate monitor belt, so my heart rate was displayed on the screen of the watch I wore – this definitely kept me really motivated as I wanted to keep it high! I practiced lower intensity exercises on the machine, providing a welcoming contrast to the intense bouts before.  These seemed to lengthen, stretch and tone my muscles and I felt my arms were more defined the next day; my hard work was reinforced in the slight aches throughout my body! However the series of stretches we ended the lesson with would have definitely helped with this and made me far less sore. There were some lovely deep stretches to release tension, especially around the neck and shoulder area.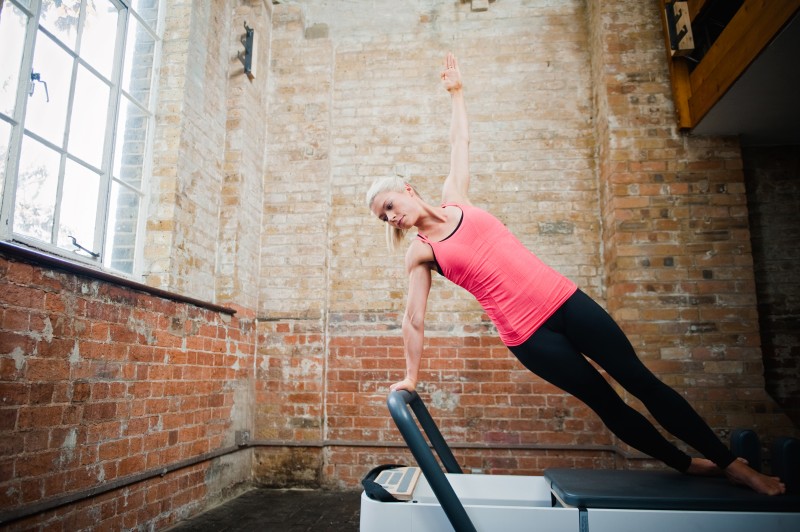 Hollie's super toned body is definitely a great source of motivation as well! You can tell that she is an expert in her field of pilates, on how the body works, continually giving me interesting pieces of pilates advice. Her calm support and encouragement, rather than any aggressive shouting, (which I have previously encountered and completely disliked), really kept me focused and able to complete each exercise. She was quick to point out that my posture could be improved and my shoulders slumped a lot which I know is due to working at a desk all day. My hamstrings were also pretty tight and I had a curved back which could be improved by tightening my core. She gave me a number of stretches and exercises to improve these areas which I really appreciated. Netflix and chill? No, more like Netflix and stretch!
Each session will aim to burn between 500-800, so it's very likely you will tone up in no time at all if you are putting enough effort and time in. Hollie believes that the combination of different fitness methods is the key to faster driven results; much of which is inspired by pilates with a focus on strengthening that all important core. Expect slimmer legs, toned arms, tighter core and reduced body fat –  yes please!
Check out her website here to book in your session; http://www.pilatespt.co.uk