In need of a digital detox? Read on for H&H contributor Eva Ramirez's personal account of eco hotel and wellness mecca, The Scarlet Hotel in Cornwall.
Cornwall isn't the first place that springs to mind when you think of Ayurveda, but perched atop the cliffs of Mawgan Porth is The Scarlet, a coastal escape with a spa that's ethos is embedded in this ancient healing system. I visited at the start of October, a time when the seasonal shift from summer to autumn calls for grounding practices and self-reflection. It was the ideal weekend getaway to dedicate to this, while also experiencing the Scarlet Spa's Ayurvedic offering.
While it may feel like a reclusive escape, thankfully The Scarlet isn't actually hard to get to. Bodmin Parkway is the nearest train station just a 30-40 minute drive away. I was collected from the station in a Tesla, being an eco hotel, they use a local car company whose ethos is aligned with their own. Admiring the hotel from afar as we drove up towards it, I noticed how the building blends in beautifully with the surrounding landscape rather than impose on it. It looked like the perfect setting to entirely disconnect, especially as my phone reception disappeared as we approached it! I ended up leaving my phone in my room the entire trip and surprised myself with how quickly I forgot all about it. 
Around the hotel, which celebrates its 10th anniversary this year, there are plenty of indoor and outdoor spaces to chill out with a book, or simply sit back and observe the incredible views. The Retreat Terrace is a particularly lovely spot with a shelf full of board games to keep you entertained. If you fancy venturing out, there are lots of great walks and hikes to be enjoyed as well as surfing, kayaking, coasteering or horse riding on the beach. Back at the hotel, twice daily yoga, pilates or meditation classes are a great way to pass the time too.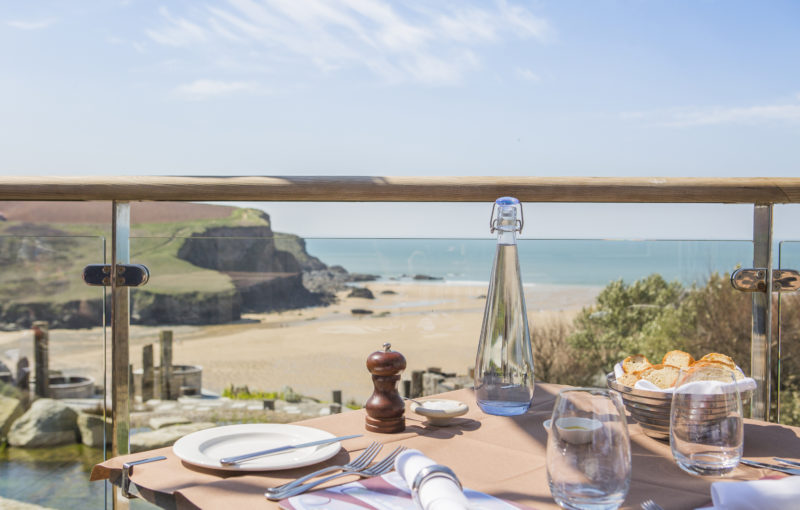 The Food
The Food at The Scarlet champions seasonality and locality, which means it changes in accordance to the time of year and what's in season. At breakfast, I was initially surprised by the absence of your typical breakfast buffet but ended up really enjoying choosing dishes I may not usually go for – such as smoked kippers on freshly baked sourdough toast or chickpea scramble with homemade baked beans. Breakfast buffets can be wasteful, as you often pile your plate and end up leaving a lot of it but the daily changing breakfast options kept things exciting. There were no fancy, exotic ingredients like acai or chia, but simple, Cornish-grown produce like seasonal fruit – apples, pears and berries. Staff were very accommodating to dietary requirements and it even stated on the menu that many dishes could be made gluten or dairy-free upon request. For lunch and dinner, wonderfully British dishes such as pan-fried John Dory with wild garlic, cockle and parsley sauce or fish stew with samphire and potatoes won me over. The wine list is huge and the in-house sommelier is very knowledgeable and helped pair my meal with fantastic wines, many of which were British and new to me. The restaurant itself is an open-plan, high-ceilinged, airy space which of course, looks out onto the sea. Come summer, there's a sprawling terrace for dining al-fresco, but it was a bit too chilly in October to make the most of it. The cornish tea with warm scones is also a must-try and be warned – it's huge – so you'll probably want to share it! 
The Rooms
There are 37 rooms in total, despite there being space for many more. This makes the adults-only hotel feel spacious and calm, even at capacity it wasn't crowded which was lovely. There are five room categories; Just Right, Generous, Unique, Spacious and Indulgent and all of them have some sort of outdoor space. Mine had a balcony with sprawling views of the sea. There was something particularly refreshing about waking up to the sound of the crashing waves below, and peeling back the sliding doors to be woken up by the cold sea breeze on your face. You'll find no minibar, fridge or coffee/tea making station, which saves energy and reducing the amount of single-use packaging too. Instead, you can order tea, coffee or homemade snacks (all complimentary) and it'll arrive in minutes. The filtered water is in refillable glass bottles and the bathroom products are the hotel's own branded, all-natural Oula products.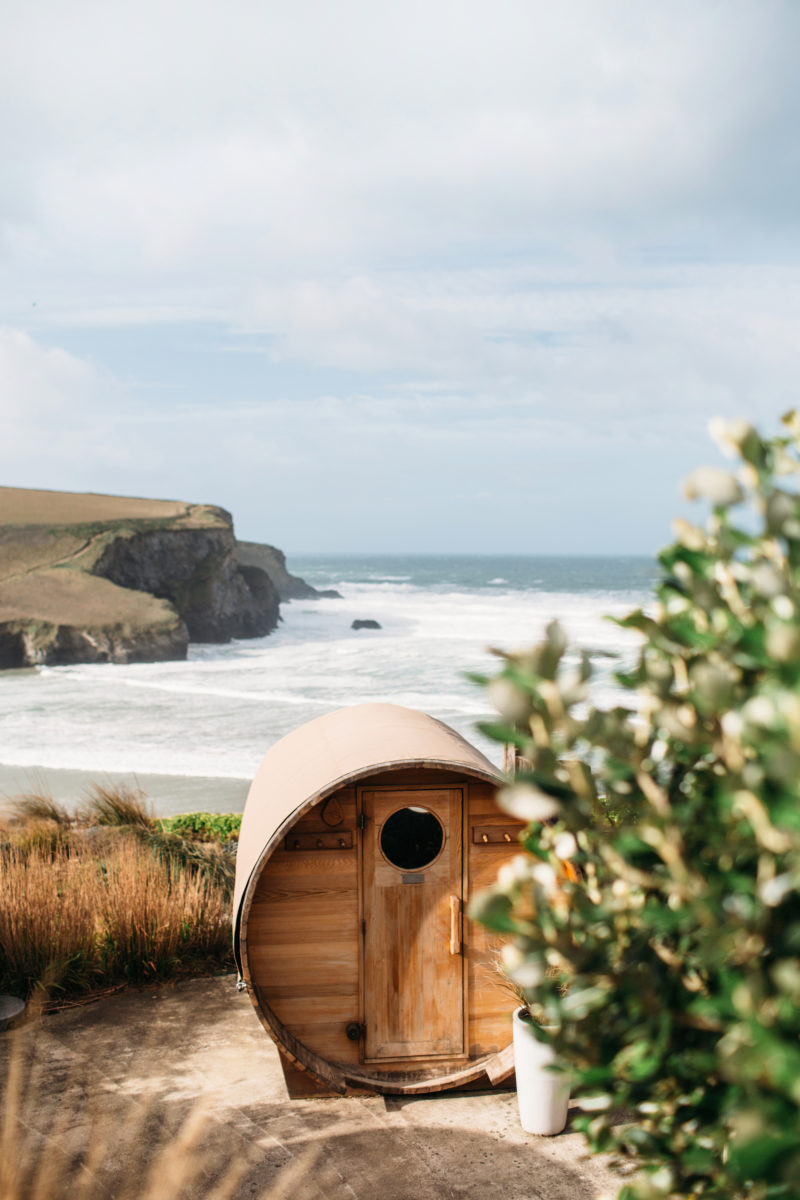 The Spa
The spa is definitely the best part of visiting The Scarlet. It has a serene and spiritual feel to it and the friendly staff seem to always be on hand to make your experience as pleasurable as possible. Like the rest of the hotel, the minimal design lends itself to nature, optimising the stunning surroundings with a glass-fronted indoor pool and relaxation area both looking out onto the sea, adding to the sense of calm.
If you're brave enough, it's definitely worth trying the chilly outdoor pool. It's naturally-filtered by reeds and deeper than it looks. Taking a dip here feels more like swimming in the wild than at a hotel. Plus, the benefits of cold water swimming are many, from increasing blood flow and improving circulation, to helping inflammation, boosting metabolism and reducing pain. It's also a great mental exercise and certainly wakes you up. There's also a eucalyptus steam room, outdoor sauna cabin and clifftop hot tubs which can be booked in advance. If doing so, it's worth taking a dip at sunset, so you can enjoy the beautiful view as the sky turns pink, with a glass of bubbly in hand – very romantic! As for treatments, the spa is Ayurvedic focused and very authentic in its approach. The therapists are all highly trained and full of wisdom which they are happy to share. I booked in for a completely immersive (and indulgent!) 4-hour journey. The treatment began with a 1-on-1 consultation to clarify my intentions, identify any current ails and for them to gain an understanding of my current lifestyle. This then influenced the spa journey, massage techniques and products to be used throughout. The therapist also told me about my Ayurvedic dosha type which she followed up with tips on how to balance this. The journey commenced with a luxurious hammam bathing ritual which used Cornish salt to scrub away dry skin and an all-over mud mask, to rehydrate the skin. This was followed by some alone time in the relaxation room to calm my mind and have a small snack of tea and dried fruit. I was then collected by my therapist Gemma and guided through a wonderful meditation to really bring me into the present moment and ground me ahead of the next phase, which was a deeply relaxing massage in one of the tented treatment rooms. I later emerged completely blissed out and was led to the dark relaxation room, where there are hanging pods that are perfect for napping in. The entire treatment felt truly bespoke to my needs and really helped to relax me – I instantly felt my jaw loosen, my shoulders drop and my breath become deeper and more conscious. A lovely touch before checking out was a little aftercare package, which included notes and advice from my therapists, nutrition and lifestyle tips according to my dosha and a herb poultice for me to use at home.
words by Eva Ramirez
To book, head to Scarlethotel.co.uk