New to Daios Cove for 2022 is the anticipated opening of KEPOS by Goco Hospitality. KEPOS embarks on a whole new wellness world which blurs the lines between a clinic, a studio and a spa, the first-of-its-kind in the hotel space. Even the most seasoned health enthusiasts will be in utter awe of the space Goco has curated with KEPOS, state-of-the-art facilities and technology will take your experience to new heights. Collaborating with highly regarded brands in wellness including BXR fitness, 111SKIN, Comfort Zone and PNOĒ, Goco has certainly gone into depth to provide guests with an exclusive experience that is unmatchable in the hospitality industry. It's rare to find a hub that runs every aspect of wellness to the statuesque level that KEPOS does, where the holistic offerings are equally as premium as the fitness, spa and medical experiences. It's a prime example of a full 360-degree well-being experience that looks at health from every dimension with experts from each corner of the industry on hand to help.
If you're in need of a health MOT, KEPOS facilities diagnostics run by Pnoē. Taking an integrative approach to health optimisation, a series of synergistic programs are designed to analyse various areas of your health. The Biometric Test is a great place to start, giving you a blueprint overview to determine the optimal nutrition, training and breathwork program for your individual biology. The test itself takes all of 10 mins and involves breathing into a mask that monitors your lung health. The Styku 3D Wellness Consultation is another medical-grade offering that you can undergo at KEPOS, which uses the latest 3D body scanner to deliver precise body measurements including composition and mapping of visceral and external fat. Following all diagnostics, KEPOS in-house doctors and wellness specialised will analyse the results alongside you to give a better understanding of how to optimise your health going forward, you'll also receive email copies of your results from Pnoē which are explained easily. To get these gold-standard diagnostics in such a serene setting is hard to come by, and transforms rather laborious tests into luxury wellbeing experiences.
In the centre of KEPOS is the Therapeutic Water Circuit, featuring a full-length swimming pool, a vitality heated pool superpowered with massage jets, a thermal bathing suite which houses a steam room, a walking shower experience and multiple types of saunas.
Goco is proud to present an unrivalled formation of high-tech healing facilities at KEPOS. Guests can undergo Colon Hydrotherapy, Cryotherapy, Infrared Saunas, Vitamin Infusions and Hyperbaric Oxygen Therapy all under one roof. With the help of the wellness specialised, you can determine which treatments will you benefit from most to help you on your wellbeing journey. 
Partnering with 111Skin and Comfort Zone, the calibre of spa treatments is impressive. The list of signature treatments is extensive and non-generic, each has a precise balance of results-driven and holistic outcomes with the use of innovative tools such as LED red light therapy to enhance facials and cryotherapy during massages to address areas of the body most prone to aches and pains. KEPOS is delivering a bespoke offering at the spa, with a detailed consultation procedure to ensure your therapist will be able to amplify your treatment. Our top picks from the treatment list are the intense 'Molecular Hydration Face, Body & Scalp Treatment'  which uses rich hyaluronic acid to moisturise every patch of skin, and the 'Cryotherapy Toning Facial' utilising the minus temperature of the purified air to increase microcirculation in the skin.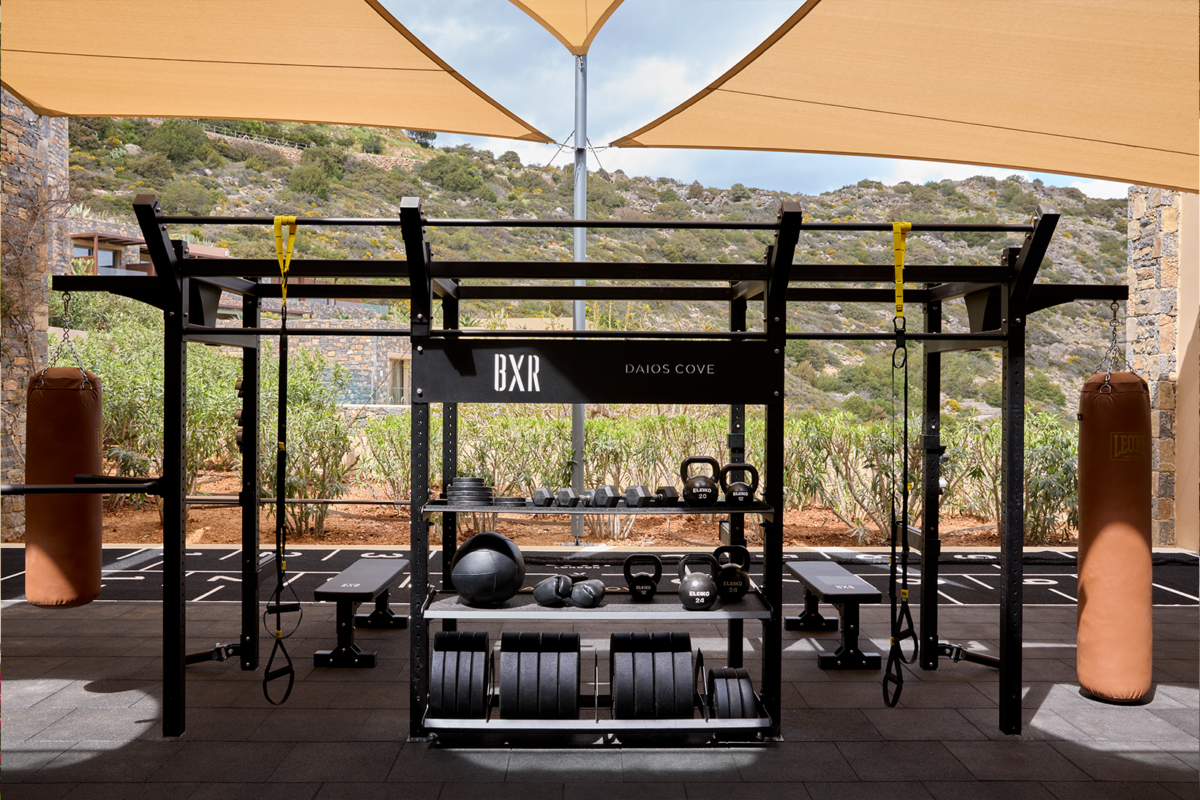 London's premium gym BXR, have flown their signature workout style to the island of Crete, bringing with them a selective group of the best BXR trainers to seamless transport the brand ethos to Daios Cove. We've never been so blown away with a fitness offering like this at a hotel before. If you're familiar with BXR, you'll know how intense yet rewarding their results-driven sessions are…to get a few PT's or book onto the group training during your stay will keep you fit and feeling incredible! BXR occupy two spaces at Daios Cove, the specially designed covered outdoor space in KEPOS where 'Rig' style workouts take place, and the BXR Arena which is any fitness lover's dream! Fully equipped with the latest fitness gear for strength, cardio and conditioning classes, the BXR Arena is the instructor's playground to develop your fitness. If this sounds like your idea of heaven, check out the BXR Retreats which include 6 full days of programming, fun activities, nutritional meals and the final-day BXR games to put your fitness to the test! There's no doubt you'll experience epic results and you'll also get the chance to meet like-minded individuals looking to better themselves. Aside from the BXR designated areas, there's a gym split between two rooms for cardio and strength kitted out by BXR with the latest fitness equipment for hotel guests to use at their own leisure.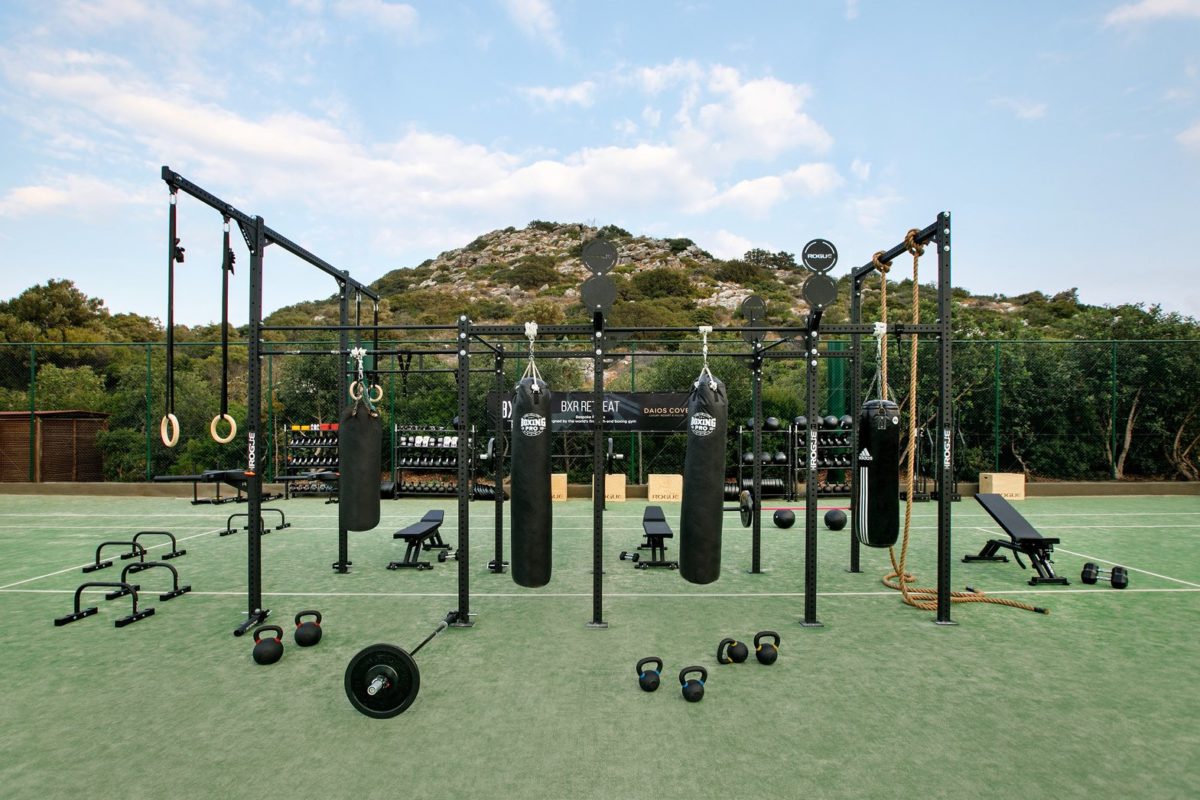 The Mind and Body Studio boasts the most incredible outlook into the Mediterranean sea that instils a sense of tranquillity throughout the classes. KEPOS have incorporated a variety of holistic practice into the timetable from Pilates to various yoga disciplines including aerial yoga and transformative rituals such as sound healing therapy.
With such a broad range of offerings, many compliant each other to give the ultimate wellness overview, for example after a gruelling strength workout with the BXR team, a deep tissue massage will be very inviting as well as a cryotherapy session to help aid recovery. What we love about KEPOS is that you can delve into however much or little as you please…whether you'd like to indulge in a new treatment, make use of the advanced technology or soak in the jaw-dropping views whilst swan diving into a sun salutation, you can create your bespoke wellness journey to get the most out of what KEPOS has to offer.