Running is not something that came naturally to me. In fact, when I was at school I was lapped in the 800m race in sports day and then nicknamed "Clodhopper", and after a quick google search I realised that was certainly not a compliment. It wasn't until I found a treadmill at University that I started to enjoy running. No races. Noone watching. Only me, doing my best and not giving two hoots how I looked – it was freeing. Once I had built up some confidence that I could actually run on the treadmill – I took my running outside and that was where all the true benefits of trail running came to me – the mental health benefits that I have found have saved me on more than one occasion and have become somewhat of a daily ritual for me.
Most people are aware of the physical benefits of trail running; improved cardiovascular health and boosted muscle strength – but are you aware of the mental health benefits that are now backed by science? Especially for those who run outdoors.
Improved Focus
It is not a coincidence that I feel I always get so much more done on days that I start by running. Running boosts blood flow to the brain, and its positive effects can last long after you've stopped. A lot of people think that they just don't have time to run but it makes you even more efficient and productive when you do!
It Relieves Stress
Running is my single biggest stress reliever. When there is something big on my mind or I'm trying to reach a solution I often find that lacing up my trainers and heading out the door is one of the best ways to get a clearer head.
Reduces Anxiety
Even just a 10-minute walk outside has been found to be almost as effective as a 45-minute workout when it comes to relieving symptoms of anxiety. Though the effects may be temporary, a lovely walk or run out in the open air can deliver hours of relief, acting in a similar way to taking an aspirin for a headache.
My Running Must-Haves: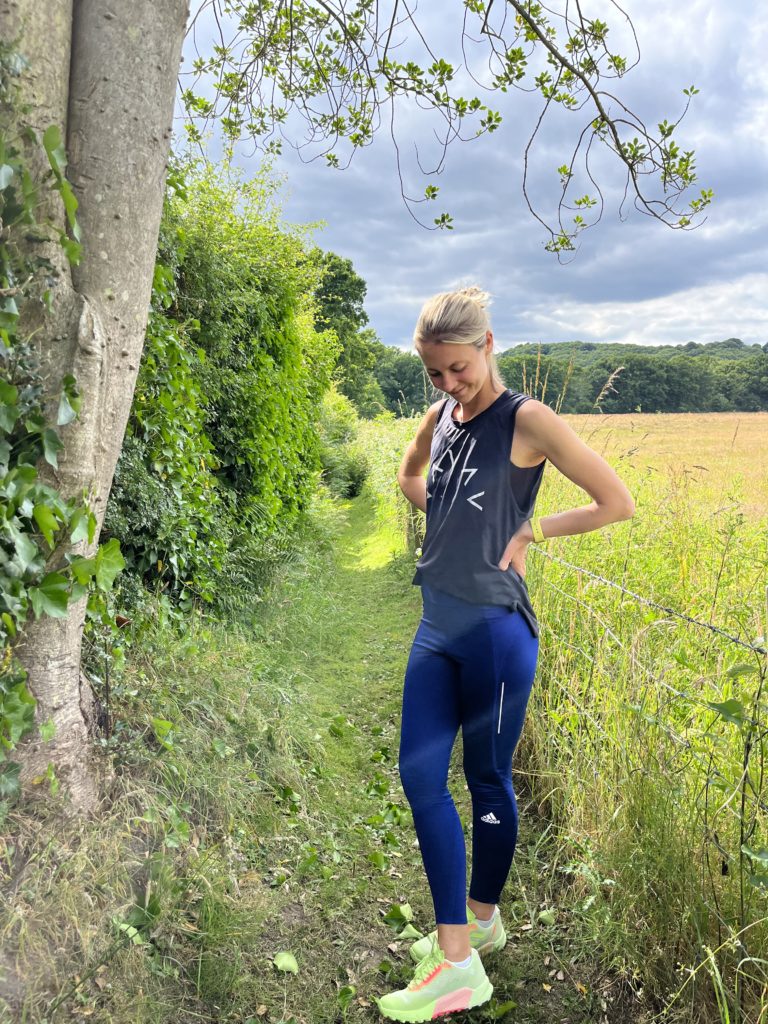 Adidas Own The Run Better Winter Running Leggings
I love these leggings because although they are advertised as winter leggings they actually carry you all year round. The full length is great as we tend to run through a lot of long grass out here in the countryside and it can irritate my legs, plus the longer coverage means I'm also protected from summer insects like ticks. The fabric is 92% recycled polyester and moisture wicking which means that sweat is instantly taken off my skin to stop me from feeling cold during my run. Plus, it has the most perfect pocket for your phone in a place that won't cause any irritation, just above the bum. Perfect!
My Apple Watch is my running buddy these days. It does all the usual things like measure distance, speed and time but I can also make calls from it, control my music and check my heart rate.
Adidas Terrex Agravic Flow 2 Trail Running Shoes
When you're running on uneven terrain it's really important to have a proven running shoe that can support and elevate you with every step you take – enter the Adidas Terrex Agravic Flow 2. Designed with advanced technology that encourages breathability and stability and is super comfortable to wear plus feels incredibly lightweight, this trainer is the perfect trail running companion and promises to take your trail running to new heights!