While renowned for tall skyscrapers, rooftop bars and $1 pizza slices, there's also a side of New York that's all about wheatgrass shots, ice baths, Pilates and "mani-pedi meditations". In fact, New York City offers a wide range of experiences related to health and is undoubtedly one of the best places to visit if you want a big boost of wellness in your life. New studios, unique treatments and creative concepts within health and wellness have popped up all over the city after the pandemic and we have researched and explored some new favourites. So, peruse these health-conscious gems during your next visit to treat your body, mind and soul:
Aman, New York
SLEEP & RECHARGE
According to Chris Norton, CEO at Equinox Hotels, the ethos at Equinox is "for those who want it all", and we couldn't agree more. This relatively new hotel in the city definitely offers a stay out of the ordinary and the health focus is present in every single detail. Everything from fresh juices and green teas to beet yoghurt bowls and cauliflower flatbreads grace the menu in their incredible restaurant Electric Lemon (which also has the city's most stunning rooftop bar – perfect for a mocktail when it is open during the warmer months). You also find a large gym, a Pilates PT room and class studio, as well as an outdoor pool area with heated sauna barrels. A visit to the spa is a must, and the hotel offers different packages to choose from, tailored to give you the ultimate wellness treat for both body and mind. We recommend trying the ICOONE treatment (especially if you're a fan of LPG), as well as any of their amazing Biologique Recherche facials.
Another place to visit if you're in the mood for a real treat is the new Aman New York, right by Central Park, and in Manhattan's iconic Crown Building. Their gym is one of the best-equipped hotel gyms in the city, and you find everything from infrared body-roll machines and cryotherapy chambers to spa suites and the option to partake in their special "Wellness Immersion Programmes" where you get to take advantage of the facilities, technology, and expertise at Aman and focus on a specific goal, such as stress management or sports performance enhancement. Make sure to reserve a table at their outstanding Japanese restaurant Nama – the black cod and their special Aman roll are must-orders if you're in the mood for healthy and luxurious indulgence. And when you come back to the room, don't forget to check your bed – if you're lucky, a piece of fluorite crystal (that has a connection to both the building and their signature spa treatment) might be waiting for you.
1 Hotels Brooklyn Bridge
Edition Hotel by Madison Square Park, The New York Edition, is also a gorgeous option for a relaxing hotel stay in style. A modern, yet warm lobby in beige and white welcomes you as you enter the doors on East 24th street, and gorgeous rooms, as well as a lovely spa and gym can be found a few floors up. The sustainable luxury hotels 1 Hotels Central Park and 1 Hotels Brooklyn Bridge are also two lovely options where nature and lush greenery are found in every corner, such as large wooden furniture, moss walls, and green plants. To relax, unwind by the pool overlooking Brooklyn Bridge, or why not recharge in their Bamford spa? If you're ready to sweat, check out their group classes and personal training, or go for a morning run in Central Park.
EAT & BOOST
If you're on the go but still in the mood for something healthy, a visit to Dr Smood is a must. With their lovely cafés scattered over Manhattan, the brand was founded with an aim to change the food industry and offers high-quality nutritious meals. "We are all about quality and only have the best ingredients on our menu to enhance both the taste and nutrition," explains Simon Otzen, Regional Manager in New York at Dr Smood. You find smoothies, fresh juices, vegan mylks, as well as a wide range of teas, coffees, and superfood lattes on the menu. Another incredible place for something hot and yummy is Matchaful – heaven for any matcha-lover as you can find it in everything from granola and brownies to drinks and products.
Left: Sweet Greens, Right: The Butcher's Daughter
For something cool and refreshing, two thirst-quenching favorite are Juice Generation (try their Super Citrus C juice) and Juice Press (order the green Mother Earth juice for a big nutrient boost), and you find them all over the city. Earth Company's eateries (by incredible chef Matthew Kenney) is a perfect option for a healthy and nutritious lunch bowl, and Sweet Green is a classic favourite when you're craving a fresh salad.
Left: Planta, Right: Le Botaniste
The Butcher's Daughter is a classic, and perfect for brunch or lunch (try their spicy kale Caesar salad!), and we also love Le Botaniste's incredible organic and 100% plant-based menu where you find everything from veggie sushi rolls to quinoa peanut butter cookie. For an all-greens dining experience, make a reservation at Planta, and if you want to stock up on everything health-related, check out lovely Bonberi Mart (we love their homemade juices) in West Village, and of course beloved Whole Foods Market.
SWEAT & TREAT
Keeping up with your wellness routine during your time in the city will not be hard thanks to both new and old gems, offering everything from social wellness clubs and ice baths to Pilates classes and spirituality workshops. A stop at Alo Yoga is of course mandatory – both to upgrade your wardrobe and try out one of their amazing classes. Another favourite and classic is SoulCycle – the energy (and sweat!) you experience in these classes never gets old! If you are looking for tough cycling classes as well as boot camp-like workouts at the same place, make sure to book a class a AARMY and expect sore muscles and a great rush of endorphins afterwards (and if you get hooked, classes are offered on-demand and via Zoom as well.) The Class is another incredible workout, and a mix between cardio, yoga, meditation, and high-intensity exercises, is simple even if it's your first time, yet very tough. The amount of repetitions for each exercise is very high, which is perfect if you're seeking both a mental and physical challenge, hence a real full-body workout. Another sweaty option for Pilates fans is Forma Pilates, the exclusive referral-only studio from LA that just opened up two studios on the island. Get ready for shaky legs and burning abs after an hour on the reformer – so intense, but so fun! However, if you're more in the mood for a nourishing yoga class, the place to visit is The Humming Puppy – the most gorgeous (and Instagram-friendly) studio where you book your own mat and spot in advance and a humming sound, "the Hum" is being played during the class, said to help us calm down and focus a little extra. All classes include a special intention, pranayama, an asana part, and then meditation and sound healing from crystal singing bowls at the end.
Left: The Humming Puppy, Right: Alo Yoga
One of the best post-workout spots in the city is Aire Ancient Baths, a heavenly sanctuary in Tribeca where you can enjoy heated pools, thermal baths, ice plunges, and saltwater dips. The dimmed lighting and candles together with the industrial brick walls create such a peaceful and intimate atmosphere – booking an afternoon here will truly give you the most rejuvenating experience. If ice baths are more your thing and if you also want to try other wellness treatments at the same time, make sure to check out Remedy Place by Flatiron Building. This social wellness club offers its members everything from guided breathwork and ice bath classes to acupuncture and infrared saunas. This stunning place aims to enhance both health and social life through human connection and self-care, and we really love the idea of spending a date at a breathwork class or catching up with friends in an infrared sauna. Another spot perfect to make new friends and socialize a little as well is Sage + Sound on the Upper East Side, where you find a lovely shop, amazing treatments, as well as incredible classes and workshops. A must is to try any (or all if you have time!) of their "The Study" classes, especially the Manifesting Abundance class with Parizad Srivastava and Spirituality Of The 12 Steps with Ryan Haddon.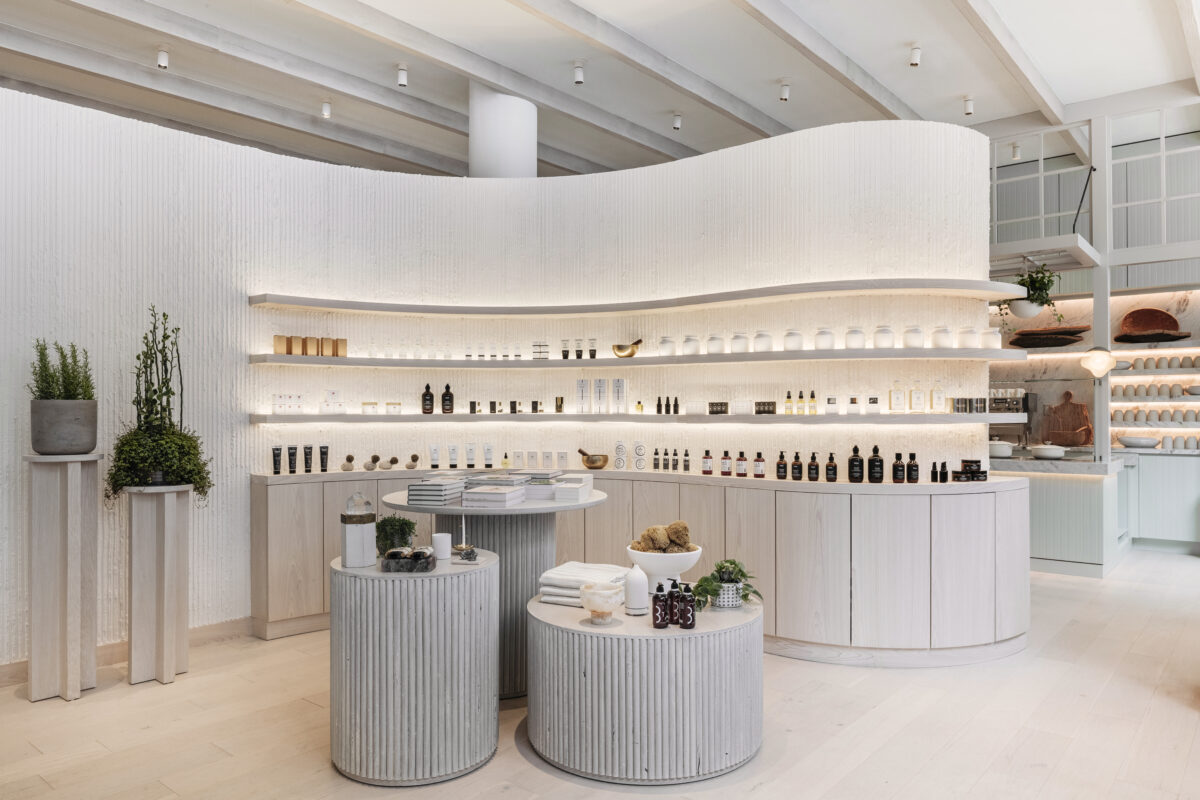 The Well
Further downtown is The Well, another gorgeous wellness gem where you for example find lovely treatments (a great choice is their Hypercustomized Biologique Recherche facial with microdermabrasion), a carefully curated shop (where you want to buy pretty much everything), lots of classes (such as yoga, qigong, meditation, barre, and more), as well as an outstanding restaurant (order the chicken fajita bowl and the chocolate mousse with goji berries). A tip is also to check out Namaste Bookshop on 14th street while you're in the area to pick up some new crystals and oracle cards.
Sundays Nails
Then, head down a few more blocks to Karine Kazarian, one of the very best facialists in the city, as well as to ORA – a chic acupuncture clinic where the traditional techniques and teachings of ancient Chinese medicine are infused in a modern and luxurious space. Don't forget to buy their special chai tea, and end the day at one of the stunning Sundays nail salons to enjoy a mani-pedi free from toxic chemicals while listening to a guided meditation.
words by Matilde Wergland