Iceland is quickly becoming a go-to place on everyone's list. Its stunning landscapes, incredible spas and rejuvenating wellness landmarks are all making this small country big in desirability.
We've rounded up the best places to visit, where to stay and the must-visit restaurants in our H&H guide to Iceland.
SLEEP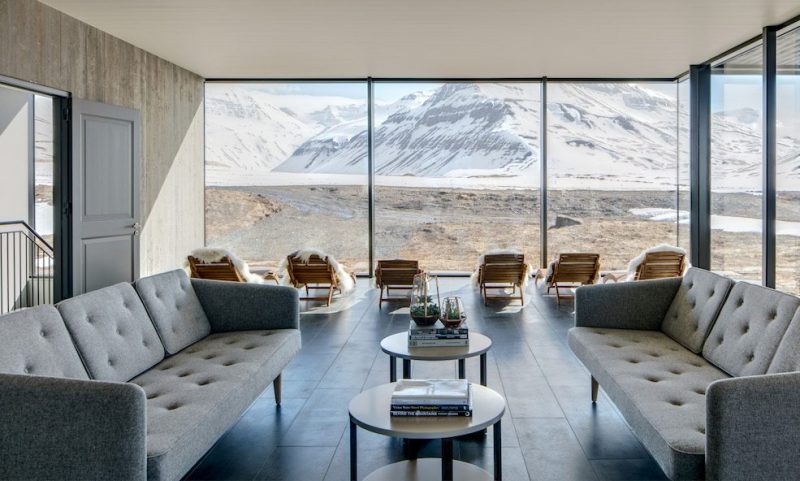 Deplar Farm: Sveitarfélagið Skagafjörður, Iceland
Deplar Farm is a grass-roofed destination which is surrounded by towering snow-dusted mountains, complete with bright green fields. In a previous life, it was an 18th-century sheep farm but it is now home to a super luxurious heli-skiing and salmon fishing retreat. It's been transformed into a total wellness retreat, complete with all the amenities of a 5* hotel, with an in-house chef, private concierge and chauffeurs, whilst activities are led by a team of expert guides.
Hotel Borg: Reykjavik, Iceland
The original and definitely one of the best – Hotel Borg was the very first luxury hotel to be built in Iceland and merges Art Deco elegance with modern amenities across its spa, restaurant and bar offering.
Overlooking the Icelandic parliament and the cathedral, you can get your dose of culture before indulging in a treatment or two at BORG Spa. We recommend the DrBRAGI full body scrub and massage: a 75-minute treatment of top-to-toe marine enzyme conditioning for the entire body. A pampering treatment ideal for jet lag. Rooms from around GBP £200 per night.
Silica Hotel: Grindavík, Iceland
A ten-minute walk from the Blue Lagoon, Silica Hotel is relaxation defined.
It comes complete with private baths consisting of mineral-rich geothermal waters which are exclusively reserved for its guests. Whilst the hotel has won several design awards, it's the surrounding landscape that is most spectacular. Surrounded by lava fields, we're not sure that anything sounds more relaxing than enjoying a treatment in your rooms private facilities or veranda whilst enjoying the view. Rooms from around GBP £400 per night.
EAT
The Icelandic diet is amongst the healthiest in the world. Its ingredients are wholesome and for the most part, organic. The country is a fishing nation, meaning there is a lot of fresh fish on offer – and better still, it's normally caught in local seas or rivers.
Glo, Engjateigur 19, Reykjavik
It's basically a vegan heaven and their burgers are literally that – heaven. It's quite well hidden but definitely worth the hunt, especially for their vegetarian tiramisu.
Joylato, Mioborg
If you've got a sweet tooth, then this definitely needs to be on your list. Many deem it the best ice cream shop around and many of their offerings are vegan!
The Coocoo's Nest, Grandagarður 23, Reykjavik
If you want a quick, healthy bite to eat whilst exploring the city, then make sure you quick out The Coocoo's Nest. Their open sandwich with omelette and kale is to die for.
WELLNESS
Iceland is full of natural landmarks that not only look stunning but can make you feel wonderful, too.
The Blue Lagoon
Whilst touristy, it's still a good place to start. A geothermal spa in a dramatic lava field, The Blue Lagoon's hot mineral-rich seawater is famous worldwide for its healing properties.
The light blue coloured water is pulled from 6000 feet below the surface where it picks up sulfur and silica along the way.
On site, they have a day spa which offers a full menu of treatments which make the best use of the mineral-rich waters, including an in-water floating massage and treatments using the Blue Lagoon mineral massage oil.
Laugarvatn Fontana Geothermal Baths
Located in the centre of the most popular tourist route in Iceland, you wouldn't expect this to be a particularly relaxing experience. However, thanks to their hot steam rooms, a sauna as well as cold baths, you can bet that you'll leave feeling utterly zen.
The cold baths are believed to have health benefits such as improving blood circulation, easing up muscle soreness as well as speeding up muscle recovery. They've also been proven to help those suffering from arthritis and other joint illnesses.
Seltjarnares Geothermal Pool
Away from the touristy blue lagoon, there are other options to get your wellness fix.
On the northern coast of Reykjavik lies Seltjarnarnes with its small geothermal pool. Complete with a stunning view over Faxafloi fjord, the mountains and the lighthouse, it'll be pretty hard not to feel relaxed here.
DO
The Reykjanes Peninsula
Home to the airport and the Blue Lagoon, the Reykjanes Peninsula has more to offer than just these two things. Its geothermal area as well as numerous cultural attractions make this region perfect for getting your fitness levels up with a hike.
The most popular and probably the most accessible hike is by climbing the summit of the Keilir mountain. It peaks at 390 metres and is a steep, sweeping hike which can prove challenging for the unfit or unprepared.
Descend Into A Volcano
So far, there is only one place on planet Earth that you can actually descend inside a volcano – Thrihnukagigur Volcano, Iceland. It takes a good amount of exercise, even more money and a serious dose of courage to make the tricky trip but after your 45-minute hike to the crater, you're most of the way there.
You'll then descend 400 feet through a magma chamber in an open cable lift. When you're at the bottom, you can spend up to an hour exploring the volcano.
Go Scuba Diving
Scuba diving isn't just exclusive to tropical countries because Iceland has some stunning dives on offer.
Silfra, in particular, is regularly listed among the world's top dive sites. Not only is it located on a rift between the tectonic plates which group 2cm every year, it also allows divers to float through a crack between the American and Eurasian continents.
On top of that, the visibility in the freezing cold water makes it virtually impossible not to appreciate the colours and otherworldly happenings in the waters.
It's not for the faint-hearted, though – temperatures are between 2-4C and even in a wetsuit, you're going to have to be quite brave!
Go Snowmobiling
Explore the snow line of the Snaefellsjokull Glacier, race your way over the ice fields, check out the postcard-worthy views – all at an exhilarating summit of 4800 feet above sea level!
Sea Kayak
Like to think of yourself as a bit of a captain of the seas? Put yourself to the test by captaining your own sea kayak over the serene and calm waters of a rugged glacial fjord.
Experienced guides lead paddles around the coastline and to the shores of the stunning Icelandic countryside, so fear not, you're not totally alone.
Climb Up A Glacier
Find the uncharted routes in the Icelandic glaciers which are really a haven for climbers. We suggest the no-experience-necessary trips at the Solheimajokull glacier where ice axes, crampons and safety lines are all provided.
words by Katie Meadway
More travel articles you might love…