Deep Dive With Dr.Gabor Maté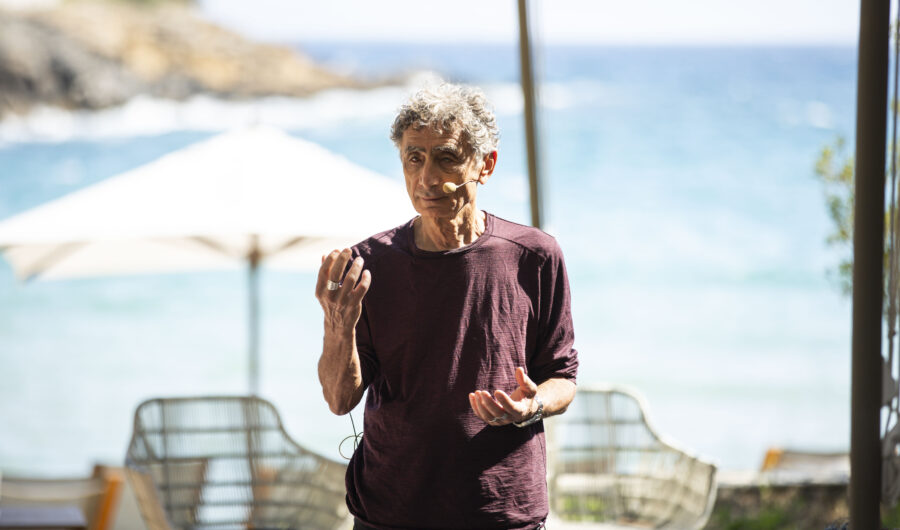 A life-changing 4 days of searching within, personal growth and deep connections with one of the world's ground-breaking teachers, Dr. Gabor Maté.
Guided by Dr.Gabor Maté, the world-renowned physician and leader in trauma, you'll discover the tools you need to reconnect with the deepest part of yourself and experience spiritual awakening, emotional wellbeing and greater mental and physical health and vitality.
Embark on a journey of self-discovery and allow your mind and body to settle into their own natural rhythms. Days will start with morning yoga or breathwork sessions and will be nourished with detoxifying practices, body work, clean food, meditation practices and inspiring lectures and interactive workshops.
Gabor Maté will gently guide you as you create space for stillness, relax beneath the wide sky and reconnect with your deepest self. Each day will feature Gabor's unique approach to therapeutic work, Compassionate Inquiry™, enhanced by movement and breathwork led by expert therapists.
With a warm climate, seven beachfronts and spectacular restaurants and bars Kaplankaya is our treasured home. Playing host to Harvest is the 5-star Six Senses Kaplankaya hotel in Turkey, the perfect partner to complement our values of wellbeing and nature. Rated #3 in Condé Nast's Top Destination Spa Resorts in the world in 2022, the hotel boasts luxurious rooms guaranteed to give you a good night's sleep, as well as a range of facilities including a 10,000sqm spa with unique high-end treatments targeting nutrition, ageing, detoxing, sleep and much more. Fitness facilities also include a state-of-the-art gym, yoga room, basketball and tennis courts, cycling studio and more.